This post may contain affiliate links. Please see my disclosure policy for more details.
While plenty of travellers are keen to visit Sydney and Melbourne, there's a lot less hype over Canberra, despite it being the capital city of Australia. In fact, I've even met backpackers who didn't realise it was the capital at all!
While I did visit Canberra briefly during my year as an exchange student at the University of Queensland, I can't remember much other than the male hostel staff taking a shine to my friends and me, and plying us with free booze and pies from the bar every night!
Now that my tastes have evolved beyond pastry and getting plastered, I thought it was high time I took another trip to the capital city of Australia to find out what else it has to offer.
If you're on an Australian road trip, or you're looking for a cultural weekend away, here's a 3-day itinerary – that can be undertaken on foot – of my top recommended things to do in Canberra.
---
Things to Do in Canberra Day 1: National Museum of Australia & Canberra Botanic Gardens
The National Museum of Australia and Canberra Botanic Gardens are two of my top recommended things to do in Canberra. Both attractions are located on the western side of Canberra city centre, so you could walk from one to the other in the same day.
I visited them on separate days, but I spent a good three hours exploring the museum and also hiked up Black Mountain to Telstra Tower from the Botanic Gardens, which might not something all of you want to do!
Morning: National Museum of Australia via Lake Burley Griffin
It's a flat and easy 30-minute walk to the National Museum of Australia on the Acton Peninsula from Canberra city; most of it is along the edge of Lake Burley Griffin, so quite scenic.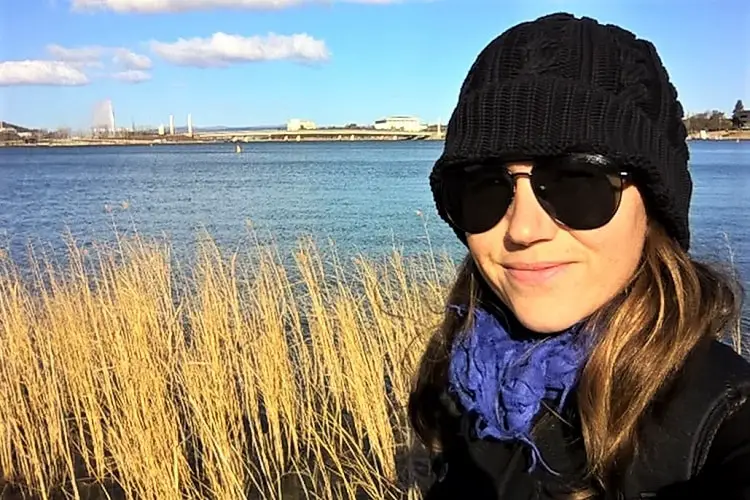 The museum was soooo much bigger than I expected and extremely well laid out, with clear themes and lots to read and look at. I'd allow at least two hours inside if this sounds like your sort of thing.
I didn't think I was a museum person, but there was so much information about the European settlers and Australian wildlife, as well as Australia's indigenous people and the stolen generation, that I found it fascinating and very moving.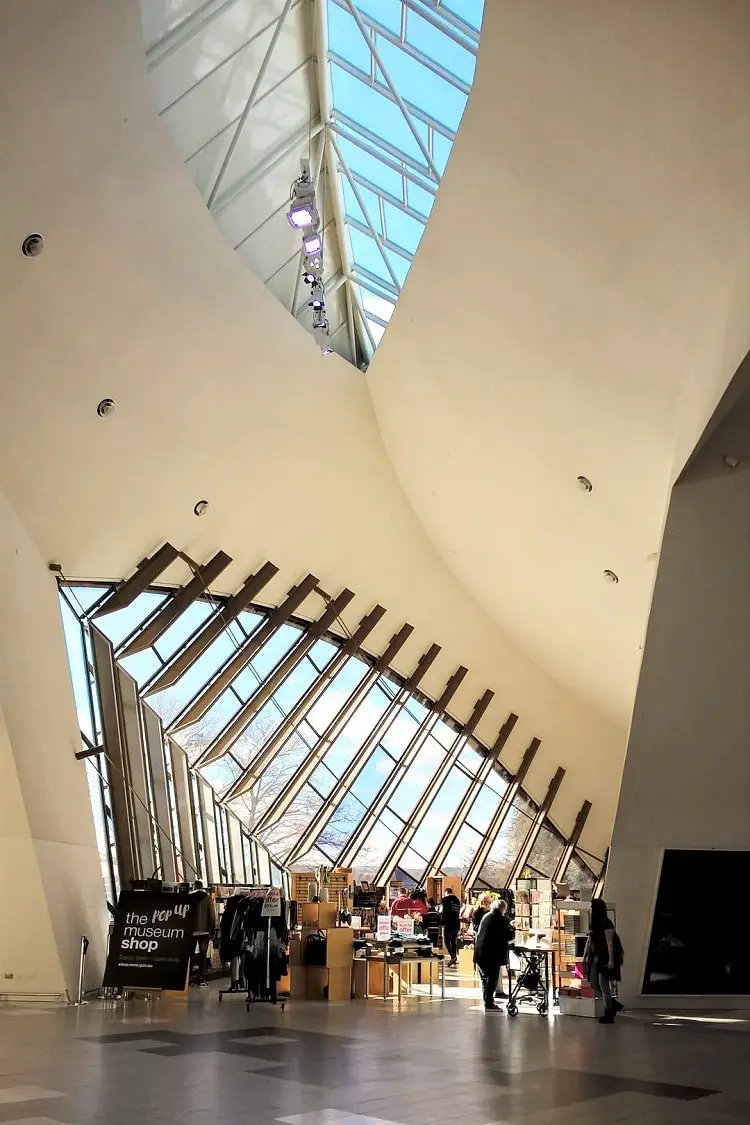 The building is a work of art in itself, and there's also a nice cafe if you want to stay for lunch. If you've packed a picnic you can sit and eat outside in the Garden of Australian Dreams.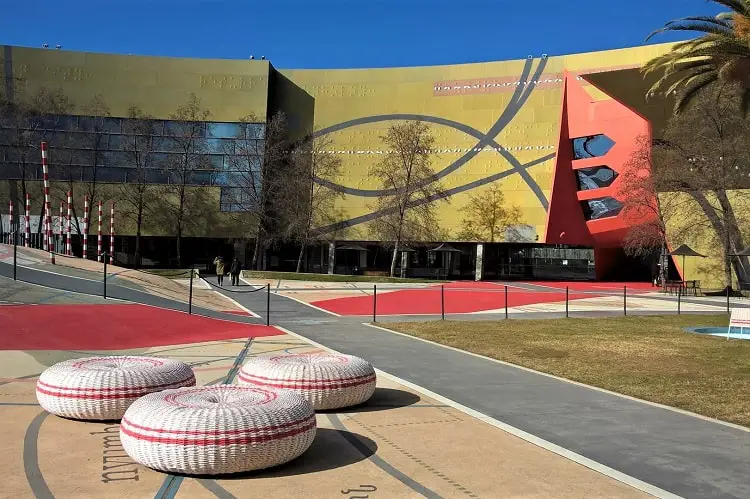 Afternoon: Canberra Botanic Gardens
If you have the energy for more Canberra attractions in the afternoon, walk 30 minutes north to Clunies Ross St to access the Australian National Botanic Gardens.
Here you'll find the world's most diverse collection of Australian plants, with over 6,000 different species growing.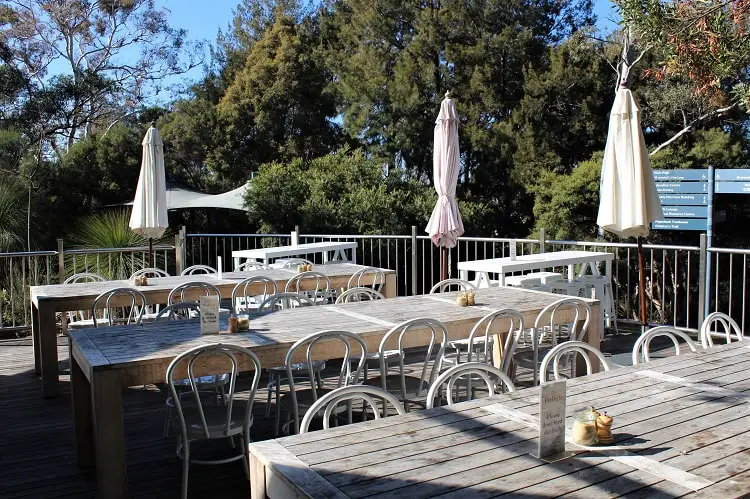 You can pick up a map from the visitor centre on arrival, and also visit the lovely Pollen Café if you need a refresher. The meals are on the pricier side (around $17 upwards for breakfast), but the food is lovely.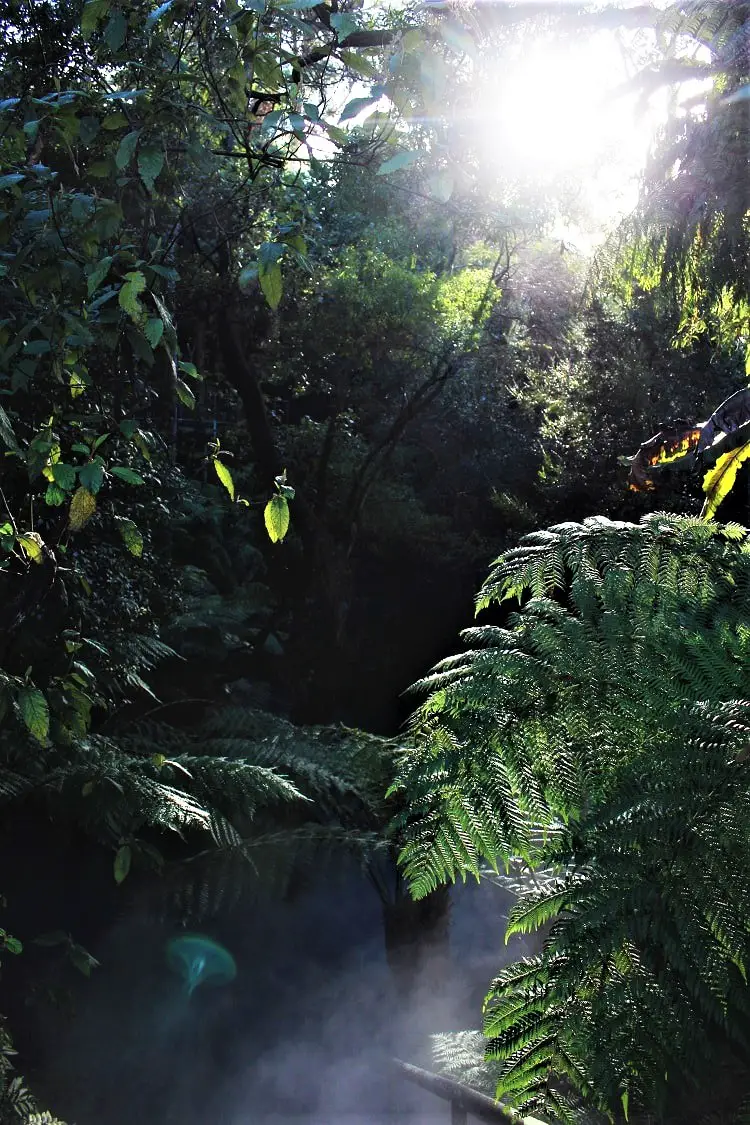 There are lots of different sections at Canberra Botanic Gardens, including eucalypt lawns, a rainforest gully, and the very vibrant Red Centre Garden. I'd give yourself at least an hour to explore.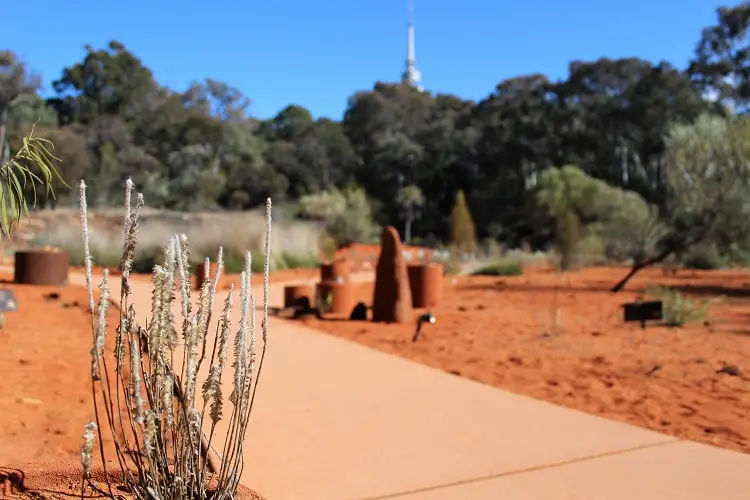 Optional Extra: Hike up Black Mountain to Telstra Tower
Behind the Red Centre Garden is a walking track leading up Black Mountain (you'll see the signs) which takes you all the way to Telstra Tower.
I didn't realise this walk existed until I arrived, but even though I had a cold and felt a bit rubbish, I decided to drag myself up to the top since I'd walked all that way already!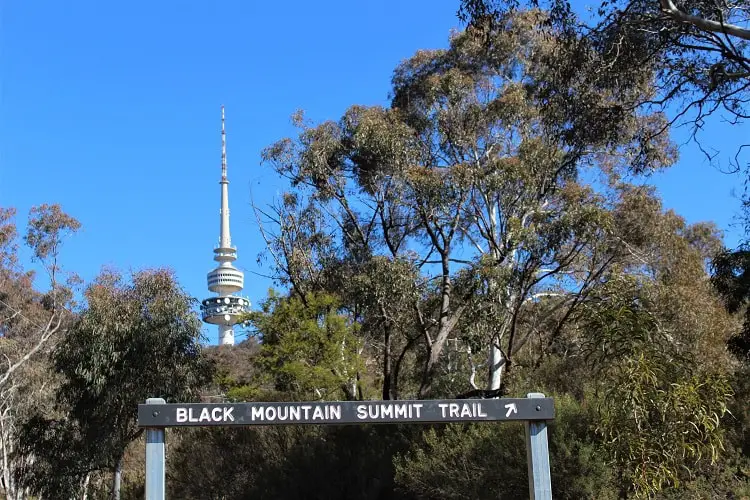 The sign says it takes 1 hour 10 minutes to get to Telstra Tower from the gate, but it only took me 30 minutes there and 20 minutes back down. And I walked very slowly and stopped a lot to take photos!
It is all uphill, but only the last five or ten minutes is particularly steep. I wouldn't fancy doing it in the summer heat, but it wasn't too hard in winter.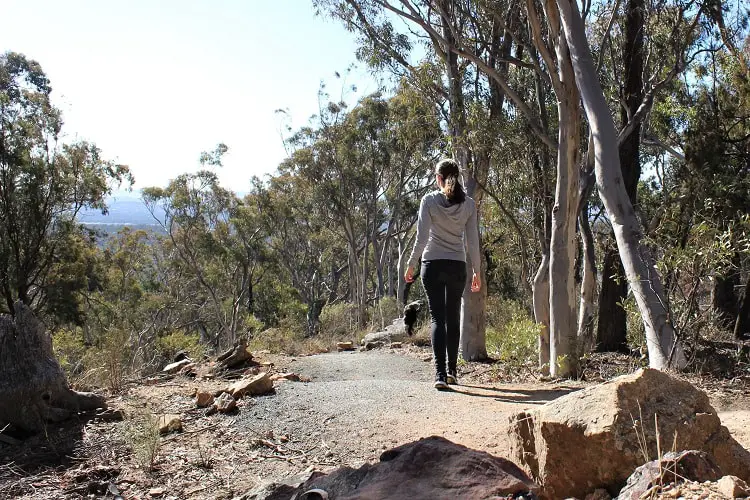 It costs $7.50 to go inside Telstra Tower and up to the viewing platform, but it's well worth it as the 360-degree views of Canberra and the surrounding countryside are amazing!
You can't actually see much from the base of the tower as trees obscure the view, so if you're going to hike up there you may as well go inside.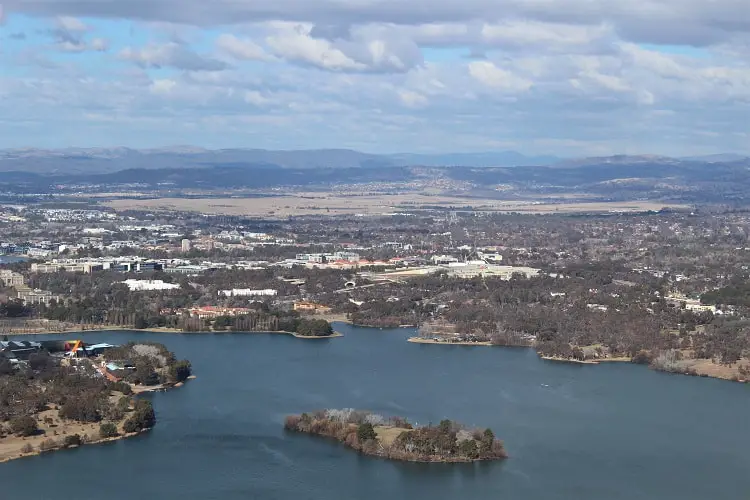 ---
Things to Do in Canberra Day 2: Anzac Parade, the Australian War Memorial & Canberra Museum and Gallery
One of the other interesting things to do in Canberra I'd recommend is visiting the Australian War Memorial, which was built to commemorate the sacrifice of Australian people who'd died at war.
Back in the city, a visit to the Canberra Museum and Gallery is an easy end to your day.
Morning: Anzac Parade & the Australian War Memorial
The Australian War Memorial is only a 20-minute walk from Canberra city centre. It's worth taking a wander down Anzac Parade too, which has lots of war monuments dotted along the edges, as well as views all the way to Parliament House.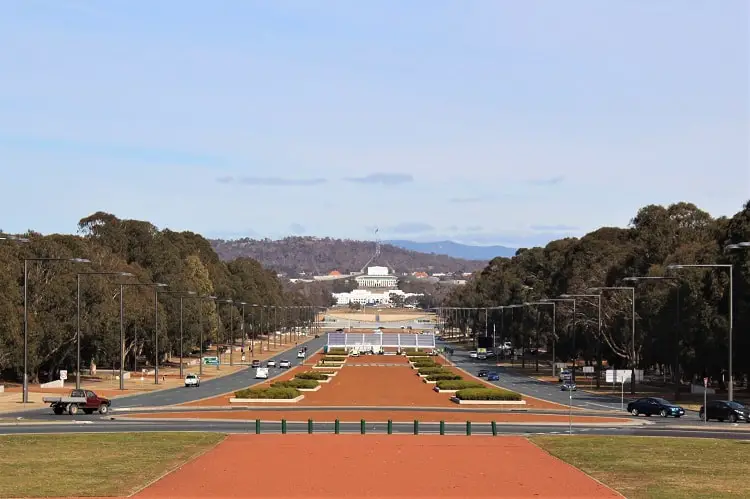 Once again, Canberra delivered so much more than I was expecting! The Australian War Memorial is a beautiful building, and much bigger than I'd anticipated.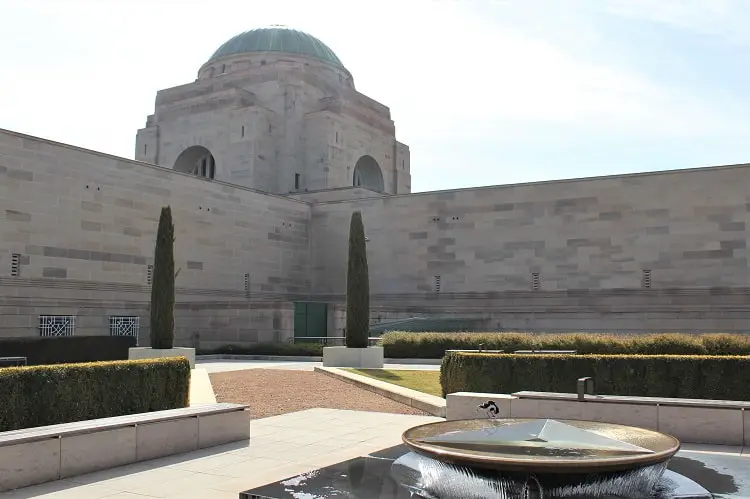 Inside, you can circle around the Pool of Reflection and the Eternal Flame in the Commemorative Courtyard, as well as stroll along the poppy-laden Roll of Honour, where the names of over 102,000 Australians who died at war have been inscribed in bronze on the wall.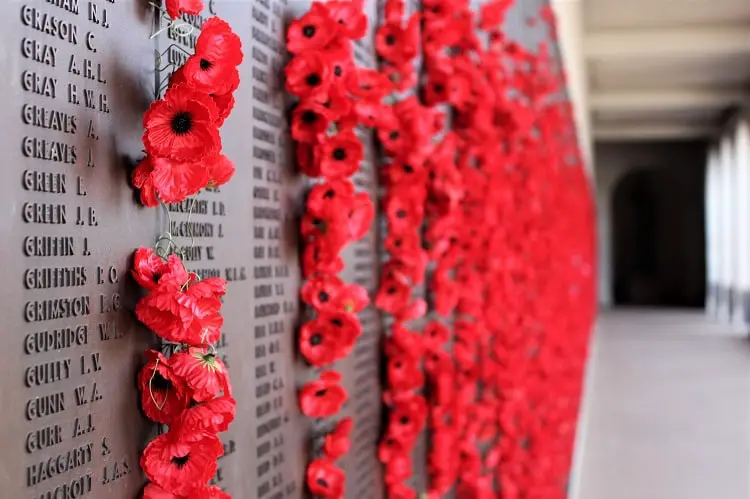 My favourite area was the peaceful Hall of Memory, which holds the tomb of the Unknown Australian Soldier. The mosaic walls, domed ceiling and stained-glass windows are absolutely beautiful.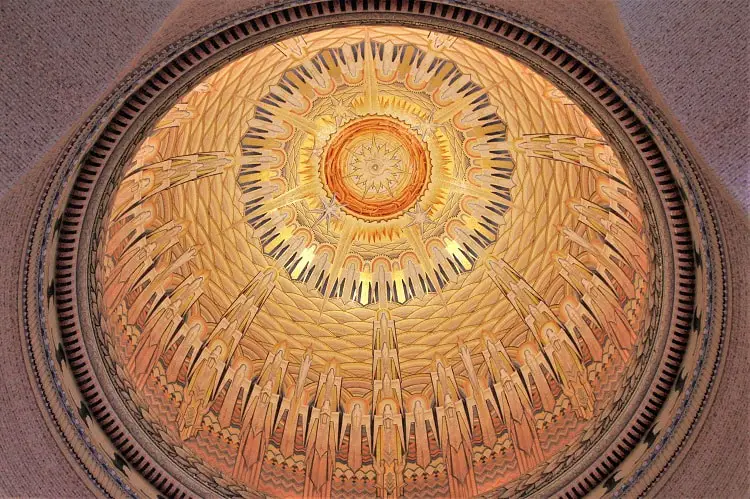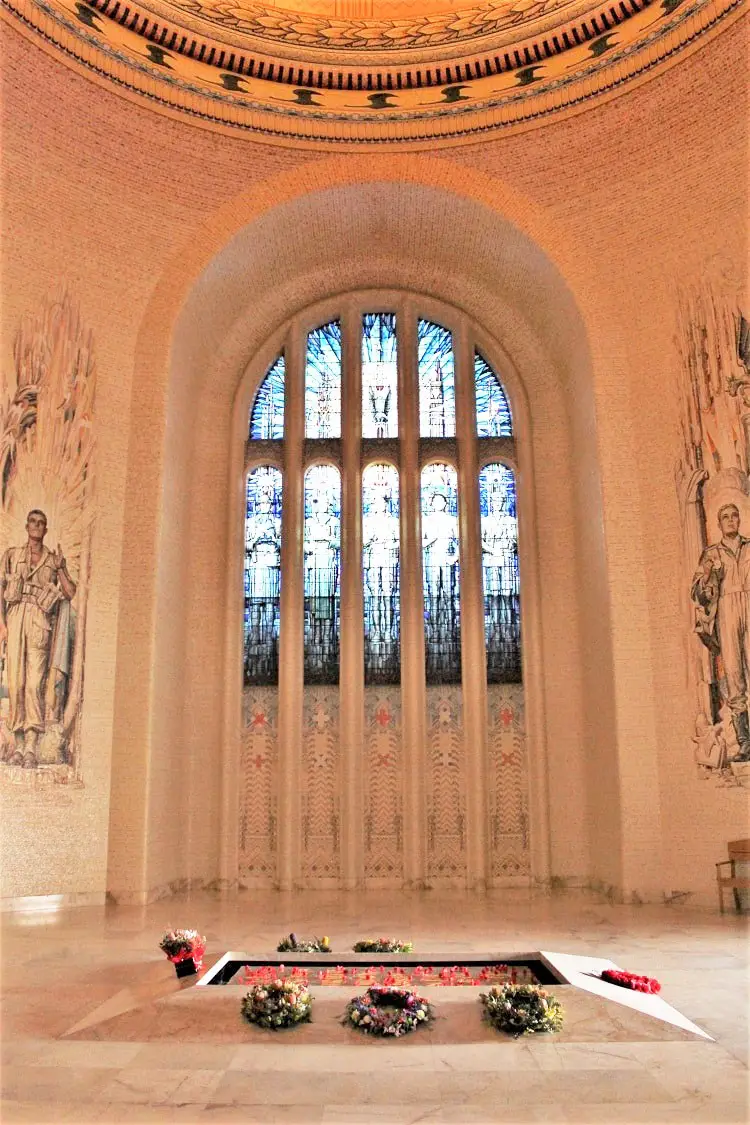 I had no idea the Australian War Memorial also has quite a large museum inside! The are interesting exhibitions covering Australia's involvement in each major conflict.
If you want to look around properly I'd allow two hours at the Australian War Memorial. The large Poppy Café next to it is also lovely if you want to stay for lunch or a coffee.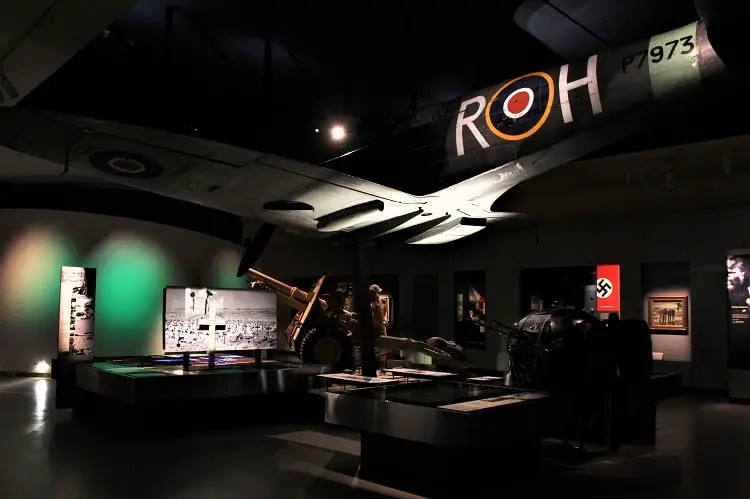 Optional Extra: Hike up to Mount Ainslie Summit
I didn't do this walk, but it's a 4km-return hike up to Mount Ainslie summit from the Australian War Memorial. From here you can enjoy views across to Parliament House and beyond.
Afternoon: Canberra Museum & Gallery
Back in the city, Canberra Museum and Gallery is a small space on the corner of London Circle and City Square that takes about half an hour to look around.
There was an amazing exhibition on called Unfinished Business when I visited, by a Sydney-based artist called Belinda Mason. It tells the stories of 30 people with disabilities from Torres Strait Islander and Australian Aboriginal communities.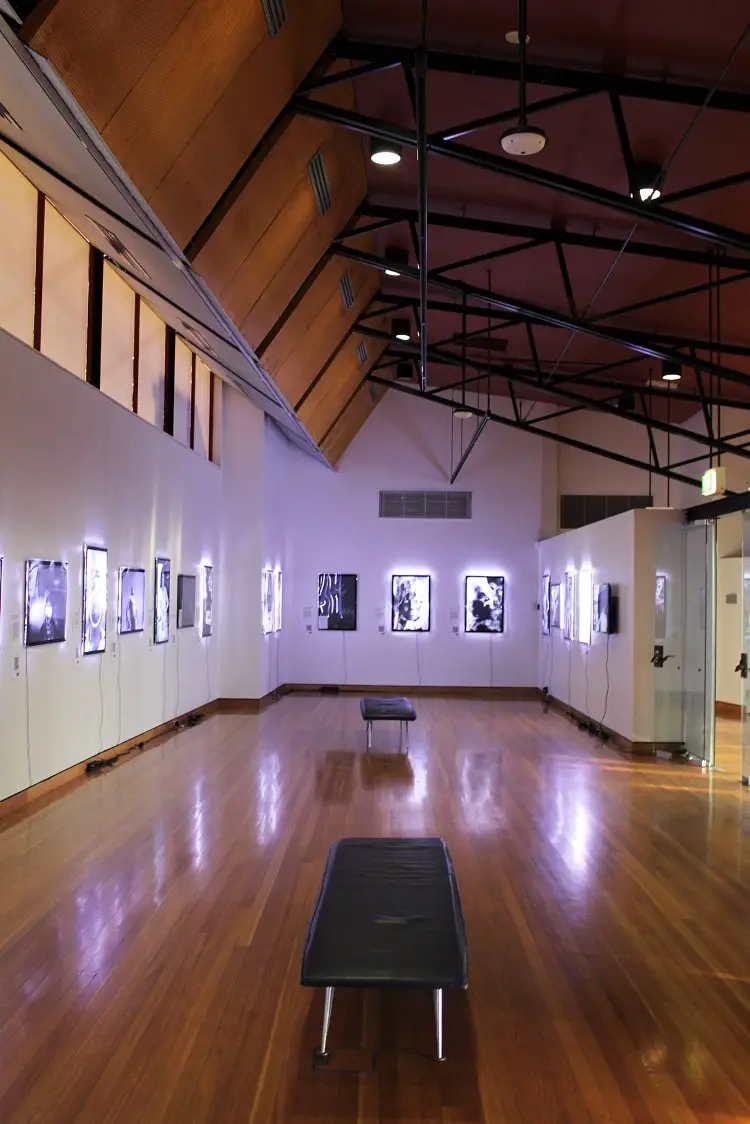 You can't tell from the picture below, but the lenticular backlit photographs actually look 3D and are really amazing to see up close.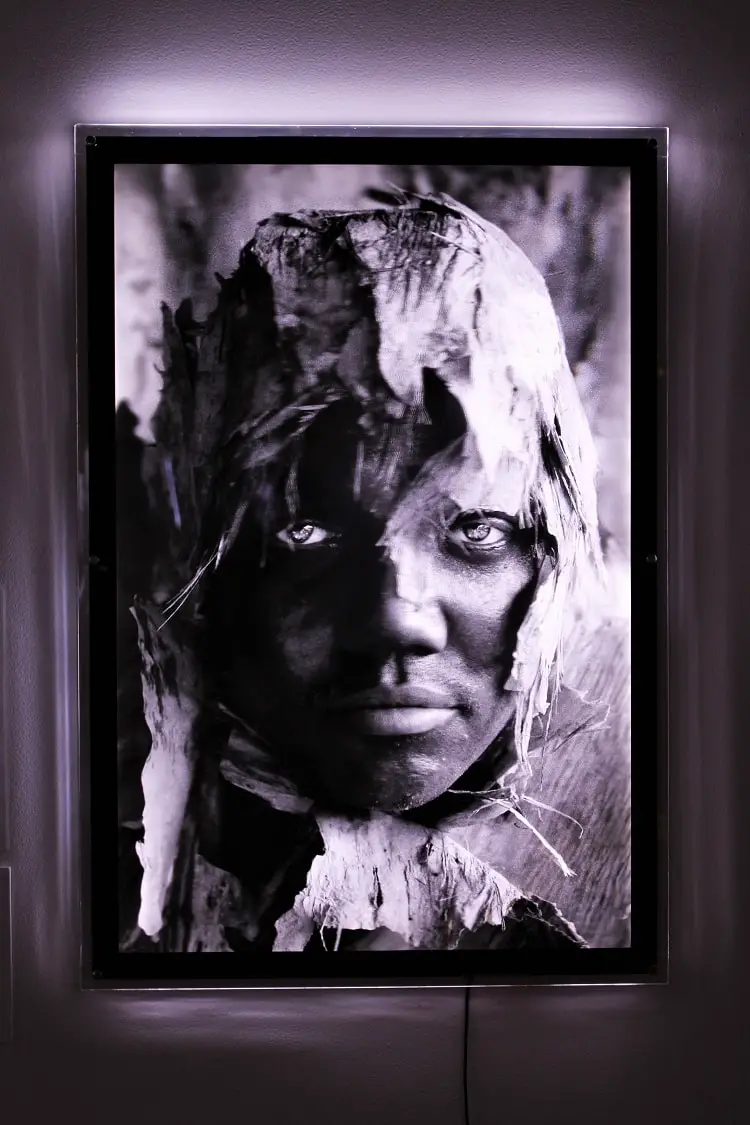 ---
Things to Do in Canberra Day 3: Parliamentary Triangle: Parliament House, Portrait Gallery & National Gallery
If you look on a map of Canberra you'll see the huge State Circle and Capital Circle just south of Lake Burley Griffin. In the centre of these lies Australian Parliament House, one of the most well known places to see in Canberra.
The area directly northeast of Parliament House, bound by Commonwealth Avenue and King Avenue, is Parliamentary Triangle, (aka Parliament Zone), where you'll find lots of interesting Canberra attractions including two art galleries.
I'd allow at least two hours in this area, or more if you want to visit Questacon or go on a Segway tour.
Morning: Parliamentary Triangle
Here are some of the things to see in Canberra's Parliamentary Triangle:
Australian Parliament House
It takes about 40 minutes to walk to Australian Parliament House from Canberra city centre. This modern-looking building is free to enter, and contains lots of information boards explaining the structure of Australian parliament and how bills are passed etc.
You can even watch Parliament in action from the public galleries in the House of Representatives and the Senate if you visit at the right time!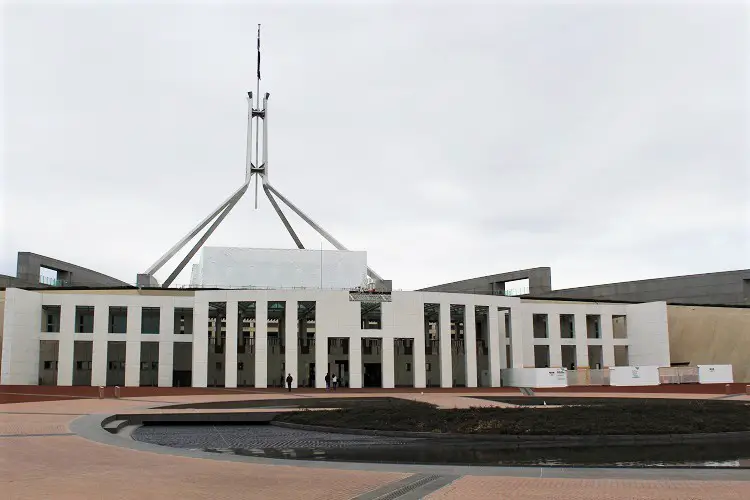 There's also a café with a large terrace, and a viewing area on the roof. Most of the roof was closed for restructuring when I visited in 2018 though.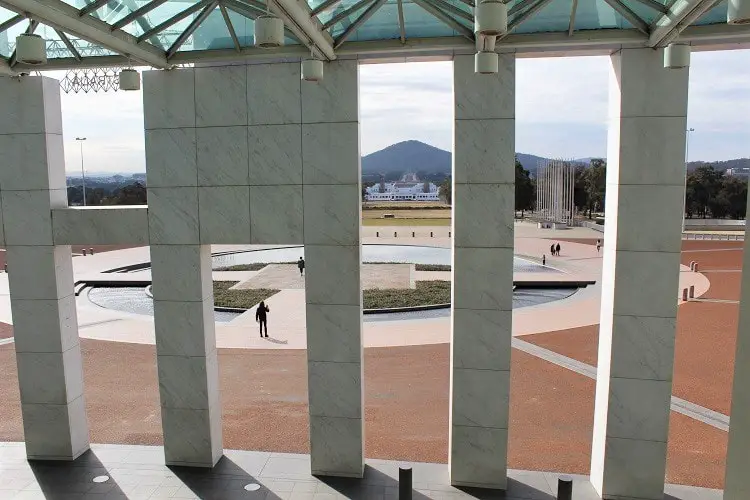 Questacon
The National Science and Technology Centre, Questacon, is also located in Parliamentary Triangle. I hadn't actually heard of this place until I passed it on the way back, but it looks like a fun way to learn about science, particularly if you have children!
Entry prices are $23 for adults, $17.50 for concessions and children between 4-16, $70 for a family of 2 adults and 3 children, and free for kids under 4.
Old Parliament House
You'll pass this on the way to Parliament House if you're walking; it's the big, grand white building with surrounding gardens. You can explore inside for a $2 donation.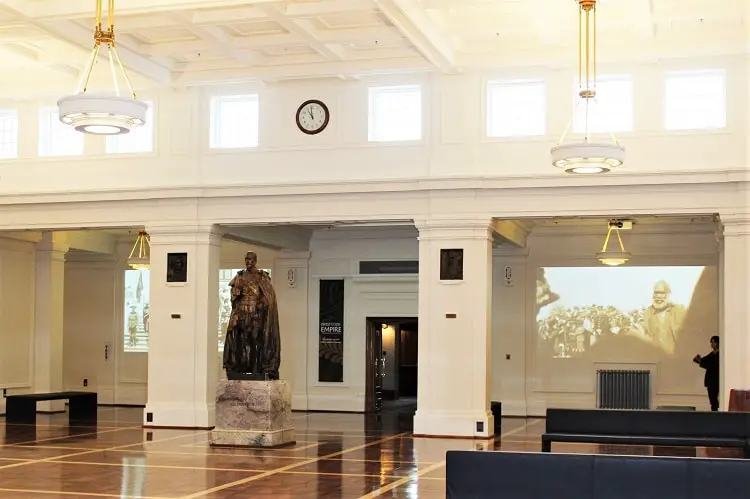 National Gallery of Australia
I'd allow about an hour in the National Gallery of Australia if you're an art lover. It's free to enter and has many different exhibitions on.
National Portrait Gallery
The nearby National Portrait Gallery is also free to enter, with lots of different styles of paintings to enjoy.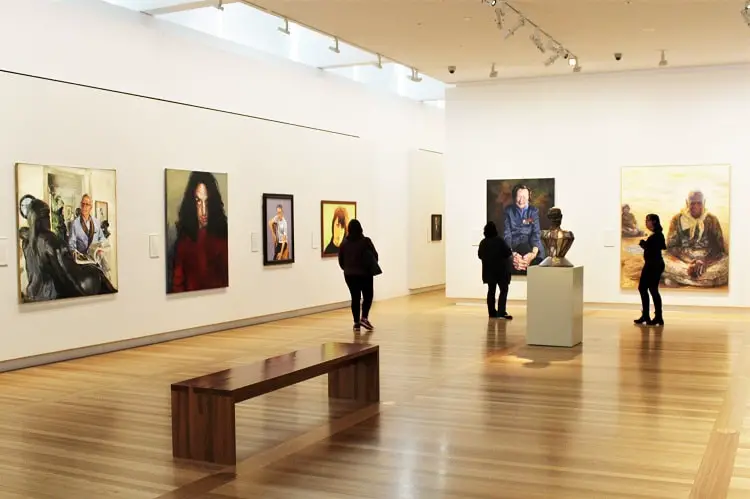 National Library of Australia
There are also events, guided tours and exhibitions on at the National Library of Australia, which you'll pass before crossing the river on your way back to the city
Optional Extra: Guided Segway Tour
I saw lots of people on guided segway tours with Seg Glide Ride around Parliament Zone. It looked like a fun way to explore Canberra!
Afternoon: Explore Canberra City Centre
If you have free time in the afternoon, you'll find plenty of shops and cafes in Canberra city centre to peruse. Head to Bunda St to look around The Canberra Centre shopping mall, which also has a Dendy Cinema inside.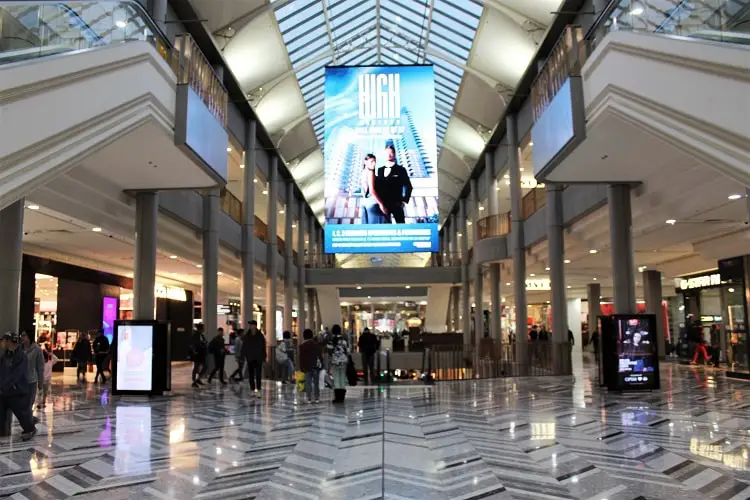 For coffee or lunch, Dobinsons on Bunda St is reasonably priced and has a lovely colourful outdoor area.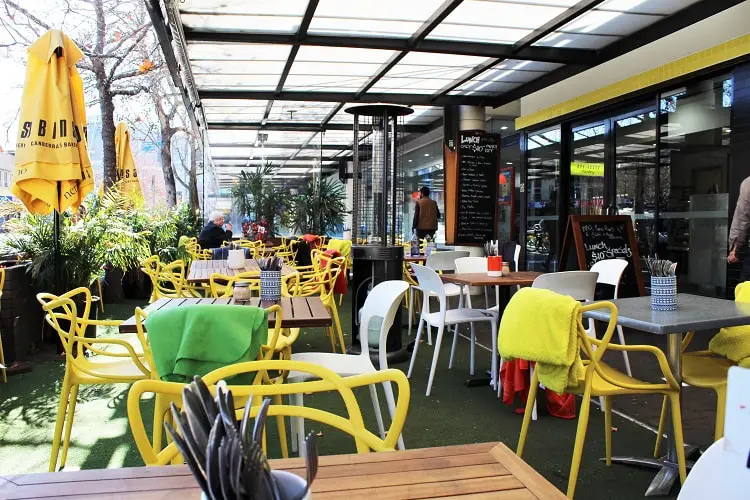 ---
Further Things to Do in Canberra
If you have more time in ACT, here are some extra Canberra attractions to consider:
You could head down to the Royal Australian Mint and explore the sole supplier of Australia's circulating coinage. 
To get back to nature, the Canberra National Arboretum in Weston Creek has 94 forests of rare, endangered and symbolic trees from Australia and around the world.
With dedicated cycle lanes on its main roads as well as around Lake Burley Griffin, Canberra is a very bike-friendly city. Check out the Visit Canberra website for more details on bike hire and routes.
---
Budget Canberra Accommodation
I stayed at Canberra City YHA, which I'd highly recommend if you're looking for budget accommodation in Canberra. It's centrally located and has great facilities; even a small indoor pool, spa and sauna!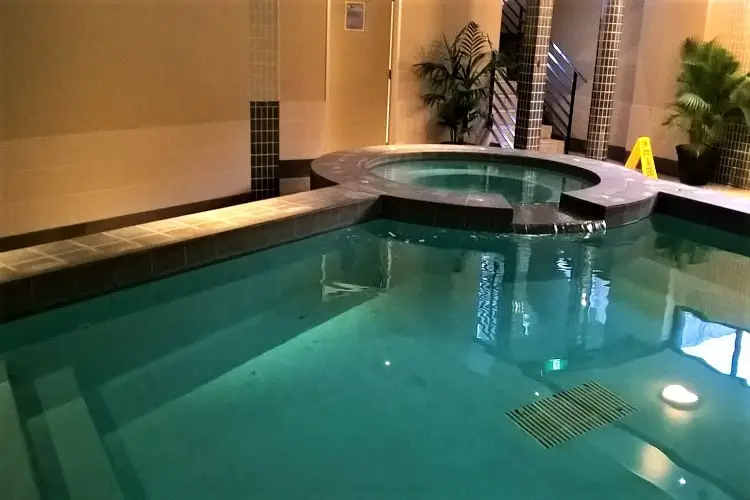 There are also TV rooms, sofas, a decent kitchen, café, bar (yet no noise from it) and recycling bins inside the dorms, which I've never come across before!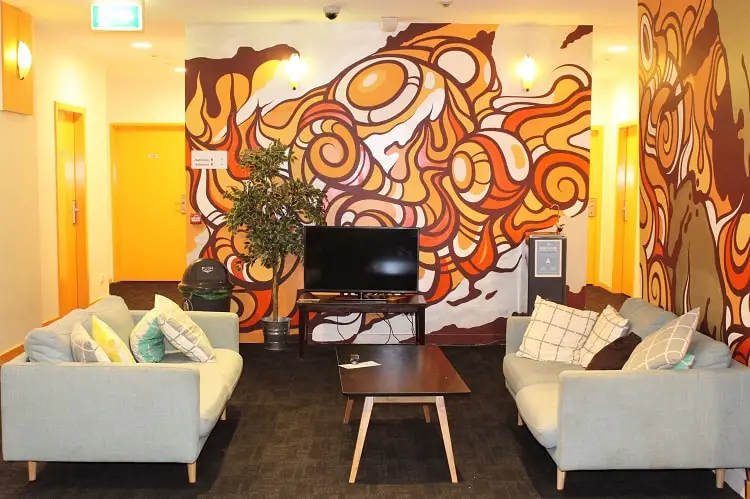 The roof terrace would be great in summer. And they hold barbecues once a week so you can socialise, as well as other daily activities.
Click here to book Canberra City YHA!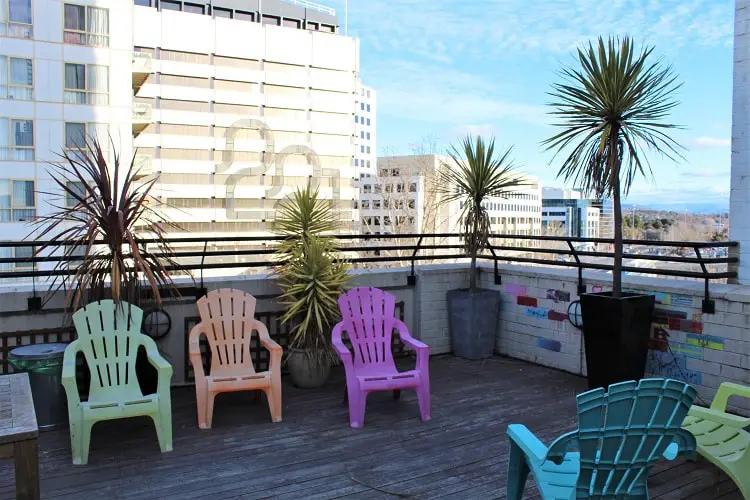 ---
How to Get to Canberra from Sydney
Canberra is just close enough to Sydney to make it worth visiting for three or four days. Melbourne to Canberra takes over six hours in the car though, so a bit far to go unless you're flying.
Sydney to Canberra By Car
The distance from Sydney to Canberra is 287km along the M31, which takes about three hours to drive. Check out my guide on what to do in the Southern Highlands if you want to stop off in one of the cute country towns along the way.
If you're on a Melbourne to Sydney road trip, you could take the inland route via Canberra instead of the coastal route, or cut up from the coast halfway along your journey. Particularly if you have a wet week ahead and can't do much at the seaside towns.
Sydney to Canberra by Train
I fancied a break from driving on this trip, and also knew it would cost to park in the city, so I decided to get the train from Sydney to Canberra instead.
This was my first long-distance train journey in Australia, and I couldn't believe how cheap it was!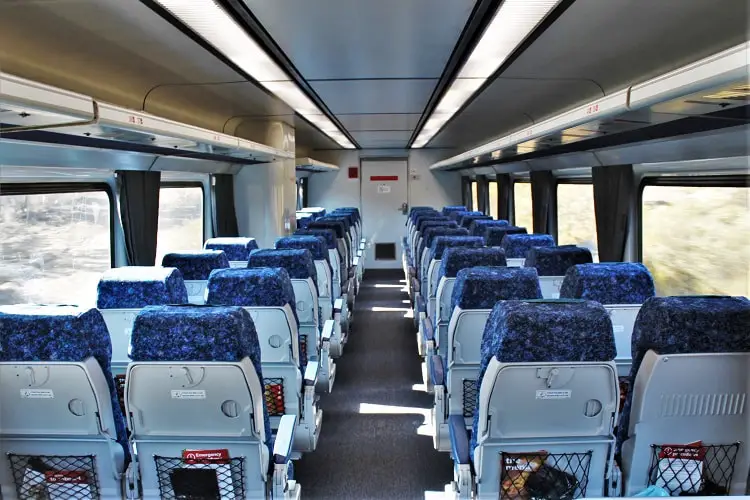 A direct train from Sydney to Canberra takes just over four hours, and costs around $28 economy, or $40 first class at most times of day. This has to be booked in advance on NSW TrainLink, as once the seats are all allocated they don't sell anymore tickets (unlike in the UK where they will cram people on standing up and charge about four times this price!).
The train was full when I tried to book one day in advance, so I used my Opal card to get from Sydney to Moss Vale, which only cost about $6, and stayed in an Airbnb overnight. Then Moss Vale to Canberra the following morning took 2 hours 20 minutes and cost $15.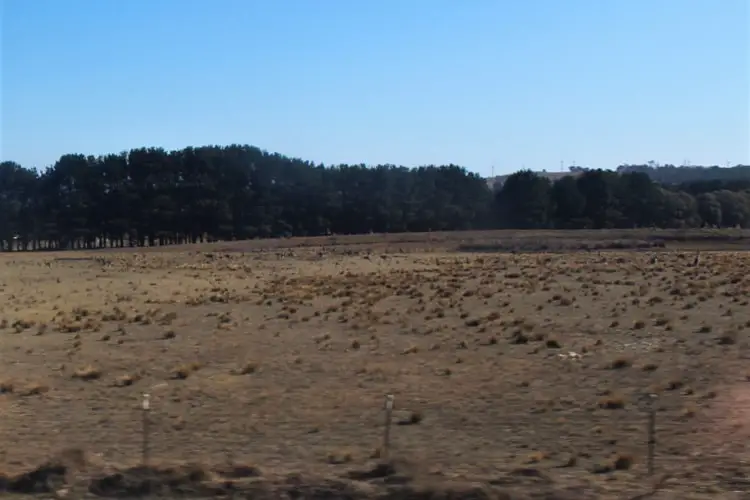 I couldn't believe how great the facilities were on the train!
While it looked a bit dated inside, it had air-con, reclining seats, foot rests, fold-down tables, curtains, brochures with a bio of the staff and destination guides, net pockets for your stuff, a buffet serving hot meals and a huge amount of leg room!
Rather than ask to see your ticket the attendant comes around with a register and ticks you off! The scenery was lovely too. The picture above is a bit blurry, but there are actually about 50 kangaroos bounding across the grass!
The train station in Canberra is around 6km outside of the city, which is a bit of a pain. To get the bus to the city cross Mildura Road directly opposite the station and catch the number 80. This cost me $4.90 in cash, but it does only run once an hour.
---
Canberra Weather
Note that Canberra weather is very different to the weather in Sydney! While the summers are hot, the winters are much colder. It was about 13 degrees in the day when I visited in July, and often dropped below zero at night.
It was extremely sunny though, so walking around was a constant cycle of whipping off my hat, gloves and coat in the sun because I felt boiling, then quickly putting them back on again when the wind blew or it was shady!
It's also extremely dry in Canberra, although there is a severe drought at the moment. The grass was totally brown and frazzled, and even the leaves on the trees looked dead. I'll admit I was struck with an overwhelming urge to leave on the first day, as the grey buildings and lack of greenery looked so depressing compared to Sydney!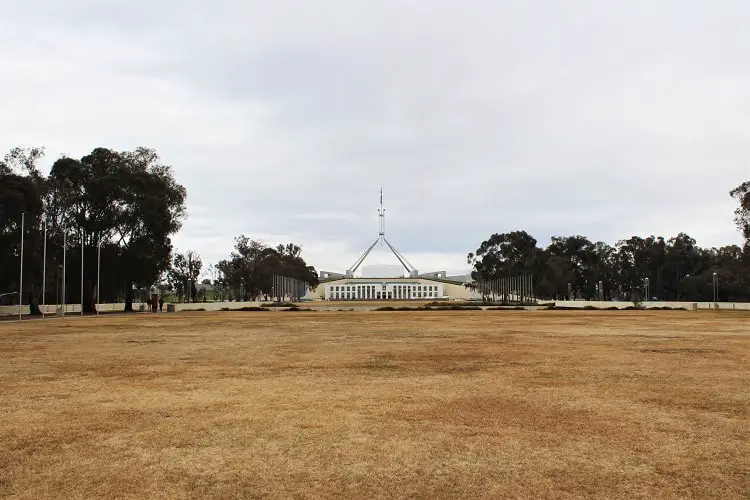 Canberra did grow on me though; there's so much cultural stuff to do, and it looks quite pretty from up in the mountains. I met some great people in the YHA too.
---
That's it for my recommended things to do in Canberra, Australia's capital city. Have a great time exploring Oz, and let me know in the comments what you thought of Canberra and if you have any further recommendations!
---