This post may contain affiliate links. Please see my disclosure policy for more details.
If I asked you to picture New Year's Eve in Australia, I'd bet you instantly imagine a deafening explosion of brightly coloured fireworks shooting off Sydney Harbour Bridge with the majestic Opera House illuminating in the background with every fizz and bang.
What you probably aren't imagining is arriving at 10am to find a two-hour long queue ahead of you, clambering across tens of thousands of sweaty people to find a miniscule patch of grass to squeeze onto, followed by 12-hour wait in the blistering heat, all to catch occasional glimpses of the oh-so-famous fireworks between the overhanging trees blocking 70% of your view. Oh, and a 40-minute wait for the toilets.
This is what I experienced last year when I was one of the 14,000 people who chose to watch the Sydney NYE fireworks from the free viewing area at Mrs Macquarie's Point in the Royal Botanic Garden.
---
What's So Wrong with NYE in Sydney?
Don't get me wrong, the Sydney New Year's Eve firework display is spectacular, definitely the best I've ever seen, but the sheer amount of people that flock to see it puts a bit of a dampener on things. If I go again this year, which I'm sure I will, I'll choose one of the quieter and lesser-known spots on the northern shore that some of my friends enjoyed last year.
I absolutely wouldn't go to the Botanic Gardens again unless I paid for a spot with a better viewpoint. Here are some pictures to show you why.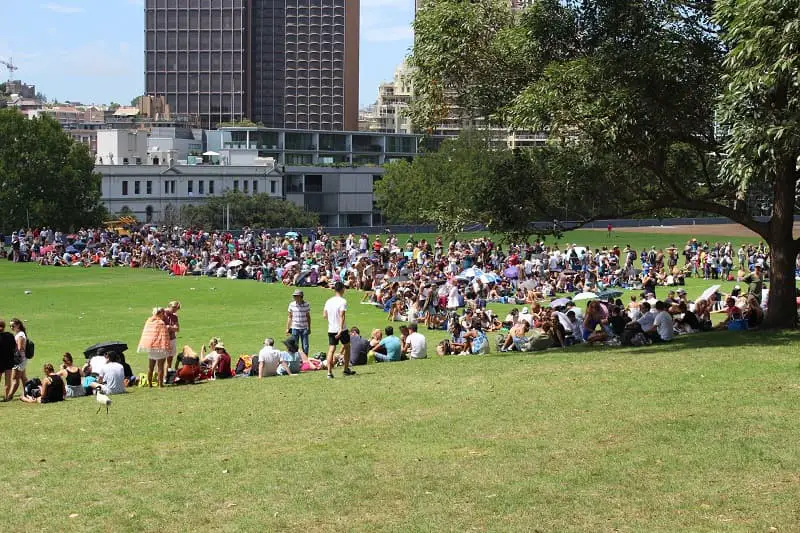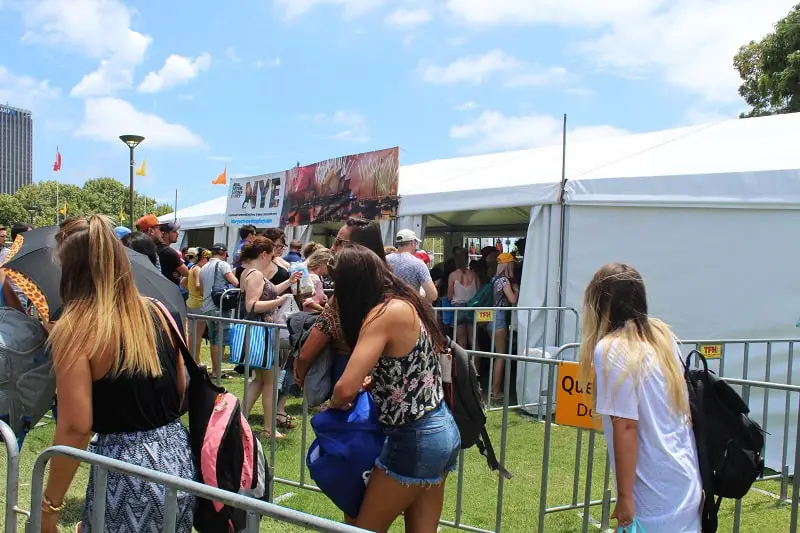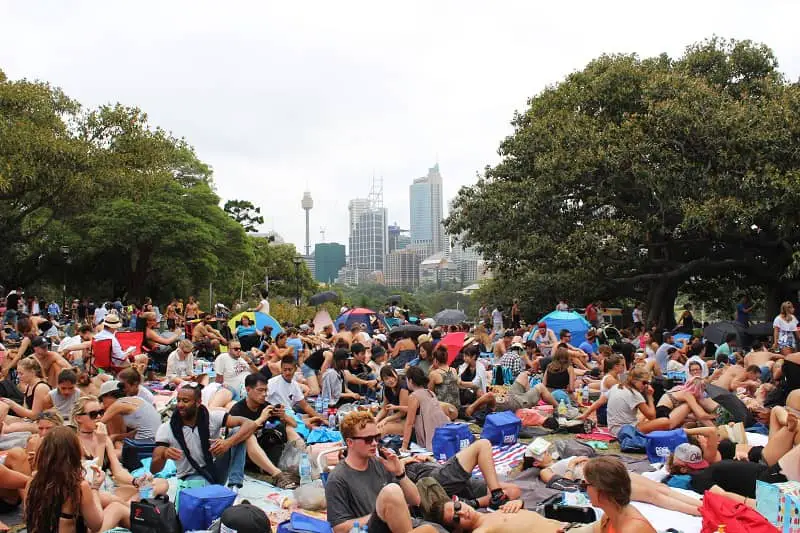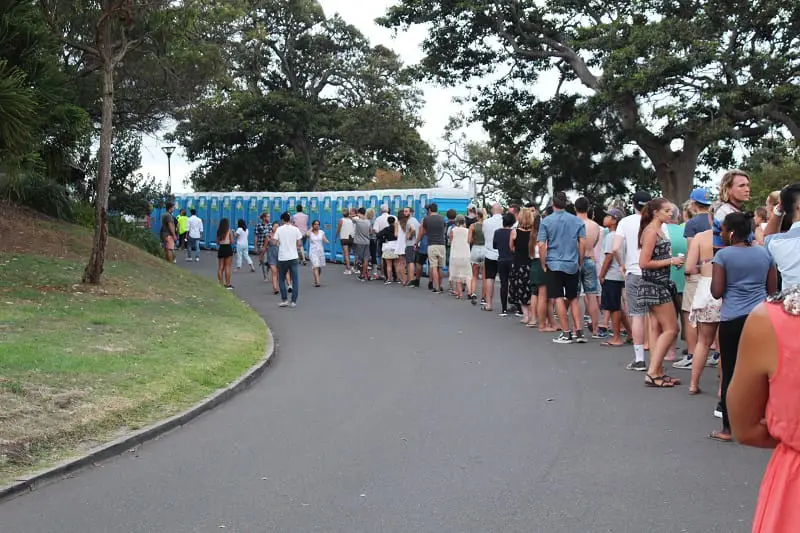 If that's not enough to convince you, have a read of this article about the Welsh honeymooners who went to the same spot and were so disappointed that they left and paid $1600 to grab the last places at Sydney Cove Oyster Bar so they could actually enjoy their once-in-a-lifetime NYE in Sydney.
---
Why Spend NYE in Elder Park Adelaide?
Before I moved to Sydney, I went on a mammoth road trip from Perth to Adelaide, before continuing on to Melbourne, Tasmania, Sydney and Brisbane. Purely because of the timing of the trip, I happened to spend Christmas and New Year in Adelaide. Not the most glamorous of places to bring in the New Year, or so I would have believed.
One of my travel companions, Michi, was so desperate to spend New Year in Sydney and see the famous fireworks that he spent hours scouring the web for accommodation, only to realise that booking both a flight and a last minute hostel at peak time was going to come close to a thousand dollars – a lot more than staying put at our free house sit in Adelaide.
So… fireworks at Elder Park Adelaide it was, and it ended up being fantastic. Here's why.
---
Adelaide Free Public Transport on New Year's Eve
Adelaide helpfully puts on free public transport from 5pm until dawn on New Year's Eve. This was perfect for us as we were house sitting out in the suburbs. The only downside was the train to come home was full, and we had to wait an hour for the next one. It was so hot down in the station that people were passing out, and the staff didn't seem to know what was going on or when the next train was.
---
Elder Park Adelaide – Uncrowded & Child Friendly
Unlike Mrs Macquarie's Point in Sydney, Elder Park Adelaide didn't get crowded until later in the evening, and even then it wasn't uncomfortable; there was always space to sit down, and many people brought their own chairs. It was also a pretty safe area for kids to wander around in without risk of getting squashed or sucked into a crowd.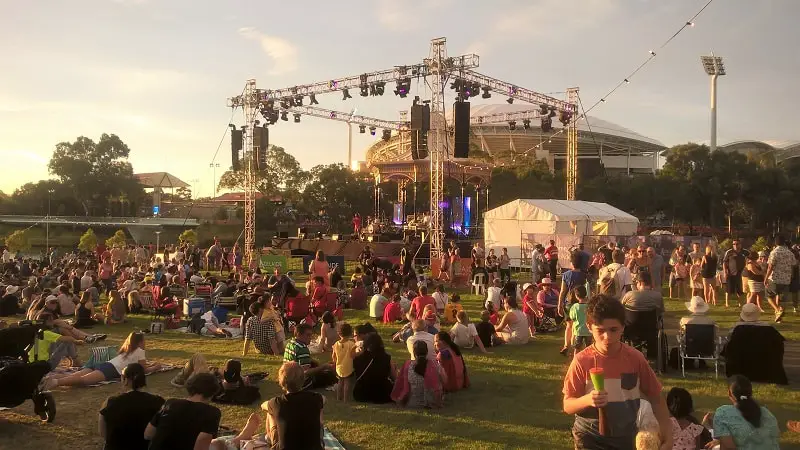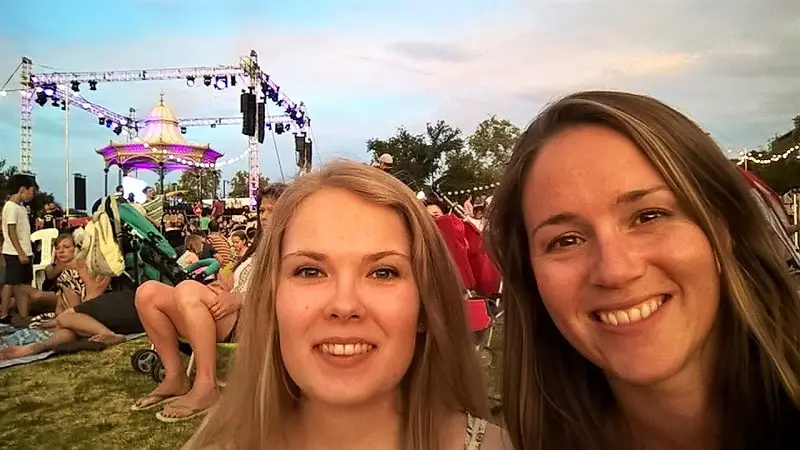 ---
Relaxed Atmosphere
There were no barriers, gates or one-in one-out scenarios at Elder Park. You were free to come in and out of the park as you pleased. If you wanted to nip off to get food somewhere, there was no problem coming back. People were also enjoying the colourful pedal boats along the river during daylight hours, and the vibe was generally very chilled out.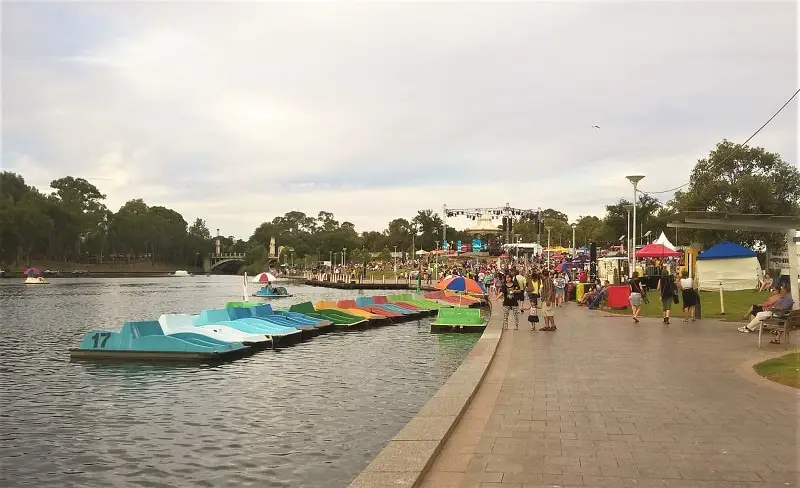 ---
Beautiful Sunset at Elder Park
As daylight diminished and the sun began to sink, we were treated to  beautiful views across the river with enough room to stretch our legs out on the grass.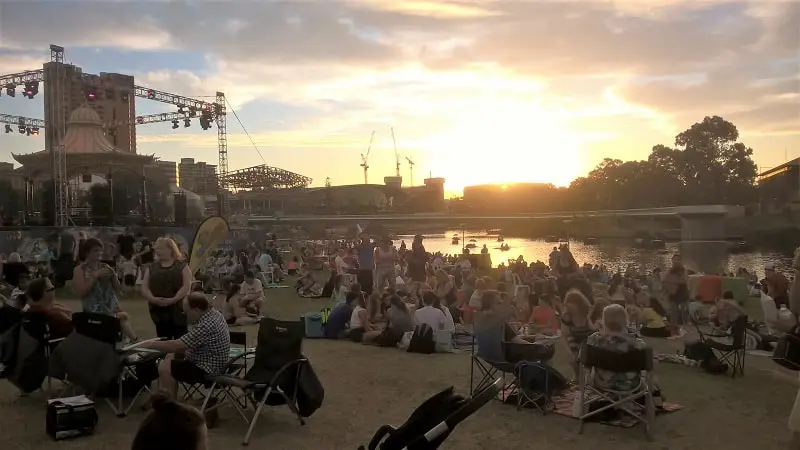 ---
NYE Fireworks at Elder Park Adelaide
The New Year's Eve fireworks at Elder Park were absolutely brilliant. While they weren't quite as big and fancy as Sydney's, the real bonus was being close enough to hear the synchronised music. I couldn't hear any music at all in Sydney from our location in the Botanic Gardens.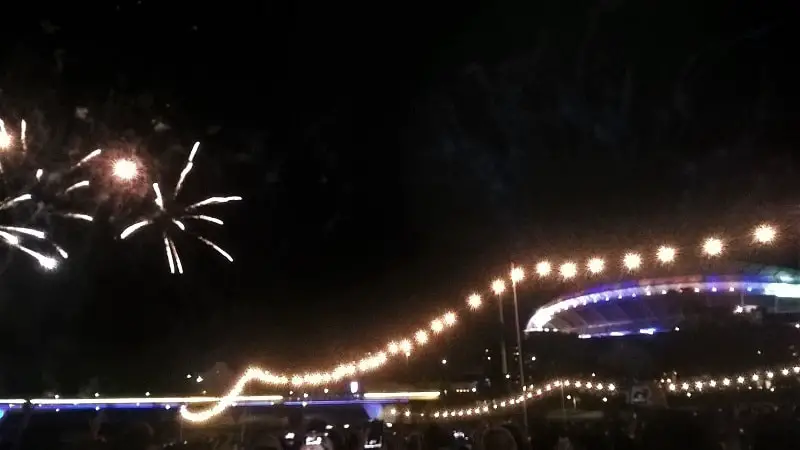 Adelaide played a really cool mix of songs from well-loved movies (think Back to the Future, Charlie and the Chocolate Factory and Harry Potter, along with snippets of dialogue such as "You're a wizarrrd 'arry" booming across the park!), as well as modern music such as Flume. This aspect really made the night memorable for me and set it apart from other displays I've seen.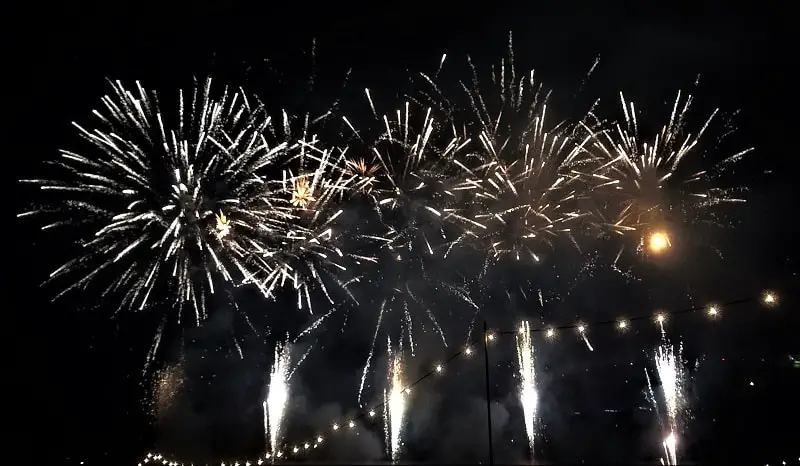 ---
Bandstand, Live Music & After Party
Elder Park also had a bandstand with a mixture of live music and DJs going all night. Once the fireworks had finished, the music continued and it was free to stay on after midnight and party the night away. In Sydney there was no option but to join the masses and evacuate the area.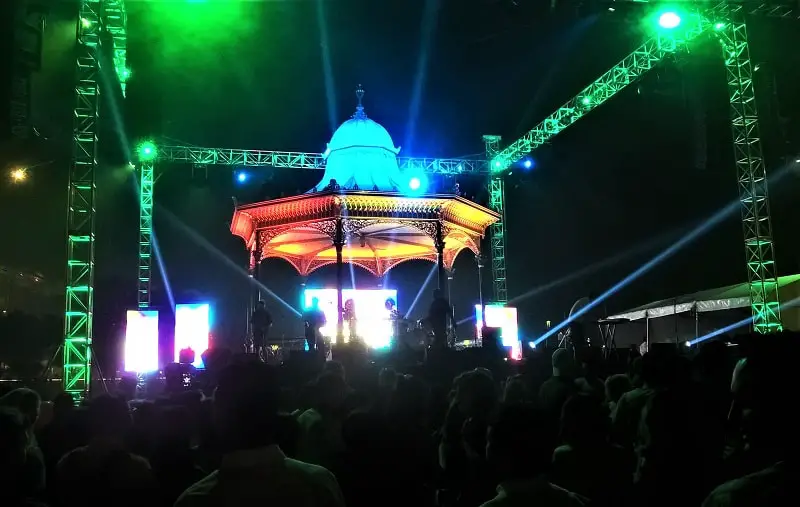 ---
Wherever you spend New year's Eve, I hope you have a brilliant time. If you're lucky enough to be travelling I'm sure it'll be memorable. Just remember that the most famous and sought-after locations aren't always the best, so don't fret if you're somewhere a bit frumpy – you might have the time of your life! Happy New Year!
---
Like it? Pin it!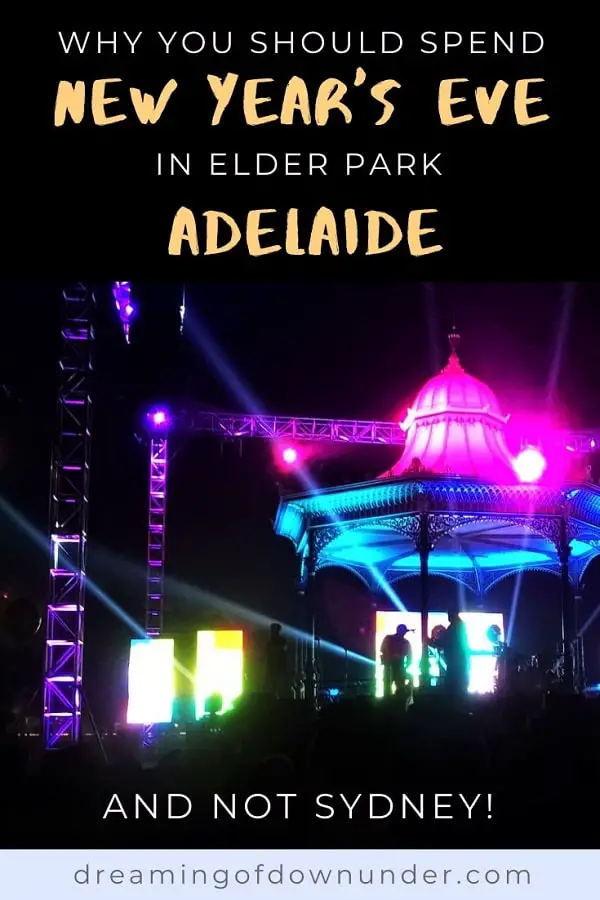 Written by Lisa Bull
Lisa Bull, founder of Dreaming of Down Under, has been living in Australia as a British expat since 2015. After travelling to every state and territory in Australia and living in Perth, Brisbane and Sydney, Lisa knows from first-hand experience the best destinations to visit in Australia and the best budget travel tips. Her guides on this blog have been read by over 700k readers and helped thousands of people achieve their dream of living in or travelling Australia.