This post may contain affiliate links. Please see my disclosure policy for more details.
If you're thinking of living in Canberra, this blog post will give you an overview of Canberra's lifestyle, weather, property prices and more.
While Canberra is Australia's capital city, it's actually quite tiny compared to bigger cities like Sydney. However, there are many advantages of living in Canberra, such as great bush walks and little traffic! It's also a cultural hub and educational hotspot.
If you're not desperate to live by the beach or somewhere big and busy, moving to Canberra could be an option for you. Keep reading to find out more on the pros and cons of living in Canberra, or watch my YouTube video comparing Canberra to Adelaide.
---
Living in Canberra: Table of Contents
To head straight to a topic on life in Canberra, click the links below.
---
1. Where is Canberra in Australia?
Unlike the other state capitals in Australia, Canberra is located inland rather than along the coastline. Sydney to Canberra is about a three-hour drive southwest, and Canberra to Melbourne takes about seven hours (there are a few mountain ranges in the way)!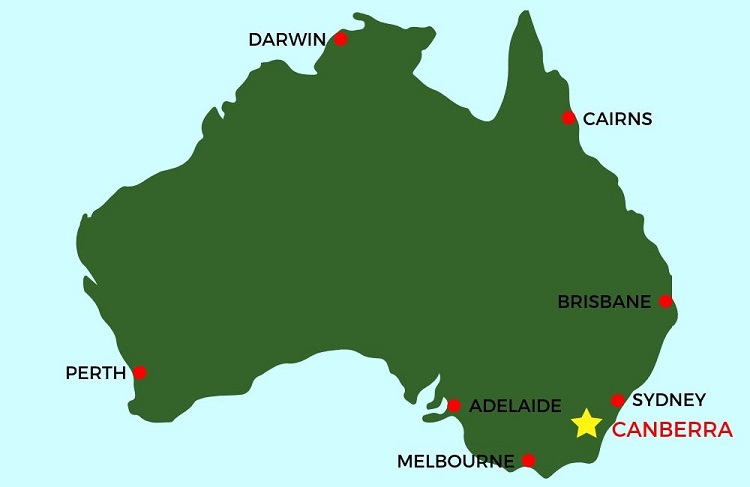 ---
2. Canberra Population and Size
Even though people often haven't heard of it, Canberra really is the capital city of Australia! It's much smaller than Sydney and Melbourne, but it's where the government buildings such as Parliament House are based.
So, how many people live in Canberra? With a population of just 390,000, Canberra is the 9th most-populated city in Australia. It's also the capital city of Australian Capital Territory (ACT).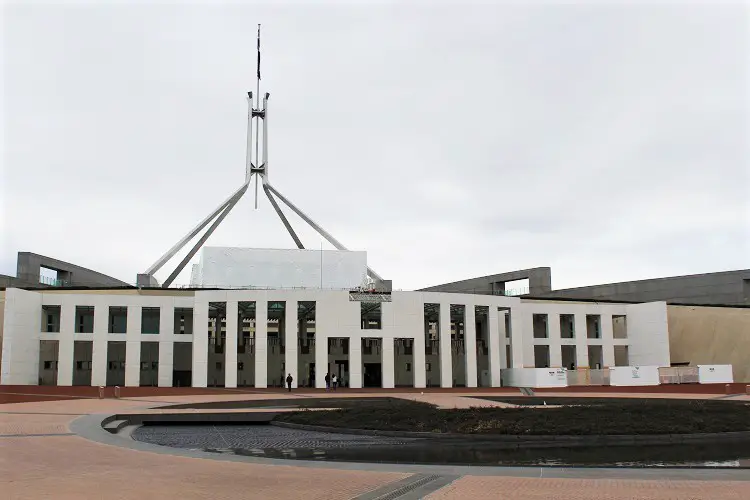 Thanks to Canberra being home to numerous universities, including Australian National University (ANU), one of the world's leading universities for research, approximately 25% of the city's population are students.
Canberra is also known as having a high proportion of well-educated residents compared to other Australian cities.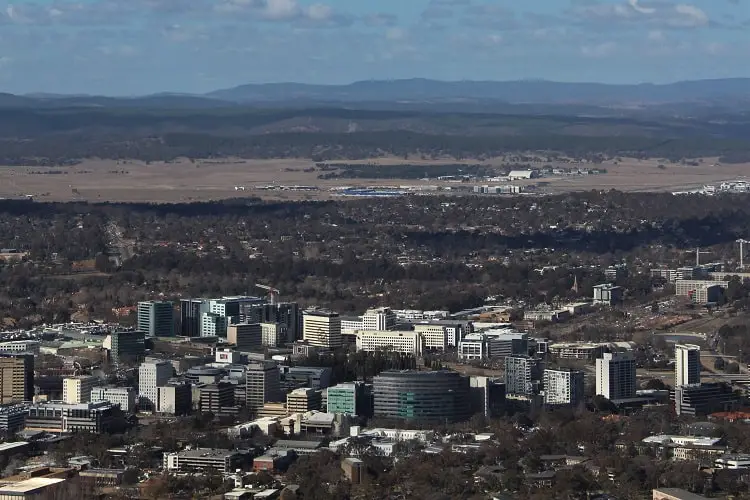 The city feels vastly different to bustling Sydney and Melbourne. The streets seemed so empty I wondered if there had been an evacuation! It's also very compact and surrounded by mountains rather than being close to the beach.
Traffic levels are so low compared to the other cities; it would be a pleasure to drive around in comparison.
---
3. Living in Canberra: Weather & Seasons
Canberra lies 580m above sea level, and with its high altitude, it has a subtropical highland climate quite different to that in the coastal cities.
Summers are hot and dry, but winters are pretty chilly, with temperatures often falling below zero overnight. There are also four distinct seasons in Canberra.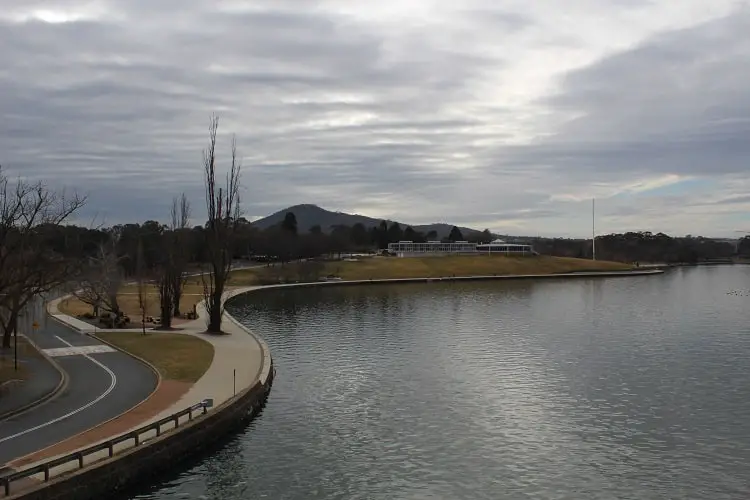 The average maximum temperature in Canberra is 28.0 degrees in the hottest month (January), and 11.4 degrees in the coldest month (July). Overnight, the average minimum in January is 13.2 degrees, and in July, -0.1 degrees.
Per year, Canberra has an average of 100 sunny days. As a comparison, Perth has the most with 139, and Melbourne only has 49. Canberra also has an average of 72 rainy days (of at least 1mm) per year, which is less than all the other state capital cities in Australia.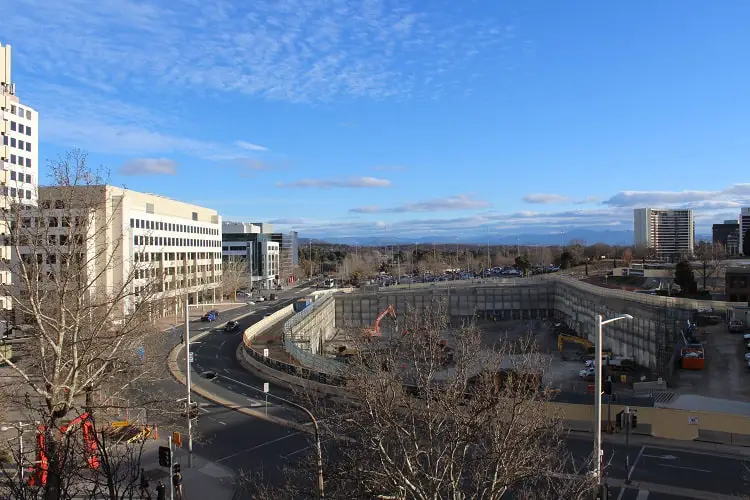 It felt really unusual to see trees without leaves on when I visited in winter. I'm used to living in Sydney, which stays pretty lush and green all year! It looked more like the stark English winters! It also looked very parched, with very brown grass. It had been a particularly dry winter though.
---
4. Daylight Hours in Canberra
Since Canberra has daylight saving, it has lighter evenings in the summer than Perth, Darwin and Brisbane.
In the height of summer in Canberra, the sun goes down around 8:20pm, about an hour and a half later than in Brisbane. In midwinter, the sun sets just before 5pm.
---
5. Living in Canberra: Lifestyle & Things to Do
Since Canberra lies a few hours inland, it obviously doesn't have any beaches! It is surrounded by mountains though, so great if you want to go bush walking.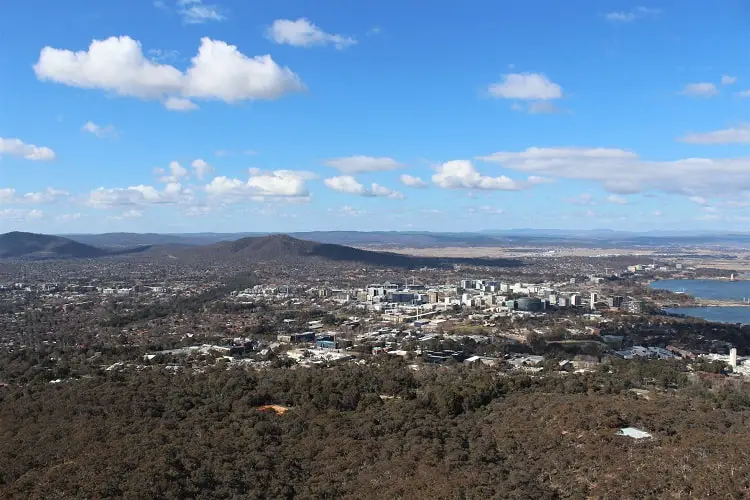 Close to the city is Lake Burley Griffin, which is surrounded by parkland and a cycle path. There are also lots of museums and art galleries dotted around, so Canberra is a great city for arts and culture.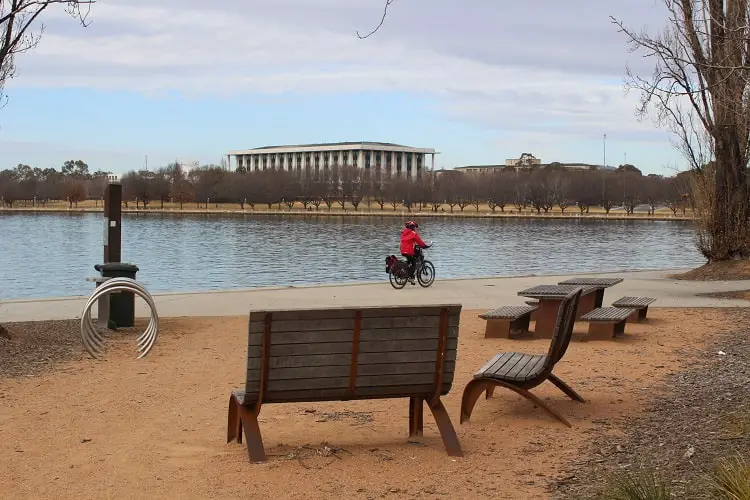 Since I visited in winter it was a bit quiet everywhere, but I'd imagine the outdoor areas would be much livelier during summertime! The botanic gardens were beautiful though, with a lovely café.
The city has modern shopping malls and lots of cafes and places to eat. So even though it's pretty small, you still get some of the benefits of a big city. For more information on Canberra attractions, have a read of my blog post on the best things to do in Canberra.
---
6. Canberra Property Prices
In terms of buying property, Canberra is the second-most expensive state capital in Australia. Only Sydney has more expensive housing.
According to this monthly property report from Corelogic from July 2023, the median house price in Canberra during June 2023 was $954,079. The median unit (flat) price in Canberra was $597,580.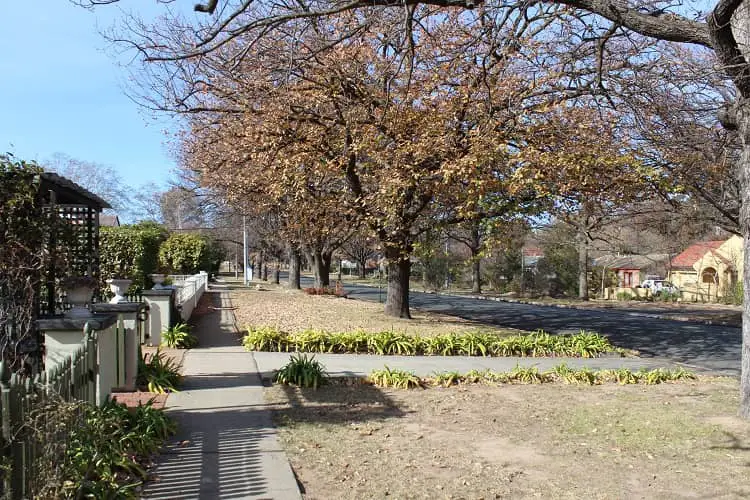 ---
7. Renting in Canberra
This monthly rental snapshot from rent.com.au states that the median weekly rent in Canberra in June 2023 was $650 for a house, $520 for a unit/flat and $250 for a room.
This makes Canberra the second-most expensive Australian state capital in terms of rental costs. However, Canberra is still significantly cheaper than Sydney to rent a house. The median weekly rent for a house in Sydney in June 2023 was $800.
---
8. Trips from Canberra: Holiday Destinations
If you like the idea of a beach trip, you can drive to the coastline from Canberra in just two hours, which is very doable for a day trip or weekend away. The closest beach area is Batemans Bay, which is a beautiful little holiday town with national parks nearby.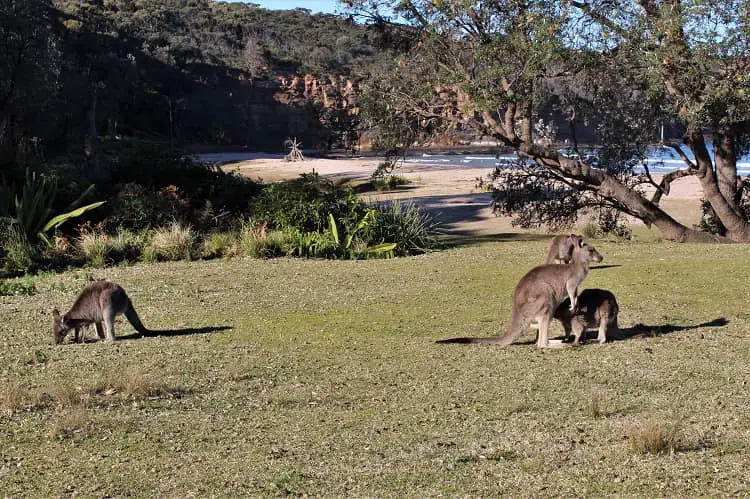 You can also drive to stunning Jervis Bay in three hours, which has some of the most beautiful beaches in Australia, in my opinion!
If mountains are more your thing, Canberra lies very close to the Snowy Mountains, so you can pop off for a skiing trip during winter! There are also quaint villages, vineyards and national parks to visit in the surrounding areas.
Since Canberra has an international airport, you can also fly off on holidays abroad, as well as take domestic flights to cities and holiday areas in Australia.
---
Hopefully this blog post on living in Canberra has helped with your potential move!
Best of luck with your move!
---
Pin it for later!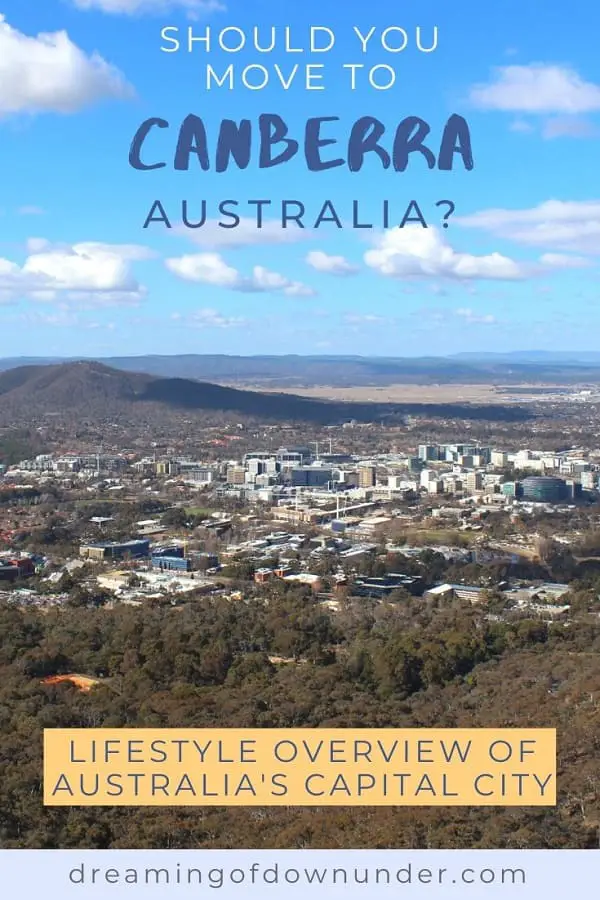 Written by Lisa Bull
Lisa Bull, founder of Dreaming of Down Under, has been living in Australia as a British expat since 2015. After travelling to every state and territory in Australia and living in Perth, Brisbane and Sydney, Lisa knows from first-hand experience the best destinations to visit in Australia and the best budget travel tips. Her guides on this blog have been read by over 700k readers and helped thousands of people achieve their dream of living in or travelling Australia.