This post may contain affiliate links. Please see my disclosure policy for more details.
The Southern Highlands has been on my list of Sydney day trips for some time now, and I finally headed down there recently to see what all the fuss is about. If the idea of perusing bookshops and antique stores in small country towns and winding your way through lush national parks takes your fancy, read on.
The Southern Highlands lies just over 100km southwest of Sydney, and as you might guess from the name, sits well above sea level. The first thing you'll notice on arrival – if you visit outside of summertime – is the clean, fresh air and how much colder it is than Sydney!
There's an abundance of quaint country towns to explore in the Southern Highlands, along with the famous Fitzroy Falls, various walking tracks and lookouts in Morton National Park and the opportunity to detour into the picturesque Kangaroo Valley. 
---
How to Get to the Southern Highlands
It takes around an hour and a half to drive down to Mittagong from Sydney. Alternatively, the train takes just over two hours from Central Station, and only costs around $6 each way (or $2.70 return on a Sunday as travel is capped)!
You'll have more freedom in a car, particularly if you want to head into Morton National Park, but all the towns I've listed below (apart from Kangaroo Valley) have train stations, so they're easily accessible.
The train journey down is really picturesque, passing through lots of open countryside and villages. Just be aware that the trains between Sydney and the Southern Highlands only run every hour or two, so check the NSW train timetables in advance! Also make sure you pick the journeys that state you can use your Opal card as some trains run all the way to Canberra and cost much more.
---
Mittagong
If you're on a day trip from Sydney, Mittagong will be your first stop-off point when you reach the Southern Highlands. There's an information centre on Main Street, so it's a good town to start in.
Mittagong has plenty of heritage buildings, craft shops and art galleries to explore, along with stylish cafes such as The Shaggy Cow. The hilly backdrop reminds you that you're not in Sydney any more!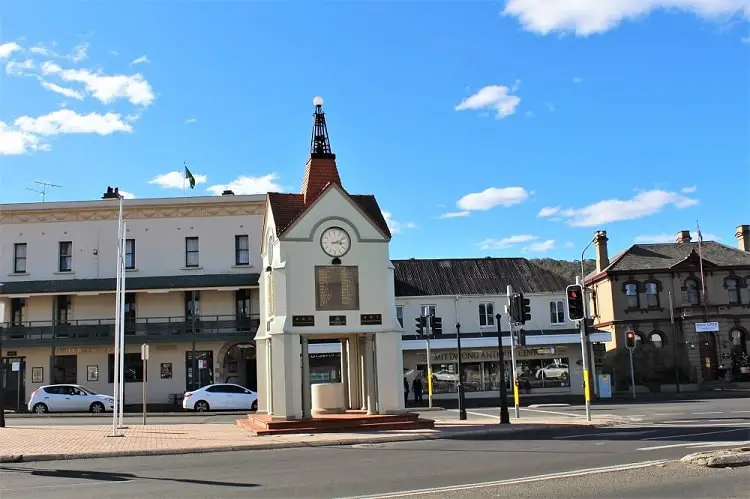 Mittagong doesn't have the quaintness of Bowral as it's more spread out along a bigger road, but the shops on Bowral Road are great to browse.
We spent ages rummaging through all the clothes and accessories in Twisting Vintage, and even if it's not your thing, don't miss a look around Hunters and Collectors Antiques – by far the most interesting and eclectic antique store I've ever been in, selling everything from mopeds to tiger taxidermy!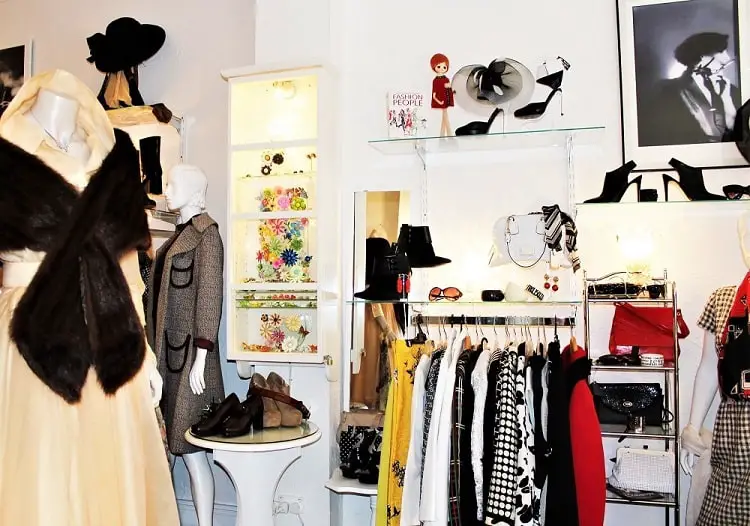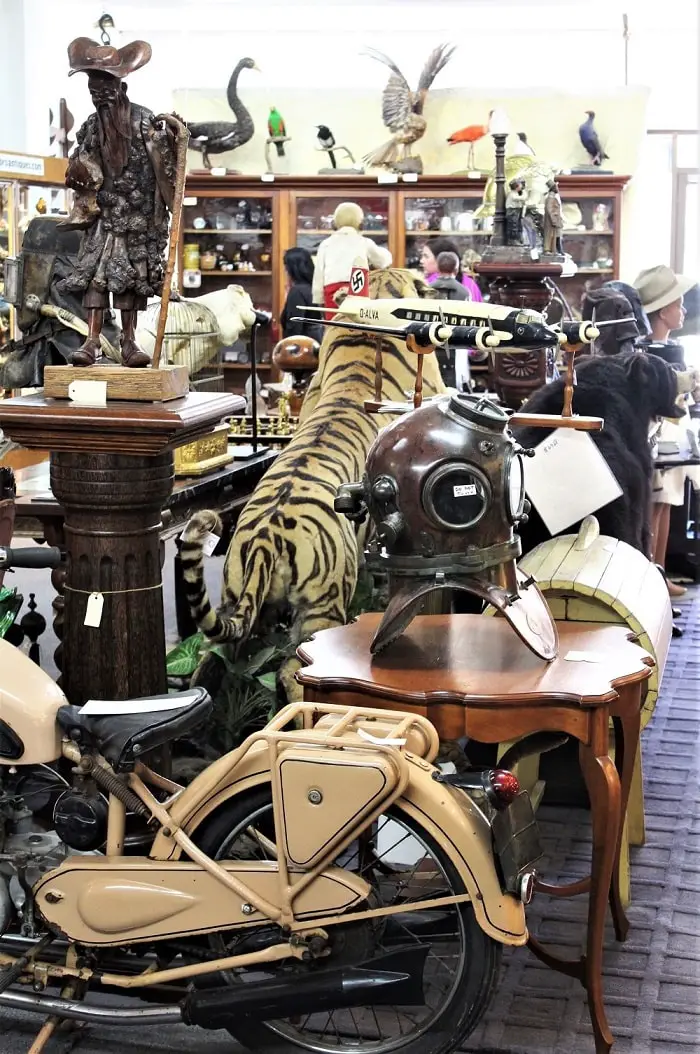 Mount Gibraltar Lookouts
If you're driving, make sure you take the short detour up Mount Gibraltar for scenic views across the Southern Highlands. Head along Oxley Drive and you'll pass some impressive country mansions before taking the loop road to Mittagong Lookout and Jellore Lookout. Further along, Bowral Lookout also has toilets and a picnic area.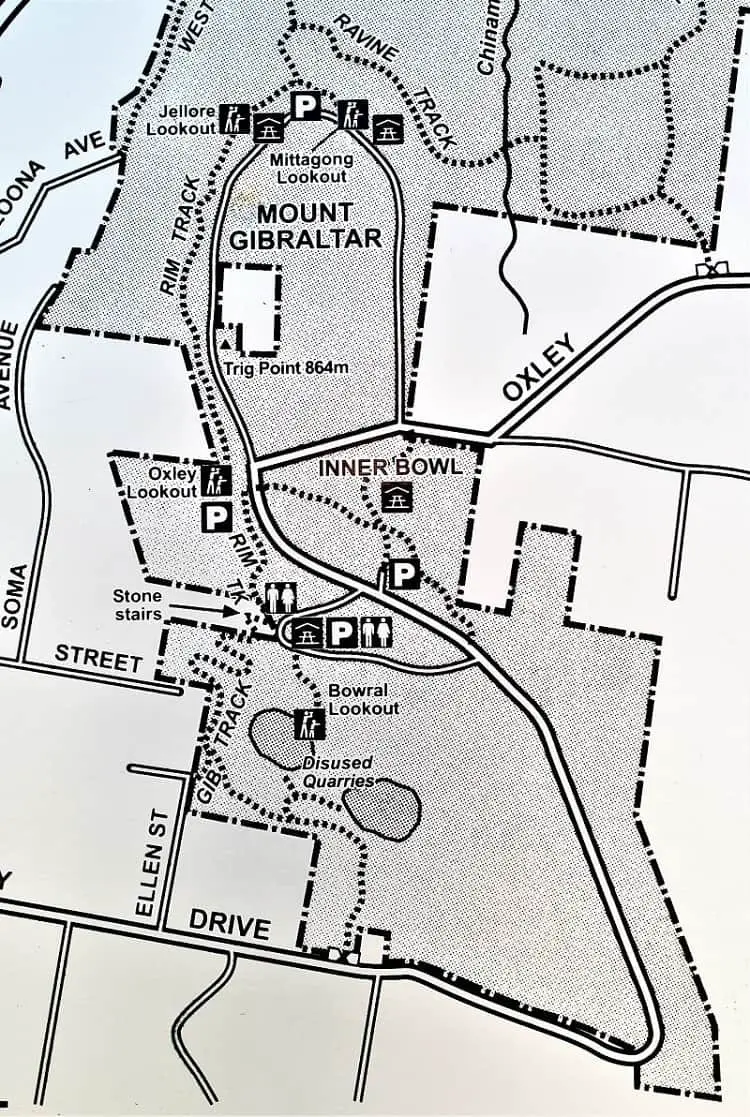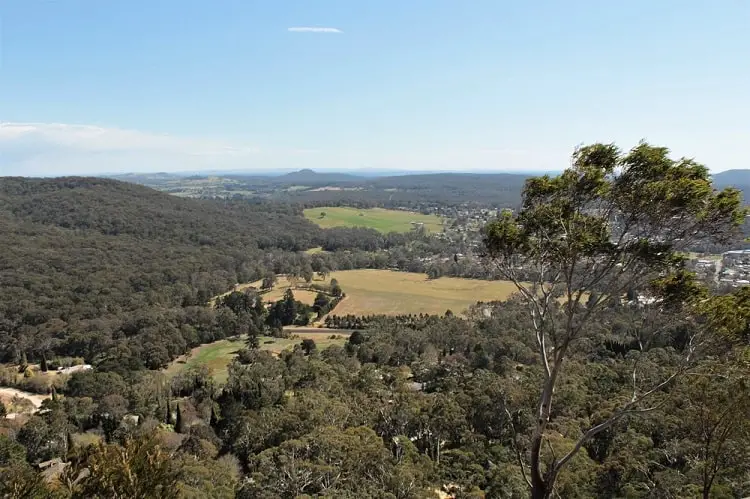 ---
Bowral
The next train stop down from Mittagong is Bowral, a lovely, quaint country town at the foot of Mount Gibraltar. You can browse bookstores, antique shops and boutiques, or stop for refreshments at one of the many cute cafes.
The next train stop down from Mittagong is Bowral, a lovely, quaint country town at the foot of Mount Gibraltar. You can browse bookstores, antique shops and boutiques, or stop for refreshments at one of the many cute cafes.
The next train stop down from Mittagong is Bowral, a lovely, quaint country town at the foot of Mount Gibraltar. You can browse bookstores, antique shops and boutiques, or stop for refreshments at one of the many cute cafes.
We had a coffee at the cosy Elephant Boy Café on Bong Bong Street, which was lined with old books and felt like a set from Harry Potter! Next we enjoyed pastries from Gumnut Patisserie, which had lots of outdoor seating. The Southern Highlands is well known for its pies, so you'll see plenty of bakeries!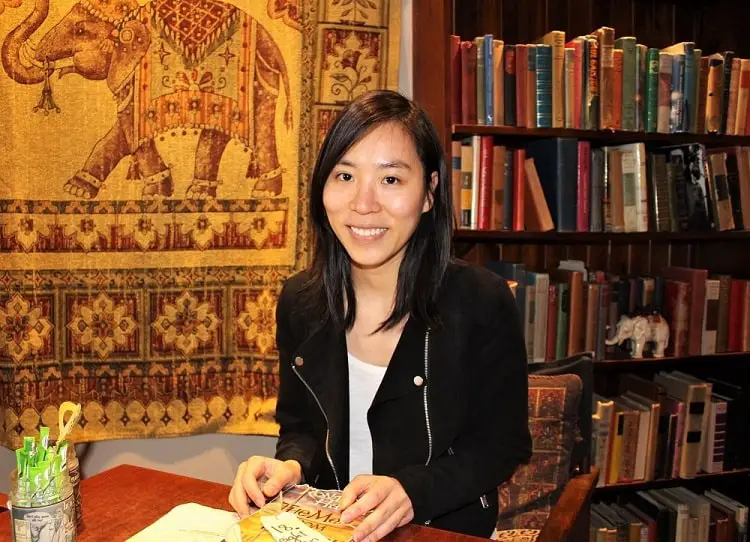 Bowral Tulip Time Festival
Early spring (September) is a great time to visit the Southern Highlands as the annual Tulip Time Festival is on. Corbett Gardens in Bowral is the main attraction, with over 75,000 tulips on show, lots of craft stalls and plenty of family-friendly events to enjoy, including a sunset cinema.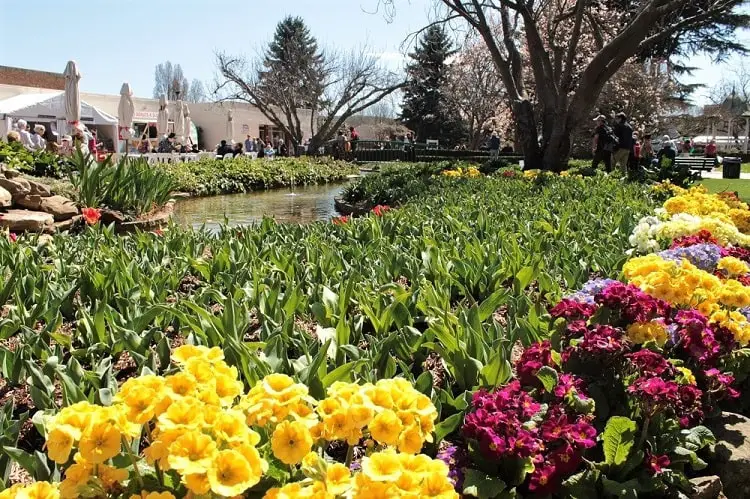 ---
Bundanoon
Further down the trainline lies the historical town of Bundanoon. It has a much smaller main strip than Bowral and Mittagong, but it's extremely charming, with well-preserved heritage architecture.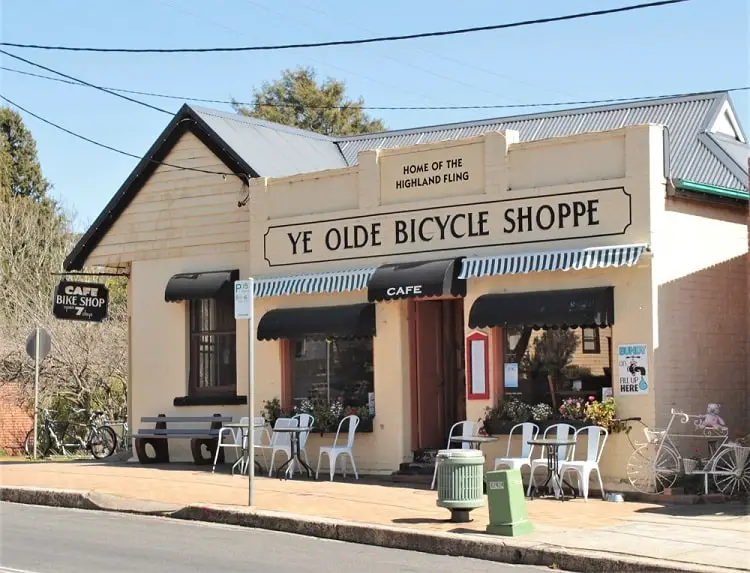 On the way to Bundanoon is the blink-and-you'll-miss-it village of Exeter. I only saw two shops there but I had to stop for a photo of the antique store!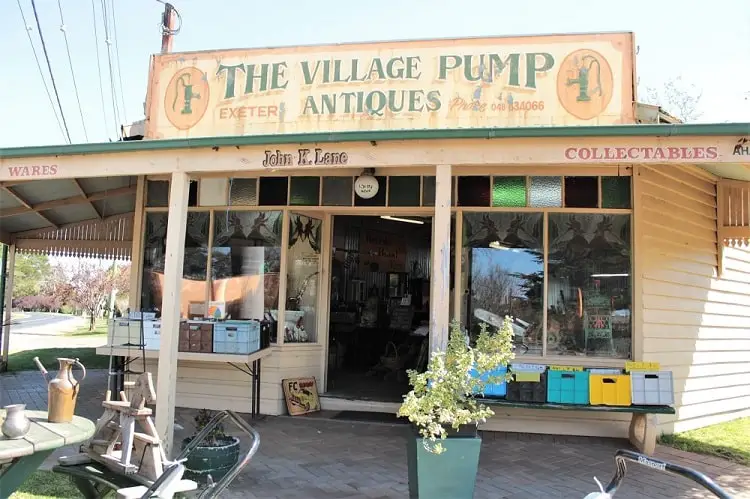 The other big plus point of Bundanoon is its proximity to nature. You can not only walk to Glow Worm Glen after sunset to see it start to twinkle, but Morton National Park is only 3km away.
---
Morton National Park
If you've made it down to the Southern Highlands, it's definitely worth heading into Morton National Park to appreciate the stunning scenery.
The park boasts multiple walking tracks, rushing waterfalls and plenty of breath-taking viewpoints, as well as a visitor centre and picnic area at Fitzroy Falls.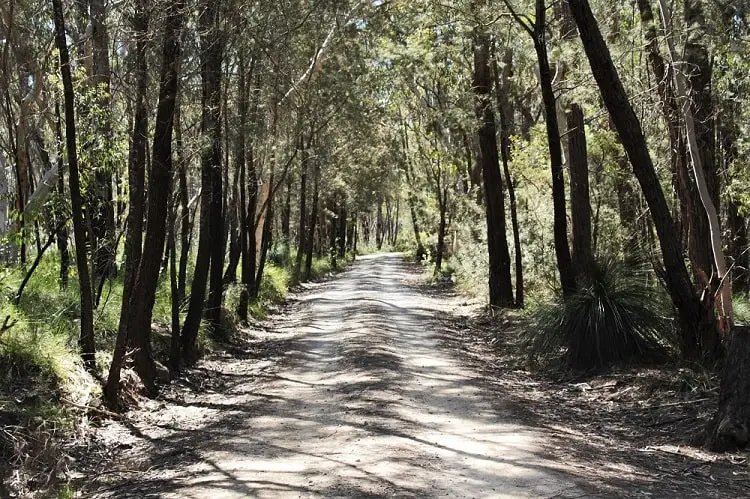 Fitzroy Falls in Morton National Park
16km southeast of Moss Vale is the well-known Fitzroy Falls, an 80m waterfall that gushes down into the valley below and probably the most well-known attraction in Morton National Park.
You can park at Fitzroy Falls Visitor Centre on Nowra Road (costs $4, coins only), which has a cafe, toilets, information, souvenirs and a picnic area with barbecues.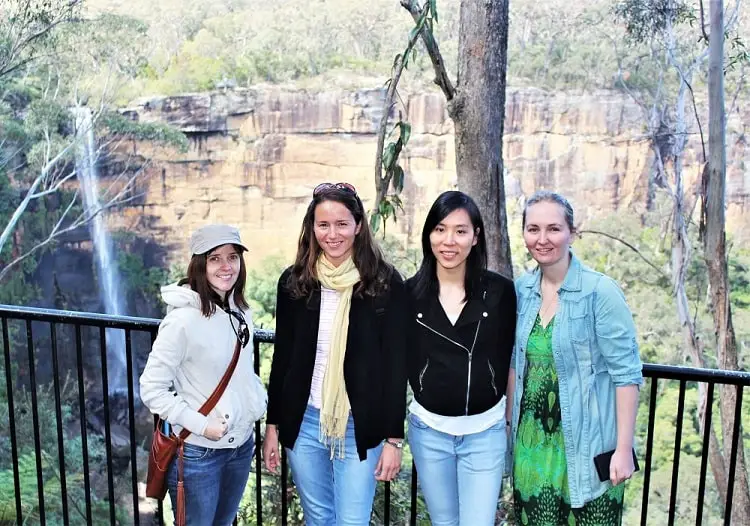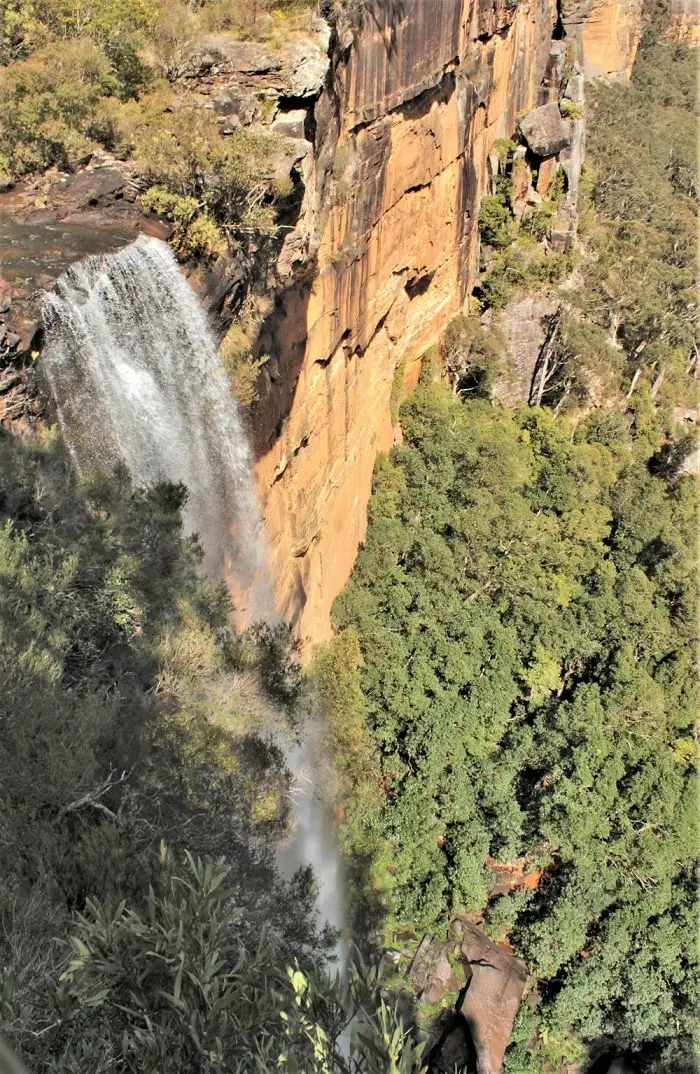 From the visitor centre it's only a two-minute walk to Fitzroy Falls main lookout, but there's 10km of walking tracks that you can take on as much or as little of as you choose.
We walked as far as Richardson Lookout, which was a pretty flat and easy stroll, but you could easily continue on for a longer hike.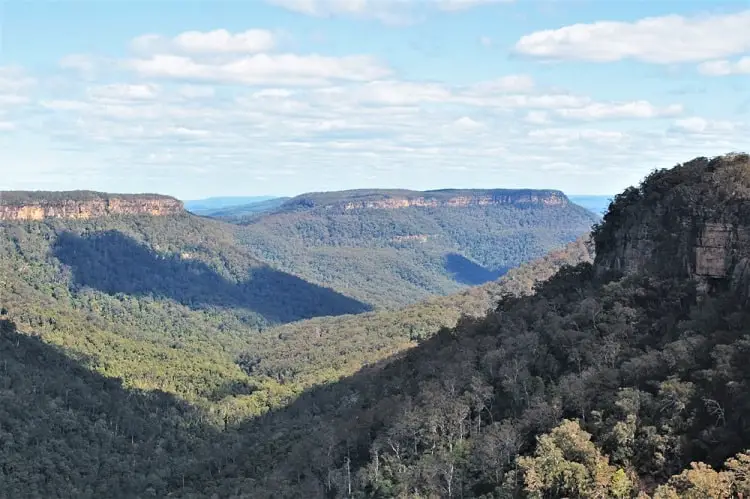 Camping & Grand Canyon Lookout in Morton National Park
If you're on a day trip, I'd recommend Fitzroy Falls as your first choice of places to see in Morton National Park, but if you have longer there are plenty more lookouts and walking tracks in the section of park 3km south-east of Bundanoon, along with Gampbells Rest Campground.
If you don't fancy hiking, there are parking spots on Bundanoon Loop Road at the Sunrise Lookout and Grand Canyon Lookout.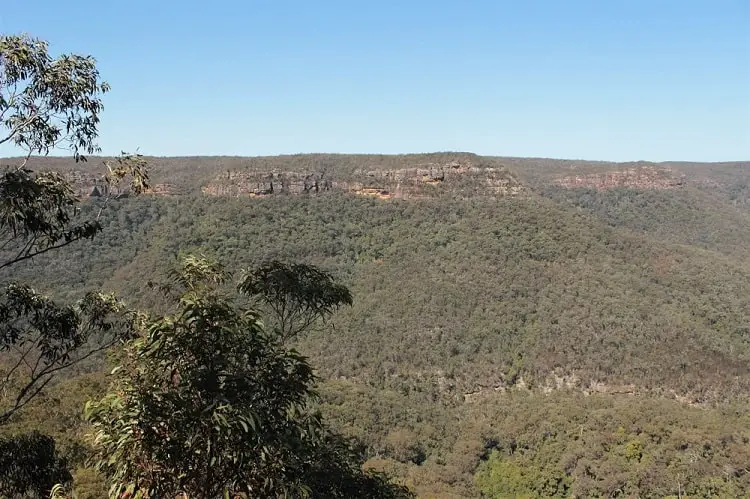 ---
Kangaroo Valley
Kangaroo Valley lies 16km south of Fitzroy Falls, but I'd thoroughly recommend adding it onto your trip if you have the time; it's the most picturesque area in my opinion. 
On the steep descent (remember you're travelling from the highlands down into a valley!) you'll zig-zag down through beautiful rainforest – it reminded me of all the mountain roads in Tasmania!
You'll know you've arrived when you pass over Hampden Bridge, Australia's last surviving wooden suspension bridge, flanked by impressive gothic Victorian sandstone towers. If you pull over before the caravan park just after you've crossed the bridge you can get out and take photos. There's also a little track leading down to the riverside.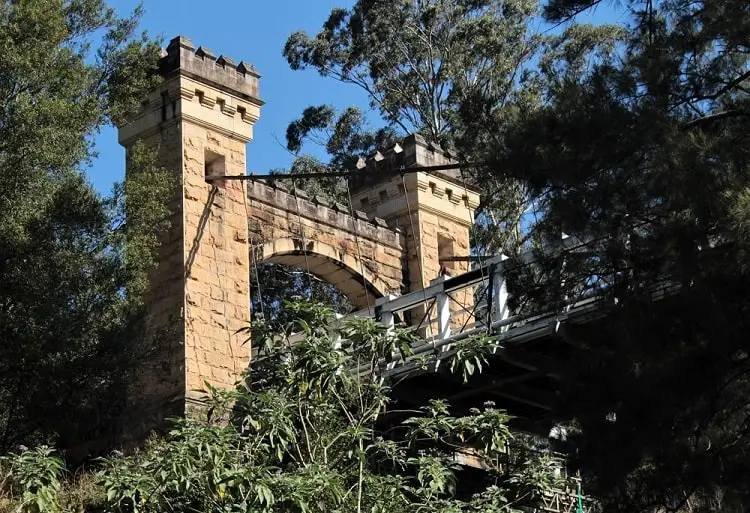 Flowing underneath the bridge is the Kangaroo River, popular with kayakers and a great spot for a picnic.
A little farther down Moss Vale Road you'll come to the village of Osborne (the main centre of Kangaroo Valley), which is full of cute heritage buildings from the late 1800s with a lush backdrop of greenery. You can even have coffee in the 1891-built bank!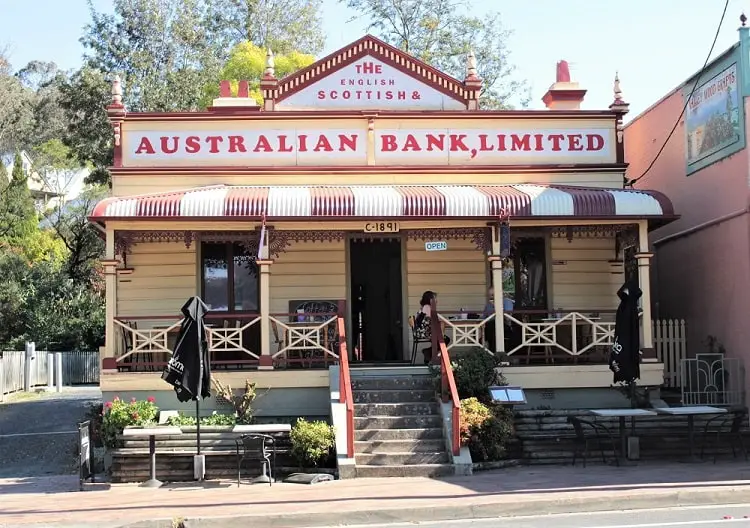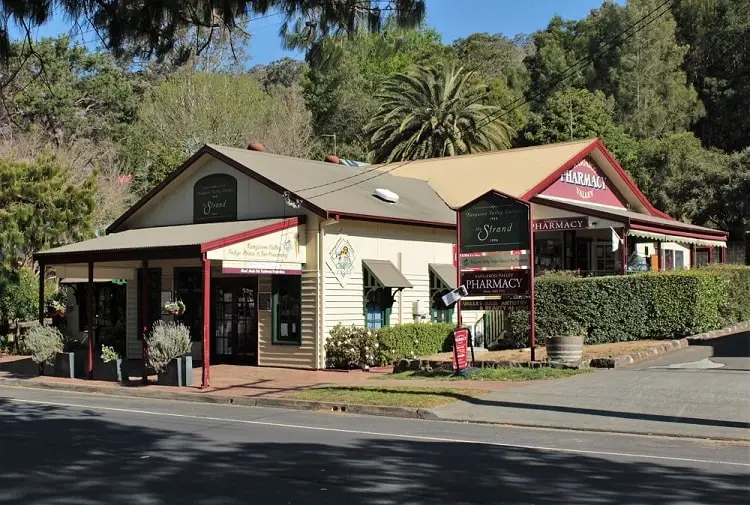 ---
For more ideas, have a browse through my trips from Sydney category, or check out the following blog posts:
How to Visit the Blue Mountains for Under $10: Day Trip Itinerary by Train
10 Things to do in Newcastle NSW
Explore Jervis Bay: Beach Lovers' Paradise in NSW
Things to Do in Wollongong on a Weekend Trip from Sydney
---