This post may contain affiliate links. Please see my disclosure policy for more details.
Are you interested in saving on living costs by house sitting and want to know the best house sitting website in Australia?
I've been house sitting in Australia for seven years and have completed over 170 house sits using four different Australian house sitting websites! My rent saving so far is more than $70k!
My first house sitting experience was with Aussie House Sitters in Perth when I was backpacking and got sick of the flat share I was living in. I managed to line up four house sits straight away, despite having no references, and saved on rent costs for two months!
When I set off on my Australian road trip, I booked another house sitting job through Aussie House Sitters in Adelaide for Christmas and New Year and then even more in Melbourne and Sydney. This saved me hundreds of dollars on peak-season accommodation costs!
I continued using Aussie House Sitters in Sydney for another 18 months before switching to paid pet sitting and registering my own business.
This Aussie House Sitters review will cover all the important things you need to know on your search for the best house sitting websites in Australia. Read on to learn more, or click here to join Aussie House Sitters now!
---
Aussie House Sitters FAQs
Do you get paid on Aussie House Sitters?
No, sitters do not usually get paid on Aussie House Sitters, although the site does not ban sitters from charging. The homeowner normally provides free accommodation for the pet sitter in their home in exchange for looking after their pets and home.
Learn more about paid house sitting and which websites to use in my guide on how much to charge for house sitting in Australia.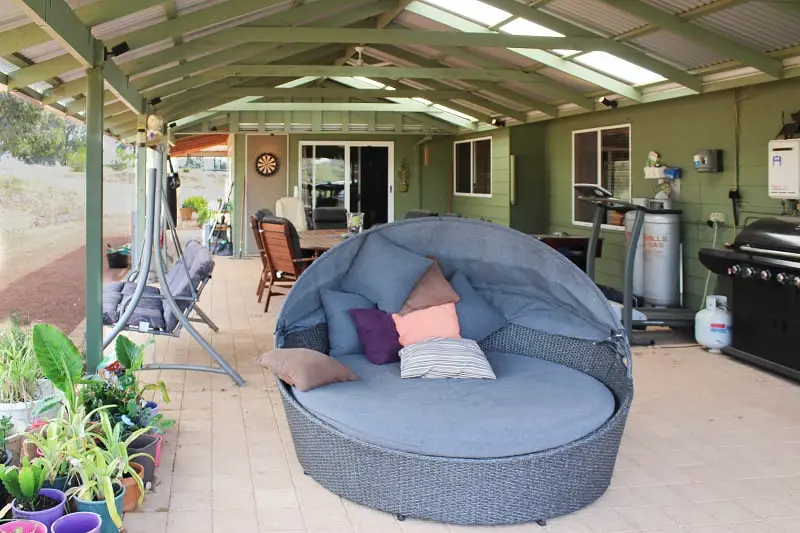 Is Aussie House Sitters safe and legit?
Yes, Aussie House Sitters is a safe, legitimate company that I have personally used to find multiple house sits. They have been running since 2004 and claim to be Australia's largest and most trusted house and pet sitting site.
You can read in more detail about my house sitting experience in my story on how I saved over $70k house sitting in Australia.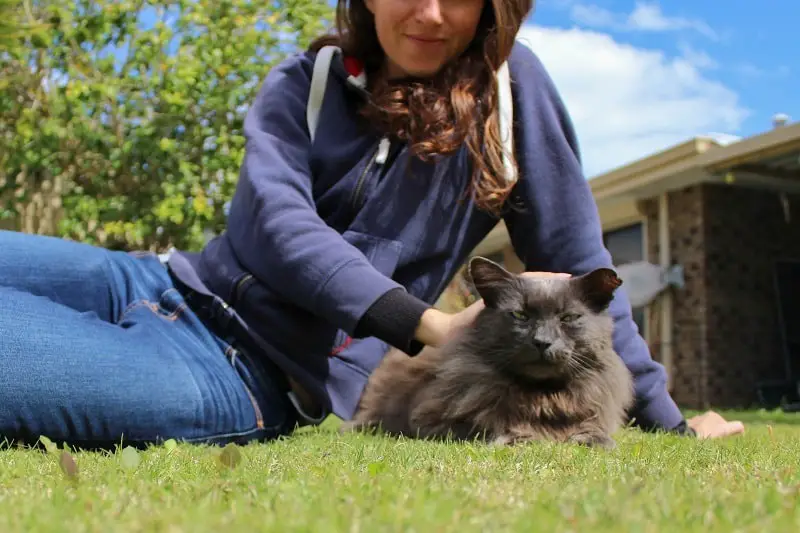 Is Aussie House Sitters free?
Aussie House Sitters is free for homeowners, but sitters must pay an annual subscription fee ($84 for 12 months in 2023).
---
Best Features of Aussie House Sitters Website
1. Detailed Search Filters
In my opinion, one of the best features of the Aussie House Sitters site is the extensive search filters that both owners and sitters can apply. It's so important to find someone who matches your criteria on a house sit.
Search Filters for House Sitters
Homeowners have to fill in a list of details about their home, area and requirements when posting an advert on Aussie House Sitters. House sitters can then narrow down their house sit search using the following filters.
dates
geographic region
job details
house sit length
types of pets
type of home
amenities included
nearby attractions
locale (city, country etc)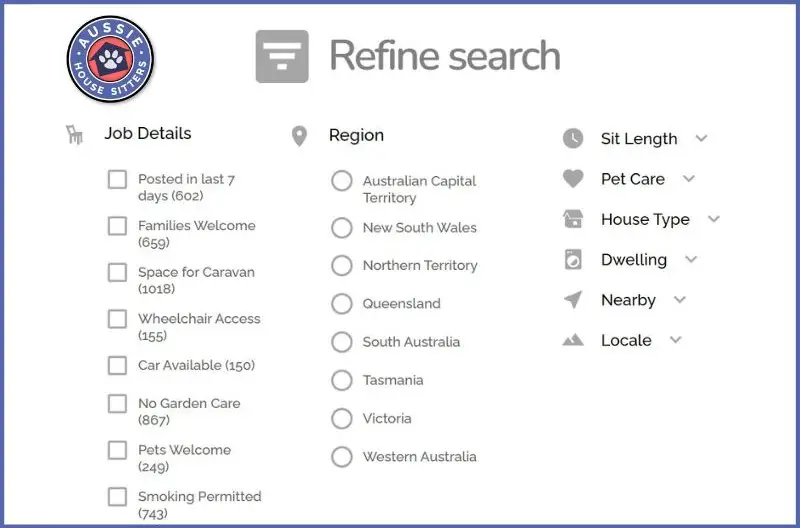 Search Filters for Homeowners
Similarly, sitters have to fill in their details too, so that they can be matched to appropriate house sit adverts. When searching for a house sitter, homeowners can narrow down their search on Aussie House Sitters using the following filters.
sitter details (including ID verified)
house sit length
type of pets
geographic region
sitter name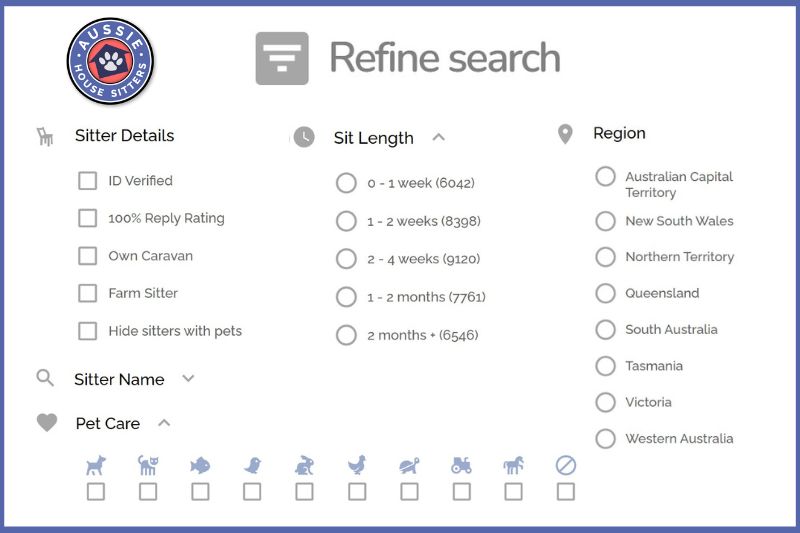 2. High Volume of House Sitting Jobs Available
Aussie House Sitters has a wealth of new house sit jobs posted every week, which is another great perk for sitters. It's so important to have a decent amount of jobs to apply to, particularly when there's a lot of competition from other sitters.
As you can see from the screenshot below, there were actually 602 new jobs posted on Aussie House Sitters in the last 7 days when I looked!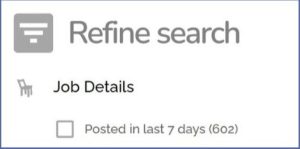 3. ID Verified Sitters
It can be really daunting for homeowners to invite a stranger to live in their home. One of the great benefits of Aussie House Sitters is the ability for owners to check the ID verified box on their search criteria.
That way pet owners can ensure they only use sitters who have uploaded their identification to the website.
4. House Sitters' Reviews
Aussie House Sitters has a great review system, so that owners can read about other owners' experiences of using that house sitter and get peace of mind before booking someone.
When owners search for house sitters, the number of reviews that sitter has is clearly shown underneath their bio in the search results. Owners can click on the link to read all of that house sitter's reviews and see their rating for house care, pet care, garden care and communication.

5. Homeowners Get Reviews Too
While there are obvious risks of allowing a stranger to house sit in your home, people don't tend to talk about the risks to the house sitter. You are literally turning up to a complete stranger's home, possibly alone, with no idea who they are.
A fantastic perk of using Aussie House Sitters is that pet owners get reviewed too!
Their number of reviews doesn't show on the advert snippets in the search results like they do with sitters. But when you click through to an advert, you can scroll down and read reviews that previous house sitters have left about the owner, pets and home.

6. User-Friendly Search Results
One of my favourite things about the Aussie House Sitters website is how easy it is to use, and it has only improved over the years. The search results are made particularly easy to scan through.
After entering your criteria using the search filters, both sitters and owners see a list of matching results. The snippet shown for each house sitter's profile and homeowner's advert in the search results shows all the most important information at a glance.
Search for a House Sitter
Homeowners' search results will show the sitter's number of reviews with a link to read them. There are also badges underneath each sitter's photo indicating their response rating, whether they're single, a couple or a family, whether their ID has been verified and their length of membership (if longer than a year).
You can click on the badges to see what they mean.

Search for a House Sit
House sitters' search results will show each homeowner's suburb and region, house-sit dates and length, property type, pet type and response rating, as well as a photo of the pets or home.

7. Owners Don't Have to Publish an Advert
If you're looking for a house sitter, you have the option of either publishing an advert for sitters to apply to or keeping your advert private and contacting sitters directly.
This could be a great option if you have a particularly desirable home or location and would rather not have to sift through a large number of applications.
---
House Sitting Process: My Aussie House Sitters Perth WA Experience
My first ever house and pet sit was through Aussie House Sitters in Perth, and I absolutely loved it! Here's the process I went through and the details of exactly what my house sitting experience was like.
1. Joining Aussie House Sitters
The first step was to find the best house sitting website to join. I chose Aussie House Sitters, as it's the biggest house sitting site in Australia. The annual membership fee was also reasonably priced and cheaper than some of the international websites.
2. Setting up My Aussie House Sitters Profile
Once I'd joined Aussie House Sitters, I had to set up a profile and select my house-sitting criteria. I made to sure to put heavy emphasis on how much I loved animals and how responsible I was in my bio.
Read my post on how to start house sitting to learn about how to set up a successful profile on a house sitting site.
3. Applying for House Sits in Perth
I initially applied to two adverts on Aussie House Sitters for house sits in Rockingham, about a 40-minute drive from Perth CBD. One pet sit was to look after three cats and the other was with a cute Cavoodle puppy called Gemma!
If you're already in the area, it's customary to travel to the pet owner's home for a meet and greet before accepting a house sit. Otherwise you can have a phone call or video call.
Both homeowners invited me to travel down to Rockingham to meet them and their pets and view their home.
At the meet and greets, I met the pets, and the owners showed me the home and ran through the jobs that would need doing while they were away. This included feeding the pets, walking the dog, picking up poo from the lawn and an occasional floor mop in the kitchen.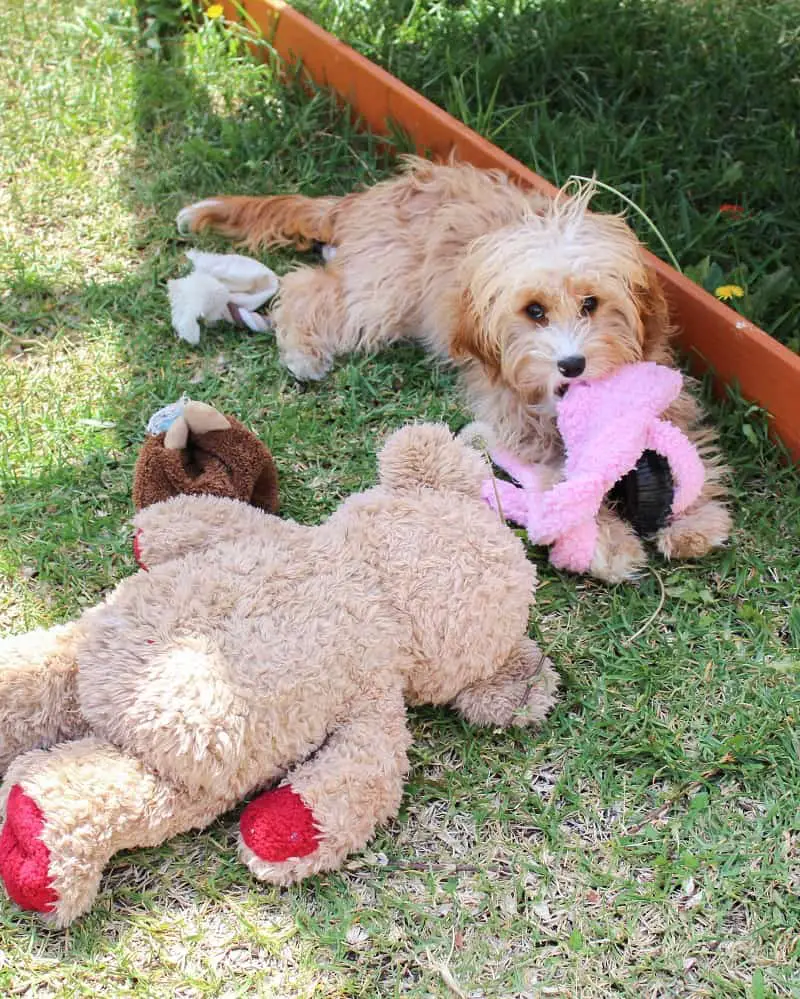 It turned out that since the house sits were located so far from Perth city centre, one owner had no other applications at all! The other owner only had one other sitter apply, and he'd focused on his property management experience and hadn't even mentioned the pets.
Since I showed a clear love of animals and gave the pets lots of attention during the meet and greet, the homeowners on the first two house sitting jobs I applied for accepted me straight away!
I handed my notice in to my landlord and paid the last instalment of rent I would need to pay for a long time!
4. Arriving at the House Sits
I arrived at the house sits a couple of hours before the pet owners were due to set off for their holidays, so that they could remind me where everything was and let me settle in.
They'd already written out house sitting instructions so that I could remember the tasks and feeding routines, as well as emergency contacts and vet details.
>> Click here to receive my free house sitter instructions template to give to homeowners to fill in. You get a free bonus house-sitting email course too, to set you up for success!
If you're a pet owner, have a read through my guide on how to prepare for your house sitter if you've never used one before.
5. What Happens During a House Sit?
My duties on my first house sit were simply to feed the three lovely cats some fresh meat twice a day that I warmed up in the microwave! They were outdoor cats, so there weren't even any litter trays to clean up!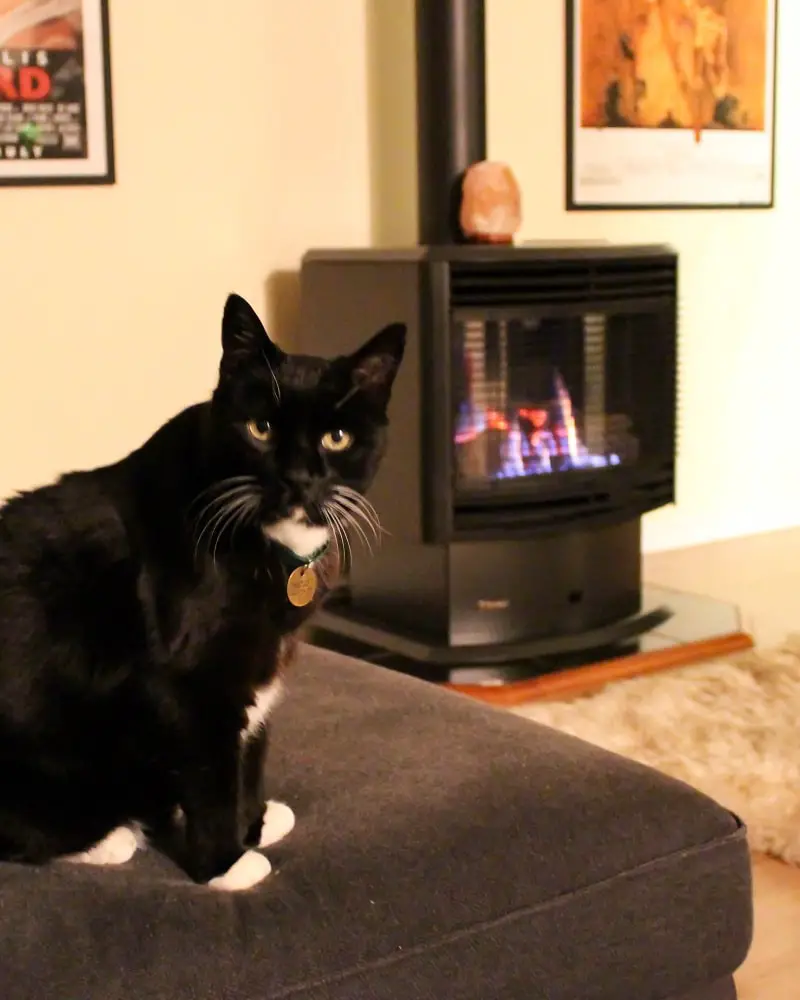 On my second house sit in Perth, I had to feed and walk a puppy, and the owners asked me to mop the floors once a week or so and clear dog poo from the garden.
Other than this I was free to come and go as I pleased! I couldn't believe I was living in lovely big homes with gardens for such simple tasks!
6. At the End of the House Sits
Even though the owners didn't ask me to, I did a thorough clean of the homes at the end of the house sits, washed the bed sheets and towels and emptied the bins.
The homeowners were so impressed with how happy the pets were and how clean I'd left their homes that they both left me glowing house sit reviews on Aussie House Sitters!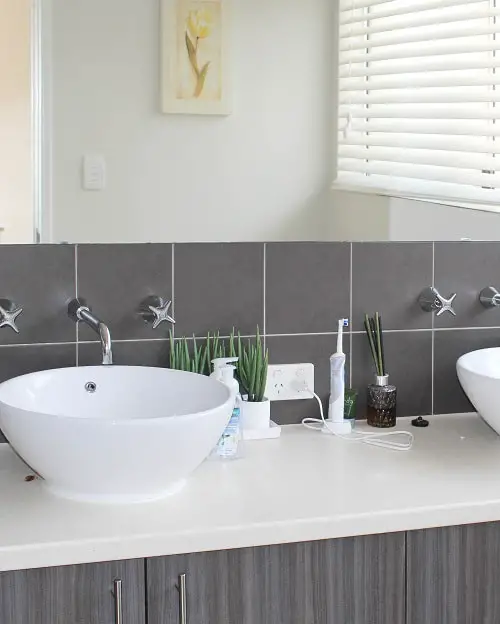 7. Applying for More House Sits in Western Australia
After that I was hooked! I scored a short Perth house sit near the CBD through Aussie House Sitters and then a two-week house sit an hour inland in WA.
I had a pool and a few acres of land to myself at my Western Australia house sit. But I did have to look after a dog, two cats some chickens and some fish!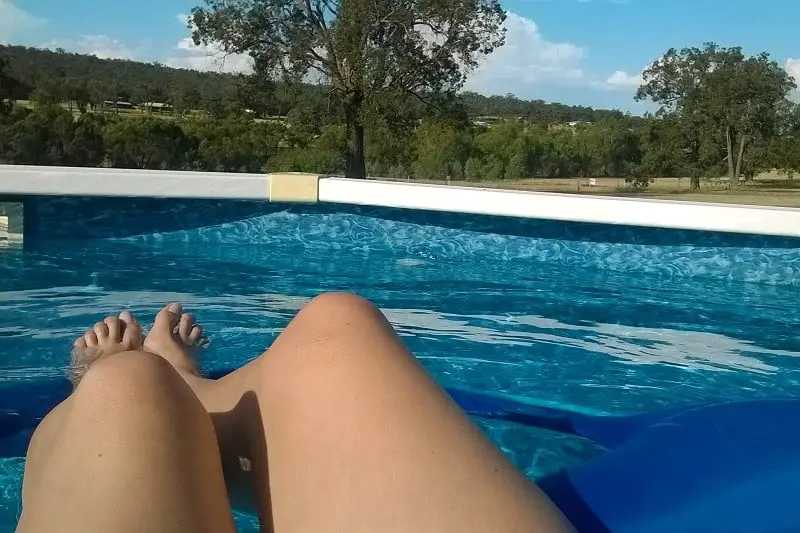 ---
Downsides to using Aussie House Sitters
While I had a very positive experience using Aussie House Sitters, there are some downsides. These are more to do with unpaid house sitting in general than the specific website, but it's useful to be aware of these possible pitfalls so that you're prepared.
Homeowners Cancelling the House Sit
On Aussie House Sitters, pet owners do not pay the house sitter or any membership fees to the house sitting website. In my experience, this tends to result in a higher chance of the pet owner cancelling the house sit than on sites where owners have to pay.
Some homeowners booked me without disclosing that they hadn't actually booked a holiday yet. It turned out they just wanted to "lock me in" in case they did decide to go.
While most owners are fair and thoughtful, unfortunately some won't think or care about the impact of you not having anywhere to live if they cancel the house sit!
Solution
When you secure a house sit, always check with the owner that they are definitely going away, and mention that you will be stuck without accommodation if they cancel. Some owners won't even think about how hard it could be for you to find a replacement sit, or that you may be turning down other offers that clash dates.
An alternative option is to join Trusted Housesitters instead. While their membership prices are a little higher than those on Aussie House Sitters, they offer sit-cancellation insurance to both sitters and owners to cover your expenses, as well as lots of other unique perks.
Homeowners also have to pay an annual membership fee to join Trusted Housesitters, meaning that their plans to travel should be more definite.
>> Click here to get 20% off an annual membership with Trusted Housesitters. <<
High Competition from Other House Sitters
Aussie House Sitters, like other house sitting websites where sitters don't get paid, are ideal for travellers, as the sitters can choose from a wide range of destinations. Unfortunately, this means that there is a higher ​​​​​​​ratio of house sitters to owners than on sites where local sitters pet sit for a fee.
Booking house sits can be competitive in high-demand tourist destinations on websites like Aussie House Sitters.
Solution
While there is a lot of competition from other sitters on Aussie House Sitters, I found I could easily book house sitting jobs that were in less desirable locations (for example, a 30-minute drive or train ride away from a city centre).
If you are not too fussy about location or how fancy the property is, you should still be able to score plenty of house sits. I booked multiple jobs as soon as I joined Aussie House Sitters, without any experience or references.
Getting a police check is a good idea too, as it puts house owners' minds at ease that you're a trustworthy house sitter.
Homeowners Ghosting House Sitters
I had quite a lot of pet owners ghosting me on Aussie House Sitters (making contact then disappearing), as well as on similar sites like Happy House Sitters.
Since there are so many house sitters on sites that are used by travellers, some homeowners will receive a high number of applications for their house sit or send out enquiries to multiple sitters. This means they may message multiple sitters before choosing one.
Most owners are polite enough to tell a house sitter if they haven't chosen them, particularly if you've attended a meet and greet. Others will unfortunately just disappear!
Paid pet sitting websites like MadPaws are only used by local sitters, so there is very little competition. I think I've only been ghosted by owners once or twice in six years!
Solution
Since you won't get every house sitting job you apply for, it is best to apply to multiple sits, even if the dates clash. Never pin your hopes on one dream house sit!
If you do get offered two sits with clashing dates, you can just notify one of the owners that you've accepted another house sit.
I would also try and arrange a meet and greet or phone call as quickly as possible. I found that some owners would choose me straight after I'd met them and cancel their meet ups with other sitters. A lot of people don't want the hassle of meeting lots of people!
---
I hope you've found this honest Aussie House Sitters review useful! House sitting is such an amazing way to travel cheaply whilst getting to live like a local.
If you've decided that Aussie House Sitters is for you, click here to join Aussie House Sitters.
If you want to learn more about house sitting, browse all my house sitting guides or read about the pros and cons of house sitting.
Happy travels!
Written by Lisa Bull
Lisa Bull, founder of Dreaming of Down Under, has been living in Australia as a British expat since 2015. After travelling to every state and territory in Australia and living in Perth, Brisbane and Sydney, Lisa knows from first-hand experience the best destinations to visit in Australia and the best budget travel tips. Her guides on this blog have been read by over 700k readers and helped thousands of people achieve their dream of living in or travelling Australia.