This post may contain affiliate links. Please see my disclosure policy for more details.
House sitting can save you thousands of dollars in accommodation costs and allow you to live in luxury homes for free, but the membership fees for house sitting websites can be off putting. If you are looking for a Trusted Housesitters discount code or coupon code, just follow this link to get a 20% discount for Trusted Housesitters.
I've been house sitting for eight years now and used five different house-sitting sites. My rent saving so far is over $70k, which far outweighs any membership fees I've paid!
With my 20% Trusted Housesitters coupon link, you can access unlimited house sits worldwide for as little as $87.20 AUD per year, or $0.24 per day. That's around 400 times cheaper than the cost of a basic hotel in Australia!
If you're a pet owner, you can also use my link to get a 20% discount and gain unlimited access to verified sitters for as little as $87.20 AUD per year.
In this blog post, I'll walk you through how to sign up for Trusted Housesitters and get your profile set up successfully.
---
Table of Contents
---
How to Use My Trusted Housesitters Discount Code (Link)
1. Click on this link to get your 20% Trusted Housesitters discount.
Note that you do not need to enter a separate discount code for Trusted Housesitters to get 20% off. My exclusive link for Dreaming of Down Under readers automatically takes 20% off the membership prices as soon as you click through.
You will be taken to a pricing table like the one below. Note that the prices in the screenshot are in Australian dollars, but you can use my discount link to get 20% off Trusted Housesitters NZ, UK, USA or any other country you are based in!
2. Choose if you would like a Pet Parent, Sitter or Combined membership from the three tabs at the top.
The combined membership allows you to both become a house sitter and find a house sitter on Trusted Housesitters to look after your pets during your vacation. A win-win for you!
3. Choose between the Premium, Standard and Basic membership tiers.
Make sure you read through the list of perks that each tier includes. As a house sitter myself, the sit cancellation insurance included in the premium membership is priceless, as last-minute cancellations are a huge risk for both sitters and owners.
4. Sign up with email or Facebook to create your account.
The form below will pop up after you click on one of the buttons in the pricing table to buy your membership. You can fill it in to create your account.
5. Fill in your billing details.
You can then fill in the billing form to make your payment. Remember that you do not need to enter a Trusted Housesitters promo code to get 20% off; the discount will be automatically applied by using my special promo link.
---
How to Become a Trusted House Sitter: Profile Set Up
Once you've used my Trusted House Sitters discount code/link to join, you'll receive a welcome email from the site asking you to set up your profile.
Now, I'm going to use my eight years of house-sitting experience to show you how to become a trusted house sitter by setting up your profile for success!
Here are the sections you will need to fill in on your Trusted Housesitters profile along with my tips.
Profile Details
You will be asked to fill in some basic information, including your date of birth, gender, employment and who you will be house sitting with.
About You
Here you can add photos and write a bio about yourself. You also have the option to add links to your Airbnb and LinkedIn profile to help pet owners gain your trust.
Make sure your profile photo is close up, smiling, well-lit and preferably showing you with a pet or two! Remember, you want to owner to feel that you are trustworthy and an animal lover.
Take the opportunity to add extra photos of you with animals too, preferably outside or in a relaxed environment where the pets look happy.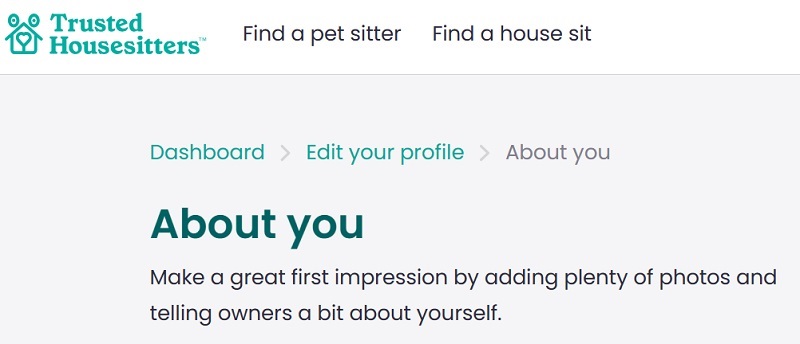 Your Experience
This section is where you can let the pet owners know about the amount of pet sitting experience you have, as well as the types of animals you have looked after before.
You can go into further detail by selecting specific skills you may have, for example, administering medication or looking after puppies. You can even select certain breeds of animal that you have looked after before, along with a photograph.
Make sure you only select types of pets that you are comfortable looking after and skills that you genuinely have. It's important to attract house sits that are a good fit for you, so that you enjoy them and get a good review.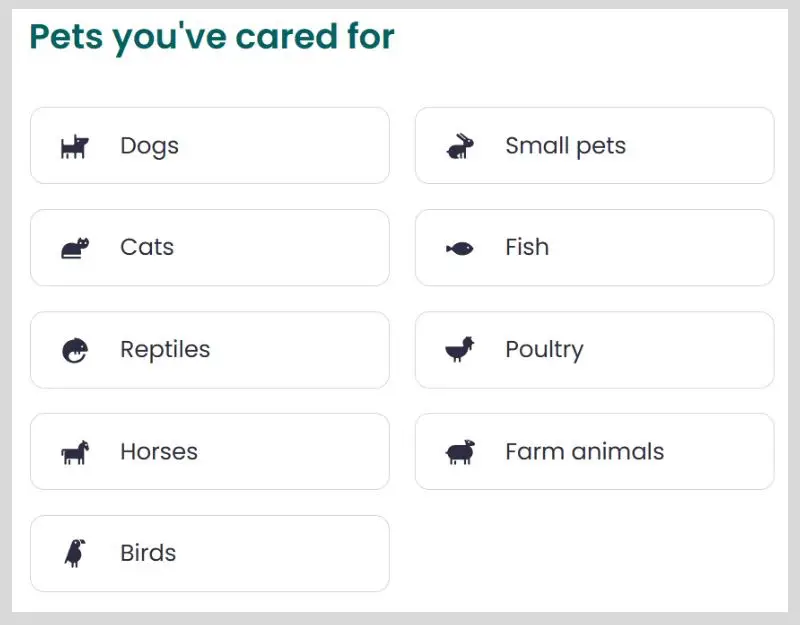 Your Preferences
It's important to find house sits that match your criteria geographically too. In this section you can specify the type of region you prefer, including beach, city, countryside or mountains.
You can also select to house sit worldwide or narrow it down to specific continents and countries.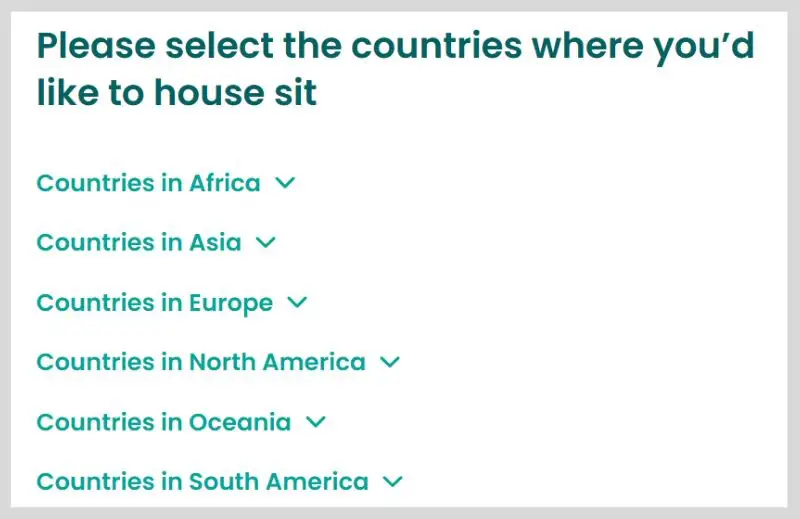 Your Verifications
All pet sitters need to complete the Trusted Housesitters background check. Follow the steps to verify your email address, phone number and identification.
Your References
As an experienced house sitter myself, I can confirm that good reviews are your most important selling tool. Since you won't have any Trusted Housesitters reviews when you first join, the site allows new sitters to add external references to build trust with pet owners.
You can generate a link in this section for a chosen person to follow and write you a reference. Note that your profile cannot go live until you have requested an external reference!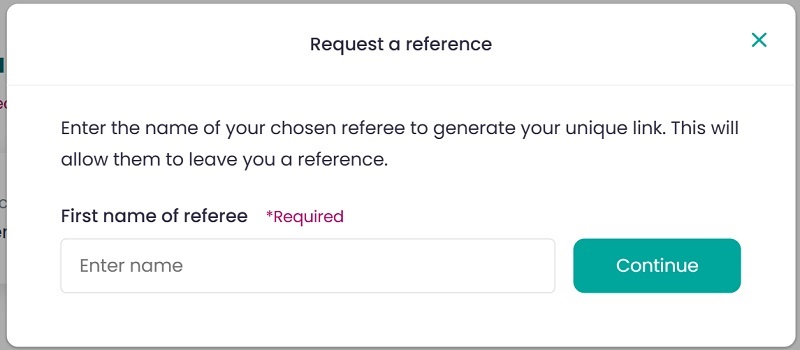 If you have experience of house and pet sitting, ask the pet owners if they can write you a reference. If you don't, then choose a trusted friend to write you a character reference.
The points they need to focus on are how trustworthy you are, that you love animals and that you are reliable and respectful. Think of the type of person you would want to entrust your home and treasured pets to!
Safety and Security
You can add the name and phone number of an emergency contact here for safety.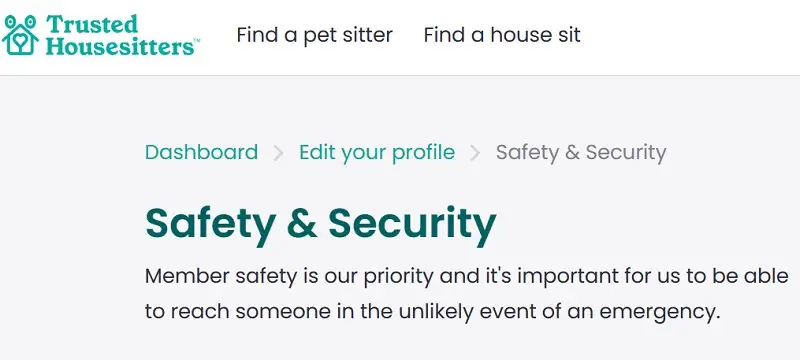 Once you've finished these steps, you can set your profile to live and start applying for Trusted Housesitters jobs around the world!
---
Trusted Housesitters FAQ
How does Trusted Housesitters work?
On Trusted Housesitters, pet owners can find house sitters from all over the world to look after their home and pets while they are away on holiday. The house sitters accept free accommodation in the owner's home in exchange for taking care of their pets and property.
To use Trusted Housesitters, both sitters and owners first need to take out an annual membership and set up a profile.
Pet owners then place an advert to find a house sitter with details of the house sit, including their location, property type and pets.
House sitters look through the owners' adverts on Trusted Housesitters and apply to any house-sitting jobs they like the sound of.
The homeowners will then arrange a call or meet and greet with any house sitters they are keen on and discuss the pets, home and tasks that they require carrying out. Once both parties have agreed on the house sit, they can plan the logistics, such as when to arrive at the home.
If you'd like to learn more about what house sitting is, read my guide on exactly what house sitting involves.
How much does Trusted Housesitters pay?
While there are sites in some countries where local sitters can run pet-sitting businesses and charge for their time, house sitters on Trusted Housesitters do not get paid. Instead, they accept free accommodation as payment for looking after the pets and home.
During a house sit, all household bills are paid for by the pet owner, and the house sitter gets free use of amenities, such as the washing machine, TV, kitchen, swimming pool and internet.
The house sitter will typically feed pets, walk dogs and clean litter trays, as well as collect mail, put bins out and water plants in exchange for this.
Many sitters on Trusted House sitters are travellers, and the high costs they are saving on hotels and travel accommodation is enough to warrant house sitting without being paid. They also get to enjoy a more local experience than they would have in a tourist area and enjoy more private and comfortable accommodation.
Is Trusted Housesitters legit?
Yes, Trusted Housesitters is a legitimate company that I am personally a member of. They have been operating since 2010 and have facilitated more than 4 million nights of pet sitting in over 130 countries!
Trusted Housesitters Insurance Policies & Procedures: Is Trusted Housesitters Safe?
Trusted Housesitters is one of the safest house-sitting websites out there, and they have the following procedures and insurance policies in place to protect both owners and sitters.
House Sitters are Verified and Reviewed
House sitters signing up to Trusted Housesitters have to go through an identification verification process as well as request external references before their profile goes live. After each house sit, pet owners are prompted to leave a public review for the sitter too.
Trusted Housesitters Insurance
Trusted Housesitters' insurance policies are the most thorough I've seen on any pet-sitting website and cover both pet owners and sitters who have opted into the standard or premium tier membership.
Make sure you read through the details of each policy on the Trusted Housesitters website. Here is an overview of some of the protections they offer members.
Home and contents protection for pet owners:
On the standard or premium plan, pet owners are covered by home and contents protection of up to $1 million USD if they have an existing home insurance policy. This covers property damage, theft and public liability if a sitter has an accident in their home.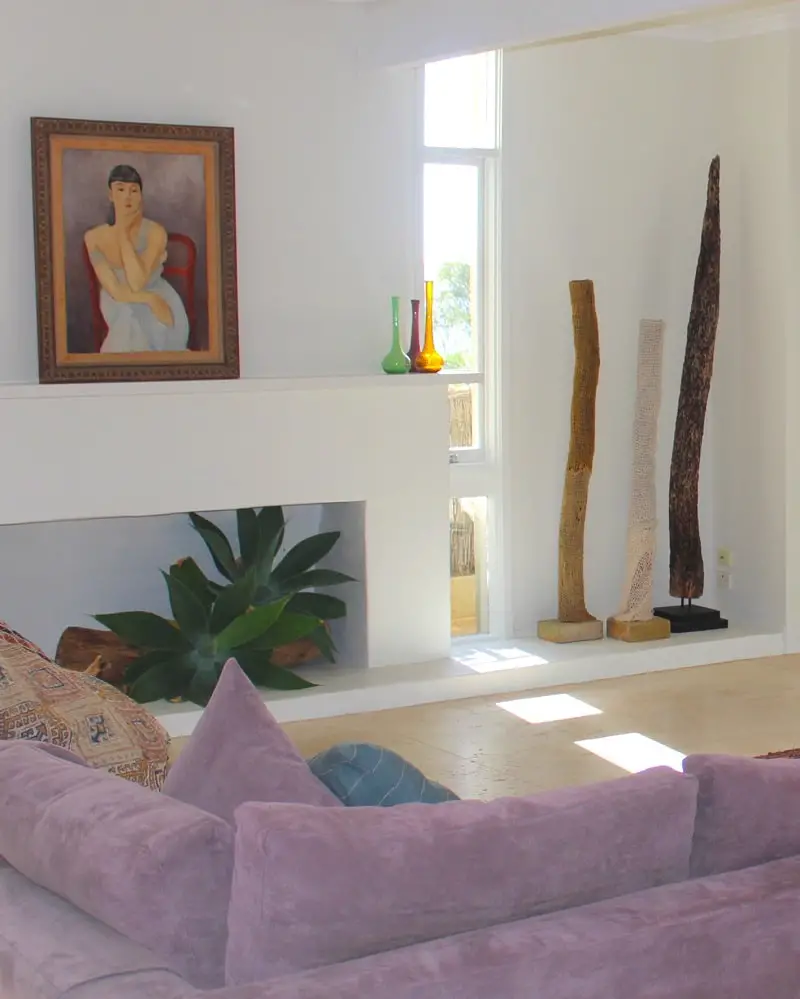 Accident and third-party liability protection for pet sitters:
Another type of Trusted Housesitters insurance is accident and third-party liability protection for pet sitters on a standard or premium plan. This means that if a pet causes damage or injury to another person, their property or pets due to the pet sitter's negligence during the sit, the sitter is covered up to $1 million USD per incident.
It is standard for pet-sitting websites where sitters get paid to cover sitters with third-party liability insurance, but it's very rare for sites where sitters house sit for free accommodation only, as it's not usually a legal requirement.
This is an excellent benefit that puts Trusted Housesitters above most other house-sitting websites.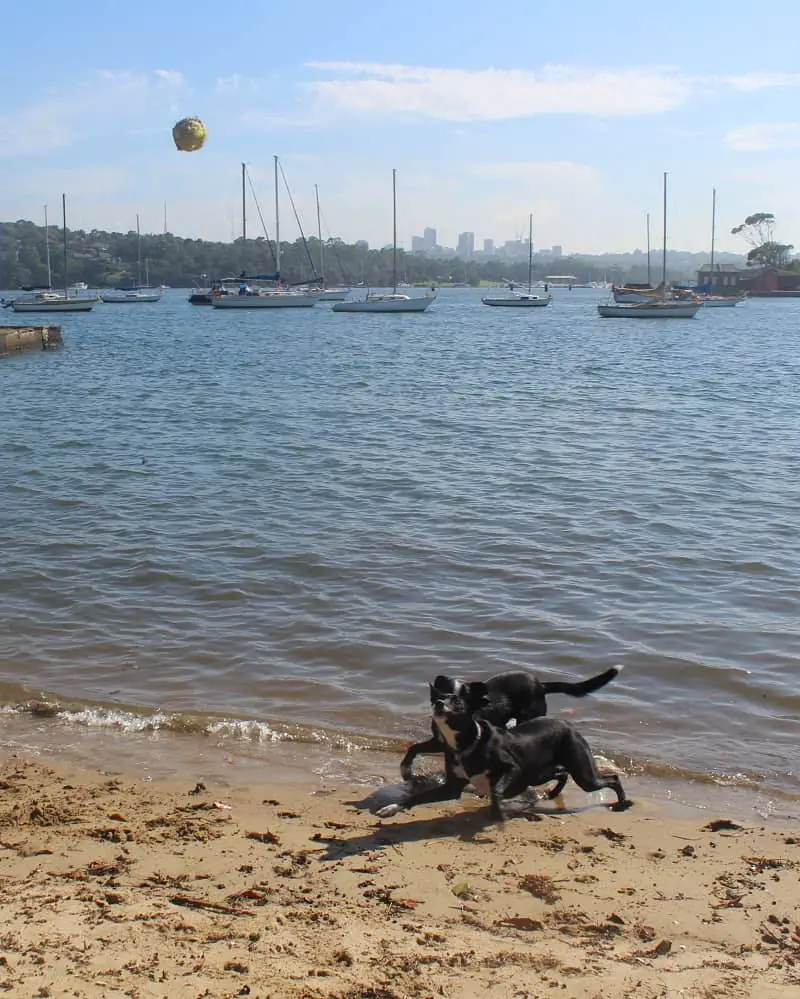 House-sit cancellation insurance
Both pet sitters and owners on the Trusted Housesitters premium plan are covered by sit cancellation insurance of up to $150 per night to cover the cost of alternative accommodation or pet care, up to $1,500 per sit (and 30 days per year for sitters).
I've never seen cancellation insurance offered on any house-sitting website other than Trusted Housesitters! As a full-time house sitter myself, cancellations are a huge risk and unfortunately happen quite regularly.
I've even two owners this year alone book me to house sit for three or four weeks then cancel their holiday without bothering to tell me. If you've booked flights and planned a whole trip around a house sit, being cancelled on is a huge problem.
Sit cancellation insurance is a fantastic perk of using Trusted Housesitters!
Is Trusted Housesitters Worth It?
In my opinion as an experienced house sitter, it is well worth paying the Trusted Housesitters annual membership cost because of their unique insurance policies alone.
The fact that you can house sit in over 130 countries and stay in luxury homes for as little as $0.24 per day is fantastic value!
Remember, my Trustedhousesitters discount code (link) gets you 20% off your annual membership!
---
I hope you found my guide on joining Trusted Housesitters useful!
To read more advice on house sitting, for both pet sitters and owners, click here to browse all my house-sitting guides.
If you want to house sit in Australia, or you'd like to join more than one site to increase your chances of getting house-sitting jobs, read my review of Aussie House Sitters.
Happy house sitting!
Written by Lisa Bull
Lisa Bull, founder of Dreaming of Down Under, has been living in Australia as a British expat since 2015. After travelling to every state and territory in Australia and living in Perth, Brisbane and Sydney, Lisa knows from first-hand experience the best destinations to visit in Australia and the best budget travel tips. Her guides on this blog have been read by over 700k readers and helped thousands of people achieve their dream of living in or travelling Australia.