This post may contain affiliate links. Please see my disclosure policy for more details.
If you've heard stories of people house sitting in luxury properties and travelling rent-free, you might be wondering, what is house sitting exactly? And what is a house sitter?
Finding house sits is pretty easy if you join a reputable house-sitting website such as Trusted House Sitters or Aussie House Sitters. However, it's important to understand what house sitting duties are and the exact meaning of "house sitting" before you sign up to a job!
I've completed over 200 house sits in Australia and run a successful pet-sitting business, so I'm a bit of an expert on the topic! Read on to learn what house sitting is, including house sitting rates of pay, standard duties and house sitting etiquette.
---
What is House Sitting? Table of Contents
To skip straight to a topic on house sitting, just click on the links below.
How Does House Sitting Work?
How to Become/Find a House Sitter
House Sitting Etiquette
House Sitter Pay
Bad House Sitting Experiences
---
1. What is House Sitting?
House sitting is when a person goes on holiday and arranges for a house sitter to live in their property while they are away, in order to take care of their home and pets. Typical house sitter duties include feeding and walking pets, putting bins out, bringing mail in and sometimes watering plants.
The house sitter sleeps over in the owner's home but is free to come and go from the property during the daytime. The homeowner saves money on pet care and the house sitter receives free accommodation and sometimes a fee.
---
2. What is the Point of House Sitting?
Why House Sitting is Great for Travellers
For people who are travelling, the main point of house sitting is to save money on hotel fees. This saving can be huge, particularly for a long trip.
They also get to live in a property with more facilities than typical holiday accommodation, and the homes are often luxurious.
Travelling house sitters are also able to spend time with animals and experience local life, rather than staying in tourist areas.
The house sitter will save money by using the washing machine at the home, instead of a launderette, as well as cooking their own meals and washing their car if they have been on a road trip.
For travellers on a low budget, house sitting means they get to live in a private home instead of hostels or apartment shares. They can also experience living in expensive cities that may be otherwise unaffordable.
For a more detailed list of advantages and disadvantages of house sitting, read my post on the pros and cons of house sitting.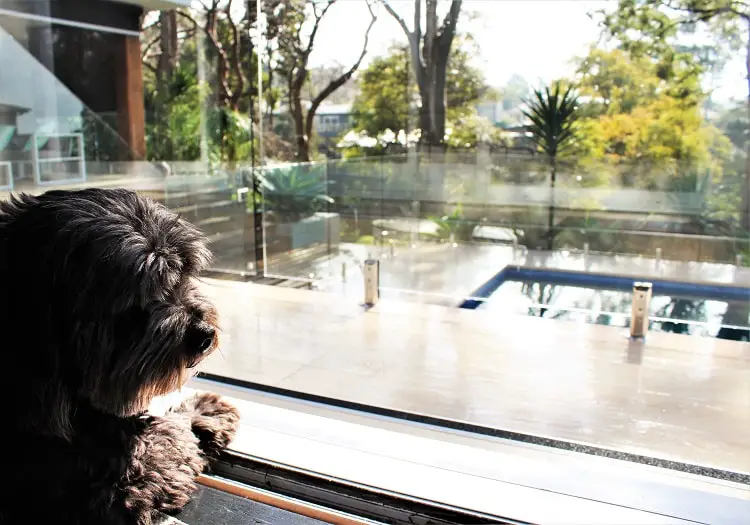 Why Do People House Sit in Their Local Area?
For local house sitters, most will charge a fee to cover staying overnight and the time they spend moving in and out of the home and tending to pets. This can be a fun way to earn a side income in addition to their main job, particularly as they can still go out to work in the daytime.
Many local sitters actually live in their own home but take on occasional house sits as a side gig. Others, like me, choose to house sit full time without their own place to save on rent in addition to the extra income.
People using house sitters often have large, luxurious homes. This can be a big perk for a house sitter. I've had pools, steam rooms, saunas and ocean views in Sydney's most expensive suburbs.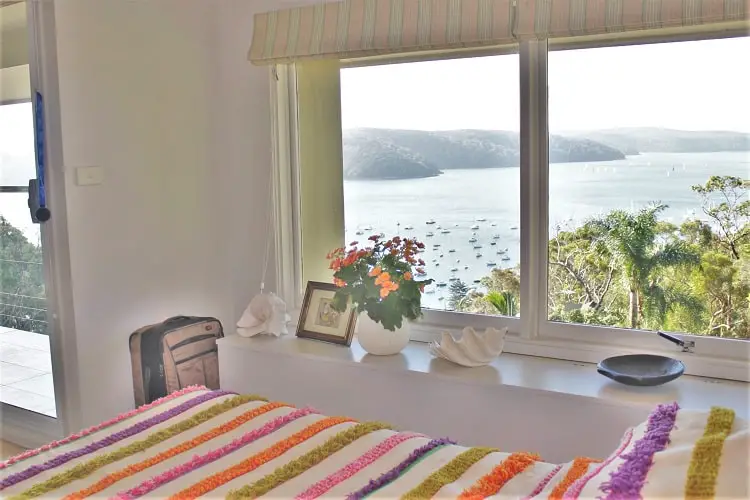 Younger people who live with their parents may house sit as a way to have their own space for a while. People who can't have pets in their own home may pet sit purely to spend time with animals.
To give you an idea of what house sitters earn, I make an average of $1,200 per month from house sitting in Australia and save $16k per year on rent and bills (post tax and based on renting a room in a share house).
That's equivalent to a pre-tax income of approximately $37k per year, just from house sitting.
Some local pet sitters will be running a local pet-sitting business as their main income. This usually includes a mixture of daytime services in addition to overnight, such as dog walking, feeding cats or doggy daycare.
Why Do People Use House Sitters?
For the homeowner, the main benefit of using a house sitter is to keep their pets happy and comfortable. Keeping pets in their own home reduces the anxiety they might experience in kennels or catteries.
Using a house sitter means the owner gets a private, in-home service where the sitter is looking after their pets and no one else's. There are no unfamiliar animals around or multiple staff members rotating shifts, like there would be in kennels.
Using a house sitter is also usually cheaper than paying for kennels and catteries, particularly if the owner has multiple pets. Even using a paid house sitter is often cheaper than kennels, and obviously a much better service.
As well as pet care, the house sitter is keeping the home occupied and secure, reducing the likelihood of it being broken into. Mail can be brought in, bins put out and plants watered.
If you've booked a house sitter already, make sure you read my guide on how to prepare for your house sitter.
---
3. What Does a House Sitter Do?
So, what do house sitters do and what are the responsibilities for a house sitter? Standard house sitting duties include feeding pets, walking dogs, bringing in mail, putting bins out and sometimes watering plants and clearing dog poo from the garden.
Here is more detail on what a house sitter does and the responsibilities of a house sitter.
Feeding pets: Pet sitters are in charge of feeding pets once or twice a day and cleaning the bowls. The meals can be biscuits, tinned meat, cold or warmed raw meat or homemade rice with meat and vegetables.
Dog walking: Pet sitters usually walk dogs once a day for up to 30 minutes. Some sitters will be happy to do more walking if pre-arranged with the owners.
Collecting mail: House sitters should always empty the mailbox for the owners regularly.
Poop scooping: House sitters will usually need to scoop cats' litter trays and some owners request that they clear dog poo from the garden.
Medicating pets: If pets need medication, the pet sitter will need to administer it. This can involve squirting medicine onto food, hiding tablets or powder in meat, mixing medicine into drinks or pushing tablets into the back of pets' mouths. I even gave insulin injections once!
Cleaning up: Unfortunately, it is very common for cats and dogs to vomit, and the house sitter will need to clean this up if it's happened indoors! Toilet accidents occur too, particularly with puppies.
Sweeping patios and watering gardens: Occasionally house sitters are asked to water indoor plants. Some owners may ask for their lawn or outdoor plants to be watered too.
Cleaning the house before leaving: Some owners use cleaners, but if they don't, you should definitely clean before leaving.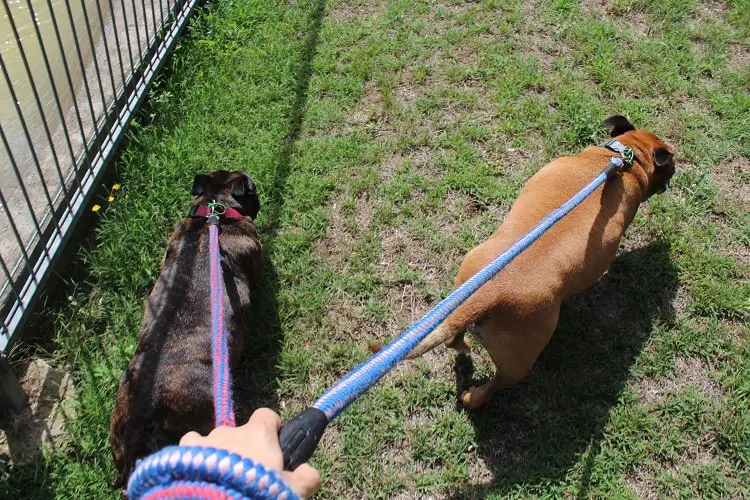 ---
4. How Do You Find a House Sitter?
The best way to find a house sitter is to join a reputable house-sitting website where sitters are verified, and you can read reviews from other homeowners who have used their services.
Some house sitting websites are free for homeowners, and others charge an annual membership free but provide more perks to minimise your risk.
One of the best house sitting websites is Trusted Housesitters (click here to get 20% off a Trusted Housesitters annual membership).
This popular, long-running company covers over 130 countries. Their unique perks can include home and contents protection, free video calls with vets, house sit cancellation insurance and airport lounge passes.
Once you've joined a site, you can look through house sitters' profile and read their reviews to find someone suitable.
Make sure you read my 10-step guide on how to find a house sitter to learn how to find someone reliable and trustworthy.
If you've chosen a house-sitting website and you're ready to advertise, read my advice on how to write an advert for a house sitter.
---
5. Who Can Become a House Sitter?
If you're responsible, trustworthy and a genuine animal lover, you stand a good chance of becoming a house sitter.
The main skill a house sitter needs is to be able to bond with pets and make them feel comfortable. They also need to be responsible enough to keep the pets safe and feed and walk them, as well as look after the home.
The most common type of person to become a house sitter is a traveller or someone who works remotely.
Pet sitting is also popular with locals who want to save money for things like a house deposit or earn some extra money in addition to their main job.
After trying out house sitting while I was travelling Australia, I decided to start my own pet-sitting business, as this works well around blogging. I've been house sitting in Sydney long term since 2016, apart from an unavoidable break during the pandemic.
I live rent free, get paid for house sitting and also do dog walking, cat feeding and doggy daycare in owners' homes.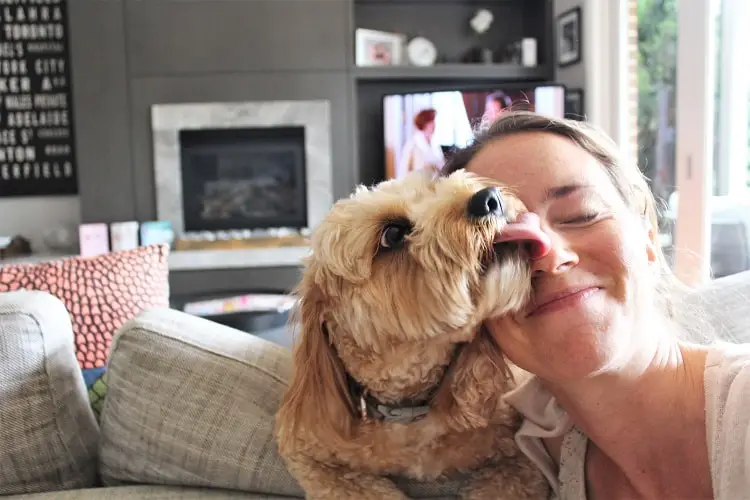 ---
6. How Do You Become a House Sitter?
The best way to find house-sitting jobs is to join a house-sitting website. You set up a sitter profile, choose the locations you're willing to travel to and apply to adverts that homeowners put on.
My Recommended House-sitting Websites
Trusted House Sitters: This popular site started in 2010 and covers over 130 countries. They have different membership tiers to choose from that can include great perks such as cancellation cover and an insurance guarantee for property damage and theft. Click here to get 20% off a Trusted Housesitters annual membership.
Aussie House Sitters: I started out with this popular Australian site on my big road trip and managed to get lots of jobs straight away. Click here to join Aussie House Sitters or read my review of Aussie House Sitters.
Read my 10-step guide on how to become a house sitter to learn all my tips for success.
If you want to get paid to house sit in Australia, the site I use is MadPaws. Sites like this are becoming increasingly popular over here, as there's a huge demand for paid pet sitters.
---
7. How Long Do House Sits Last?
House sits can last anywhere from a couple of days to six months, but my average length house sit is 10 days.
People use house sitters while they are on holiday, so one to two weeks is a common time for a house sit to last.
Some people go away for a whole month though, and often owners go on weekends away or short business trips.
---
8. How Do You Get Luxury House Sits?
The best way to get luxury house sits is to gain experience and get great reviews. Having a genuine love of animals and leaving the home spotless is the main way to do well at house sitting.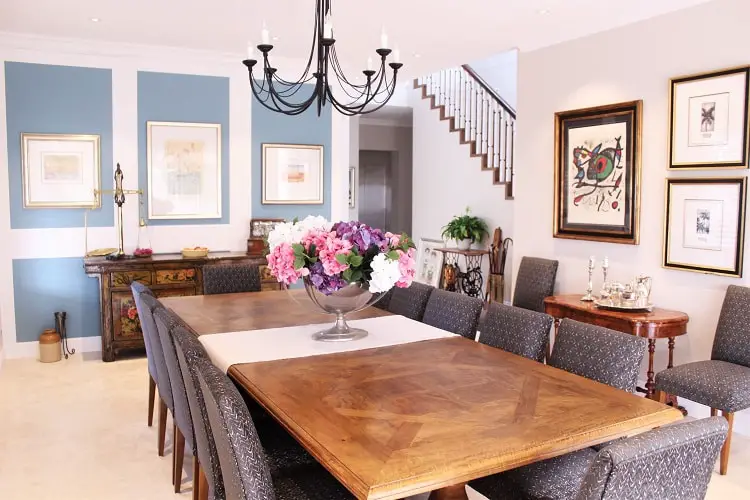 One of the first luxury house sits I had (in the picture above) was for the parents of a family I house sat for in a tiny house in Sydney when I first arrived here. I spent lots of time with them at the meet and greet and showed interest in the dogs, contacted them when one dog fell ill and took her to the vet. Plus, I left the house spotless.
A few months later I found myself looking after their parents' seaside mansion for three weeks in one of Sydney's fanciest suburbs! This has happened on more than one occasion. Being a great house sitter and impressing clients is the only way to do well at this really.
I've stayed in properties of all sizes though, including small flats. In Australia I'd say the average house sit is in a comfortable, detached family house with three to four bedrooms. I guess younger people in smaller homes are less likely to have pets or worry as much about home security.
Remember, the most enjoyable house-sitting jobs result from having pets that are a joy to look after and owners that are pleasant and fair, not just staying in a big house. In all honesty, the least enjoyable house sits I've had were in the fanciest houses, because of the way the owners treated me.
---
9. House Sitting Etiquette: Where to Sleep?
House sitting does mean sleeping over, so the owner will need to put fresh sheets on a bed for the house sitter to sleep in during their stay. If you're wondering about house sitting etiquette on where to sleep, it is most common for the sitter to sleep in the owner's bed.
Some owners prefer the house sitter to sleep in a spare room instead of their own, and this can be nicer for the house sitter if there is wardrobe space available. It really depends on the size and layout of the house.
I've occasionally been given a children's bedroom to sleep in, but I must say, it feels very odd being given a single bed as an adult.
---
10. Where Do the Pets Sleep?
The pets will normally continue to sleep in their usual place during a house sit, which tends to be in the owner's bedroom. 
Many owners assume their pets won't want to share with a stranger and tell me to shut them out if I don't want them in the room, but believe me, most animals will not allow this to happen!
Dogs bark continuously and cats will hurl themselves at the door until you let them in; I've had to spoon more than one dog in my time! The only problem is when they snore, which seems to be just as common in dogs as it is in humans!
Since I'm a light sleeper, I write on my house sitter profile that I can only take pets that are quiet at night. I still get just as many house sits, but they are almost always at homes where the pets sleep in a separate room, which has changed my life considerably!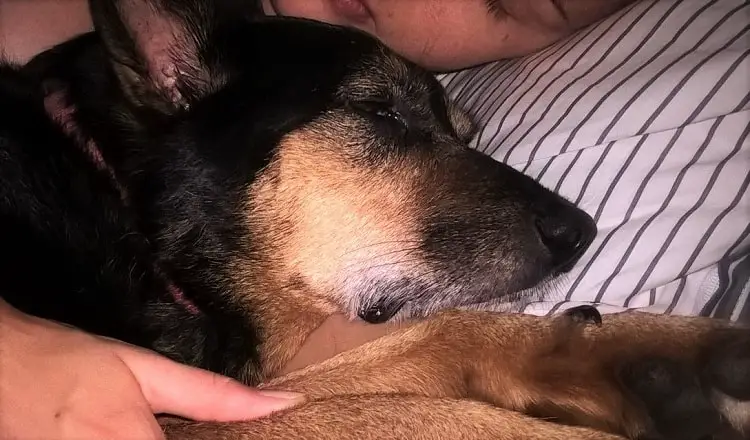 ---
11. Do House Sitters Supply Their Own Food?
Usually, house sitters do supply their own food. Almost all house owners tell house sitters to help themself to pantry items, tea and coffee and any leftover fruit and veg though.
Providing food for your house sitter is not expected, and most house sitters bring their own. It is useful to let sitters use things like oil and condiments though, as it is quite difficult to travel with these.
---
12. Do House Sitters Need a Car?
House sitters don't need to have a car if they are travelling light, and the house sit isn't in a remote location.
I would personally struggle without my own car as I have quite a lot of luggage. It isn't essential though, particularly if you're staying in cities and only have a backpack.
Some house owners have offered me the use of their car, but it is rare. Usually just if they want me to drive their dogs to a dog park or beach and the dogs will get dirty.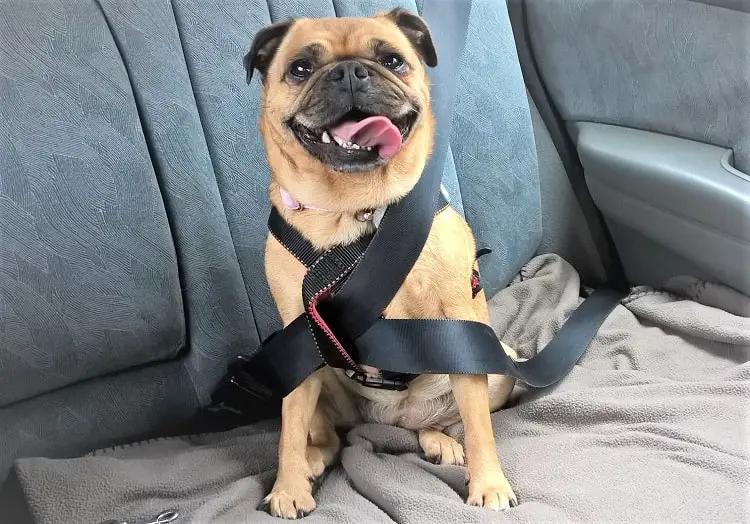 ---
13. Who Pays the Utility Bills on a House Sit?
The homeowner always pays the household bills during a house sit, since free accommodation is part of the house sitter's payment for taking care of the home and pets.
If the owner is paying a local house sitter who has their own place, the sitter is still paying their own rent and bills at home, so shouldn't be paying anyone else's. There isn't much point house sitting if you have to pay for it!
The amount of money the owner saves by not paying for kennels or catteries can often far exceed the rent saving of the house sitter.
Do let your house sitter know if you have a limit on internet usage or if you want them to go easy on the heating/air con though.
---
14. Do House Sitters Need to Clean the House?
A question I get asked a lot is whether house sitters have to clean the properties. Personally, I believe house sitters should leave the house clean after a house sit, particularly if the home was clean on arrival.
I've rarely been asked outright to clean the house, but I think it would be very bad manners to stay in a house and leave it dirty, although I know some house sitters do.
Apart from it going against you when you ask for a reference, it's not very pleasant for the owners to come back to a grubby house after their holiday.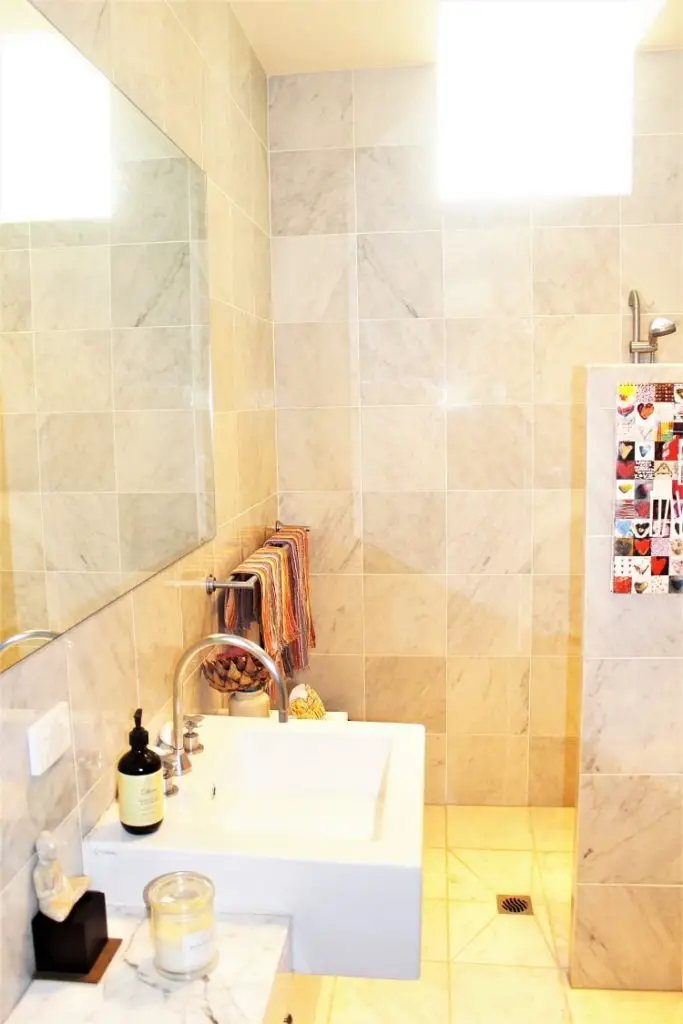 A basic dust and vacuum along with a wipe over of the kitchen and bathroom is advisable before the owners return.
Both the house owner and sitter should leave the home clean for each other out of basic courtesy. Obviously, if the homeowners hire cleaners, you won't have that much to do.
---
15. Do House Sitters Get Paid?
House sitting payment etiquette is different in every country, but in Australia local house sitters get paid, but travellers usually accept accommodation only as their payment.
On websites like Aussie House Sitters or Trusted Housesitters, house sitters do not get paid. The sitters on those sites are usually travellers or locals who temporarily don't have a place of their own to save money.
I started off house sitting Australia for free accommodation when I was backpacking, but quickly started charging a fee when I moved to Sydney to house sit long term.
For paid house-sitting jobs in Australia, I use a website called Madpaws, which provides insurance and allows sitters to set their own prices. It's aimed at local sitters though, rather than travellers, and it takes a long time to become established and build reviews.
With MadPaws and similar websites, the owners pay through the website as soon as the pet sitter has accepted the job. This gives the sitter peace of mind that the owner is definitely going away and won't try and avoid paying.
The sitter can also set their own cancellation policy, so that they still receive a portion of the money if the owner cancels last minute.
The website releases the money to the pet sitter after the house sit has ended. This gives the owner peace of mind that the house sitter won't run off with their money and not turn up!
Make sure you read my post on myths about paid house sitting. I explain the truth about lots of false information that I've found on the internet.
---
16. When Should House Sitters Charge?
For travellers and people house sitting for their holidays, house sitting for no fee can be a great deal, since travel accommodation is so expensive. I did it on my road trip, and it was well worth it.
For local house sitters, the rent saving on long-term accommodation is two to three times less than holiday accommodation would cost. Plus, house sitting involves many hours driving to meet and greets and constantly packing, unpacking and loading the car.
There's a lot more sacrifices for local house sitters than for travellers too, as locals have to spend time travelling to collect mail, visit their local doctor, dentist, hairdresser or mechanic. They also have to live out of a suitcase and store their belongings somewhere, which they wouldn't be doing if they had their own place.
When I compared my rent saving as a local to the hours of work I did on pet sits, I was doing more than double the work I needed to do to pay my rent. On some pet sits, I wasn't even earning minimum wage.
Add on the restrictions on leaving the house because of tending to animals and the annoyance of living out of a suitcase, and I knew it wasn't worth house sitting unless I charged a fee.
In essence, if you are house sitting in your local area, you should be charging a fee. If you are a travelling house sitter, you probably won't get paid.
Bear in mind that most paid house sitters are actually local people who have their own home, and house sit occasionally as a job. So free rent doesn't come into it, as they're still paying their own rent or mortgage.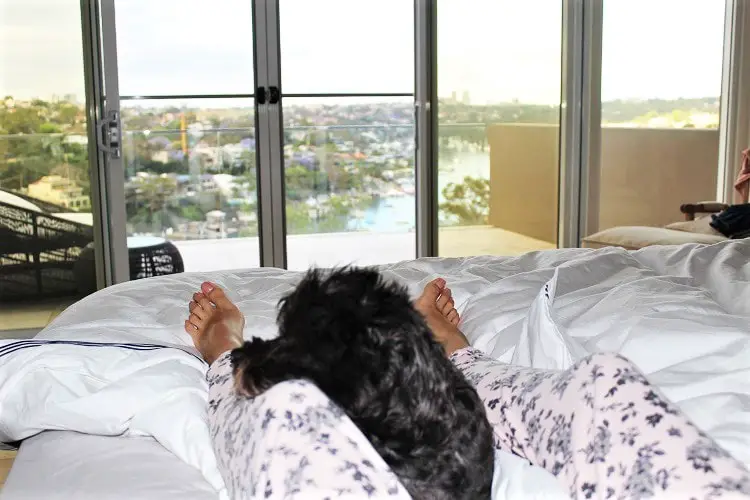 I've personally had lots go wrong on house sits, such as having to take pets to the vets without being paid for the time (seven times!) or discovering that pets aren't toilet trained.
I also very often have to share a bed with the pets, so it is literally 24/7. I've had huge problems at times with pets that snore, jump on and off the bed all night or wake me up at 5am every morning.
Kennels cost at least $50 per pet per night in Sydney, and up to $150 per night for dog activity farms. Owners are not only making an enormous saving by using a house sitter (I nearly always have two or more pets at a time) but are getting a private service for their pets only that would cost an absolute fortune if a kennel offered it!
---
17. How Much Do You Pay a House Sitter?
In Australia, house sitters typically charge $50 to $90 per night for one animal, with an additional increment for each extra pet.
Some very experienced pet sitters charge over $100 per night though. The maximum I've charged is $250 AUD per night. That was because the owners didn't want me to leave the house apart from two hours in the mornings, so I couldn't take any other jobs or have a social life.
Note that websites like MadPaws take commission of around 15% to 20% of the pet sitters' fees and also charge a booking fee to the customers on top. So, the total they take from the full amount the customer pays is around 20% to 25%.
The owner is also paying for the many hours of physical work involved in the sitter moving in and out of their home, as well as the driving time, petrol and meet and greet. I allocate eight hours of pay to cover that.
I then allocate 30 minutes of pay to compensate me for staying overnight and living out of bags, then 30 minutes per day for a dog walk.
Always remember that house sitters are not paid by the hour, so any time they spend at home with the pets is unpaid. This means that they are always free to leave the house in the daytime and take other jobs or see friends.
If a pet owner wants a house sitter to stay home all day, they need to pay them a legal wage per hour, just as an employer would.
Make sure you read my thorough guide on how much to charge for house sitting in Australia. This breaks down all the time, savings and costs involved with house sitting.
---
18. What Are the Disadvantages of Being a House Sitter?
The main disadvantages of house sitting are moving house frequently, living out of a suitcase and the limit on how long you can leave the house for, because of pets needing to be fed or go outside for the toilet.
Other downsides to pet sitting are owners cancelling last minute, sleep disruption, pets getting ill or being badly behaved.
A big downside to pet sitting is how vulnerable you are to exploitation. With unpaid house sitting, you are doing a job where there is no monetary value assigned to your work and no employment laws to protect you. This makes it difficult to work out a fair amount of work.
I've had owners assuming I'm a 24-hour servant for any jobs they want doing. One couple wanted me to do around four hours of work per day and babysit their grandchild for free!
Even as a paid pet sitter, you are in charge of the pets outside of your paid time, which can often lead to unpaid labour. If anything goes wrong, for example, a pet gets ill, you need to deal with it for no extra pay. I've also had owners assuming I won't leave the house or will only go out for an hour at a time.
Since many house sitters will have nowhere to live if they walk out of a house sit (not to mention the pets will have no one to care for them), it puts sitters in a very vulnerable position. Sitters also rely on good reviews, so may be unlikely to complain to the owners in case they retaliate with a bad review.
The way to prevent being exploited on a house sit is to have a clear idea of how much work you are willing to do and state that on your profile. If you come across as too nice, some owners will unfortunately take advantage.
I have doubled my house-sitting rates since I started and write on my profile that I cannot take pets that can't be left for long, cannot take pets that make noise at night and include a maximum of 30 minutes of dog walking per day.
I get just as many bookings, but the owners are all respectful of my time and treat me as a professional.
---
19. Do Owners Ever Have a Bad Experience With House Sitters?
Using a house sitter does come with risks. Many house owners have bad experiences with house sitters, unfortunately! Here are some of the problems homeowners have told me they've had with previous sitters.
Remember, you can reduce your risk of getting a bad house sitter by using a reputable website to find experienced sitters. All sites should have a proper review system.
You can also ask sitters if they can give you a number of a person they've house sat before, so you can get a first-hand reference. I know the scenarios below sound distressing, but they are uncommon. Remember, I've done over 200 house sits, so this is a tiny proportion.
House sitters trashing the home or throwing parties: A few owners I've met had experienced this. All of them had either used teenagers or people with no references though. You can reduce this risk by using experienced pet sitters with good reviews.
House sitters pretending to like animals just to get free accommodation: Some owners came home to very subdued pets because the sitter hadn't bothered bonding with them. Some sitters even stayed out all night, and the neighbours heard the dogs barking. Again, check references and invite the sitter over to meet the pets first, if possible. They should be talking to and patting the animals.
Paid house sitters taking more than one overnight pet sit: One owner told me she'd used a local lady to house sit for years. On one trip, she noticed her cat looked distressed in the pictures. Her neighbour told her the sitters car hadn't been there at all overnight. It tuned out she'd been taking multiple house sit bookings and just popping in to feed the cats once a day.
House sitters leaving the home dirty: One owner told me I was the first pet sitter they'd used who'd left the house clean.
House sitters not letting pets out to the toilet: One couple told me their previous sitter took the dogs running for 16km each morning in summertime, then went to work all day with the dogs closed in the house. One dog couldn't walk when they got back, and the bedroom carpets were soaked in urine that hadn't been cleaned up.
House sitters not keeping in touch: It is common practise for pet sitters to send a daily picture and update to owners. Make sure you make your expectations clear on this, in case the sitter isn't sure what is standard.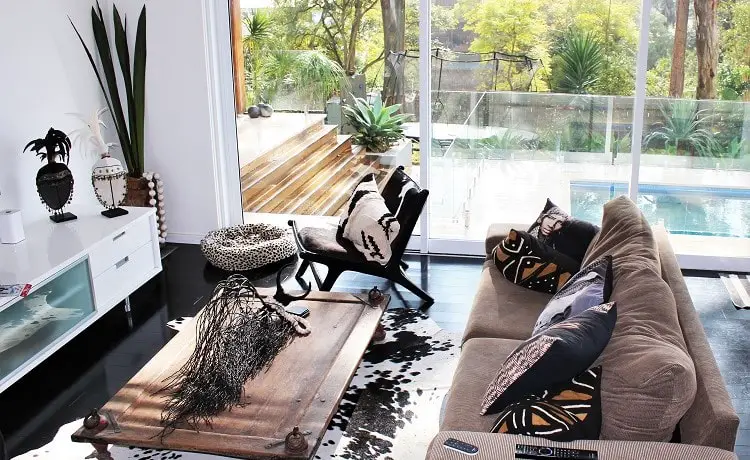 ---
20. Do Pet Sitters Ever Have Bad House Sitting Experiences?
I would say that most house sitters have bad experiences at some point!
I've had dirty houses with unwashed sheets, mouldy food in the fridge and dirty underwear on the bathroom floor!
I've had to clean up too many toilet and vomit accidents off the floor to count! This includes dogs with stomach bugs, adverse reactions to new medication and not being toilet trained.
I once had a pet sit with three dogs that all got kennel cough in turn! This meant mopping the floor all day as they coughed up white liquid day and night.
I've had dogs chew my belongings, steal food, bark constantly and behave aggressively towards other dogs on walks.
I've also had owners cancel the house sit last minute! Some have even cancelled their trip without bothering to tell me or come home two weeks early.
On one sit I found out on arrival that the owners' son would also be living at the home with me! He had all his mates round for a party until 1am one night!
I even house sat for a couple who broke up a few days before the house sit. One owner returned and I later had to evacuate the property at a moment's notice, as the other partner was on their way over for a physical fight and some of my things got broken!
---
I hope that has answered the question, what does house sitting mean? While there are risks involved, my experience of house sitting has been positive overall.
I've explored Sydney in luxury, met hundreds of lovely pets and found my dream suburb! All while saving tens of thousands of dollars!
If you're thinking of house sitting soon, or using a house sitter, best of luck!
Head on over to my house-sitting page to look through all my guides and learn more.
---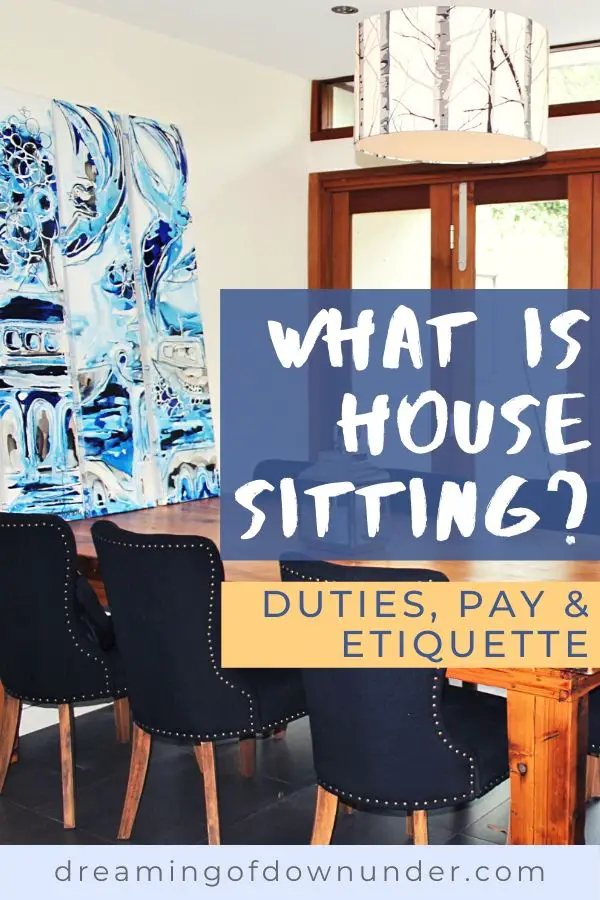 Written by Lisa Bull
Lisa Bull, founder of Dreaming of Down Under, has been living in Australia as a British expat since 2015. After travelling to every state and territory in Australia and living in Perth, Brisbane and Sydney, Lisa knows from first-hand experience the best destinations to visit in Australia and the best budget travel tips. Her guides on this blog have been read by over 700k readers and helped thousands of people achieve their dream of living in or travelling Australia.