This post may contain affiliate links. Please see my disclosure policy for more details.
This week's blog post focuses on living in Hobart, the capital city of Tasmania. If you're considering moving to Australia but don't know which city would suit you best, this overview of Hobart includes key information such as property prices and nearby attractions.
While Hobart certainly has a colder climate than much of mainland Australia, the island of Tasmania is a rural beauty, and Hobart itself is stunning. If you love nature, four seasons and prefer places that aren't too built up, Hobart could be a contender.
I spent three weeks travelling Tasmania a few years ago, and a good few days exploring Hobart. (Admittedly because torrential rain stopped us visiting the beach areas!) Here's a glimpse of your potential Hobart lifestyle!
---
Where is Hobart in Australia?
Hobart is the capital city of Tasmania, an island and state off the southeast coast of Australia. Hobart lies on the south-eastern corner of Tasmania, at the mouth of the River Derwent.
Tasmania's nearest major city on the mainland is Melbourne, which can be reached in just over an hour by flight, or nine and a half hours by ferry.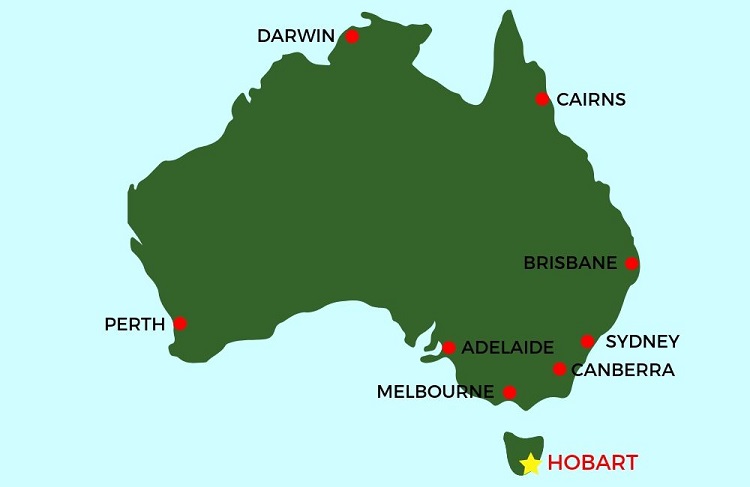 ---
Hobart Population and Size
Hobart has the second-lowest population of all the Australian state capitals, with around 211k residents. Tasmania itself has a population of 521k and an area of 68,401 square km. This makes it the smallest state in Australia geographically, but the 4th-most densely populated, with 7.24 people per square kilometre.
Given its small size, it's obviously worth researching into available jobs in Hobart before you make a move there.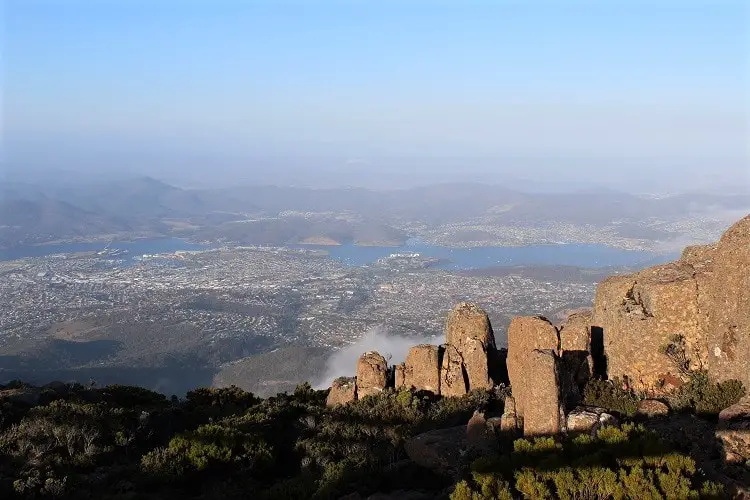 ---
Living in Hobart: Weather & Seasons
Hobart has a mild temperate oceanic climate with four distinct seasons. I visited during the summer and experienced both hot, sunny weather and multi-day torrential downpours!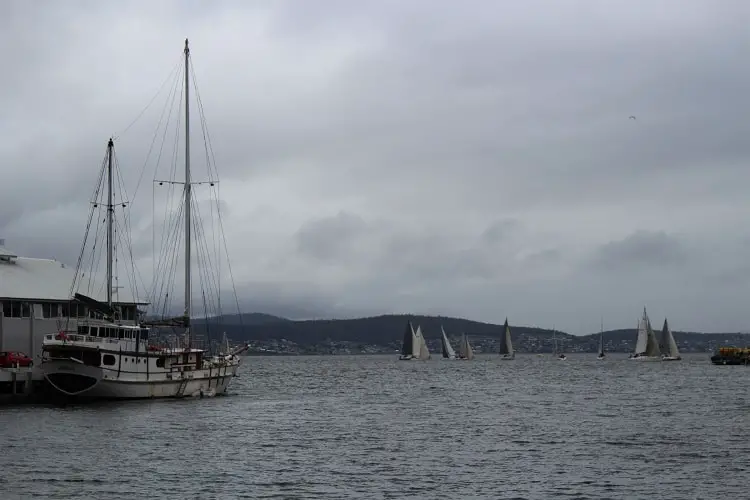 The average maximum temperature in Hobart is 21.7 degrees in the hottest month (January), and 11.7 degrees in the coldest month (July). Overnight, the average minimum in January is 12.0 degrees, and in July, 4.6 degrees (bbrrr!).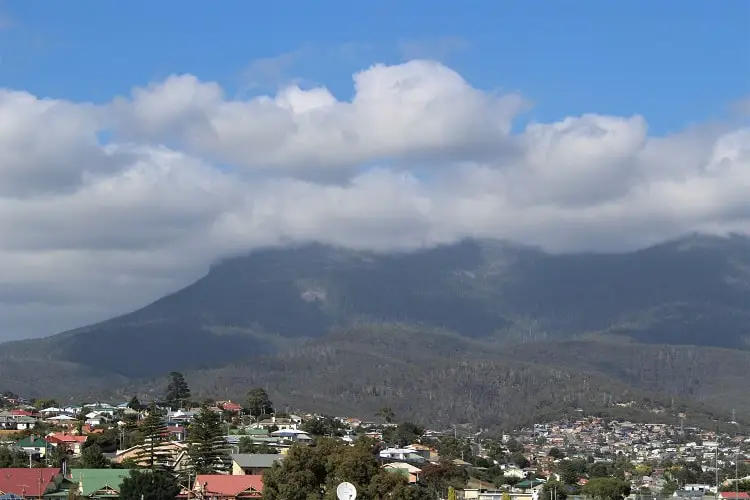 Per year, Hobart has an average of 41 sunny days, the lowest of all the Australian state capitals. As a comparison, Perth has the most with 139. Hobart also has an average of 87 rainy days (of at least 1mm) per year, which is similar to Perth, Melbourne, Brisbane and Adelaide. Sydney has the most at 100 rainy days per year!
---
Daylight Hours in Hobart
Unlike Queensland, Northern Territory and Western Australia, Tasmania has daylight saving. Therefore during summer Hobart stays lighter for longer in the evenings than Perth, Darwin and Brisbane.
In the height of summer in Hobart, the sun goes down around 8:52pm, which is the latest of all the state capitals, and over two hours later than sunset in Brisbane! In midwinter, the sun sets about 4:40pm in Hobart.
---
Hobart Beaches
There are plenty of great Hobart beaches to choose from, even though the city lies along the River Derwent rather than the actual coastline. Close to the city are a selection of beaches such as those at Sandy Bay, or across the river at Bellerive and Howrah.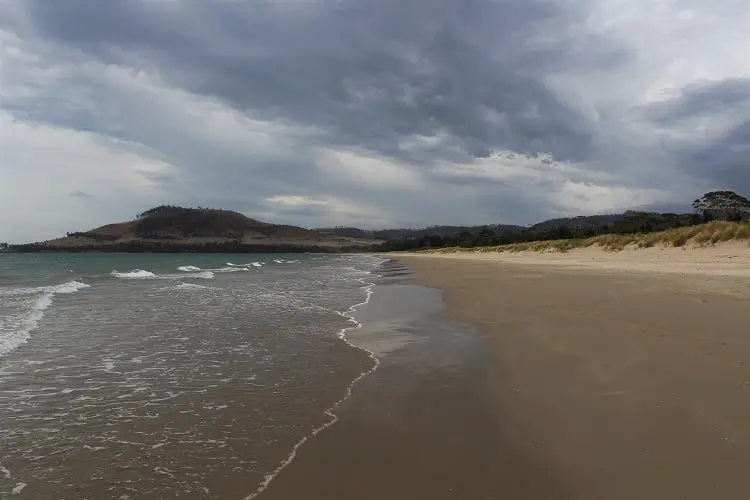 Within about half an hour's drive you can also reach surfing beaches such as Park Beach and Clifton Beach, as well as long and lovely Seven Mile Beach in the picture above. You just won't get year-round hot weather!
---
Living in Hobart: Lifestyle & Things to Do
Tasmania seems to have a reputation for being a bit behind the times compared to the rest of Australia. While it's certainly less developed in some ways, it has amazing scenery and great history. There's also plenty of culture and things to do in Hobart.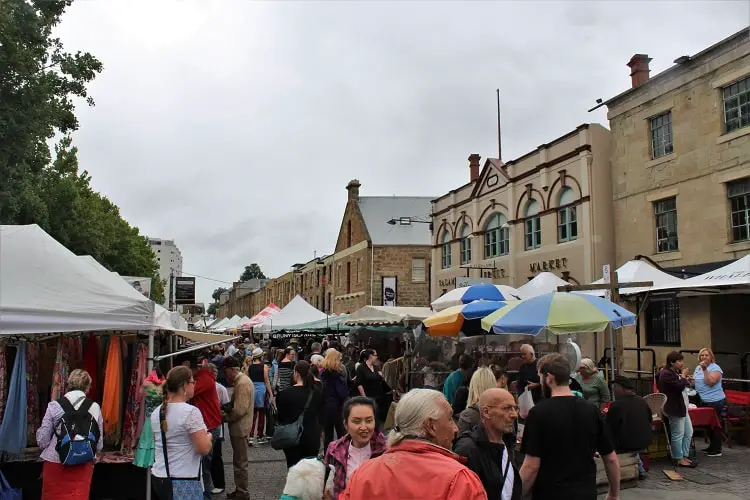 Perusing open-air Salamanca Markets on a Saturday is a must-do, with its artisan products and live music. The surrounding historical architecture at Battery Point is also interesting to explore.
The Museum of Old and New Art (MONA) is well known even on the mainland, as well as waterfront Hobart Museum and Art Gallery. I also found a good choice of cafes and restaurants in the city.
Hobart is located at the mouth of the River Derwent and has a beautiful mountainous backdrop. If you're a nature lover you'll have plenty of options for weekend activities, including water sports and hiking.
To learn about what you can see in Tasmania, check out my road trip post:
Tasmania Drive Itinerary: 21 Days of Unspoilt Beauty
---
Trips from Hobart: Holiday Destinations
Tasmania is a gorgeous state with plenty to explore; think winding mountain roads, stunning lakes and pristine beaches. While it doesn't have the year-round heat of Queensland or the high-rise hotels of the Gold Coast, Tasmania has plenty to offer if you're into hiking, camping or mountain activities. (I will cover much more on Tasmanian travel on the blog later in the year!)
One of my highlights was hiking along beautiful Lake St Clair, which had some of the most stunning scenery I've seen in Tasmania. Nearby Cradle Mountain is also a great option for those with an adventurous spirit!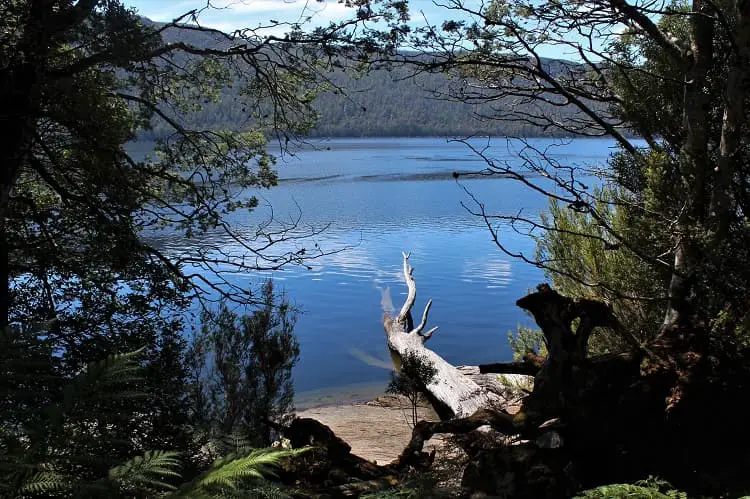 Other favourite Tasmanian destinations of mine were Bruny Island and Freycinet National Park, which both had beaches to rival any other holiday hotspot in Australia. Move over Bondi!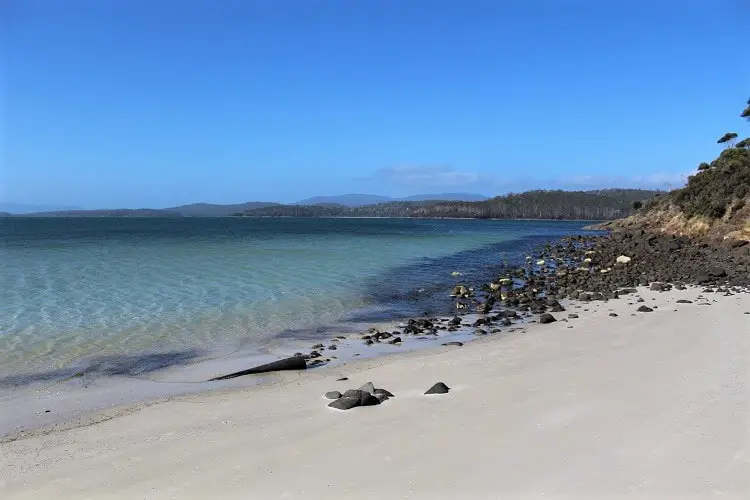 Since Hobart also has an international airport, you can easily fly to other parts of Australia or the rest of the world! Note that flying to Melbourne is generally cheaper (and much quicker!) than taking the ferry if you want to transport your car across too.
---
Hobart Real Estate
The median property price in Hobart as at April 2019 was $424,000 according to this realestate.com.au report – the cheapest of all the state capitals! The next cheapest was Adelaide at $441k.
Conversely, the demand for property was the highest of the state capitals, with 3,182 house viewings per listing, and 2,080 apartment viewings per listing!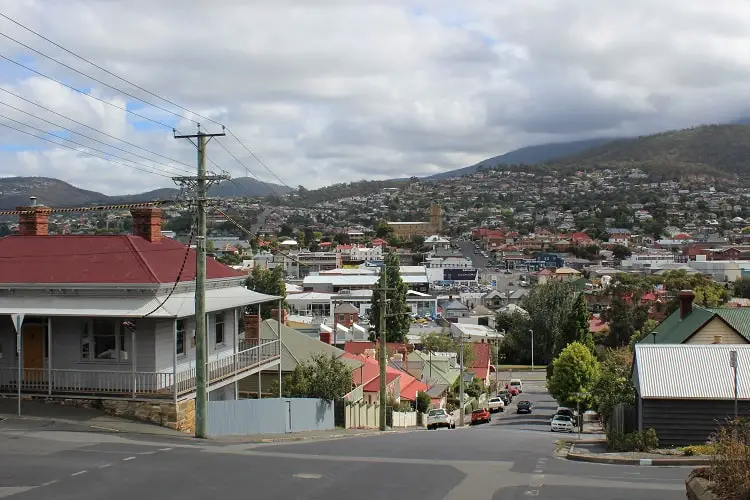 This June 2019 rental report by rent.com.au states that the median cost of renting an apartment in Hobart is $350 per week, slightly more than Perth and Darwin, which both cost $330 per week. The median weekly rent for a house is $450. Only Sydney and Canberra were more expensive for houses.
---
Best of luck with your decision on where to live in Australia!Hopefully this blog post on living in Hobart has given you food for thought. To compare living in Hobart vs Melbourne and the other state capitals in Australia, here are links to the rest of my "where to live in Australia" series:
Living in Melbourne: Most Liveable City in Australia
Living in Sydney: Lifestyle, Beaches, Weather & Property
Living in Perth: Is Australia's Sunniest Capital for You?
Living in Brisbane: Lifestyle in Australia's River City
Living in Adelaide: Affordable Outdoor Lifestyle
Living in Canberra: Australia's Most-Educated City
---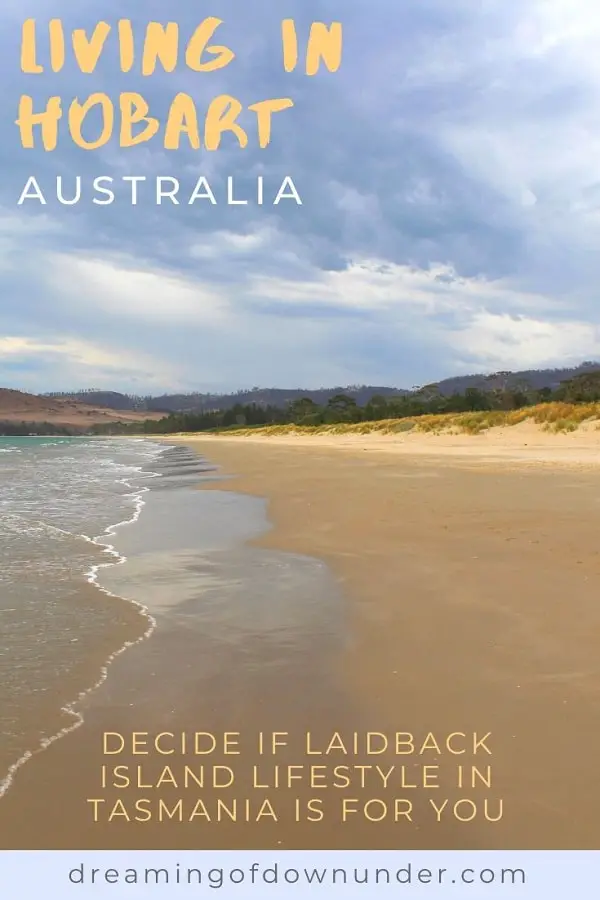 Written by Lisa Bull
Lisa Bull, founder of Dreaming of Down Under, has been living in Australia as a British expat since 2015. After travelling to every state and territory in Australia and living in Perth, Brisbane and Sydney, Lisa knows from first-hand experience the best destinations to visit in Australia and the best budget travel tips. Her guides on this blog have been read by over 700k readers and helped thousands of people achieve their dream of living in or travelling Australia.