This post may contain affiliate links. Please see my disclosure policy for more details.
With a rugged coastline stretching on for over 2,000km, New South Wales on the east coast of Australia is an epic state to explore if you're a beach lover like me. Home to everything from hidden coves tucked away inside unspoilt national parks to big, beautiful city beaches, New South Wales gives Queensland a good run for its money when it comes to seaside scenery.
Sydney alone has over 100 beaches to choose from, and with a Mediterranean climate, it's a pleasant destination to visit all year round. During the winter months, you'll find milder weather up north around Byron Bay. During the summer, head south towards Eden where it's usually much more comfortable.
I've been lucky enough to travel this entire stretch of coastline over the last couple of years. So here are my top 25 beautiful beaches in NSW, starting from the north and meandering down to the border with Victoria. Enjoy!
---
1. Belongil Beach, Byron Bay
While I'd normally favour a peaceful sunset on a deserted beach with no tourists, there's something very special about the popular Belongil Beach in hippy holiday hotspot, Byron Bay. Every evening travellers gather on the rocks to watch the sun sink behind the undulating skyline to the sound of the local bongo band. Atmosphere aside, the scenery alone puts it into my top 25 beautiful beaches in NSW.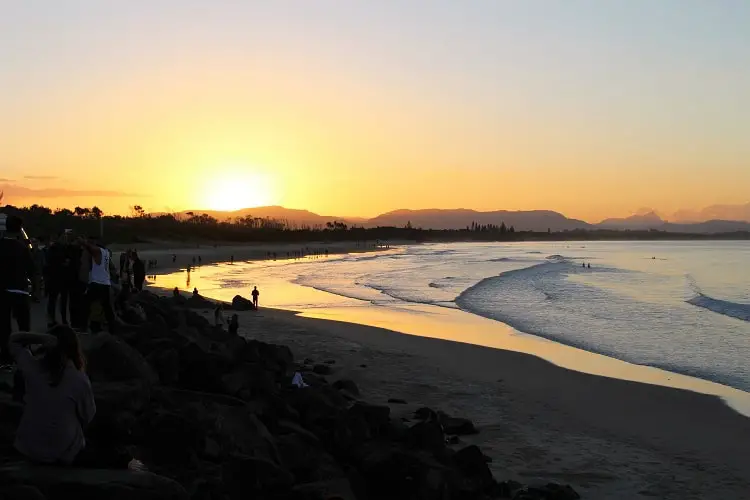 ---
2. Whiting Beach, Yamba
The small fishing town of Yamba has plenty to offer in terms of huge, virtually empty beaches. I found beautiful Whiting Beach the most sheltered from the wind and spent a good couple of hours chilling there while the fishermen did their stuff!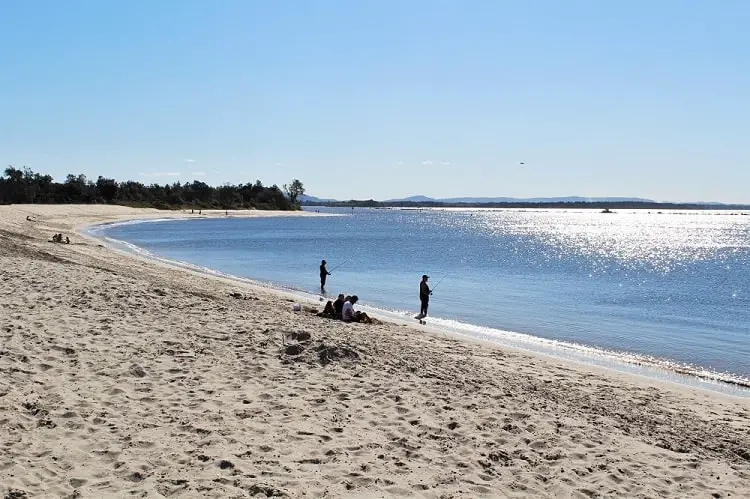 ---
3. Sapphire Beach, Coffs Harbour
While the giant banana outside the Big Banana Fun Park gives Coffs Harbour a bit of a tacky reputation, it's actually a seriously beautiful destination with miles of beaches, rolling hills and a decent-sized town centre. I chose to camp about ten minutes north of the town directly behind tranquil Sapphire Beach, where the only sounds were the sea birds and the crashing waves.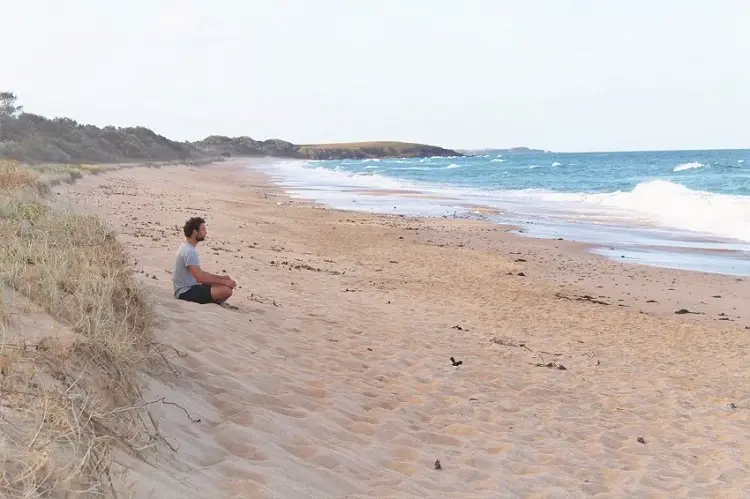 ---
4. North Wall Beach, Coffs Harbour
The beaches around the town centre in Coffs Harbour are also pretty stunning. The size and natural setting of North Wall Beach gets it into my top 25 beautiful beaches in NSW.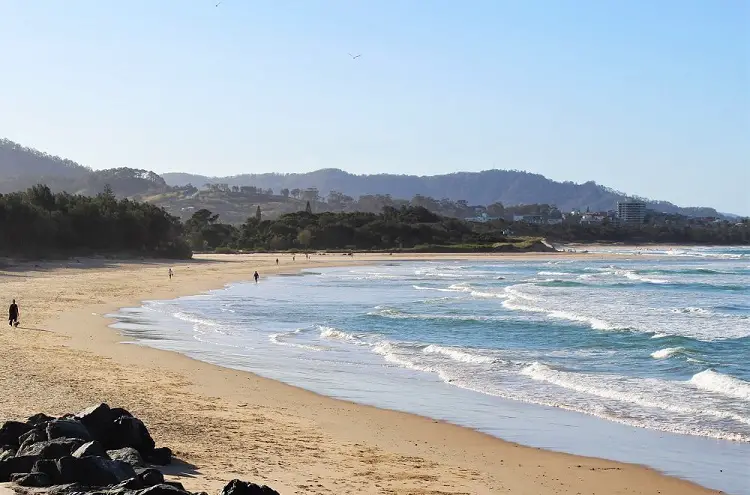 ---
5. Shelly Beach, Nambucca Heads
I only had time for a quick look around the holiday town of Nambucca Heads on the mid North Coast of NSW, but absolutely loved the beach and riverside scenery, as well as the painted rocks along the break wall. Shelly Beach at sunset was absolutely spectacular, and a place I'd definitely return to.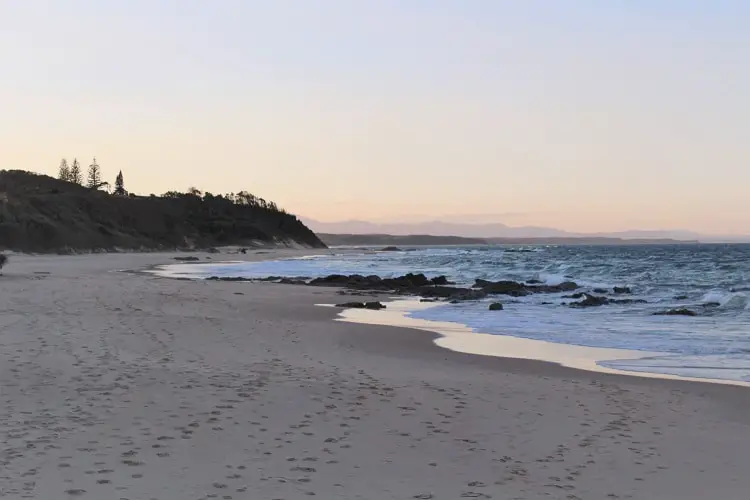 ---
6. Back Beach, South West Rocks
South West Rocks is probably best known for its cave diving site, Fish Rock Cave, but this seaside holiday town at the mouth of the Maclean River is also home to great beaches, beautiful walking tracks and the ruins of Trial Bay Gaol. There are plenty of beaches around the town centre, but the rugged Back Beach, accessible from a bush track once you've crossed the bridge over South West Rocks Creek is mighty impressive.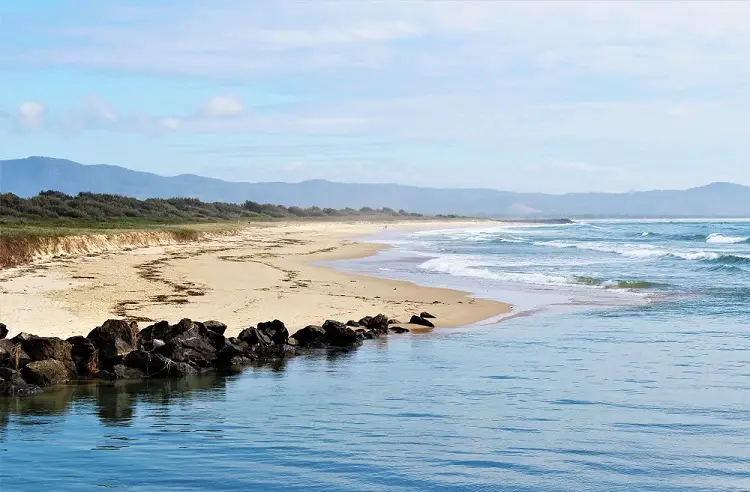 ---
7. Crescent Head Beach
International surfing mecca Crescent Head is a beautiful place to detour off the Pacific Highway for a picnic lunch like I did. Even if you're not into surfing or you're just passing by, take a seat on the rocks and watch the experts show you how it's done.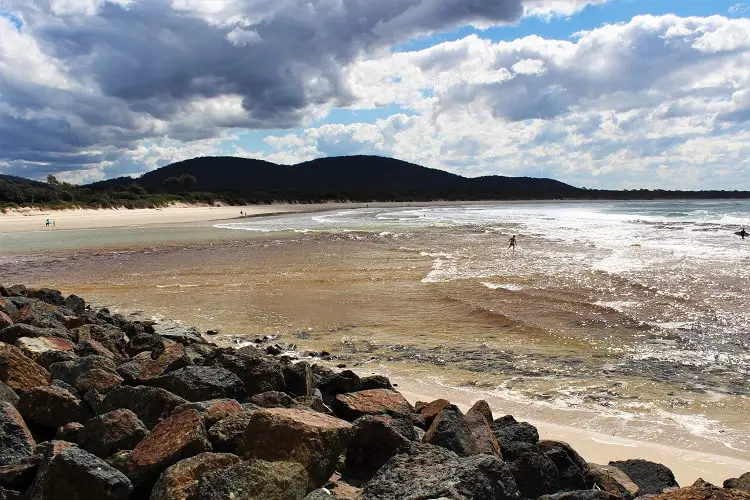 ---
8. Forster Beach
The coastal town of Forster, about 3.5 hours north of Sydney is a reasonably built up but beautiful holiday destination with heaps of water activities on offer, along with whale and dolphin cruises. The main beach in town is not only huge and bright white, but has a large ocean pool for swimming. I only stopped here for a picnic lunch but instantly put it on my list of future holiday destinations in NSW.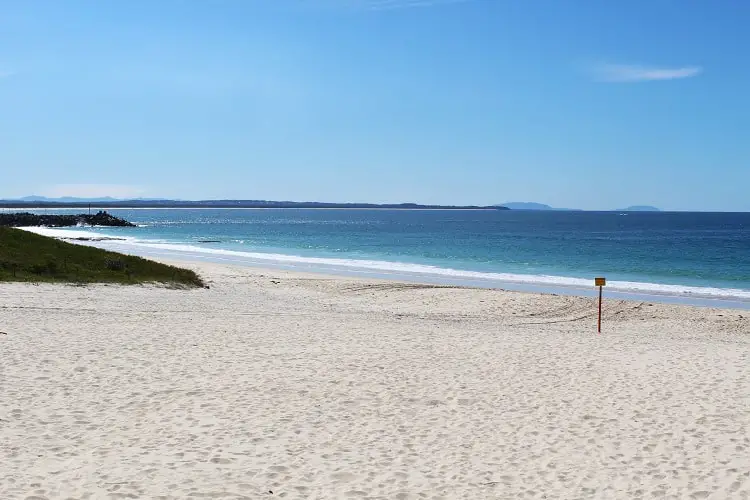 ---
9. Elizabeth Beach, Booti Booti National Park
Continuing south down the coastal route from Forster takes you into Booti Booti National Park, an 8km peninsula lying between ocean and lake. After taking a look at The Green Cathedral, I'd recommend stretching out on the stunning Elizabeth Beach, definitely one of the most beautiful beaches in NSW in my eyes.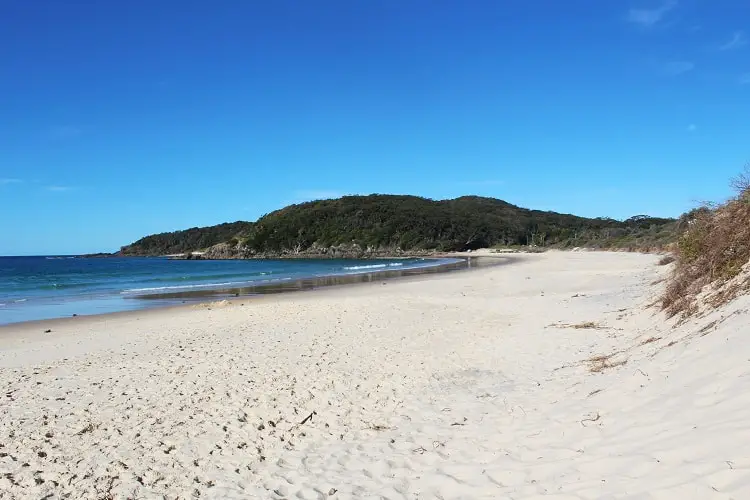 ---
10. Mungo Beach, Mungo Brush
Mungo Brush is an isolated area in Myall Lakes National Park that you can detour to if you fancy camping in more rural surroundings. We stayed at Mungo Brush Campground on the stunning banks of White Tree Bay and walked the short distance over the dunes to admire Mungo Beach in the morning.
At almost 17km long, it's the third longest beach in NSW. It's certainly dramatic with its huge waves and enormous sand dunes, but more of a place to admire than to swim at.
---
11. Zenith Beach, Port Stephens
Port Stephens is such a lovely holiday town that I returned after my road trip to properly explore. There are plenty of beaches to choose from here, but the view overlooking Zenith Beach from the Tomaree Mountain lookout is absolutely stunning.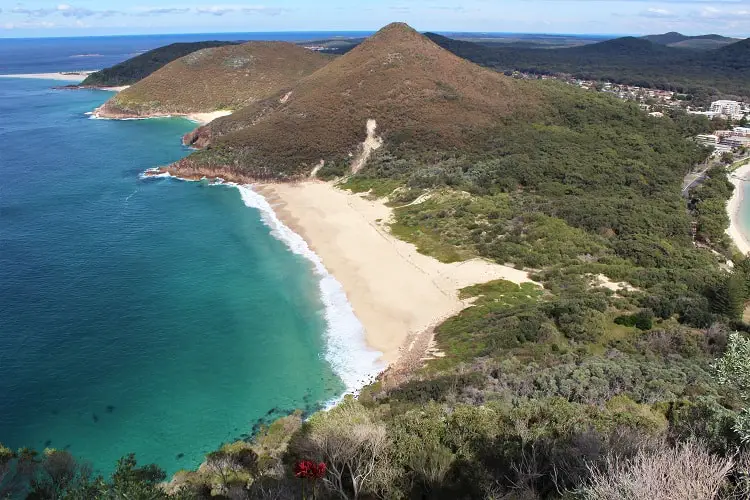 ---
12. Nobbys Beach, Newcastle
There are lots of lovely beaches in the thriving and increasingly trendy city of Newcastle. Just two hours from Sydney, it's a great destination for a weekend break. The mega-long Nobbys Beach that stretches from the city centre up to Nobbys Lighthouse impressed me enough to make it into my top 25 beautiful beaches in NSW.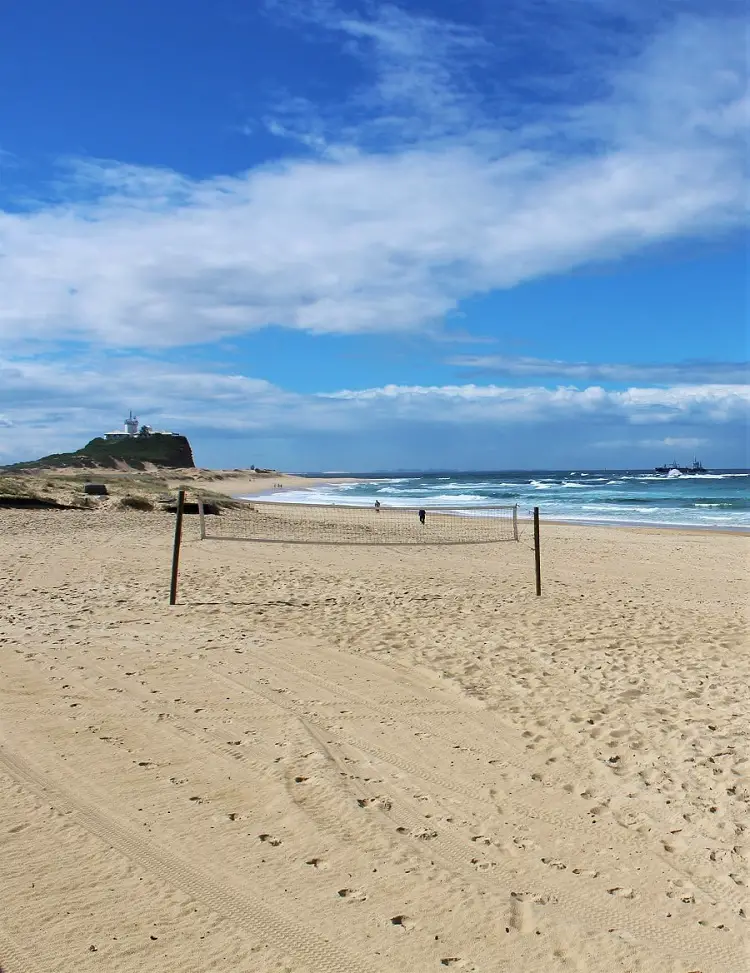 ---
13. Putty Beach, Bouddi National Park
Marking the start of the beautiful Bouddi Coastal walk through Bouddi National Park on the NSW Central Coast , Putty Beach is not only huge and golden, but has its own campsite, toilets and barbecues. This is another perfect place to visit on a weekend trip from Sydney.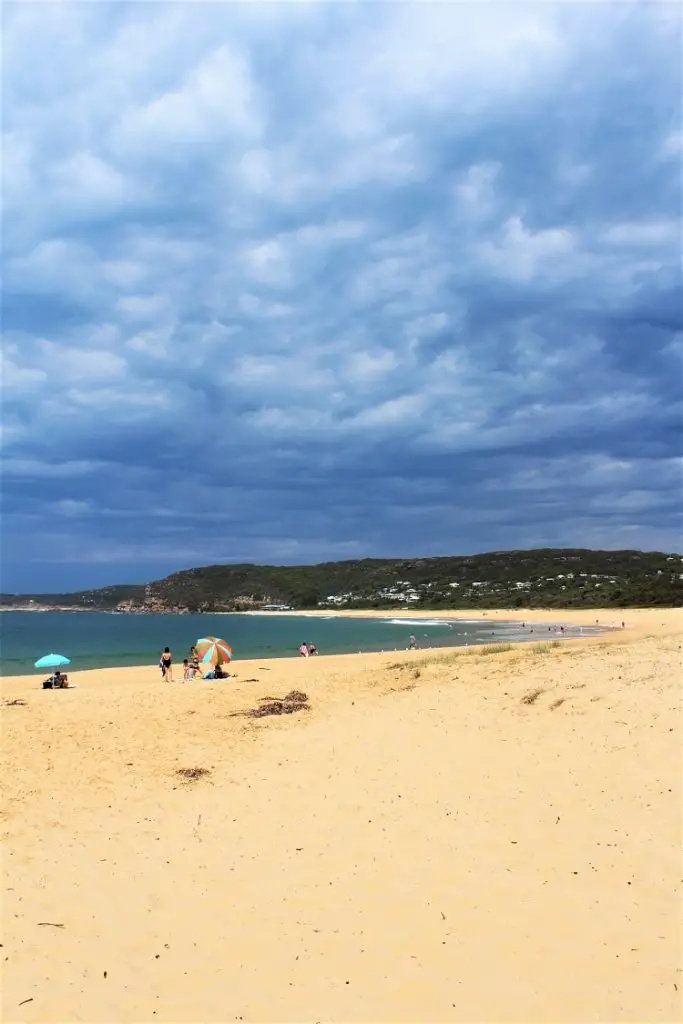 ---
14. Pearl Beach, Central Coast
Pearl Beach on the NSW Central Coast is a gem indeed. Surrounded by greenery and blessed with calm but deep water, an ocean pool, toilets and a café, restaurant and general store, there's enough at Pearl Beach to make your visit comfortable, without losing its secluded feel.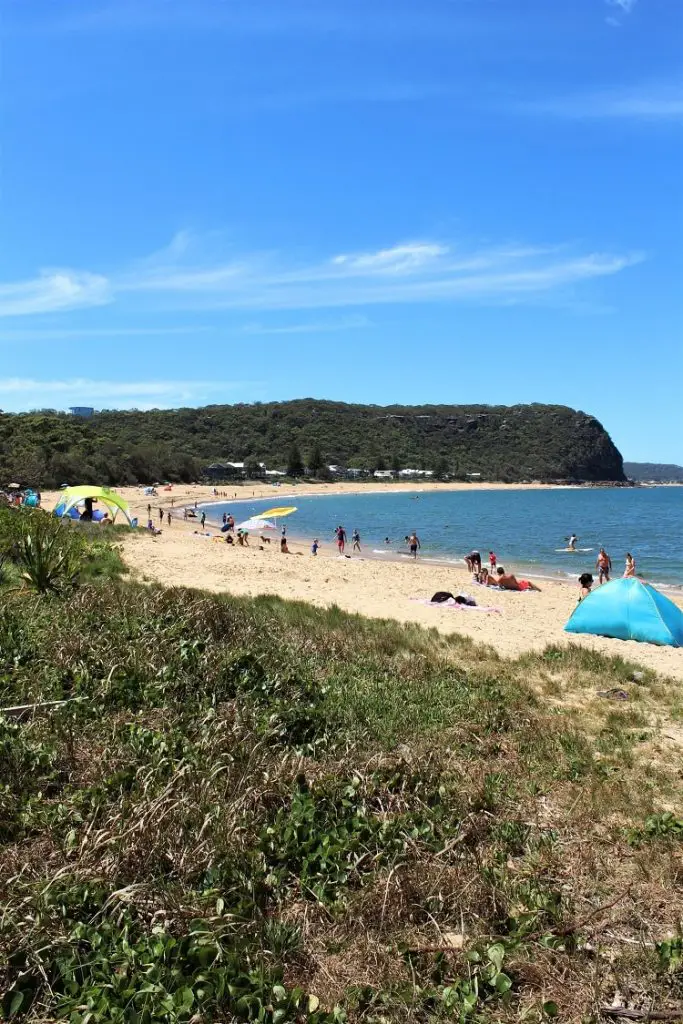 ---
15. Resolute Beach, Ku-Ring-Gai Chase National Park
Resolute Beach requires a steep bush hike, but it's well worth the effort to get there. Hidden down below towering trees and hills, the only people you'll be sharing it with are other hikers and Sydneysiders with their own boats.
To get onto the track, either drive to the car park at West Head at the northern end or take the ferry from Palm Beach in Sydney across to Mackerel. Read more in my blog post on the beautiful walk to Resolute Beach.
---
16. Kutti Beach, Sydney
Kutti Beach is my absolute favourite secluded beach in Sydney. Tucked away behind million-dollar mansions at the end of a hidden staircase on a dead-end street, it's a beach only locals tend to know about. The water's calm and clear, the vibe is relaxed, and it's also dog friendly.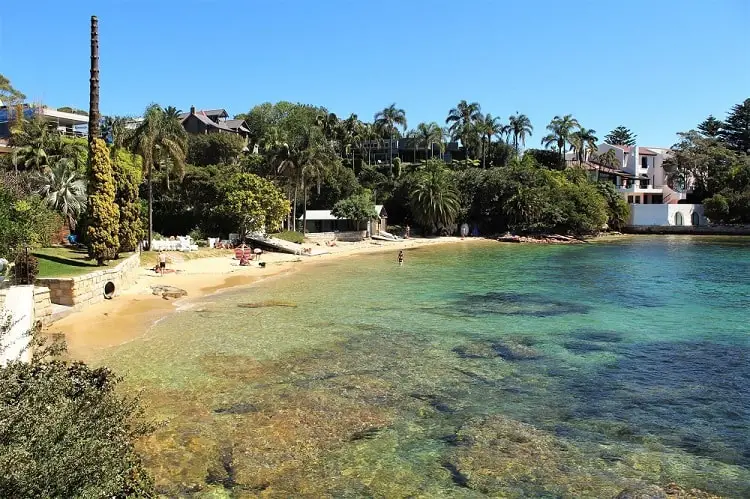 ---
17. Congwong Beach, Sydney
I'd only really been to the big, busy beaches in Sydney when I discovered Congwong down in La Perouse. I was thrilled to discover this rugged beauty accessible from a short bushtrack, and if you're into baring it all, there's the nudist Little Congwong Beach a few minutes further on!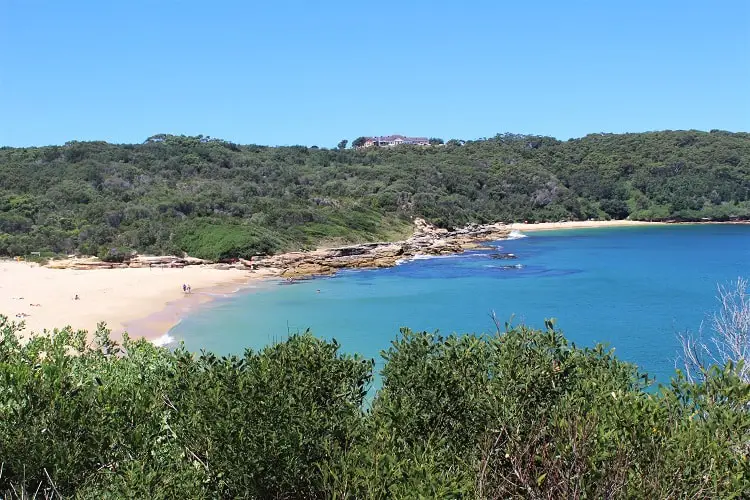 ---
18. Bonnie Vale Beach, Royal National Park
Lying at the very southern tip of Sydney, accessible by car or via a scenic ferry trip from Cronulla, are the beautiful coastal villages of Bundeena and Maianbar. Head to nearby Bonnie Vale campground in the Royal National Park and you'll come across this stunner of a beach, viewed here from the walk between the two villages.
I've written whole blog post on Bundeena and camping at Bonnie Vale if you'd like to read more. It's a great destination for a day or weekend trip from Sydney.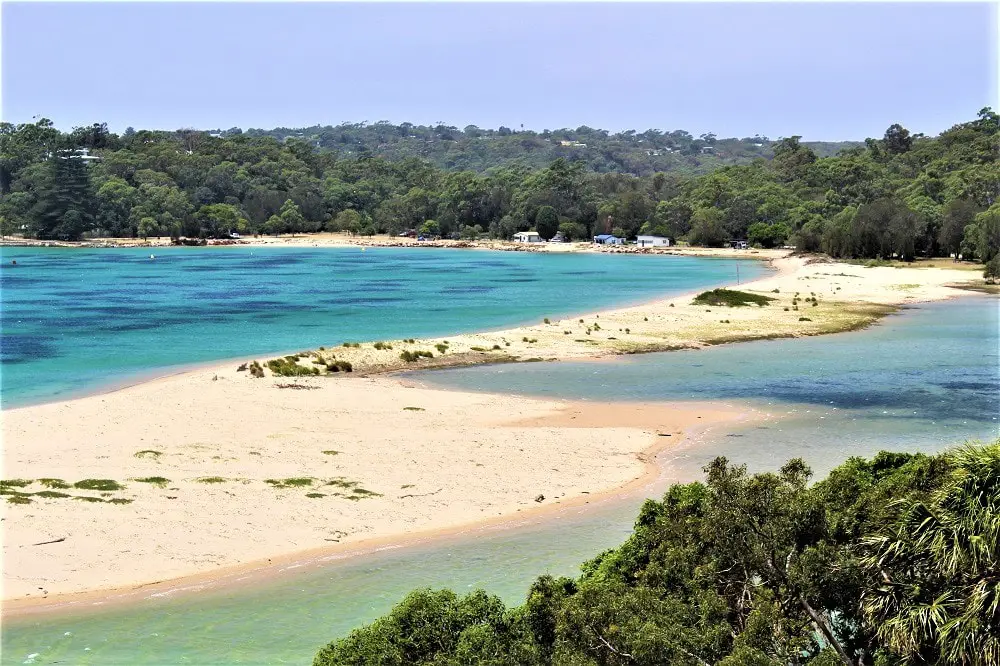 ---
19. Wattamolla Beach, Royal National Park
Further south in the Royal National Park is the gorgeous and golden Wattamolla Beach. It's not only accessible by car but has the ocean and a lagoon, toilets and access to the Royal Coast Track. Its rugged beauty teamed with its easy access makes it not only one of the most beautiful beaches in NSW, but one of the easiest to get to from Sydney. Here's my guide to visiting Wattamolla Beach.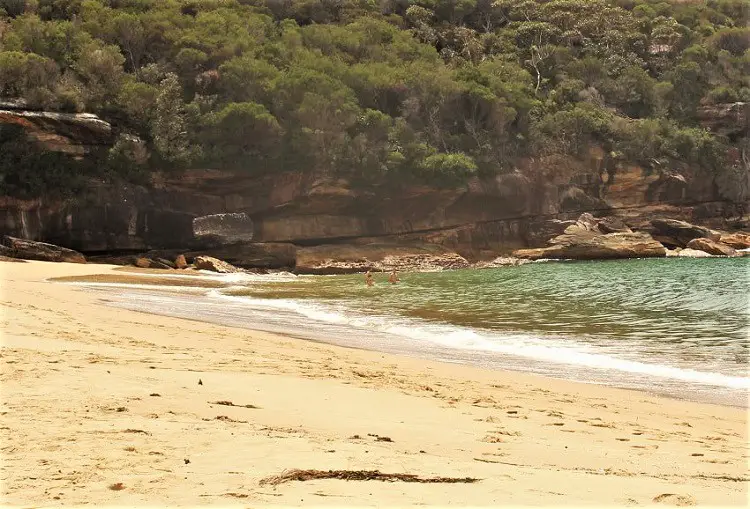 ---
20. Moona Moona Creek, Jervis Bay
If bright white beaches with ridiculously clear turquoise water are your sort of thing, Jervis Bay would be my number one recommendation in NSW. Moona Moona Creek isn't an obvious beach to come across as most people flock to Hyams, but the clear, shallow water here coupled with the white curve of sand opposite made it my absolute favourite and definitely one of the most beautiful beaches in NSW. To find out how to get there check out my guide to Jervis Bay beaches.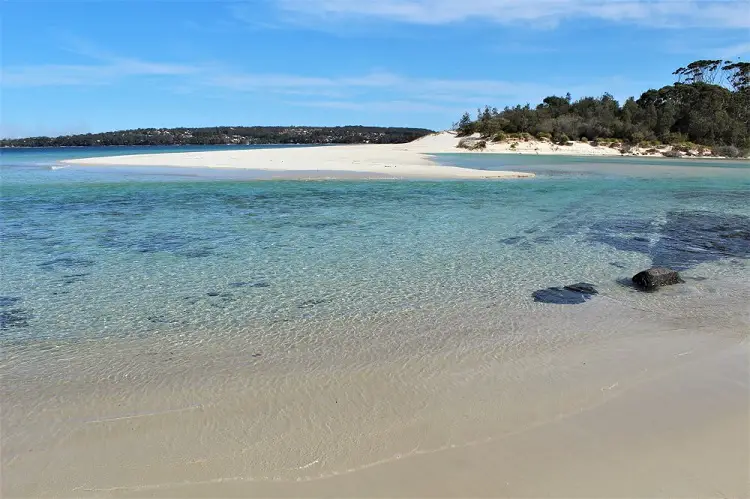 ---
21. Chinamans Beach, Jervis Bay
Another stunning beach in Jervis Bay is the enormous and blindlingly white Chinamans Beach along the White Sands Walk. Its vast size and bright turquoise water make this one of my absolute favourites. The picture says it all really (ignore the bushfire in the background!).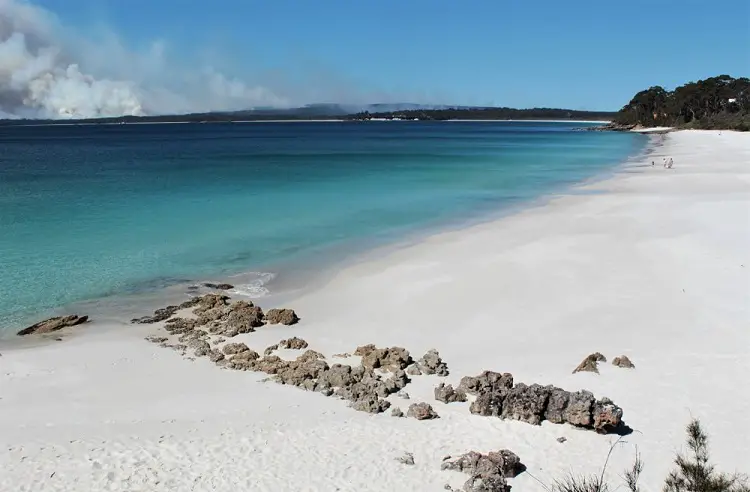 ---
22. Pebbly Beach, Murramarang National Park
If you're staying in Batemans Bay, a visit to Murramarang National Park is a must do. Since Pebbly Beach is the most well known, I expected it to be a bit touristy, but it was actually really impressive.
There are so many beaches in this national park but Pebbly stands out from the crowd, not only because of the wild kangaroos and parrots that live there, but the pretty parkland behind it. This should definitely be on your list of beautiful beaches in NSW to visit.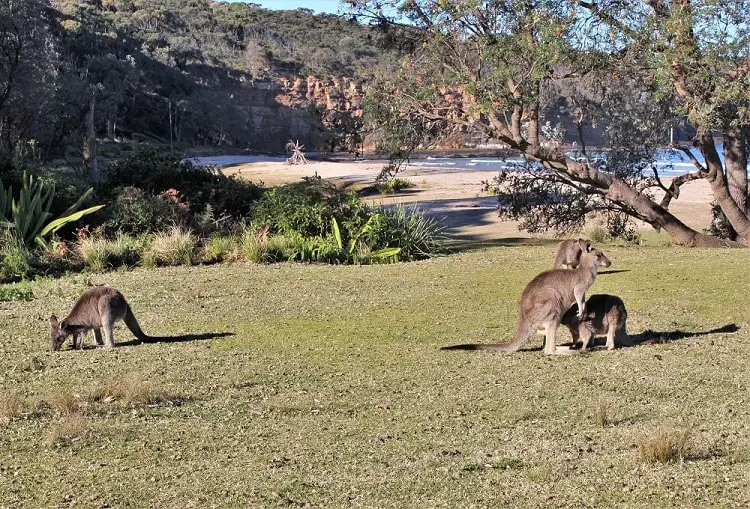 ---
23. Myrtle Beach, South Durras
Myrtle Beach in the South Durras section on Murramarang National Park is one that sticks with me because of the craggy rocks and caves, as well as the beautiful drive through the forest and headland walk that takes you there. It was definitely one of the most memorable places I visited on my Melbourne to Sydney road trip.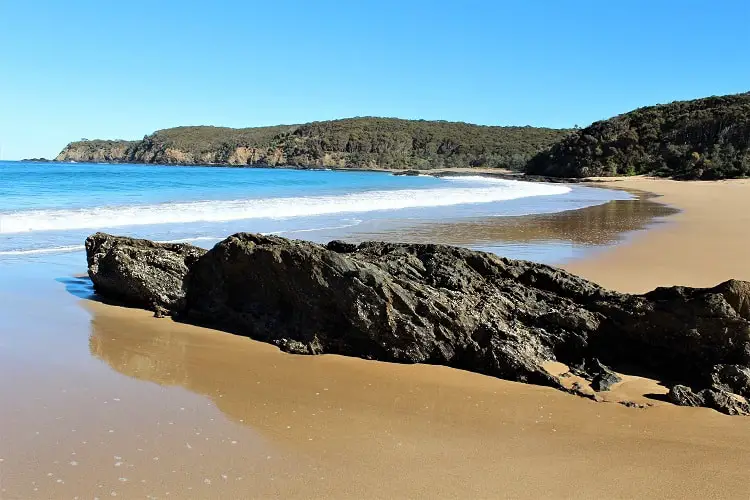 ---
24. Pinnacles Beach, Ben Boyd National Park
Accessible from the 1km Pinnacles Loop Walk in Ben Boyd National Park near Eden, Pinnacles Beach is part of Long Beach and sits below the 65 million-year-old Pinnacles rock formations. This huge stretch of sand is exposed, untouched and you'll likely have it all to yourself.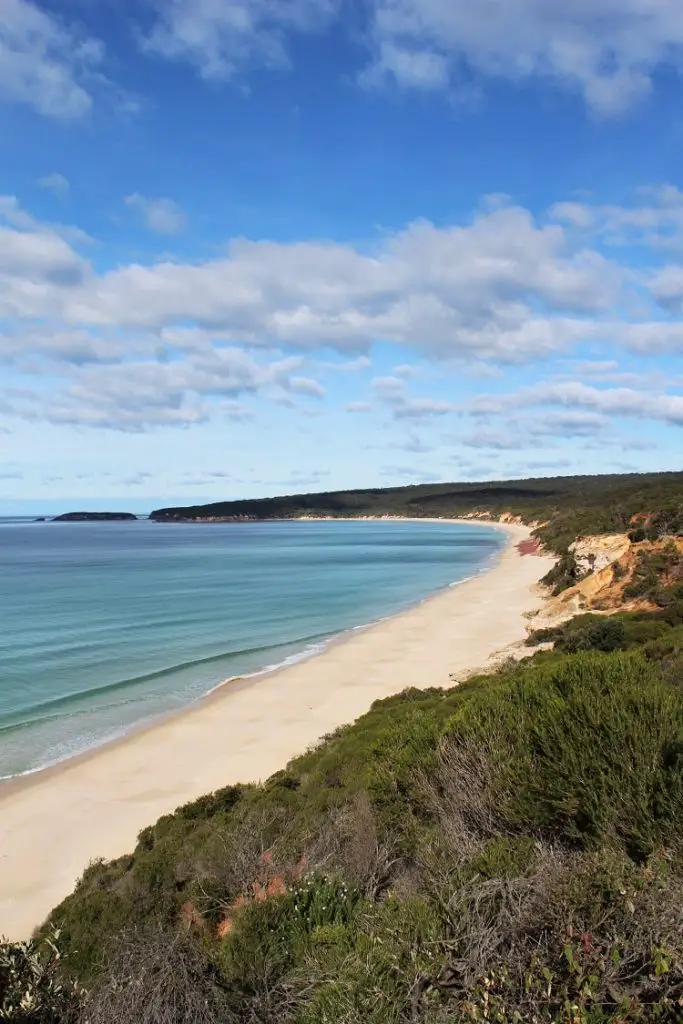 ---
25. Aslings Beach, Eden
I wish I'd had longer to spend in Eden as Aslings beach felt like a really special place with a serene atmosphere that's hard to describe. While there are countless beautiful beaches in NSW, this one just had something extra going for it and has stuck in my mind ever since.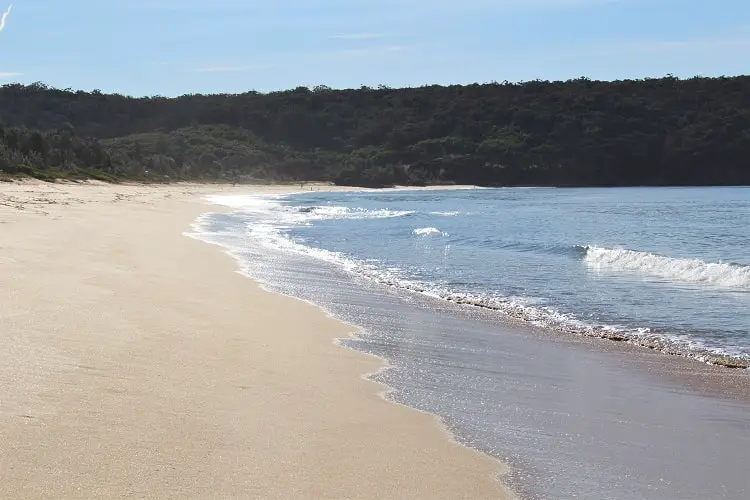 ---
Well that's it for my 25 favourite beautiful beaches in NSW! If you're planning on travelling Australia, make sure you check out my detailed drive itineraries that include distances, driving times, costs and camping accommodation. If you live in Sydney, here are my favourite weekend getaways in NSW and day trips from Sydney.
If you've already explored the east coast of Australia, make sure you let me know your best NSW beaches in the comments!
---
Like it? Pin it!
Written by Lisa Bull
Lisa Bull, founder of Dreaming of Down Under, has been living in Australia as a British expat since 2015. After travelling to every state and territory in Australia and living in Perth, Brisbane and Sydney, Lisa knows from first-hand experience the best destinations to visit in Australia and the best budget travel tips. Her guides on this blog have been read by over 700k readers and helped thousands of people achieve their dream of living in or travelling Australia.