This post may contain affiliate links. Please see my disclosure policy for more details.
Just an hour south of Sydney CBD, across the water at Port Hacking, lies the Royal National Park, home to the famous Coast Track that runs all the way from Otford up to Bundeena, along with a string of beautiful forest-backed beaches.
Since I've been living in Sydney over a year now I thought it was high time I started exploring a bit more of the park and what it has to offer, starting with the easy-to-reach Wattamolla Beach.
Pin it for Later!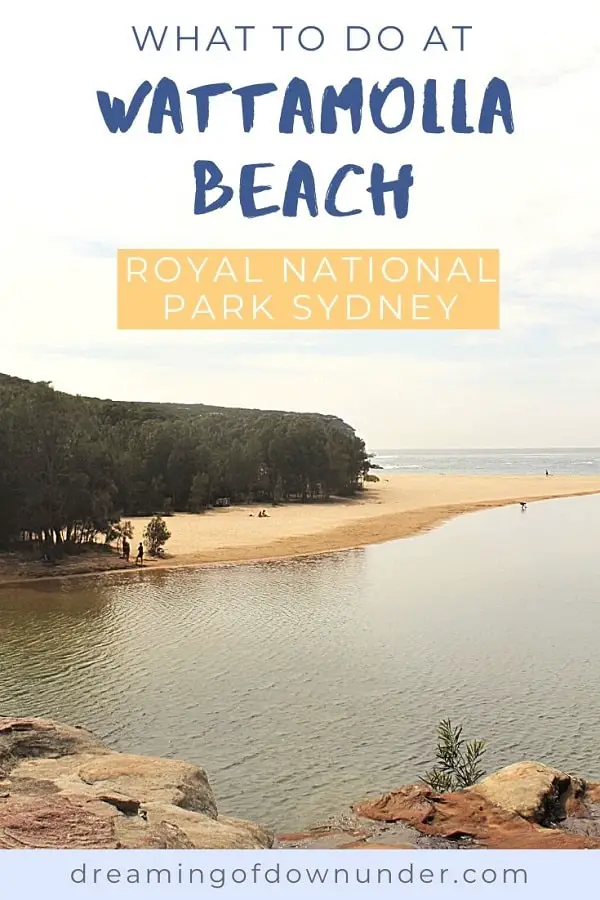 ---
How to Get to Wattamolla Beach
Some of the beaches in the park can only be reached by hiking, but Wattamolla Beach has its own car park and facilities. From Sydney, follow the Princes Highway south, and turn left at the sign for the Royal National Park onto Farnell Avenue.
This turns into Audley Road, and you'll soon spot the Hacking River and Audley Dance Hall and visitor centre, where you can buy a park pass for $12 (if there is no one manning the station at the park entrance).
The road becomes Sir Bertram Stevens Drive and winds its way through the park until you reach the turn off for Bundeena. Continue past there and shortly after you'll see another left turn onto Wattamolla Road.
This takes you all the way to Wattamolla Beach, where there is a choice of car parks to choose from. It's a popular place on summer weekends and school holidays, so it's best to check the @ROYALbusy Twitter link to see if the car park is full before you set off.
---
Wattamolla Beach
From the main car park, you get great elevated views across Wattamolla Beach and lagoon. There's a fenced-off waterfall too (although it was too dry for it to run when I visited), where people illegally climb over and jump off into the lagoon. I wouldn't recommend this personally if you don't know how deep the water is!
There's also an information board and plenty of signs as the Coast Track runs through here. Follow the short track down the hill from the car park and you'll come to the beautiful Wattamolla Beach, where you can either swim, lie in the sun or find a spot under the shade of the trees and rocks.
Here are some pictures of the ocean-facing side of the beach. Since it sits quite far back inside an inlet, the waves aren't too scary!
---
Wattamolla Lagoon
If you want to swim in even stiller waters, or you've got small children, the beach stretches back from the ocean and around Wattamolla Lagoon.
The cliff area at the back is where the waterfall usually is. To the right there's an area of trees that you can sit under or stroll through, and the lagoon runs right round to the back of there in a u-shape.
---
Wattamolla Beach Picnic Area
There isn't any food or drink available at Wattamolla Beach (unless you drive to Audley Dance Hall about 15 minutes away), but there are plenty of picnic tables and barbecues, along with a toilet block, so pack your esky and feast away al fresco!
---
Wattamolla Creek Dam
Just 650m from the main car park (to the left if you're facing the beach) is Wattamolla Creek Dam, lying along the Coast Track. Keep walking for a few more minutes and you'll climb some very cool stone steps that look like they're from The Flintstones and enjoy panoramic views across the Royal National Park at the top!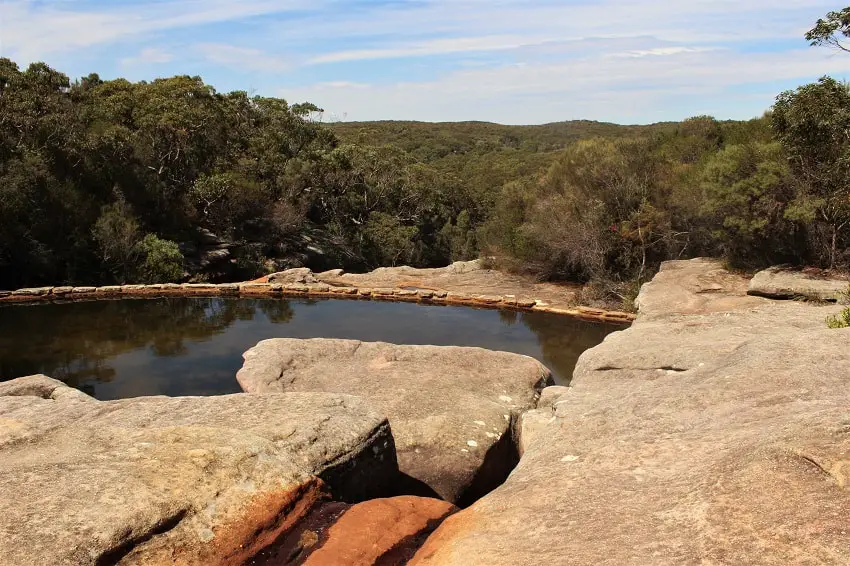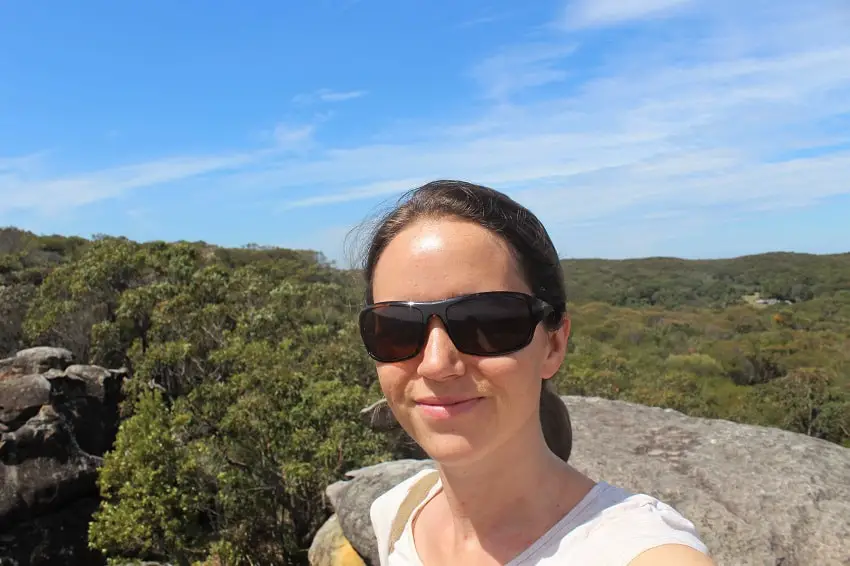 ---
Walk to Providential Point
If you head towards the toilets from the main car park you'll see signs to Providential Point, which lies at the end of a short track that follows the edge of the coastline. They were making improvements to it when I visited, so I didn't go all the way to the end, but I still saw great views over Wattamolla Beach along the way.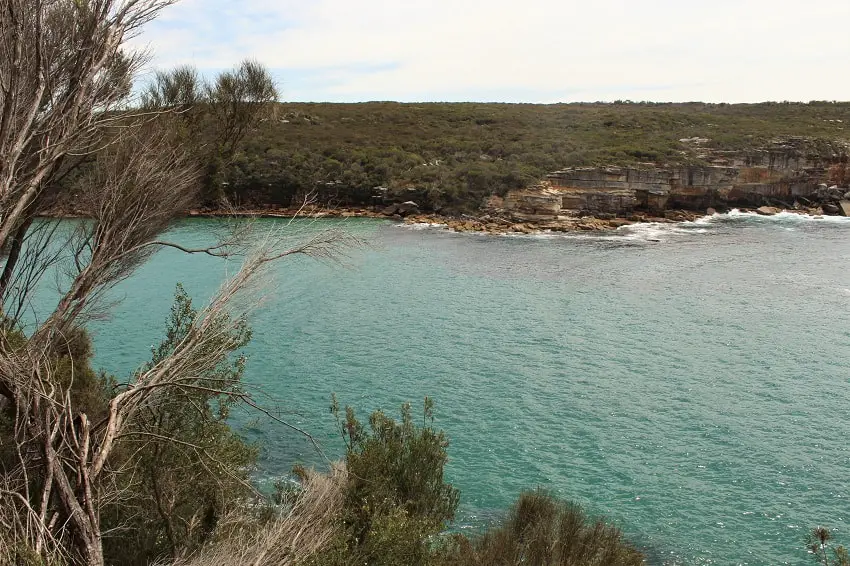 ---
Audley Dance Hall & Cafe, Visitor Centre & Picnic Area
If you're driving to the Royal National Park from Sydney, you'll pass through Audley about 15 minutes before you get to Wattamolla Beach. Set on the pretty Hacking River and surrounded by trees, the grounds here are absolutely idyllic. Audley Dance Hall has a great café and a visitor centre, and there are picnic tables, barbecues and toilets, along with rowing boats, canoes and kayaks for hire across the water at Audley Boat Shed.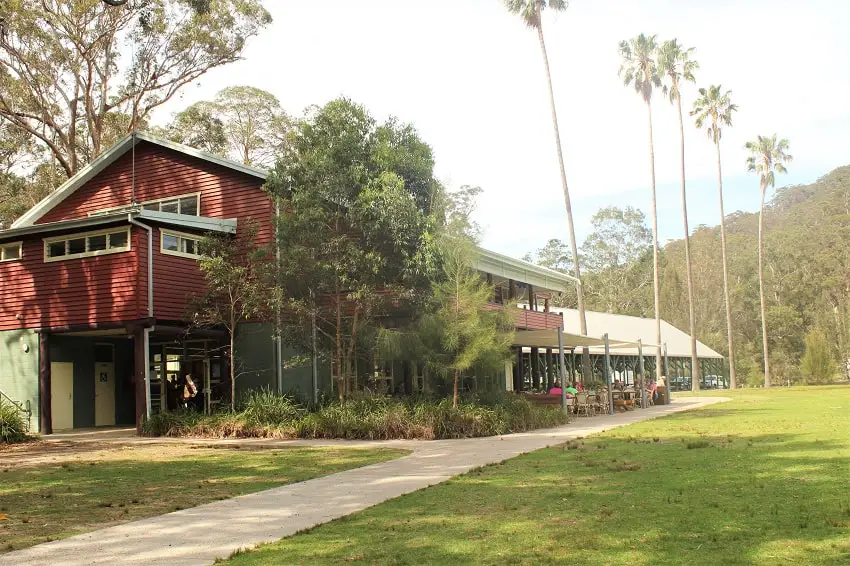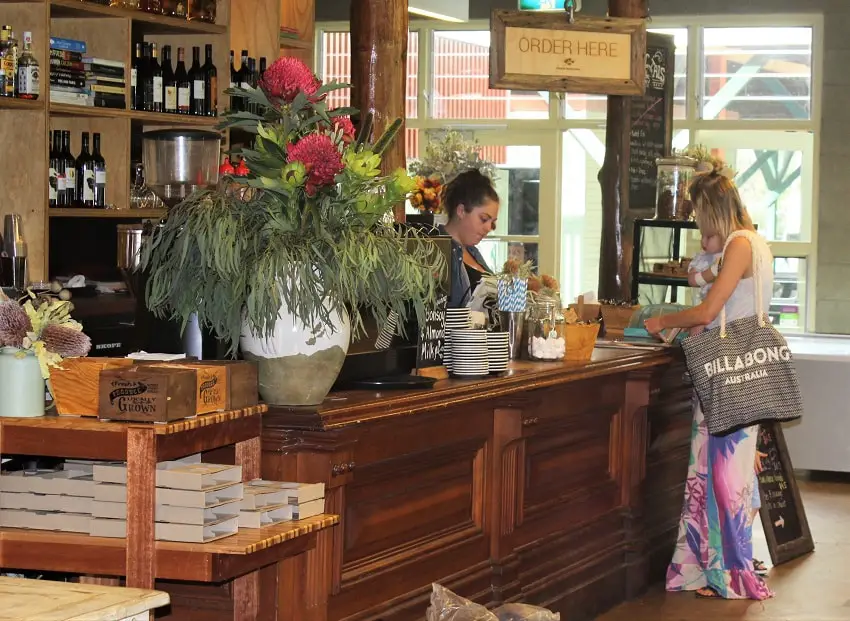 ---
For more ideas of places to visit in the Royal National Park, check out my blog posts on the beautiful and artistic Bundeena village:
Bundeena, Maianbar & Bonnie Vale Campground
Bundeena Markets, Art Trail & Royal Coast Track
If you're looking for more ideas on weekend or day trips from Sydney, find out my top recommendations in these posts:
10 Scenic Day Trips from Sydney
10 Best Weekend Getaways from Sydney
Happy exploring!