This post may contain affiliate links. Please see my disclosure policy for more details.
If you're a fan of the great outdoors, the Blue Mountains National Park is the perfect location for a day trip or weekend getaway from Sydney. An ideal way to enjoy the lush rainforest, rushing waterfalls and breath-taking views is on one of the easy Blue Mountains walks.
If you don't fancy a strenuous full-day walk, don't worry, there's an abundance of short Blue Mountains walks under 5km to choose from. Most of these join up with longer tracks too, so you have the option of extending to something more challenging if you feel like it!
I've visited the Blue Mountains multiple times in the eight years that I've lived in Sydney. If you want to know the best short walks in the Blue Mountains, this post will share my absolute favourites.
All of these Blue Mountain hikes start from either Katoomba, Wentworth Falls, Leura or Blackheath and can be reached by public transport. If you prefer to hire a car, make sure you compare car hire prices on Kayak. They compare hundreds of car hire sites to find you the best deal!
Here are my nine best Blue Mountains walking tracks under 8km!
---
1. The Three Sisters Walk
Distance: 0.8km return
Grade: 1
Location: Katoomba
You don't have to sweat for hours to view the iconic Three Sisters rock formation close up! Just head to Echo Point lookout in Katoomba and join the Three Sisters Blue Mountains walk.
The Katoomba Three Sisters walk is only grade 1 and starts from the arch next to the visitors centre. The walk down to Oreades lookout is only 400m each way, and you'll get a much closer view of the three sisters than at busy Echo Point lookout.
While the Three Sisters track is one of the easy walks in the Blue Mountains, there are many other walking tracks starting from Echo Point too. You can easily tag on a longer walk. There's also a visitor centre, café and toilets.
If you want to continue further, you can descend the steps for another 50m to get to Lady Game lookout. From there continue down the steep steps at the top of the Giant Stairway to cross Honeymoon Bridge and stand right inside one of the sisters!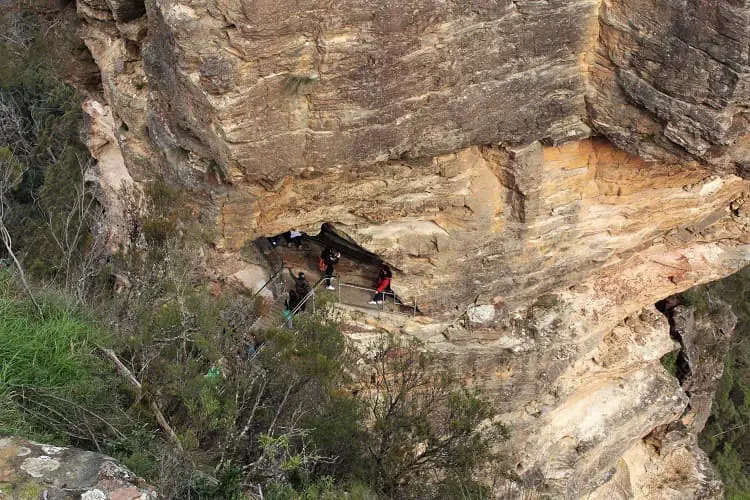 For a more challenging walk you could continue down the Giant Stairway to get onto Dardanelles Pass, or jump onto the Prince Henry Cliff Walk to Leura.
---
2. Katoomba Falls Walk
Option 1 Distance: 1.3km one way from Echo Point
Option 1 Grade: 3
Option 2 Distance: 1.2km round walk from near Scenic World
Option 2 Grade: 3
Location: Katoomba
To the west of the iconic Three Sisters lies picturesque Katoomba Cascades and Katoomba Falls, which can be viewed on two different short walks in Katoomba.
I chose the one-way Prince Henry Cliff Walk from Echo Point (option 1). This had fantastic sweeping views across the Blue Mountains. Just make sure you head in the opposite direction to the Three Sisters from Echo Point Lookout, as the Prince Henry Cliff Walk also continues in the other direction to Leura!
Option 2 is the Katoomba Falls Round Walk from Scenic World. This is one of the best Katoomba walks, passing through a rainforest gully and taking in multiple lookouts with amazing views.
On this short Blue Mountains walk you'll get up close to Katoomba Cascades, see Katoomba Falls from Cliff View lookout and pass a series of other lookout points with fantastic views across the Blue Mountains!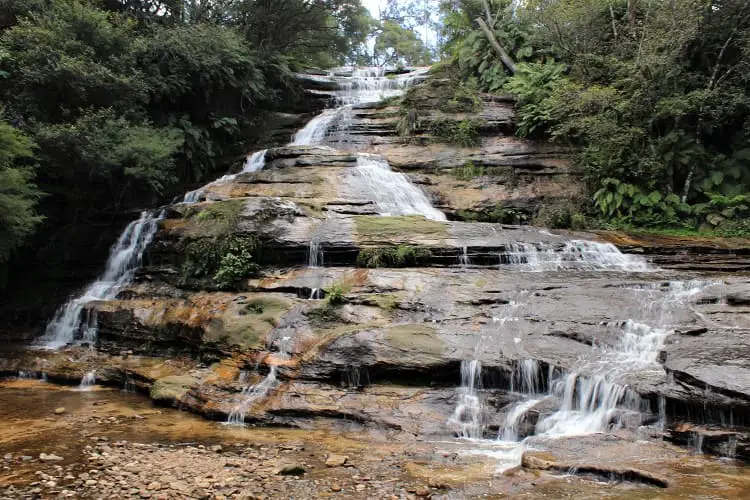 ---
3. Leura Cascades Walk
Distance: 4.5km loop
Grade: 4
Location: Leura
Leura is a gorgeous village one train stop east of Katoomba. It's worth visiting for its strip of cute cafes and shops alone, but it also has some great walking tracks.
The Leura Cascades walk starts from Leura Cascades picnic area and descends deep into the rainforest along the steep Fern Bower circuit. You'll pass some fantastic lookout points as well as getting up close to the cascades.
Leura Cascades picnic area is a lovely place to stop for a while too, with grassy areas and toilets.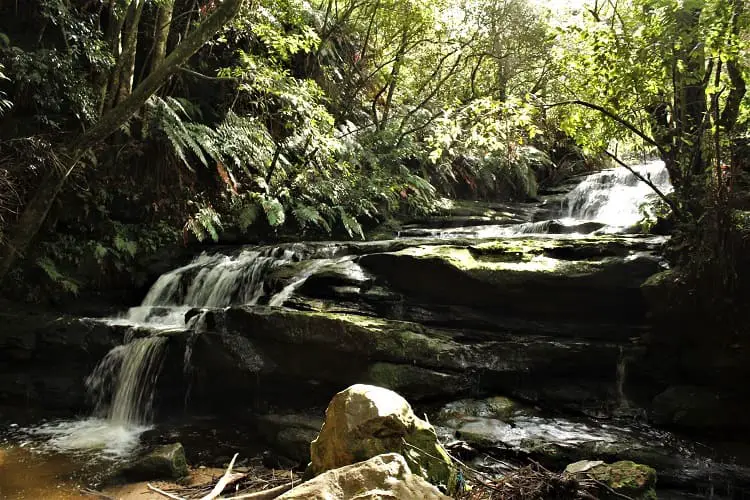 ---
4. Prince Henry Cliff Walk
Distance: 7km one way (shorter sections available)
Grade: 3
Location: Katoomba to Leura
The Prince Henry Cliff Walk stretches 7km all the way from Katoomba Cascades to Gordon Falls in Leura, passing the Three Sisters and Leura Cascades along the way. Since the track skirts the edge of Katoomba and Leura towns, it has many access points. So you can do as much or as little of it as you like.
I've covered the western section from Katoomba Cascades to Echo Point in the Katoomba Falls walk above. On my most recent visit I walked the section heading east from Leura Cascades picnic area, as far as Elysian Rock lookout and then back again, which was absolutely stunning!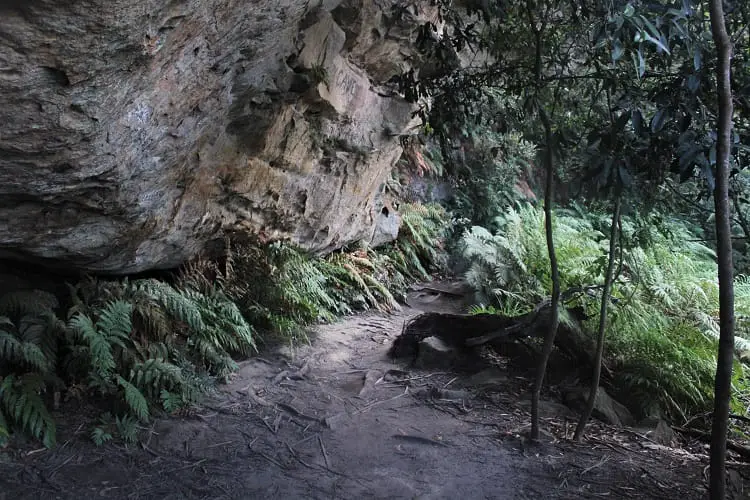 You get some amazing sweeping views across the mountains from this high up, cliffside trail; it's very different to the mossy green tracks that run deeper inside the rainforest.
You'll also look down at some shockingly sheer drops from the lookout points, so make sure you take the short detours to Bridal Veil View and Tarpeian Rock Lookout!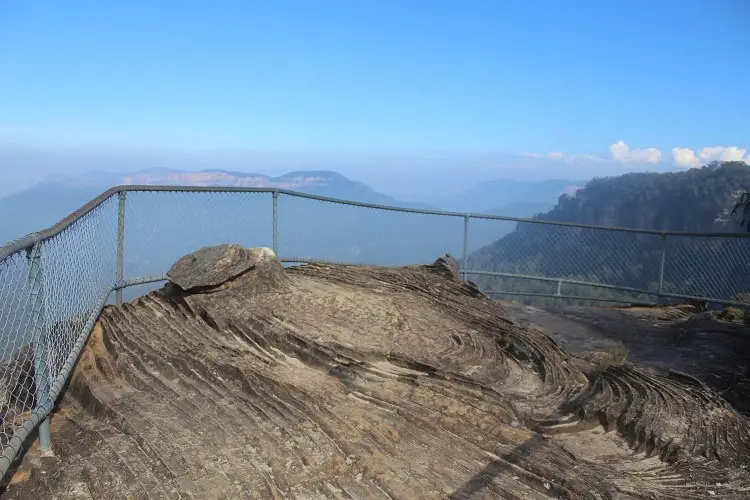 To extend the walk you could add on the Lyrebird Dell loop walk below, which goes deeper into the forest.
---
5. Lyrebird Dell Walking Track to Pool of Siloam
Distance: 1.7km loop
Grade: 3
Location: Leura
This lovely short walk in Leura heads down into the lush green rainforest from the parking area at Gordon Falls . You'll pass the pretty Pool of Siloam, as well as a quiet spot with picnic tables shaded by overhead cliffs.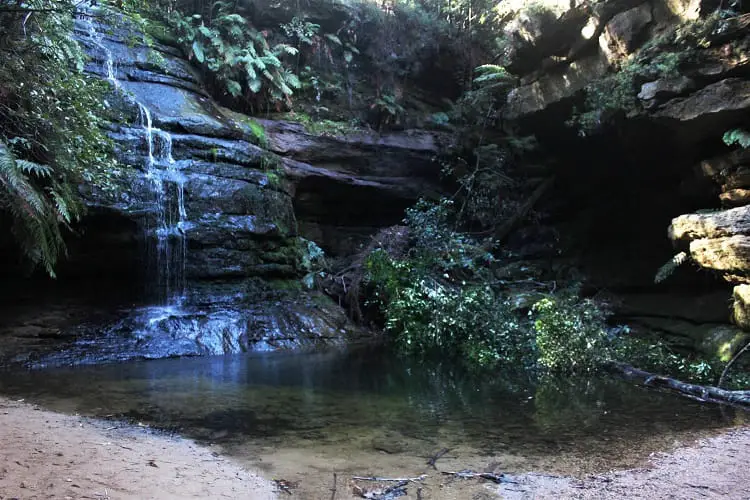 I'd recommend adding on the short detour to Elysian Rock lookout along the Prince Henry Cliff Walk if you haven't been there before, as the open views across the Blue Mountains are gorgeous!
The Lyrebird Dell walking track is one of the quietest short hikes in the Blue Mountains that I've done. I'd give it a miss if there's been heavy rain though, as I tried it a couple of years ago and the track was flooded!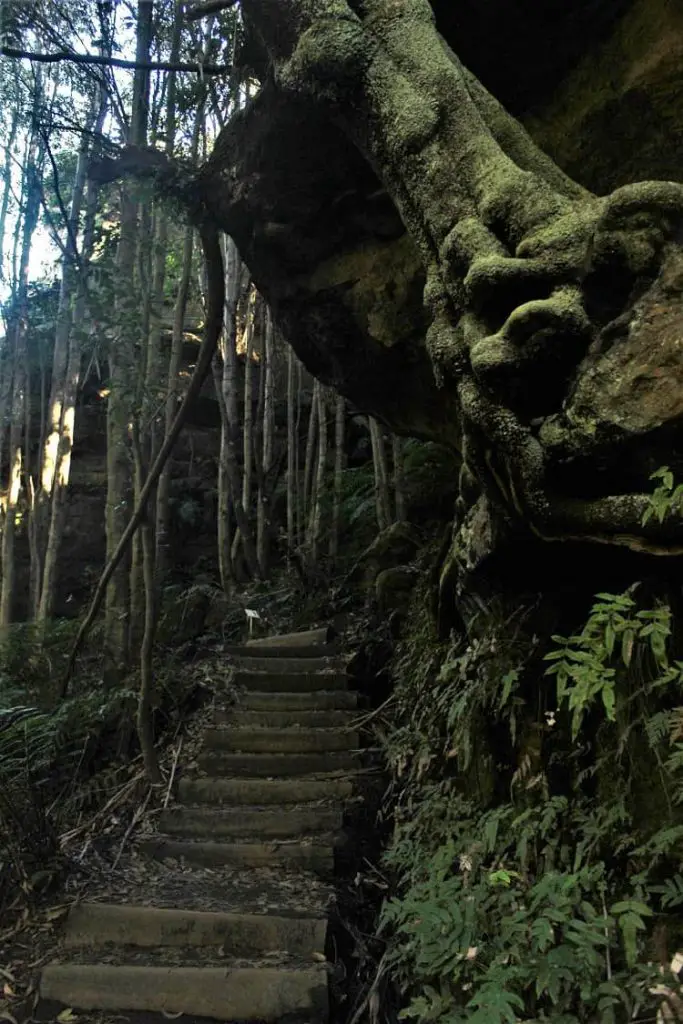 ---
6. Charles Darwin Walk
Distance: 2.4km one way
Grade: 3
Location: Wentworth Falls
One train stop east of Leura is popular Wentworth Falls. This area has a big picnic area with parking, toilets, information boards and a choice of Wentworth Falls walks. It does get fairly busy, but less so than Echo Point.
The Charles Darwin walk is ideal if you're arriving by train, as it starts from near the train station in town and meanders gently alongside Jamison Creek to join up with the other walking tracks at the picnic area further south.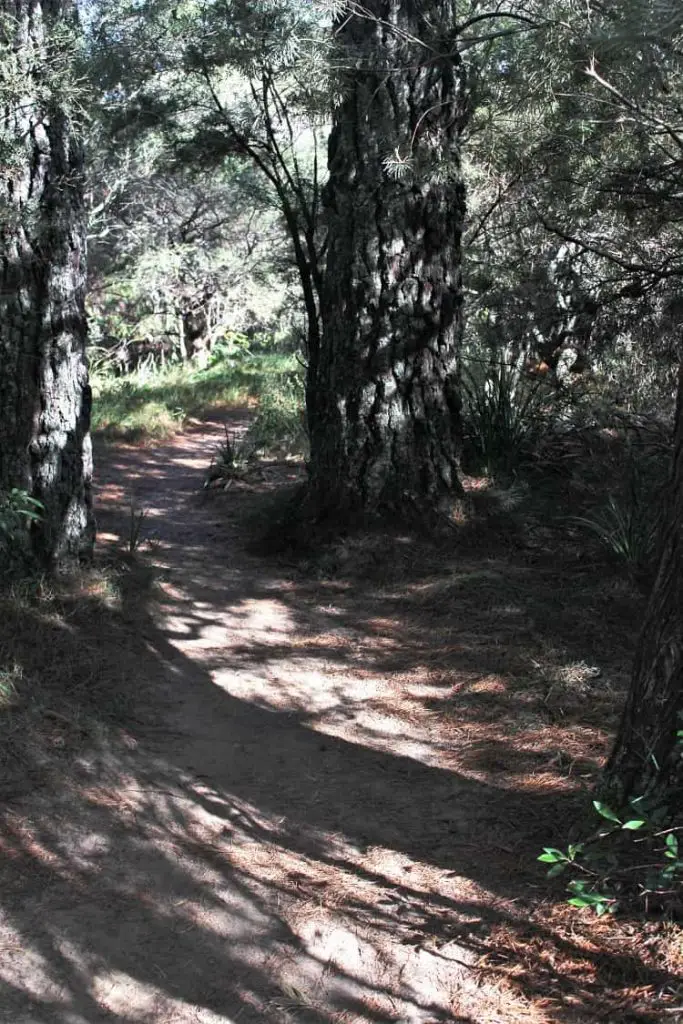 To get to Wentworth Falls picnic area, it's another 15 minutes from Weeping Rock at the southern end of the Charles Darwin Walk (you'll see the sign). Alternatively you could add on the slightly longer track that passes Fletchers lookout and Princes Rock lookout. (See the next walk below.)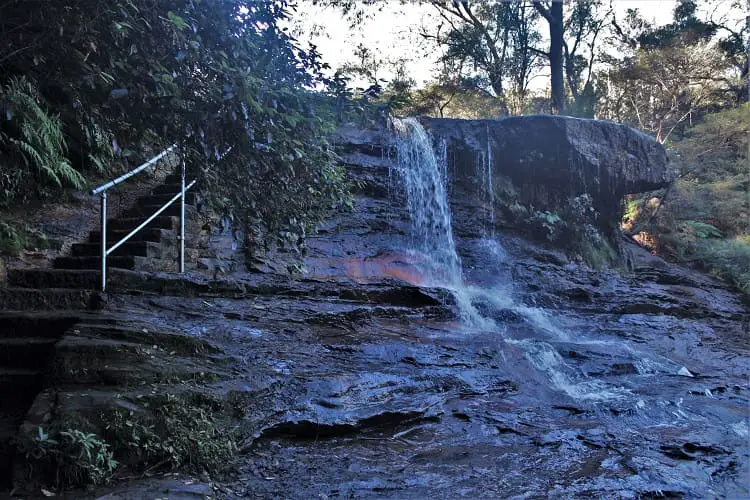 ---
7. Princes Rock Lookout & Wentworth Falls Walk
Distance: Approx 2.5km loop
Grade: 3
Location: Wentworth Falls
This loop walk from Wentworth Falls picnic area is made up of three separate tracks that join up and takes about 1.5 hours. It passes a few lovely lookout points and offers a great view of Wentworth Falls.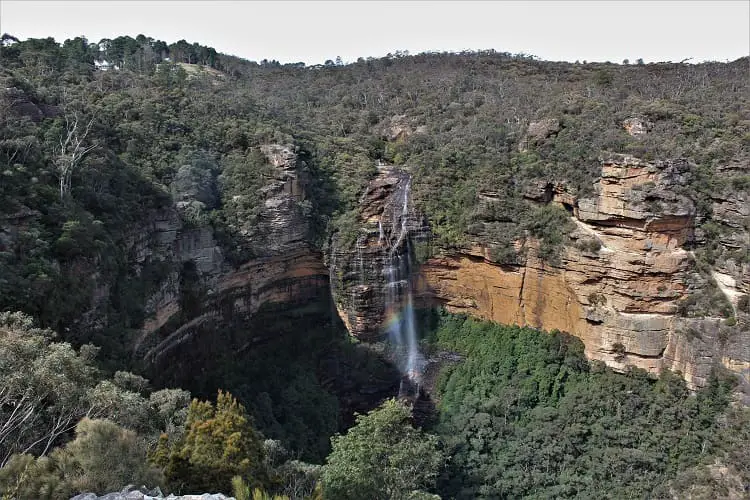 From Jamison Lookout at the picnic area, follow the track to Wentworth Falls Lookout, where you'll have beautiful open views across the Blue Mountains.
From there continue to Fletchers Lookout for a birdseye view of the waterfall. Then take the short detour to the cute stepping stones in the picture below!
Head back via the Undercliff Track to Fletchers Lookout. It's not far to Wentworth Falls picnic area and carpark from there.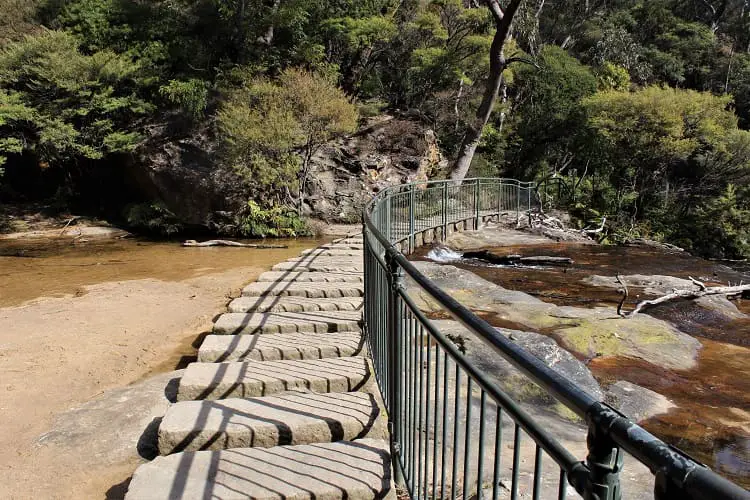 ---
8. Den Fenella Walk
Distance: 1km return
Grade: 3
Location: Wentworth Falls
My favourite Wentworth Falls bushwalk is the Den Fenella track. It's one of the best short walks in the Blue Mountains, as people don't seem to realise it exists!
Even though the Den Fenella walk begins at popular Wentworth Falls picnic area, it isn't listed on the information board, and it also starts from a different spot than the other tracks. I've rarely seen another person on the track.
You'll set off through the cool green rainforest and head deep down into a gorge before passing Den Fenella Cascades. At the end there's a great little viewpoint that looks out across the valley!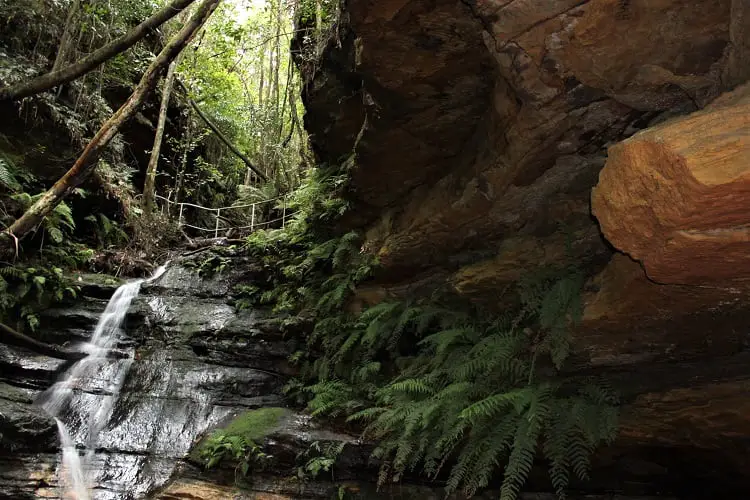 ---
9. Govetts Leap Walk via Fairfax Heritage Track
Distance: 1.8km one way
Grade: 1
Location: Blackheath
If you're looking for grade 1 walks in the Blue Mountains, the Fairfax Heritage Walking Track in Blackheath is a great option.
Head to the Blue Mountains Heritage Centre to find the Fairfax Heritage Track, a gently sloping, wheelchair accessible track that takes you through forest to some beautiful lookout points.
It's a great option if it's wet weather, as the track is sealed so doesn't get muddy and swamped!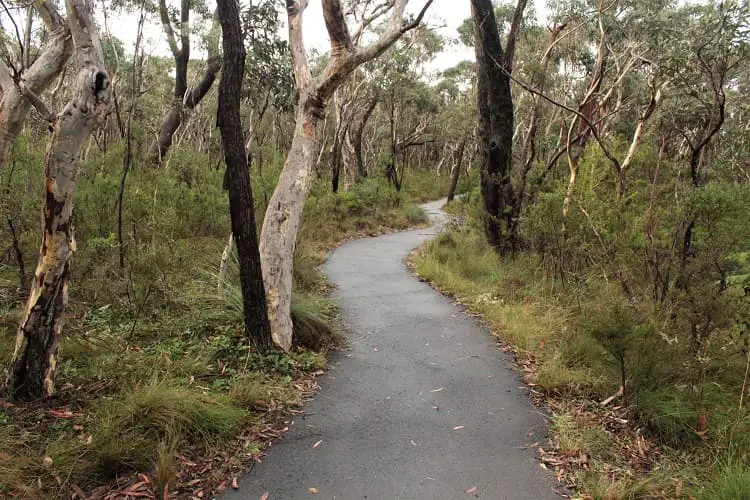 You'll pass George Phillips Lookout and Govetts Leap Lookout, which have magnificent views across Grose Valley, Govetts Gorge and Jungle Falls, as well as picnic areas to rest at.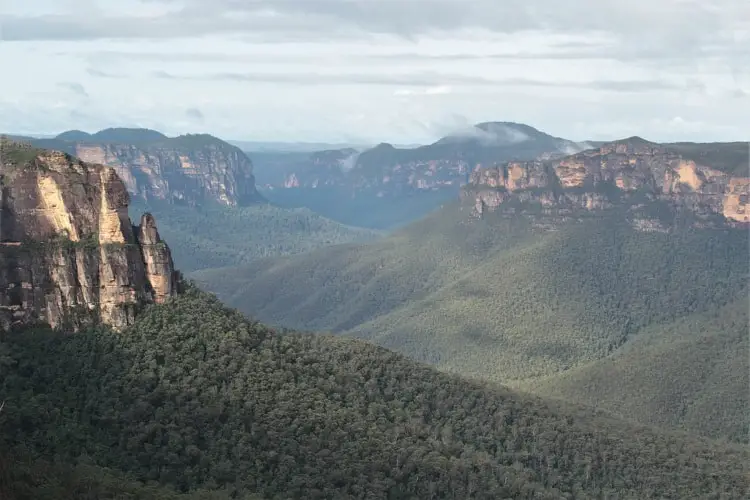 You can either return the same way back to the Heritage Centre, or follow the unsealed 500m track alongside Govetts Leap Road to form a loop.
---
Blue Mountains Accommodation
To browse accommodation in the Blue Mountains region, enter your dates into the search box below.
---
If you enjoyed this blog post on the best Blue Mountains short walks, find out the top 12 beautiful lookouts in the Blue Mountains or read through my 15 best short walks in Sydney.
You can plan your day with my Blue Mountains day trip itinerary or browse all my NSW guides to find more ideas on day trips from Sydney.
For more details on each walk, as well as maps, updates on conditions and information on whether the tracks are open or closed, check the NSW National Parks website. Use the NSW trip planner to reach Blue Mountains walks accessible by train. Happy adventuring!
---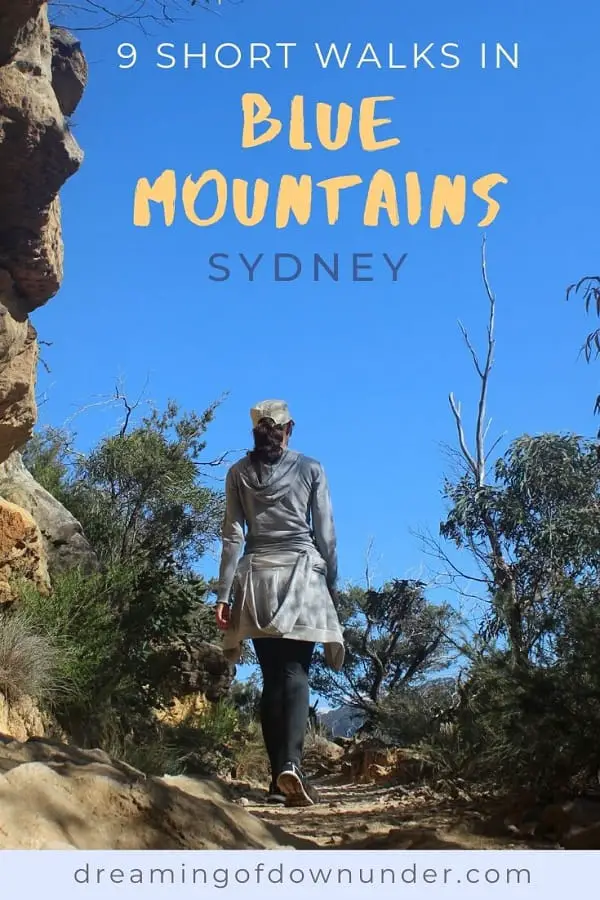 Written by Lisa Bull
Lisa Bull, founder of Dreaming of Down Under, has been living in Australia as a British expat since 2015. After travelling to every state and territory in Australia and living in Perth, Brisbane and Sydney, Lisa knows from first-hand experience the best destinations to visit in Australia and the best budget travel tips. Her guides on this blog have been read by over 700k readers and helped thousands of people achieve their dream of living in or travelling Australia.