This post may contain affiliate links. Please see my disclosure policy for more details.
Following an eventful first two weeks as a backpacker in Perth, involving being shunted from hostel to hostel and losing and finding new friends, I'd decided hostel life was no longer for me and taken up the more appealing offer of a room in a nice apartment; bizarrely for much less money than the price of a hostel.
It was on my way to this East Perth apartment, sitting on the free CAT bus and loaded up with luggage, that I got a text from my new landlord/flatmate that went something along the lines of: "Sorry, I forgot I'd already offered the room to someone else so you're going to have to share it as a twin. It's the Irish girl from the hostel."
While this seemed utterly strange after he'd gone on and on about how sick he was of sharing the flat with heaps of people and from now on definitely only wanted one flatmate at a time, keeping the third room free for his young child who stays over every fortnight, it was actually a huge relief.
The only Irish girl in the hostel was my friend Aisling, and by pure luck we were now going to be roommates! I would not have to live alone with a middle-aged man and as a bonus would pay even less rent than arranged!
---
New Apartment in Perth
Apartment life began brilliantly. It was clean and tidy; it had a gym and sauna; palm trees swayed in front of the pool-facing balcony; and most of all, it was quiet.
The aim of my time in Perth – unlike my previous visit in my early twenties – was not to thoroughly investigate the nightlife, but to put some serious work into my first novel; something I'd been chipping away at in my lunch breaks for years and desperately wanted to make some headway on.
Busy hostels hadn't really been the right environment for this, but the solitude of the apartment seemed perfect.
Once Aisling moved in we set about making our little room more homely, and to make things even better, Mirka moved in with a large group of girls who lived in the landlord's other apartment downstairs. So I not only had friends but we all lived in the same building. Yaaaay!

---
The Non-Nerdy Library in Perth
I quickly discovered that writing happened more easily away from the distractions of home, and successfully built a routine of putting in full-time hours at the State Library of WA, where I not only wrote and spent too much time in the cafe but enjoyed all sorts of entertainment.
Don't be fooled into thinking libraries are full of nerds – quite the opposite!
There were drunk people passing out in the entrance hall, people having violent outbursts, old men snoring over newspapers and hungover students lying comatose across the desks.
I even once got thrown out (including being escorted all the way to the door) for bringing food inside. Worryingly, this wasn't the first library I'd been thrown out of for food-related crimes, but considering I was one of the few library users in there who was nearly always sober, non-aggressive and awake, I did think they had their priorities wrong.
It wasn't just the inside of the library that provided entertainment either; there was a fairly impressive view across the city from upstairs, a temporary ice rink outside during the winter, and on my way out every day I got to watch the "pigeon man" who would flamboyantly run across the pavement throwing around birdseed until he was covered in, you guessed it, pigeons.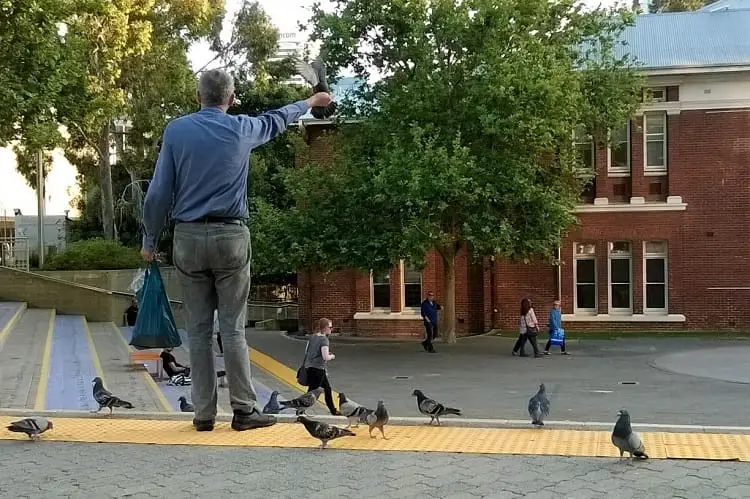 ---
Discovering the Best Things to Do in Perth
Away from work, Aisling, Mirka and I had lots of time during our winter days to discover the best things to do in Perth. We spent my birthday in Fremantle, albeit mostly avoiding the rain inside markets and cafes, followed by an evening meal and drinks in the suburb of Subiaco, which we discovered was great for food but not the most happening place for a night out.
We had fun with the Tasmanian Devils at Perth Zoo, chatted over coffee whilst watching dolphins outside the riverside Lucky Shag bar, spent yet another torrentially rainy day cafe-hopping in Mandurah and, come rain or shine, spent Sunday nights gathered on the sofa to watch The Voice Australia. Things were good.

---
The Third Flatmate
Of course, amongst all this girly fun was our landlord and flatmate, who I will refer to as Del Boy. Although a pleasant and friendly man, Del was about as polar opposite from me as it was possible to be.
Frenetic and restless, he spent his days racing between the hostels and share houses he owned and managed, fixing leaks, dealing with problems and collecting rent from innumerable young backpackers whose names he couldn't remember.
Del chased his income from as many sources as possible, and my decision to take a break from working to pursue a dream was met with a look of utter confusion bordering on fear.
---
The Fourth Flatmate – Surprise!
All went well for a couple of months until Del casually announced that his friend was going to come and live with us, sleeping in the bedroom that his three-year-old son stayed in on weekends when he came to visit. Things had already gone downhill in the apartment block. More and more young travellers had moved in and it was starting to feel more like an 18-30's hotel than the nice, quiet home we'd once had.
The final straw came when I returned home one evening to find Del clattering pans and burning something in the kitchen (not unusual), the Peppa Pig theme tune blasting out from the bedroom, the TV blaring in the living room, our newly arrived flatmate – also a middle-aged man – sprawled across the sofa, and Del Boy's three-year-old son racing around in circles, flapping his arms about and squawking like a chicken.
Aisling had already planned to move on from Perth soon, and this is what I was going to be left with!
It was the push I needed to source better travel accommodation, and I quickly started looking into house sitting, something I'd heard about somewhere or other before I left the UK. I almost immediately landed two lovely sits in Rockingham, just 40 minutes from Perth, looking after cats and dogs for families that were going on holiday – all for free! Once I'd got the taste I couldn't stop, and my new house sitting lifestyle was born!
To read how I got the house sits and found similar jobs in other major cities in Australia on my travels, check out my post on how I saved over $70k in rent by house sitting!
To read about my mammoth road trip across Australia's south coast, take a look at my Perth to Adelaide drive itinerary. To read about each destination we visited, start with my post on Penguin Island.
Written by Lisa Bull
Lisa Bull, founder of Dreaming of Down Under, has been living in Australia as a British expat since 2015. After travelling to every state and territory in Australia and living in Perth, Brisbane and Sydney, Lisa knows from first-hand experience the best destinations to visit in Australia and the best budget travel tips. Her guides on this blog have been read by over 700k readers and helped thousands of people achieve their dream of living in or travelling Australia.