This post may contain affiliate links. Please see my disclosure policy for more details.
If there's one thing Sydney can boast about, it's the abundance of beautiful beaches dotted along its harbour and coastline. But while most people flock to the busy tourist beaches, I much prefer hidden gems, such as stunning Kutti Beach in Vaucluse.
Many visitors complain that Sydney beaches are too crowded, but they often don't realise that Sydney has over 100 beaches to choose from. You could live here for years and never visit them all!
I came across Kutti Beach in Vaucluse during one of my luxury house sits. The first time I visited, I assumed it must be privately owned, as it was so hidden away!
Kutti Beach is definitely open to the public though, and if you're looking for a secret spot that only the locals know about, I'd highly recommend heading down there. Vaucluse itself is a quiet, well-to-do suburb next to the busier Watsons Bay, and it's easily accessible from the city.
Kutti Beach is a small stretch of sand backed by grand homes and palm trees with beautiful harbour views.
When the tide's in the water is so green you could almost be on a Greek island, particularly with the Mediterranean-looking white house at the end. Since the beach is hidden away at the end of a residential street, most people wouldn't even know it exists!
---
How to Get to Kutti Beach
Kutti Beach lies at the end of a very narrow staircase on the left of Vaucluse Amateur Sailing Club at the end of Wharf Road in Vaucluse.
To reach Kutti Beach by public transport, catch the 325 bus from the city and get off on Hopetoun Avenue or the 324 bus and walk from Old South Head Road. Alternatively, get the ferry to Watsons Bay from Circular Quay and walk 800m from there.
Check public transport timetables on the NSW trip planner.
For Kutti Beach parking, you can normally find unrestricted parking available on either Hopetoun Avenue or The Crescent. Wharf Road itself can get pretty packed, as it's a very narrow, winding residential street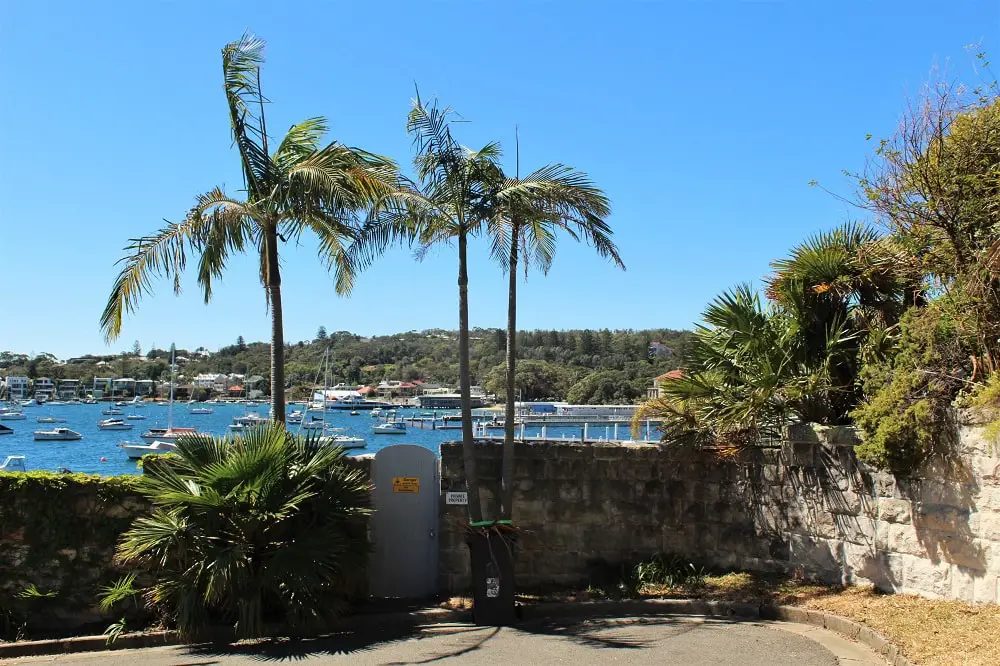 Once you near the end of Wharf Road, you'll get a great view of Watsons Bay over a big stone wall.
Keep going and you'll see the wooden Vaucluse Amateur Sailing Club building and a white picket fence. Go right up to the building, and on the left there's a very narrow set of steps leading down to the beach.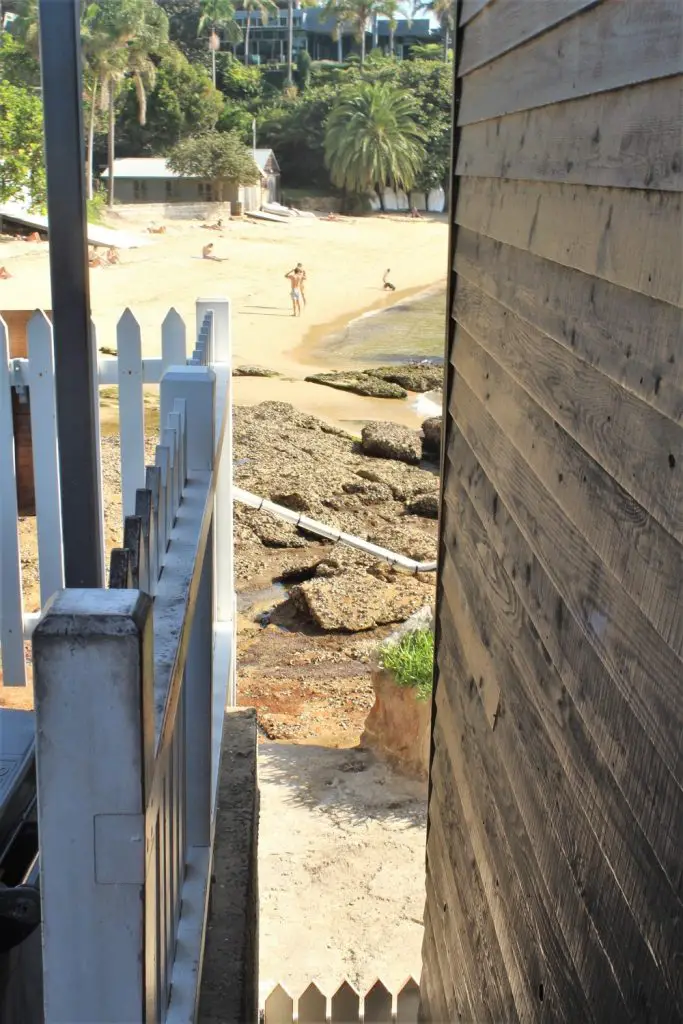 The gate at the bottom is unlocked and just swings open. And when I say the steps are narrow, I really mean narrow! You might have to do a side-shimmy to get down there!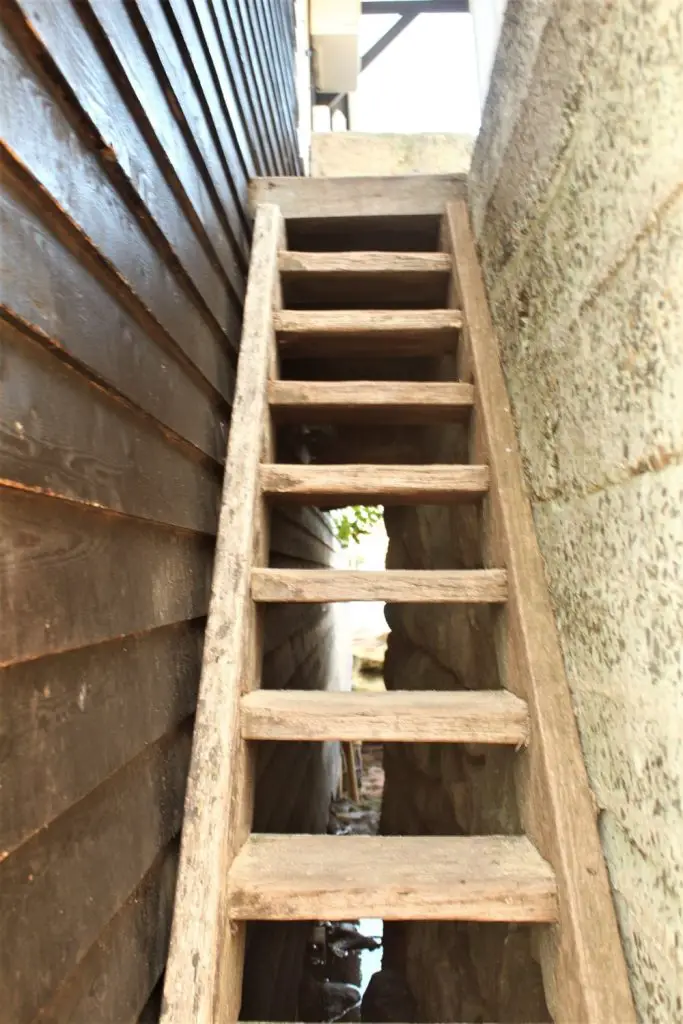 At the bottom of the steps follow the path along the wall to the beach. The tide is out in the picture below, but if it's in the water will come right up to the path.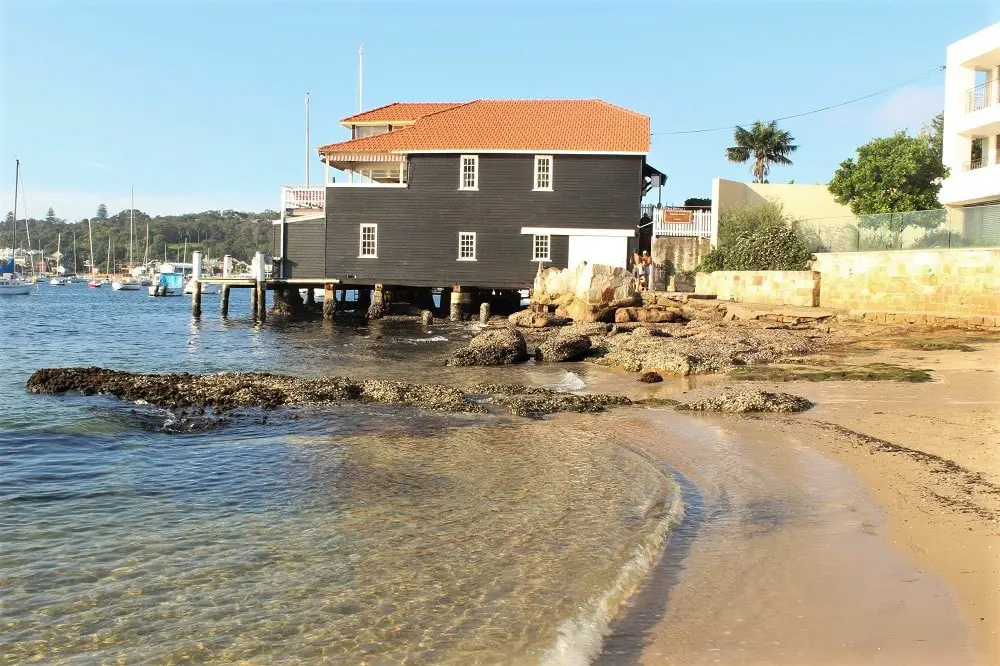 ---
What to Do at Kutti Beach
Kutti Beach is very chilled out, and most people come for a quiet time reading or sunbathing; there's no music pumping out like at some of the more well-known beaches!
Since Kutti Beach is quite small, there's much more room when the tide's out. It does look particularly beautiful when the water comes in over the rocks though, and the water becomes patchy and turquoise.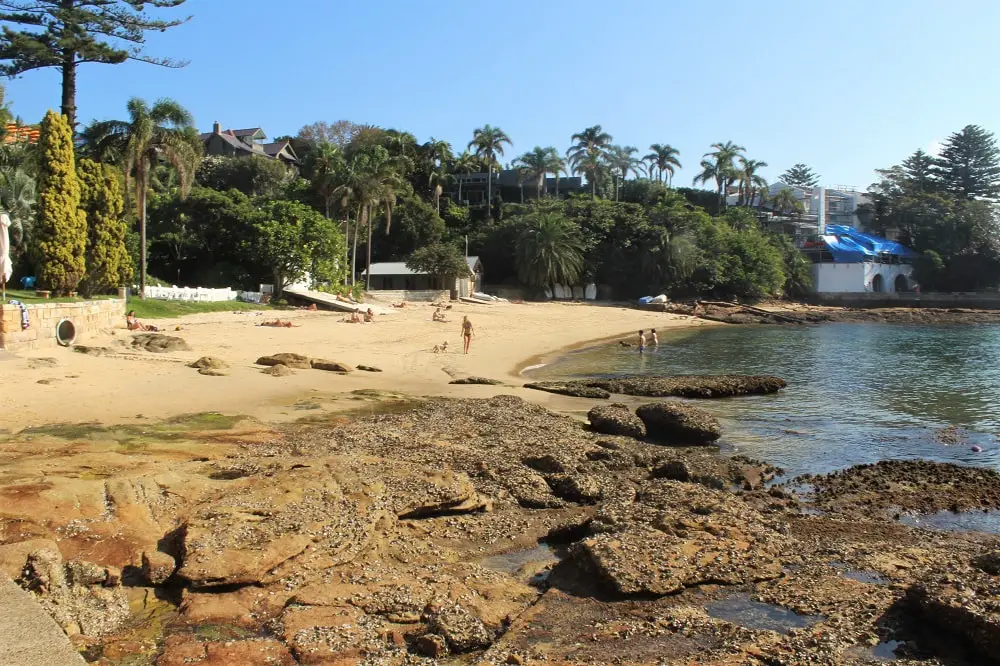 Even though Kutti Beach isn't touristy, it's well known by the locals, so don't expect to have it to yourself on a hot day.
Even on weekdays you get a few young families and older teenagers visiting. There are no facilities there, so you'd need to head to nearby Watsons Bay for toilets and cafes (here's my guide to Watsons Bay, including where to eat and drink).
You can sunbathe on the sand, or there's a wooden boat ramp people like to lie on, along with some very cool sunloungers, though I'm sure these belong to the owners of the house behind!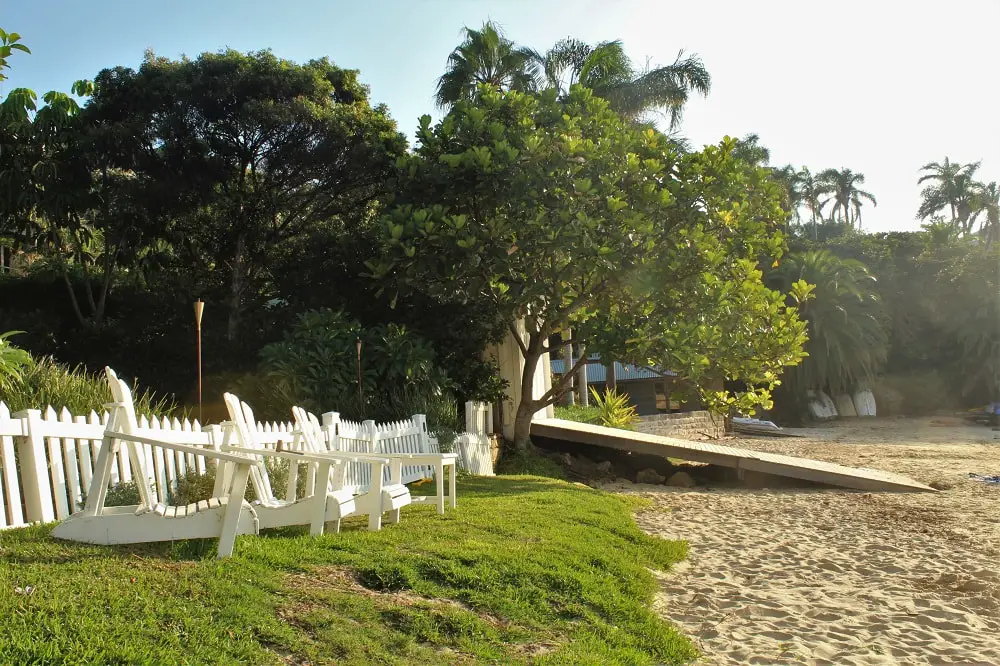 Kutti Beach is ideal to swim at, since it's set on Sydney Harbour and has really calm water that gets quite deep. It's also perfect for paddle-boarding.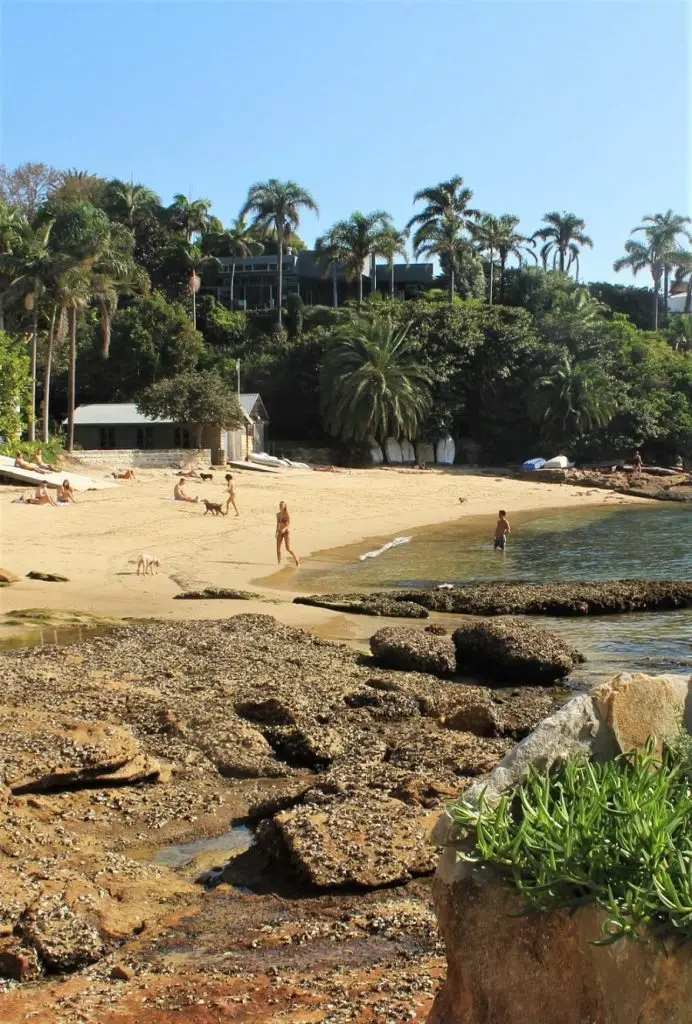 ---
Dog Friendly
Kutti Beach in Vaucluse is dog friendly, which is a rare find in Sydney! Gibsons Beach just round the corner in Watsons Bay is too. It is technically an on-leash beach, but being so hidden, people don't really keep to the rules.
As a house and pet sitter (read my guide on how to become a house sitter if you want to get free travel accommodation), I think it's great when dogs get to enjoy the Sydney outdoors too. It's such a strict city with regards to where dogs are allowed and where they can be off leash.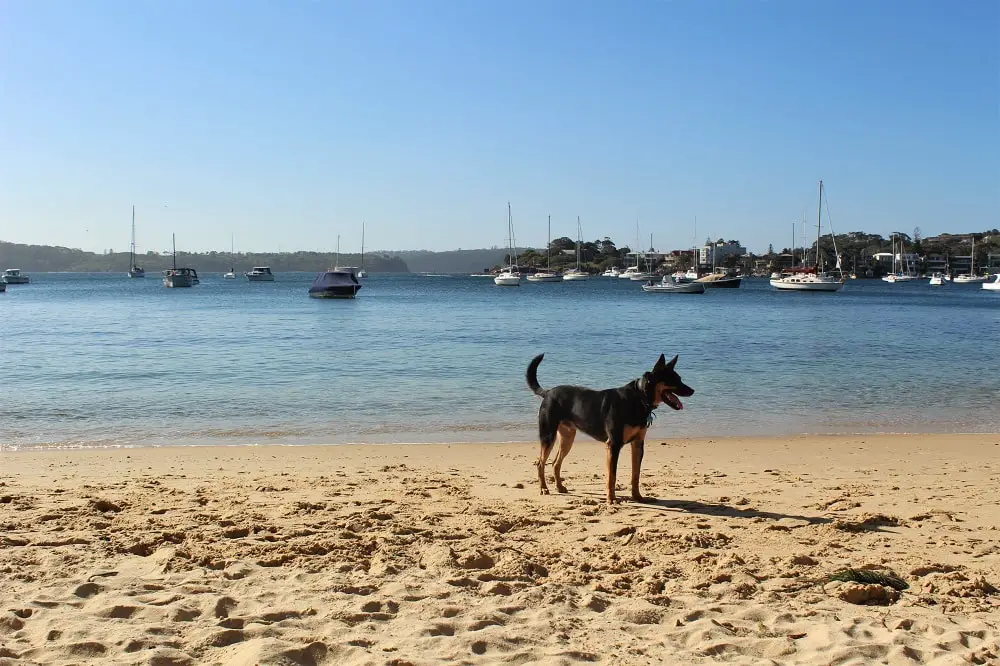 If you don't like dogs it's probably not the beach for you, as there's usually quite a few down there. If you're a dog owner and your dog likes other dogs, or you just enjoy being around dogs like I do, it's perfect as they all play together in the sea and random people will play fetch with them all. It's like being in a big communal doggy day-care centre!
---
If you want to discover more hidden Sydney beaches, check out my guide to Sydney's south-eastern beaches from Maroubra to Yarra Bay, or my guide to the beautiful Bundeena if you want an easy Sydney day trip.
---
Like it? Pin it!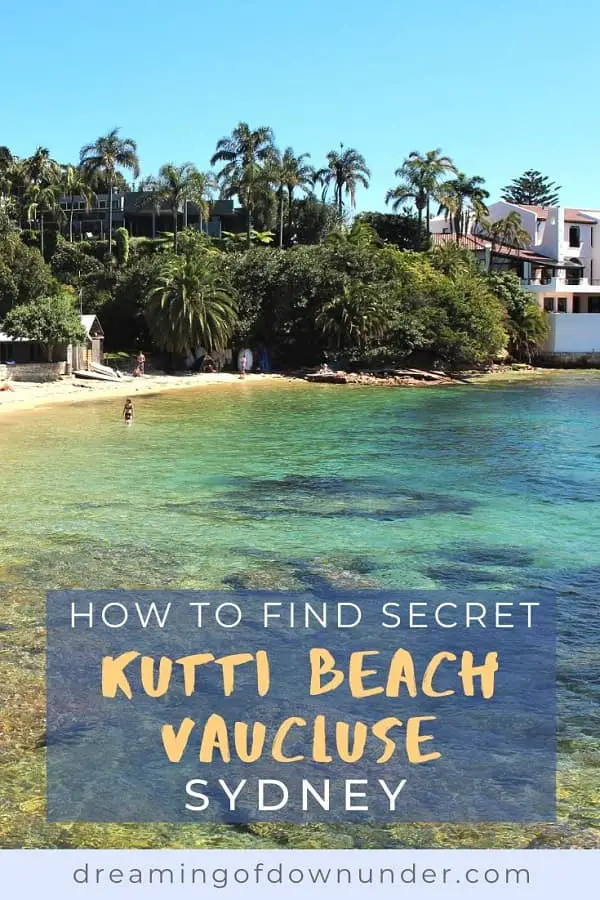 Written by Lisa Bull
Lisa Bull, founder of Dreaming of Down Under, has been living in Australia as a British expat since 2015. After travelling to every state and territory in Australia and living in Perth, Brisbane and Sydney, Lisa knows from first-hand experience the best destinations to visit in Australia and the best budget travel tips. Her guides on this blog have been read by over 700k readers and helped thousands of people achieve their dream of living in or travelling Australia.