This post may contain affiliate links. Please see my disclosure policy for more details.
Looking at the pictures in this blog post, it's hard to believe that Newcastle, a thriving city 162km north of Sydney, was nicknamed "hellhole" around the start of the 19th century when the most dangerous convicts of all were sent there to dig the coalmines as punishment for their crimes. Originally occupied by the Awabakal and Worimi Aboriginal People, Newcastle became a penal settlement upon European arrival until 1822, and the following year became a pioneer settlement with free settlers pouring in.
Newcastle's heavy-industry era ended in 1999 with the closure of the steel works (costing the jobs of some 50,000 employees), but the city continues to have the world's largest coal export port and a shipbuilding industry. Newcastle's industrial side is very much apparent, and I'll admit that on first arrival my heart sank a little! After a very scenic trip down the coast from Brisbane towards Sydney, stopping at quaint little places like South West Rocks and Port Stephens during the quiet winter months, it was a bit of a shock to see the huge industrial plants that dominate parts of the Newcastle skyline – and the awful, windy weather and black clouds rolling in didn't help either!
However, once I got out and about and started exploring Newcastle, I discovered a beautiful, vibrant city with plenty of things to see and do. Newcastle has undergone a transformation in recent years due to projects such as Renew Newcastle, and it's a place I'd definitely recommend spending a few days. So here are my top 10 things to do in Newcastle.
Like it? Pin it!
---
1. Explore Newcastle City Centre
There are plenty of things to do in the centre of Newcastle. Just strolling along the streets is interesting enough, with all the heritage buildings and waterside views across the foreshore, but here's a short list of places I'd recommend visiting around Newcastle CBD.
Have dinner, drinks or just take a peek inside the heritage-listed

Customs House Hotel

on Newcastle Harbour Foreshore.
Stroll down Hunter Street Mall for an array of cafes, clothing stores and colourful street art.
Head to hipster

Darby Street

for al fresco eats, arty boutiques and a plethora of interesting music, clothes, jewellery and homeware stores.
Step inside the peaceful and imposing

Christ Church Cathedral

which, according to legend, began its days as a slab hut for prayer reading in 1812, but enabled Newcastle to gain city status in 1847. The views from the graveyard across to Stockton are pretty impressive in themselves!
---
2. Walk to Nobbys Head
On the southern entrance to Newcastle Harbour lies the headland first sighted by Captain Cook in 1770, Nobbys Head. Once an island, Nobbys Head is now connected to the mainland by a breakwater that has, over time, accumulated sand to create the lovely white Nobbys Beach. Strolling along the breakwater will lead you to Nobbys Head Lighthouse, built in 1858 (grounds open every Sunday 10am-4pm), and reward you with spectacular views of the city and Pacific Ocean.
---
3. Swim at Newcastle Ocean Baths
Within easy reach from the city, at the eastern end of Newcastle Beach on Shortland Esplanade, sits the iconic Newcastle Ocean Baths. Designed in 1922 the baths are a heritage site and free to use all year round, with showers, changing facilities and a kiosk selling light refreshments in the Art Deco-style pavilion.
---
4. Do the Newcastle Memorial Walk
Newcastle Memorial Walk is a 450m long clifftop walkway that offers spectacular views of the city, coastline and up into the Hunter Valley, and a must-do during a trip to Newcastle in my opinion. The walkway winds its way around the cliff edge above Memorial Drive in the suburb of The Hill, and links Newcastle's Strzelecki Lookout to Bar Beach.
Using 64 tonnes of stainless steel, Newcastle Memorial Walk was built to commemorate the 100th anniversary of the ANZAC landing at Gallipoli in 1915 and the beginning of steel making in Newcastle. The stunning views make the memorial walk a very picturesque way to honour the men and women of the Hunter Valley enlisted during World War I, many of whom have their names inscribed on the steel silhouettes of soldiers that decorate the walkway.
---
5. Visit Merewether Surfhouse & Beach
The stunning setting of Merewether Surfhouse makes it a memorable place to enjoy coffee or lunch. Overlooking Merewether Beach and lined with glass balconies, you can gaze at both sun worshippers and surfers alike whilst listening to the fierce waves crashing in to shore. If you're looking for somewhere to spend the evening, there's even a bar and restaurant upstairs where you can enjoy dinner and a cocktail.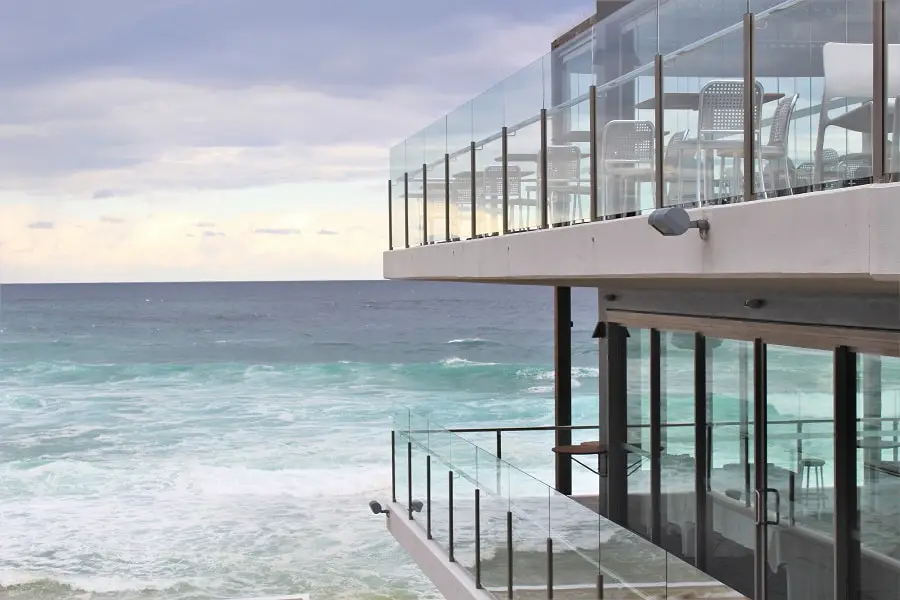 ---
6. Explore Blackbutt Reserve
Blackbutt Reserve in Newcastle is a beautiful nature reserve with walking trails through towering forests, grassy picnic areas with barbecues and a range of wildlife exhibits including colourful Australian birds, wombats, wallabies, koalas and reptiles. The reserve is free to enter and located on Carnley Avenue, Kotara.
---
7. Spend a Day at Stockton Beach
At the southern end of Newcastle Bight, with views as far north as Port Stephens, you'll find the sprawling Stockton Beach. The white sand stretches an impressive 32km from Stockton up to Anna Bay – plenty of room to stretch out and catch some rays! If you're into history then follow Shipwreck Walk along the Stockton Breakwall to see the rusted Adolphe shipwreck that met its end in 1904.
To get to Stockton Beach take the five-minute ferry ride from Queens Wharf to Stockton Wharf and follow the path east along the river's edge.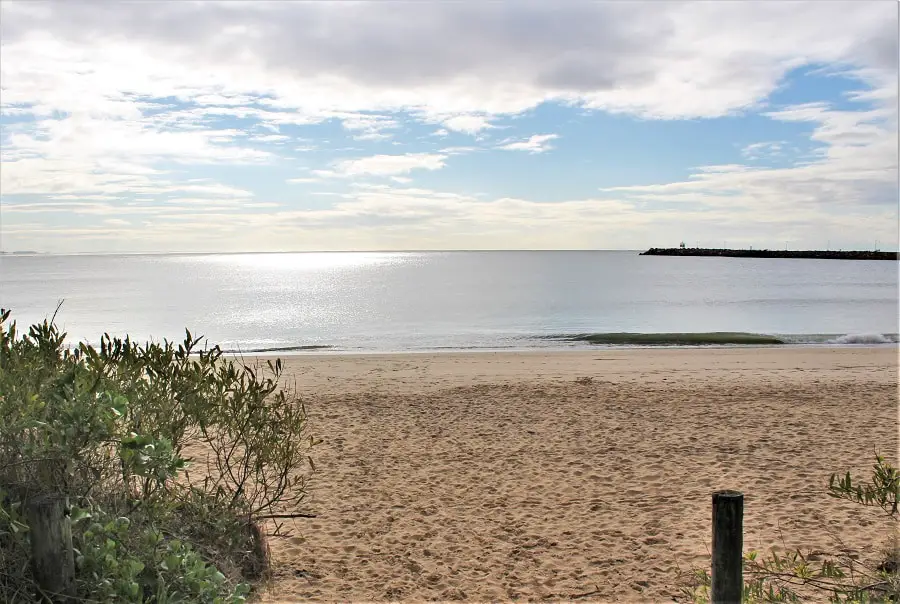 ---
8. Camp Right on the Beachfront
Set directly behind Stockton Beach is the conveniently located Stockton Beach Holiday Park. The weather was a bit (OK, a lot) colder and wetter than I would have liked when I camped there in a tent last winter, but it would make a great place to stay in warmer seasons, or any time of year if you'll be staying in a campervan or cabin.
The park has all the usual caravan park facilities such as toilet blocks, hot showers, laundry room and a children's playground, plus there's free Wi-Fi and the enormous kitchen and dining area looked brand new – definitely the most modern I've seen at a holiday park!
---
9. Enjoy City Views from Stockton Foreshore
If you take a stroll south from Stockton Beach, past Stockton Beach Holiday Park, Shipwreck Walk and Pirate Point, the path between Pitt Street Reserve and Stockton Wharf will reward you with great views of Newcastle CBD. It's particularly lovely once the sun goes down and the city lights start to twinkle across the water.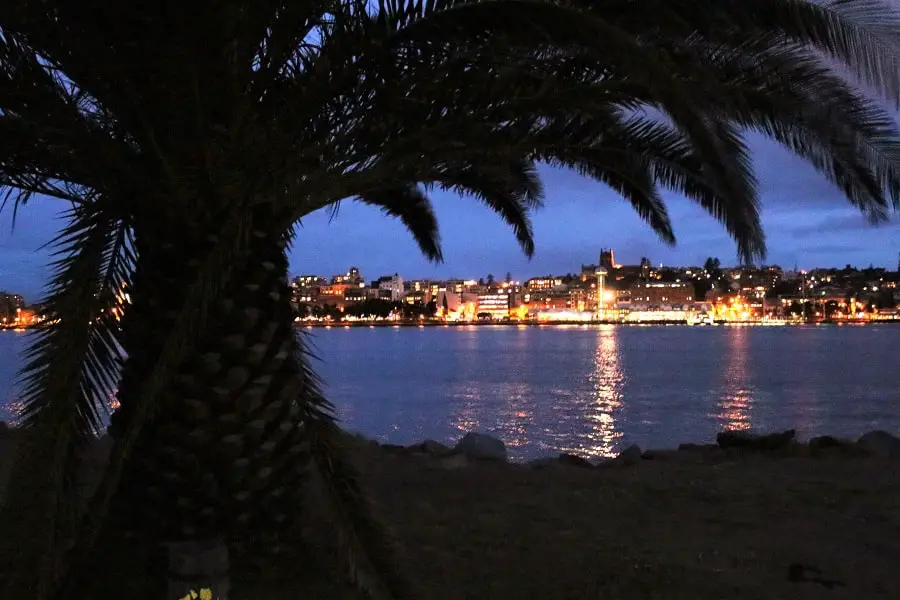 ---
10. Climb the Sand Dunes at Worimi Conservation Lands
Last but not least on my list of things to do in Newcastle is a visit to the breath-taking sand dunes behind Stockton Beach, just a 30-minute drive from the city. You can also reach the dunes easily from Port Stephens. The Worimi Conservation Lands are Aboriginal-owned and home to the largest sand dune system in Australia, covering 42,000 hectares and reaching up to 40m high. You can take a guided tour on a quad bike or 4WD, or just park up and explore on foot like I did. Although it was an extremely dark and blustery day when I visited, the cloud formations contrasting against the pale, streaky sand looked spectacular!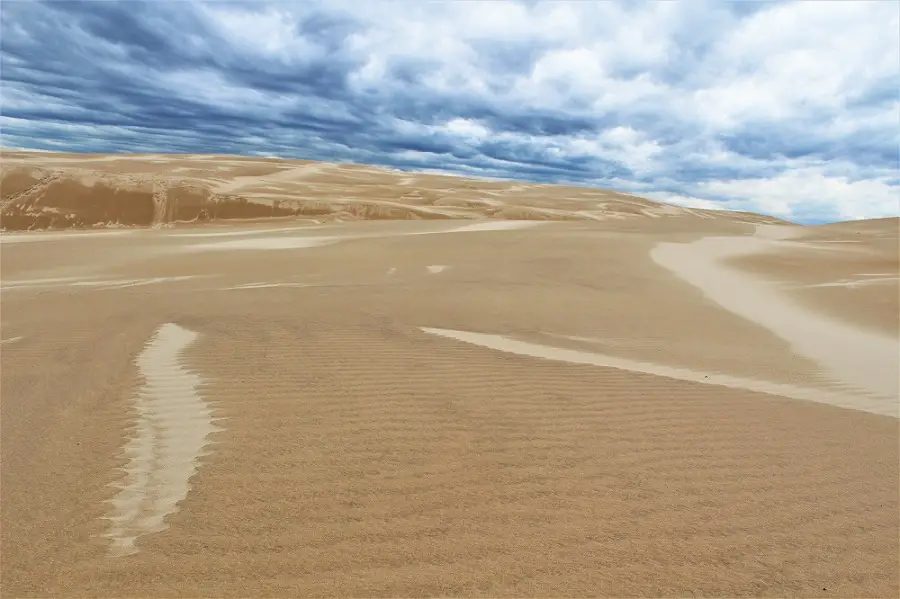 ---
If you're looking for more fun day trips from Sydney, check out my blog post on how to visit the Blue Mountains for under $10, or my guide to the Southern Highlands. Have a great time in Newcastle!