This post may contain affiliate links. Please see my disclosure policy for more details.
If you're wondering what the best things to do in Darwin are, I recently spent an amazing week exploring this beautiful tropical Australian city!
While there are dangers up in NT, such as crocodiles and jellyfish, there are so many diverse places to go in Darwin that I think it's well worth a visit! The Darwin attractions I discovered on my visit include beautiful beaches and national parks, interesting museums and funky cafes.
The sunsets are also amazing up in the Northern Territory, and the tropical climate was a nice break from Sydney's cool autumn weather.
Read on to find out what to do in Darwin for a week or watch my Darwin vlog below. If you're only visiting Darwin for 3 days or so, just pick a selection of Darwin activities from my suggestions to fill your itinerary!
---
Darwin Things to Do: Table of Contents
---
Darwin Highlights
Jumping crocodile cruise: Experience the Northern Territory's famous crocodiles first-hand on this cruise and wildlife adventure!
Marvel at the amazing Darwin street art on Austin Lane.
Crocosaurus Cove and hop-on hop-off bus tour: See the world's largest collection of Australian reptiles, including saltwater crocodiles, at Crocosaurus Cove! This ticket includes a 24-hour pass on an informative open-air double decker bus to explore Darwin city at your own pace.
Eat, shop and listen to live music at Mindil Beach Sunset Markets.
Darwin City heritage walk: Learn about Darwin's history, architecture and wildlife on this two-hour walk with a local guide.
---
The Best Things to Do in Darwin
1. Eat at Mindil Beach Sunset Markets
Out of all the Darwin attractions I saw, Mindil Beach Sunset Markets was my absolute favourite! There was so much food and drink available, as well as lovely clothing, jewellery and souvenirs.
The atmosphere on the beach at sunset was fantastic, and there was even a free bus back to the city afterwards too.
Mindil Beach Sunset Markets are held every Thursday and Sunday from 4PM to 9PM between the end of April and October. You can check Darwin sunset timings here.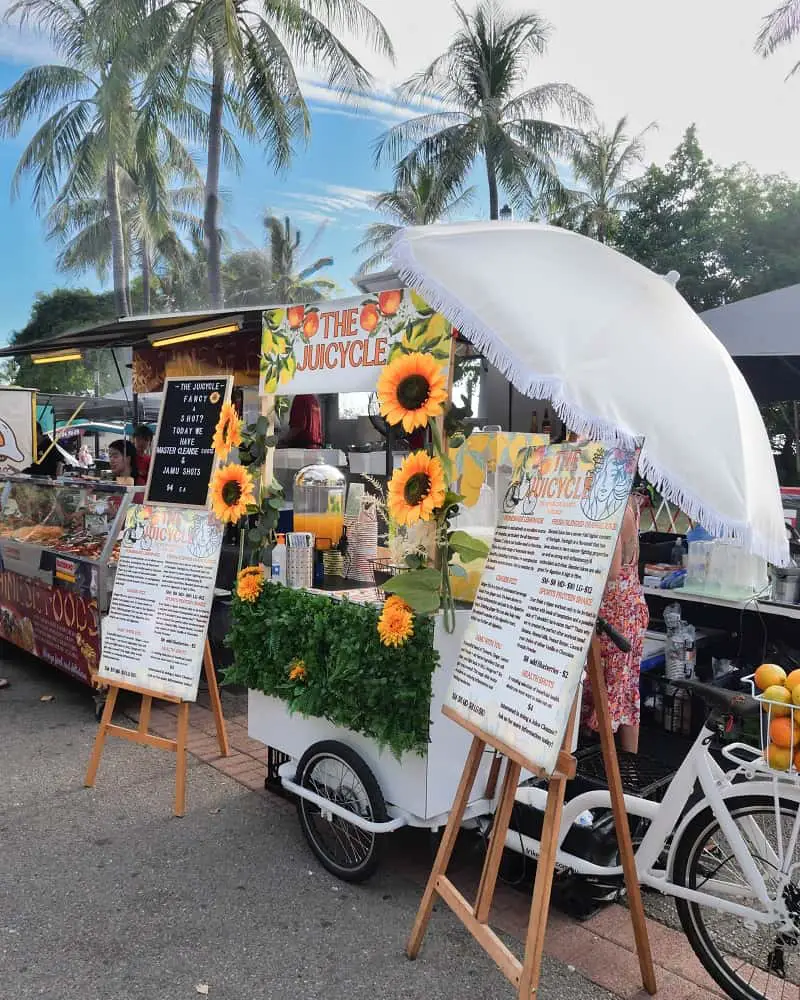 ---
2. Learn at MAGNT Fannie Bay
One of the best free things to do in Darwin is visit the Museum and Art Gallery Northern Territory (MAGNT). You can learn all about Cyclone Tracy and NT life in the 1900's, as well as see the preserved body of infamous (and HUGE) saltwater crocodile called Sweetheart! That was my favourite part!
You'll also find a variety of short-term displays at MAGNT plus an on-site shop. The museum is located at 19 Conacher Street, The Gardens, overlooking picturesque Fannie Bay.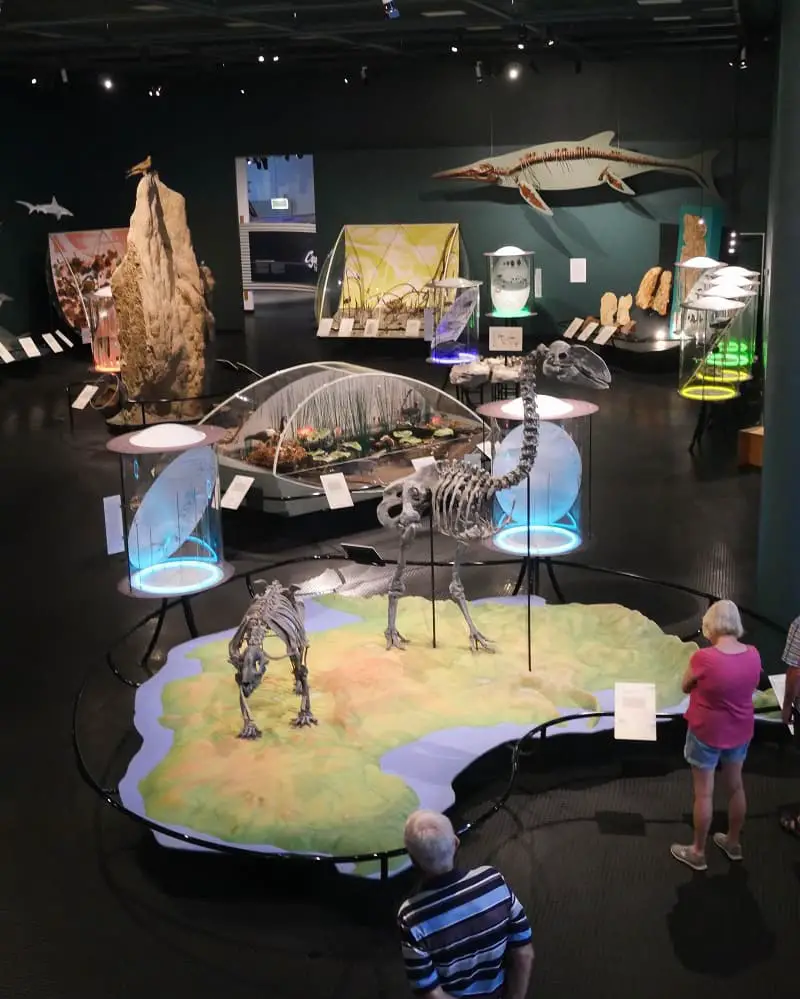 ---
3. Join a Darwin Heritage Walk
If you're looking for cultural things to do in Darwin CBD, there are lots of World War Two remnants and heritage buildings dotted around the city.
This two-hour Darwin City Heritage walk with a local guide teaches you about Darwin's history, architecture and wildlife.
Highlights of the walk include reconstructed historic buildings, such as the old courthouse and town hall, and commentary on Cyclone Tracy and World War Two.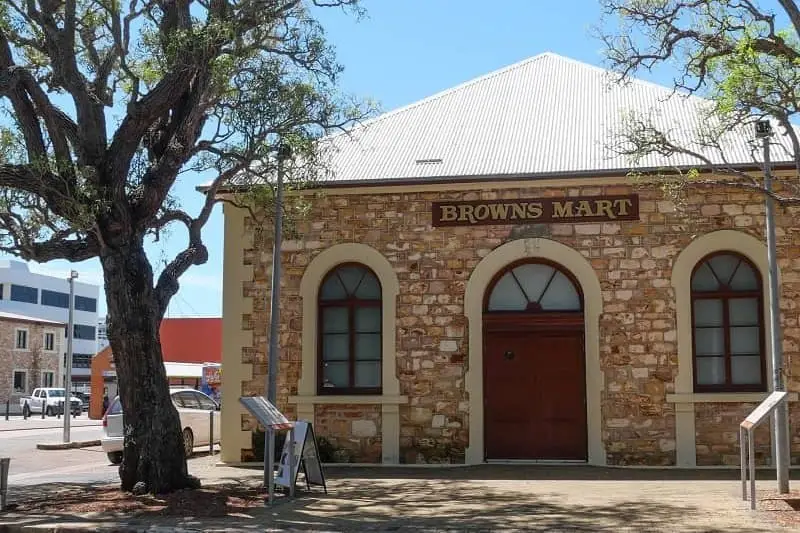 ---
4. Visit Litchfield National Park
One of the most popular things to do around Darwin is take a day trip to beautiful Litchfield National Park.
Located just 100km southwest of Darwin, Litchfield National Park is home to monsoon forests, gushing waterfalls, magnetic termite mounds and a choice of natural swimming holes.
I took a day tour with Litchfield Park Adventures, which is run by the owners of the Airbnb I stayed in. We had a fantastic day out and learnt so much about the flora and fauna of this stunning area.
Highlights of Litchfield National Park include swimming at Florence Falls and Buley Rockhole and admiring at the views from Tolmer Falls lookout.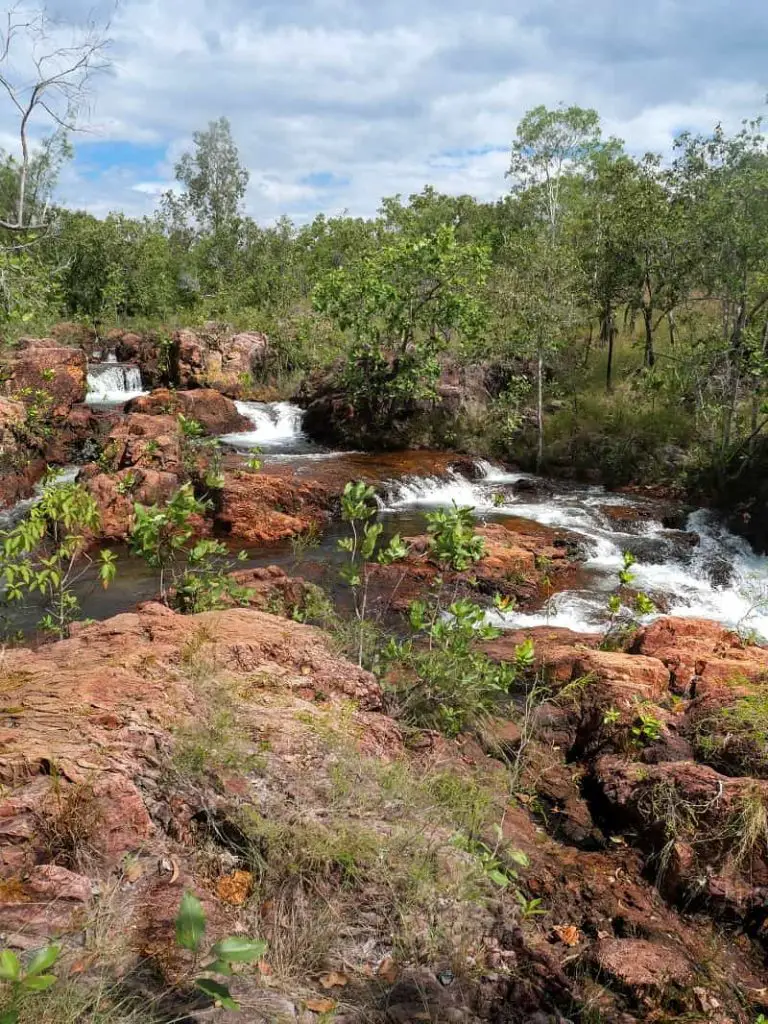 ---
5. Catch a Movie at Deckchair Cinema
One of the best things to do in Darwin at night is watch a movie outdoors at the Deckchair Cinema.
With its harbourside location on Jervois Road in the waterfront precinct, Deckchair Cinema offers sunset views in a tropical garden setting. There's even a licensed kiosk and dinners available from local caterers.
---
6. Admire Darwin Street Art
If you're looking for more free things to do in Darwin city, checking out some Darwin street art is a must!
I stumbled across a wealth of city street art on Austin Lane by chance and couldn't believe my luck! There's a whole stretch of large murals along this little back street, as well as the very funky Mad Snake Cafe.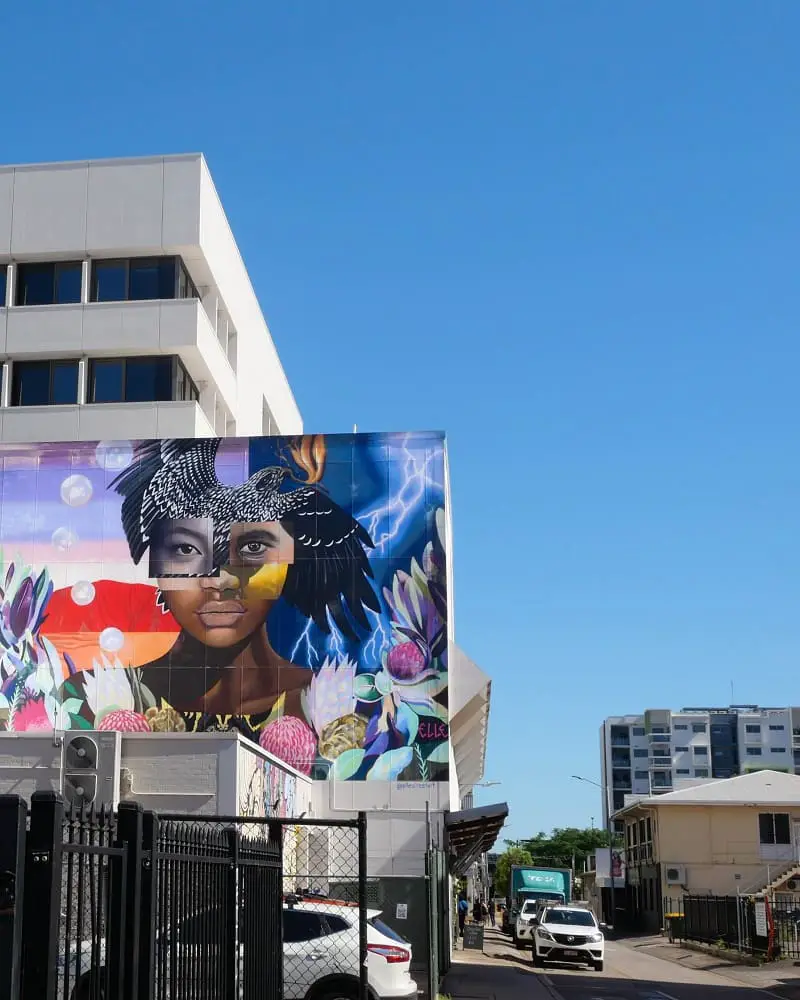 ---
7. Shop at Star Village Arcade
If you head to Austin Lane to see the street art, make sure you pop into adjoining Star Village arcade, which leads out onto Smith Street Mall. I had coffee and cake in one of the cafes there.
Set in a shaded courtyard, this quaint little arcade has a small selection of interesting boutiques and cafes. It's named after the old Star Theatre that opened back in 1929.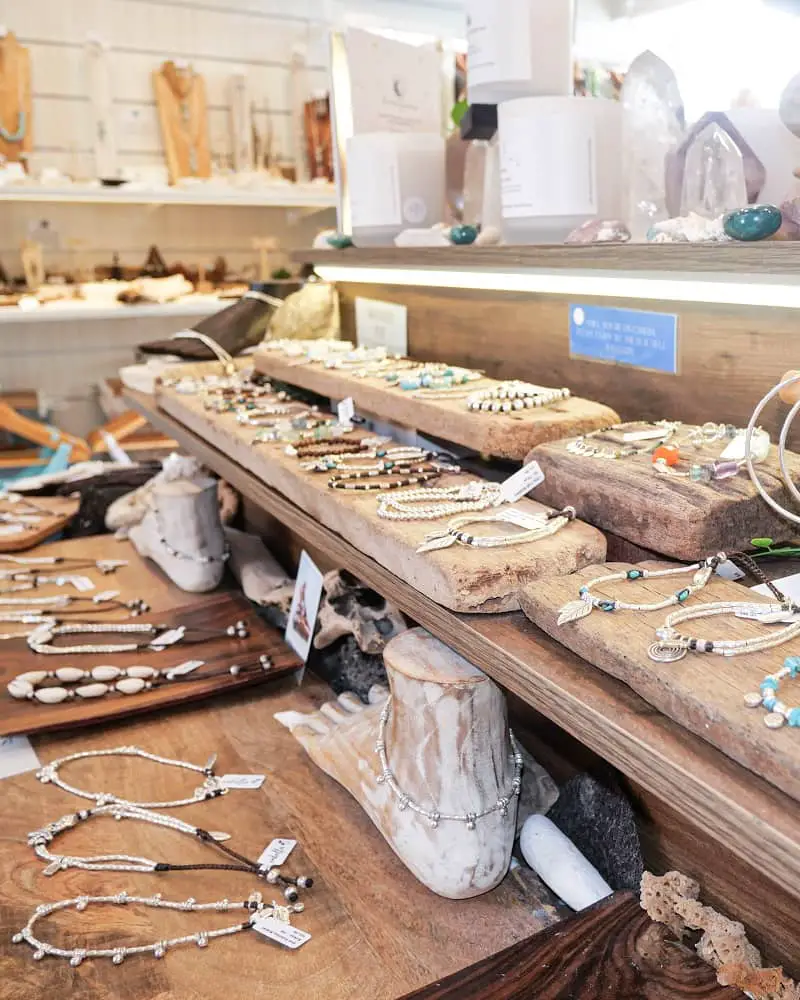 ---
8. Relax at the Recreation Lagoon & Beach
One of the top things to do on your Darwin visit is relax at the manmade beach and recreation lagoon in the waterfront area. It's an easy walk from the CBD and free to enter!
Since Darwin is home to crocodiles and box jellyfish, the lagoon provides a safe place to swim, play and enjoy the tropical climate.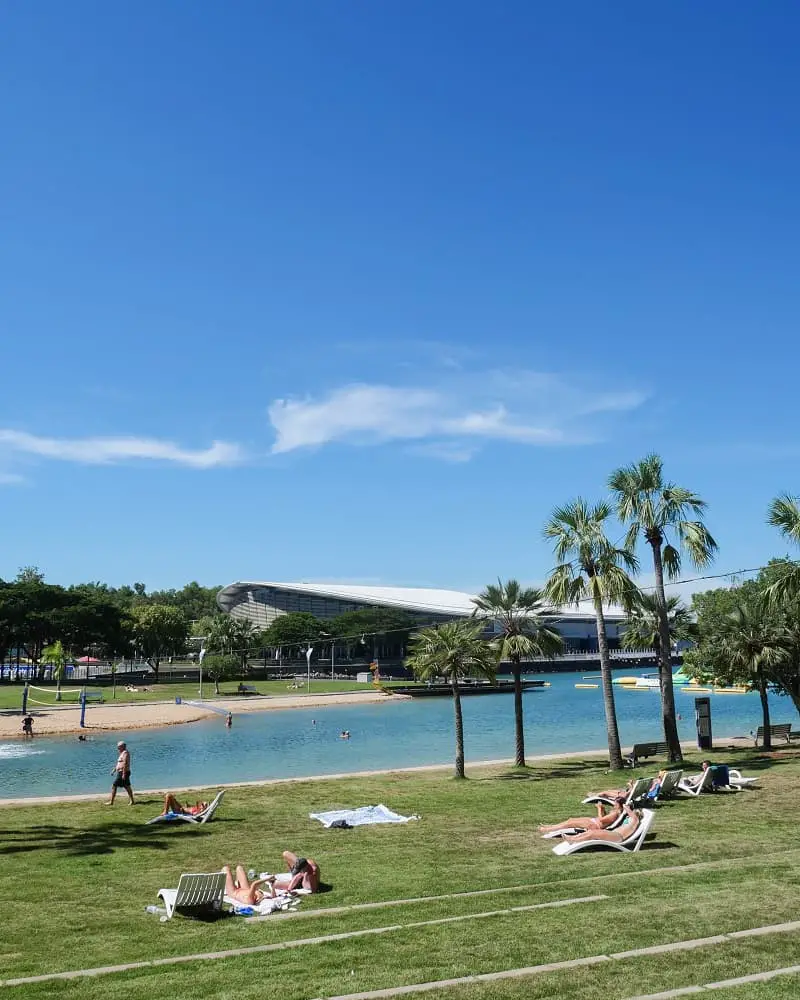 ---
9. Swim in the Wave Lagoon
If you feel like ramping up the fun, the wave pool at the waterfront precinct is a great alternative to the recreation lagoon.
There are sun loungers, parasols and rubber rings, and at less than $10 per adult, the wave lagoon is one of the best things to do in Darwin on a budget.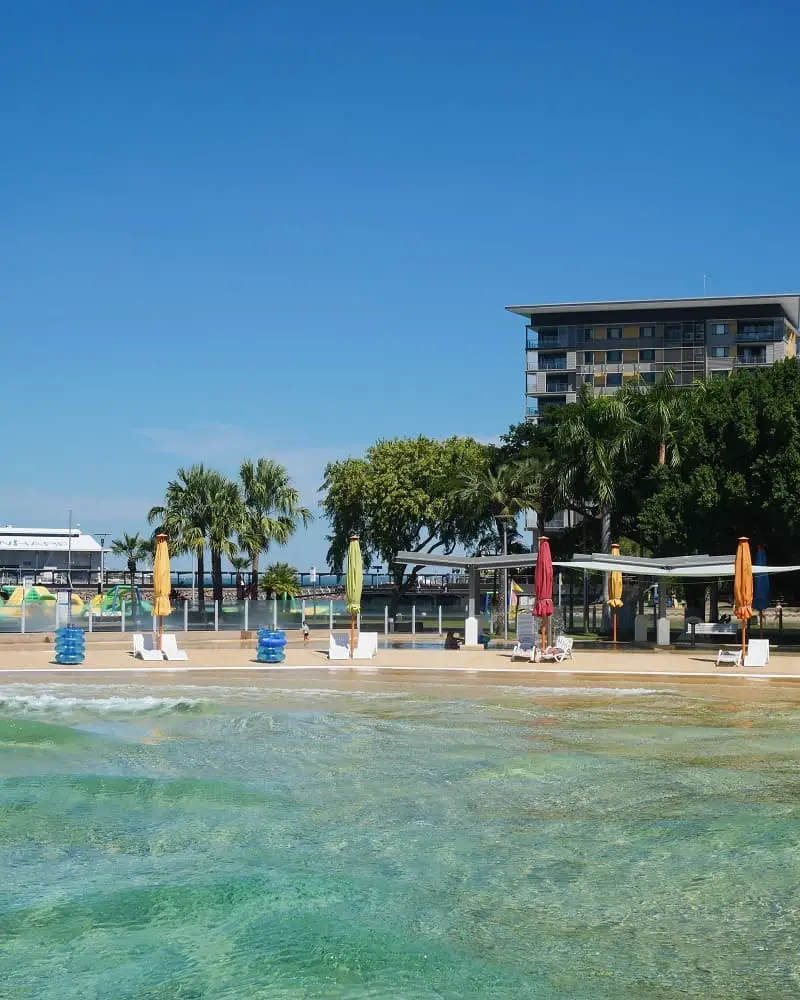 ---
10. Eat at Darwin Waterfront Precinct Restaurants
Dining at Darwin's Waterfront Precinct is one of the best things to do in Darwin without a car, as it's an easy stroll from the city.
You'll find over 20 eateries at the Waterfront Precinct, including multicultural restaurants, pubs and cafes.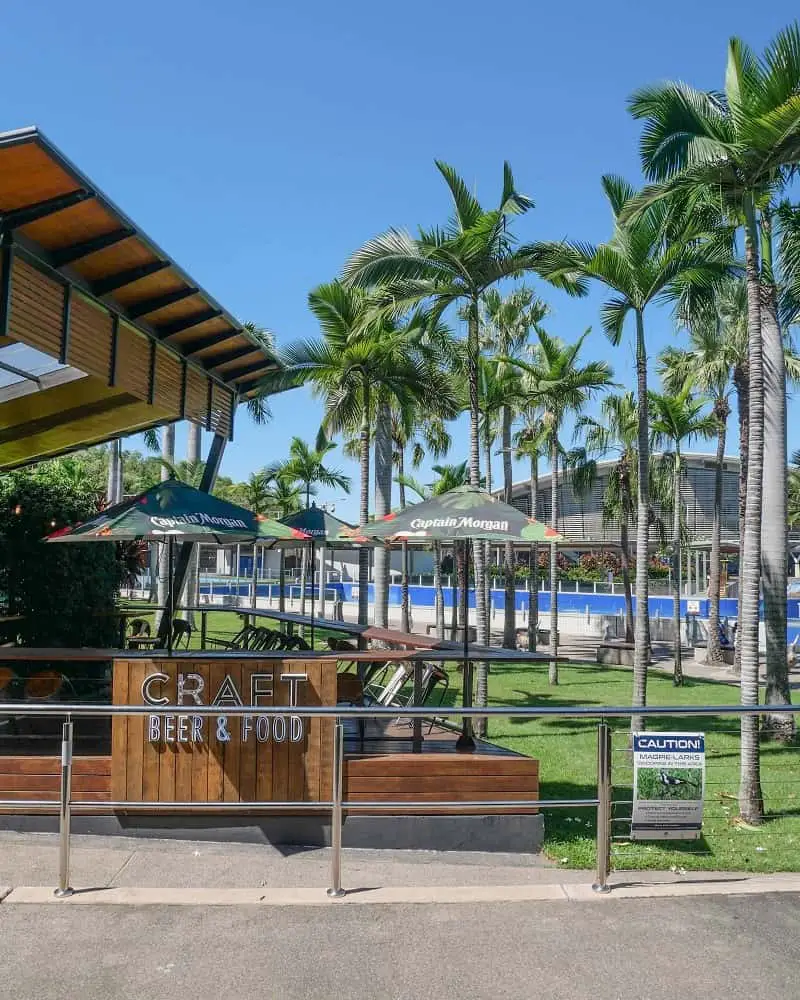 ---
11. Have Fun at the Aqua Park
A fun day at the aqua park is one of the top things to do in Darwin for kids (and fun-loving adults)! With lifeguards on duty and lifejackets compulsory, your family can fully enjoy this inflatable fun park in safety and without any crocodiles!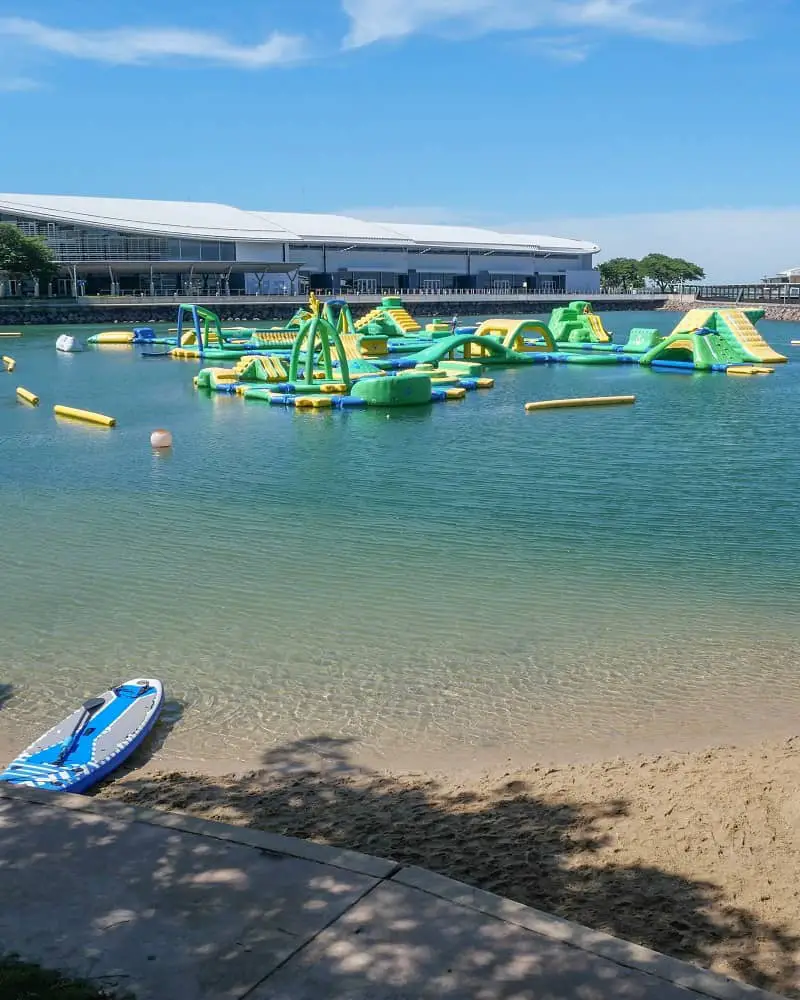 ---
12. Explore Darwin Botanic Gardens
One of the prettiest places to visit in Darwin is George Brown Darwin Botanic Gardens. I spent a good couple of hours wandering around this 42-hectare expanse and had it virtually to myself.
The gardens have a large collection of both north Australian and other tropical plants, and you can head to Eva's Cafe in historic Wesleyan Church for refreshments. There are public barbecues and various types of butterflies in the sensory garden too.
---
13. Wander Along Darwin Esplanade
One of the more interesting places to see in Darwin city that I found is the esplanade. Take a stroll along the paved walkway overlooking the water and read the information boards and commemorative tiles.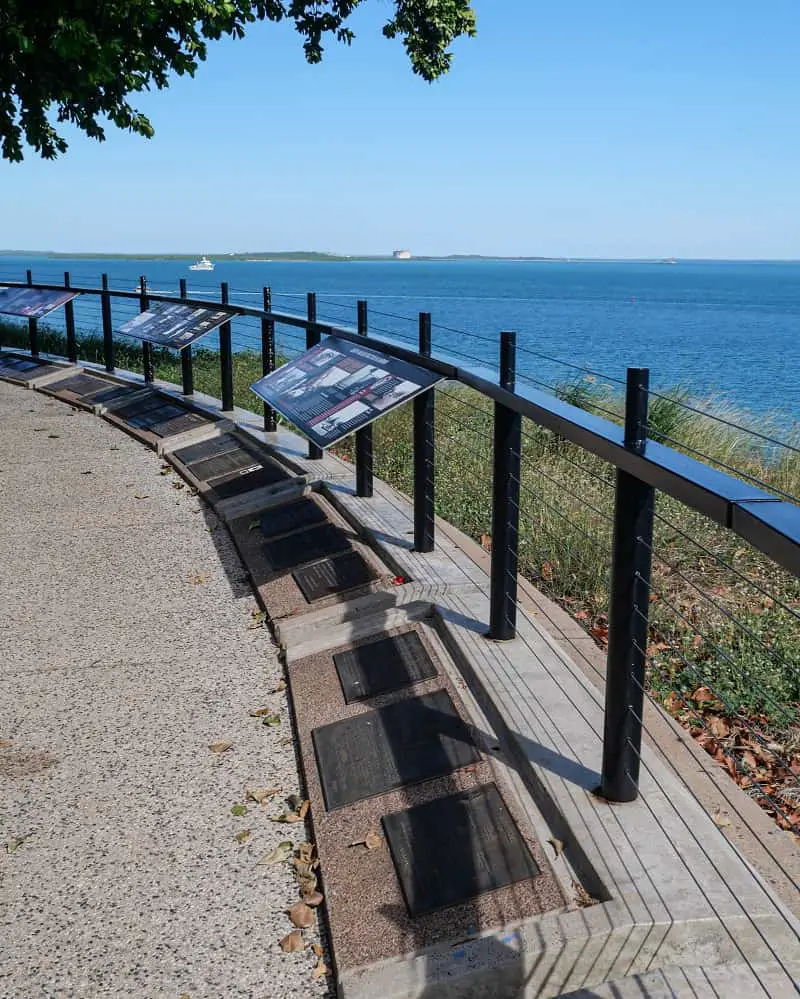 ---
14. Visit Stokes Hill Wharf
More fun things to do in Darwin include walking or catching the free shuttle bus over to Stokes Hill Wharf.
You can enjoy amazing views of Darwin on the Skyline Ferris Wheel, test your mini golf skills or enjoy a sunset dinner at one of the seafood and steak restaurants.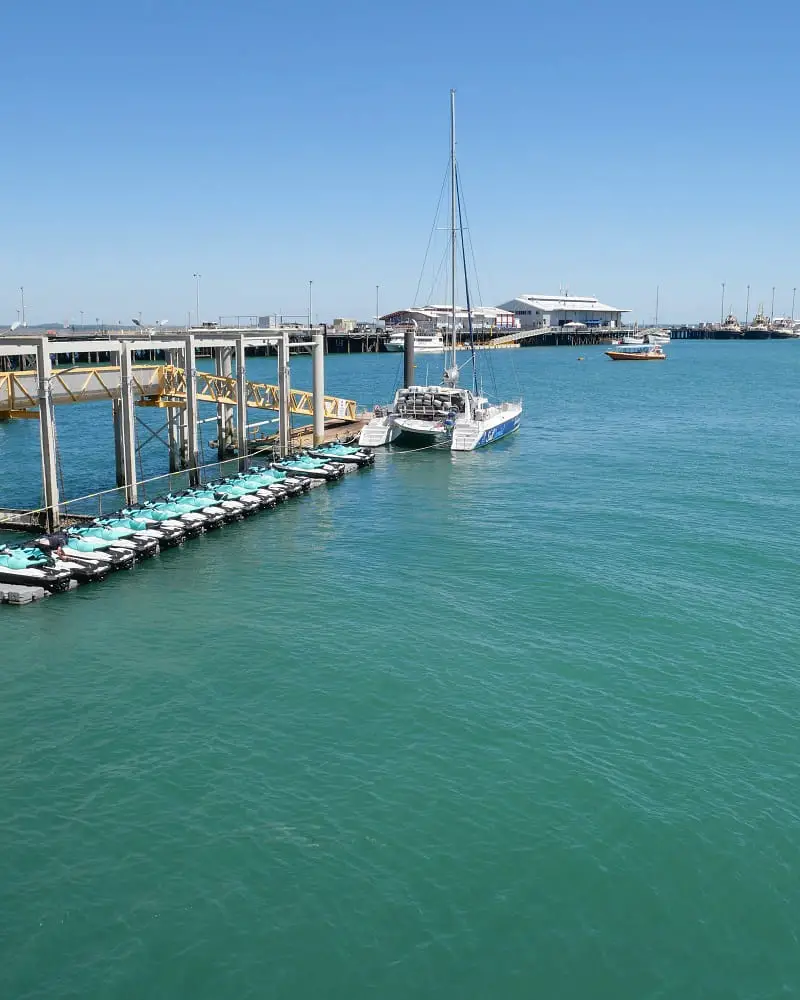 ---
15. Eat Fish and Chips at Tipperary Waters Marina
While it's not one of the well-known Darwin tourist attractions pretty Tipperary Waters Marina is a lovely spot to visit if you have the time. I stumbled upon it as it was a short walk from my Airbnb in Stuart Park.
If you're looking for romantic things to do in Darwin, eating fish and chips from Frying Nemo while the sun is setting over Tipperary Waters is perfect. There's music, fairy lights and lots of benches to sit and enjoy the view.
You can walk off the food with an evening stroll past all the enviable waterfront houses!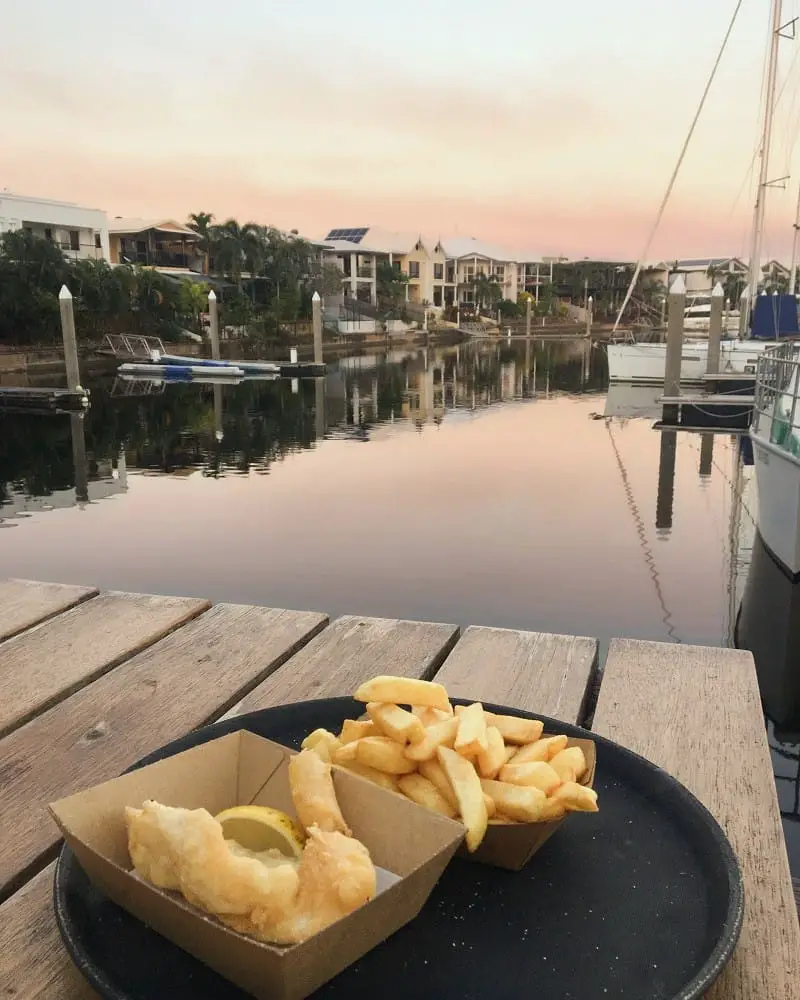 ---
16. Eat at Cullen Bay Marina
One of the top things to do in Darwin for couples is dine at one of the waterfront restaurants in picturesque Cullen Bay Marina. The area has a real holiday atmosphere.
I enjoyed a morning coffee at Boatshed Coffee House, which has plenty of outdoor seating looking straight onto the water. Make sure you look down at the tropical fish that gather below the decking! I didn't realise they were there at first!
To find the shops and eateries at Cullen Bay, head to Marina Boulevard in Larrakeyah. Note that many of the restaurants don't open until the afternoon or evening, so check opening times first.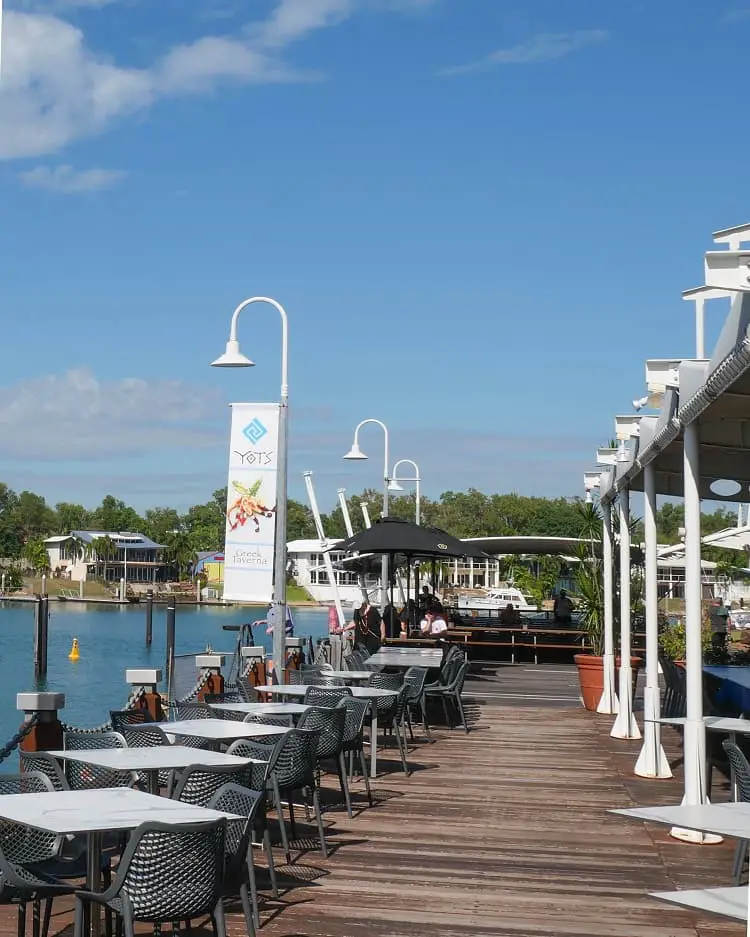 ---
17. Relax on Cullen Beach
From Cullen Bay Marina, cut through the carpark on Marina Boulevard to reach Cullen Beach; it's one of the prettiest places in Darwin that I discovered!
The grass and row of palm trees behind Cullen Beach reminded me of Palm Cove in Cairns, and the water is bright turquoise! Just heed the crocodile and box jellyfish warnings and stay out of the water!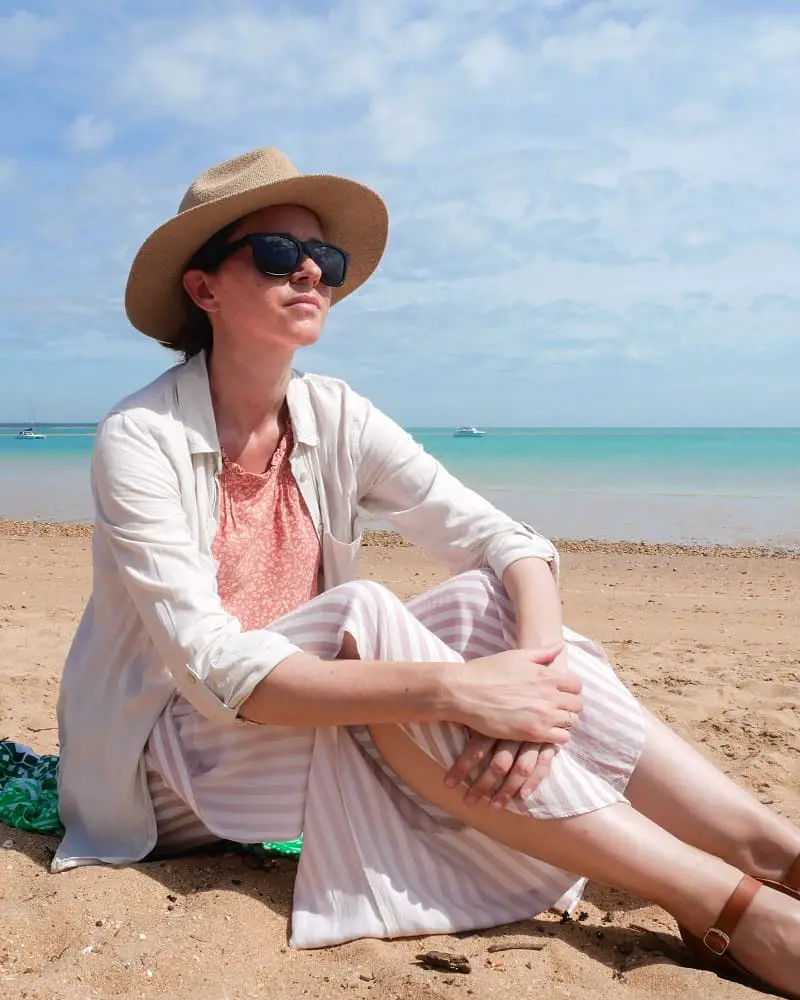 ---
18. Visit WW2 Oil Storage Tunnels
The WW2 tunnels were one of the most unique Darwin tourist attractions that I visited on my trip. Once a top-secret location for oil storage during the second world war, the WW2 tunnels are now set up as an underground museum.
You can wander through the eerie tunnels and learn all about the Japanese bombing of Darwin Harbour back in 1942, the largest foreign attack that ever took place on Australia.
You'll find a lot of historical information and World War Two remnants dotted around Darwin, but visiting the old oil storage tunnels is one of the most unusual things to do in Darwin. You'll find them in the Darwin Waterfront area, just a short walk from the CBD.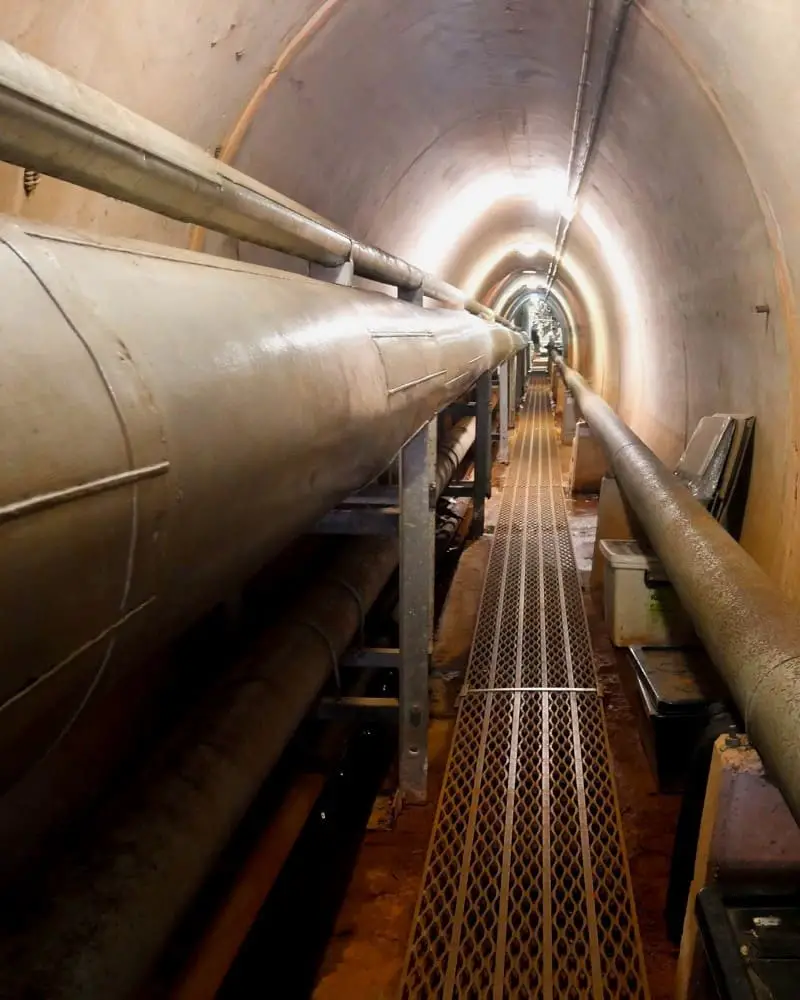 ---
19. Be Amazed at Enormous Casuarina Beach
One of the best things to do in Darwin for free is visit enormous Casuarina Beach! This wide and stunning expanse of swirling white sand stretches on for 4.5km and even has a nudist area.
Some great spots to check out are Dripstone Cliffs and picnic area and the cafe at Darwin Surf Club (see below). Check the tide times though, as it looks as though the water comes in all the way to the cliffs at high tide.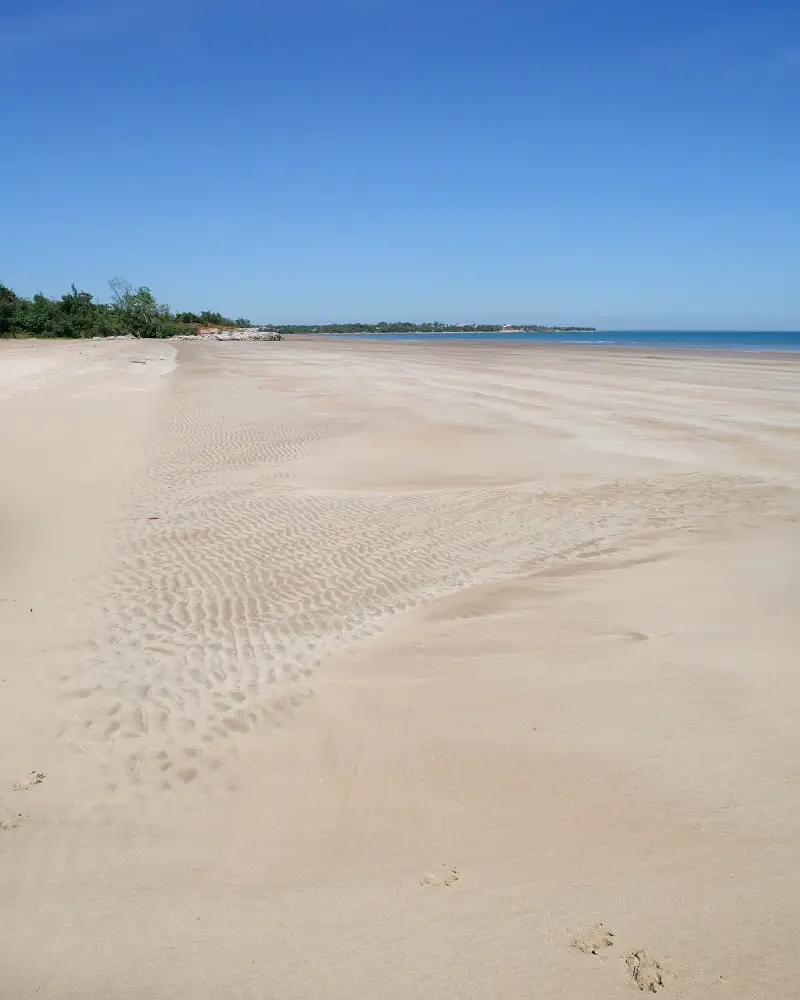 ---
20. Eat at De La Plage Cafe at Darwin Surf Lifesaving Club
I've been to many surf club kiosks in Australia, but De La Plage cafe at Darwin Surf Lifesaving Club is by far the most impressive I've seen.
Set on parkland directly behind the beach, De La Plage cafe has a wealth of outdoor seating overlooking the beach, including funky sofas and a swing chair. I couldn't believe the amazing views!
The menu is super impressive too and very hipster! I could have been back in cosmopolitan Sydney.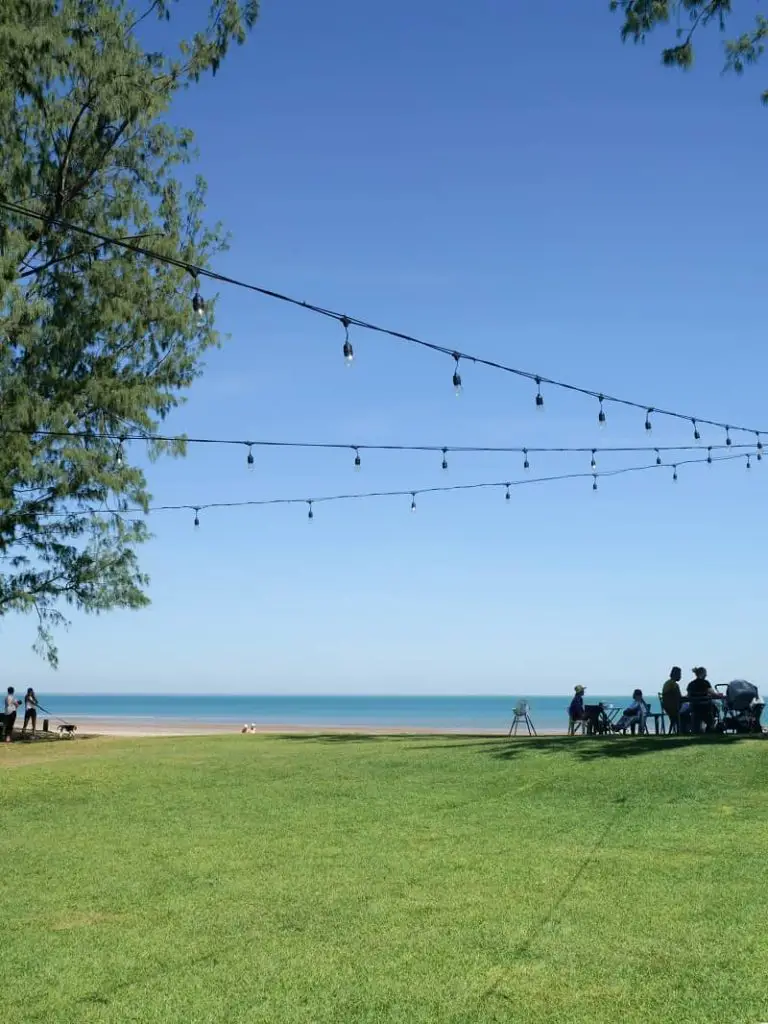 ---
22. Have Lunch at The Foreshore Restaurant and Cafe in Nightcliff
The Foreshore Restaurant and Cafe is situated directly opposite beautiful Nightcliff Beach and serves breakfast, lunch and dinner as well as alcoholic beverages.
I enjoyed a lovely veggie burger with chips for lunch there, and the menu had loads of gluten free options to choose from.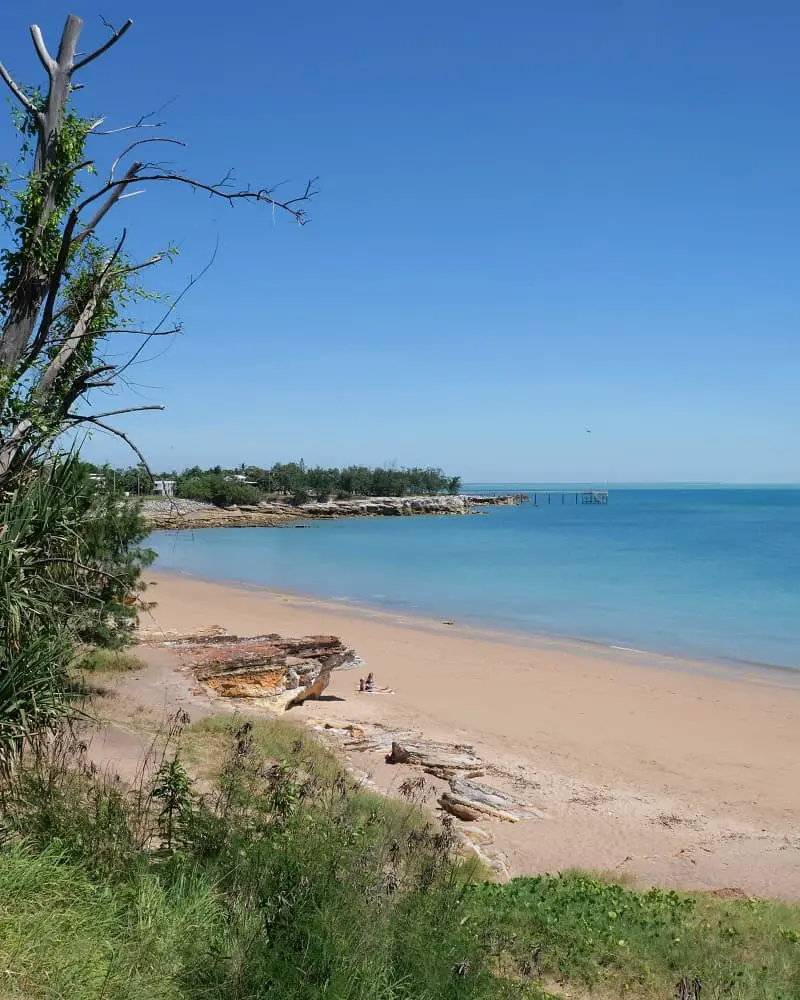 ---
23. Jumping Crocodile Cruise
A must do in Darwin is to get out into nature and see some famous Northern territiry crocodiles!
Unfortunately, I didn't add this to my itinerary, but this jumping crocodile cruise includes a stop at Humpty Doo to see a 13m-long crocodile, an hour-long river cruise to see the crocodiles up close and a visit to a wildlife reserve!
---
24. Spend a Day at Kakadu National Park
If you're looking for more things to do near Darwin, think about adding on a visit to Kakadu National Park. It's a stunning UNESCO World Heritage Site.
I visited Kakadu on my working holiday, when I travelled the west coast of Australia from Perth.
If you don't have a car, this Kakadu day tour has fantastic reviews and takes you to a safe spot to spot saltwater crocodiles, wildlife sightings and an optional jumping crocodile cruise.
---
Darwin FAQ
Is Darwin worth visiting?
If you can handle hot temperatures, Darwin is a great place to visit for a holiday. You can see a diverse variety of attractions and wildlife, as well as beautiful coastal scenery and national parks.
How many days is enough in Darwin?
I would recommend spending at least 7 days in Darwin to see all the top Darwin attractions. I spent a week there and could have easily extended my trip.
What time of year is best to visit Darwin?
The dry season, from May to October, is the most popular time to visit Darwin, as the humidity and rainfall is relatively low. Certain tourist attractions are only open during the dry season.
However, if you visit Darwin during the wet season (November to April), you will experience some amazing storms; Darwin is the most lightening prone city in Australia! Waterfalls will be in force too, and the city will be at its greenest.
Is it safe to walk around Darwin at night?
I visited Darwin in early May and found it to be extremely quiet compared to other Australian cities. This meant that I felt quite wary walking through Darwin CBD at night, even though I was only changing buses.
I stayed in Stuart Park and felt safe walking from the bus stop to my Airbnb at night though. I would just order taxis at night if you feel unsafe walking.
---
How to Get Around Darwin
Hop-On Hop-Off Bus Tour
If you want to head straight to Darwin's main attractions and learn as you go, the open-top, hop-on hop-off Big Bus is a great choice and includes informative commentary.
>> Click here to book the hop-on hop-off bus tour in Darwin, with full-day entry to Crocosaurus Cove included.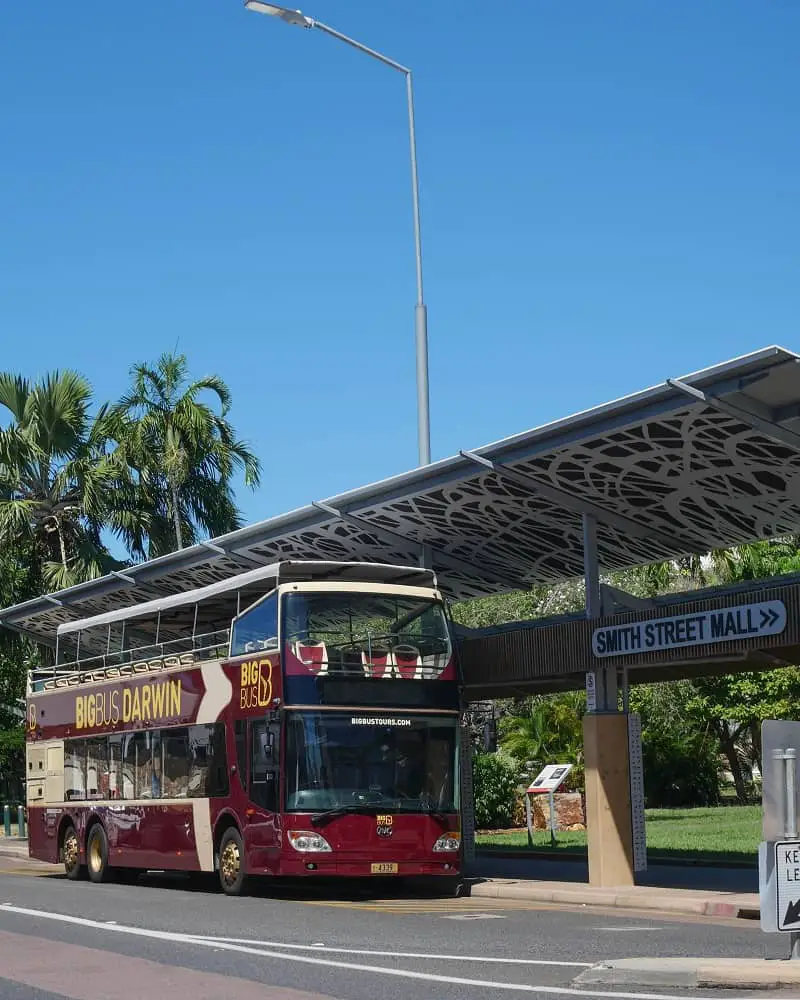 ---
Neuron Scooter hire
You'll see the orange Neuron e-scooters all over the place in Darwin. Since the city is quite compact, scooters are a fun way to get around without having to do too much walking.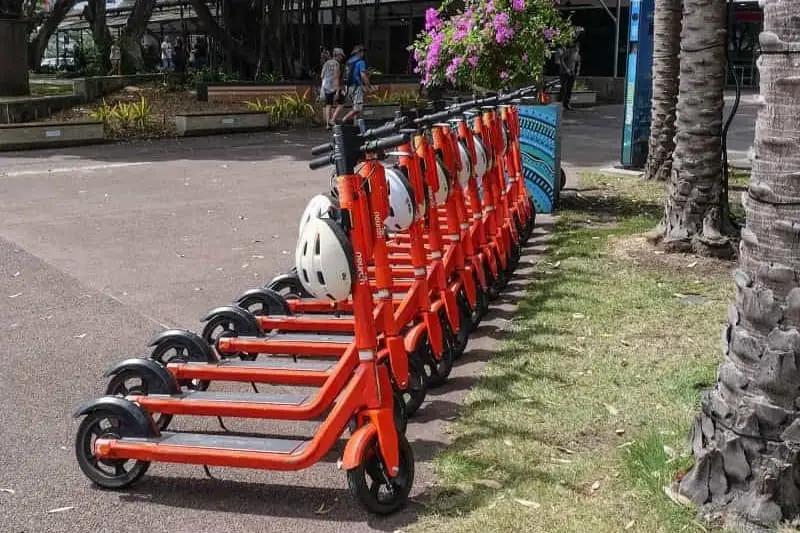 ---
Public Bus
I chose to buy a Tap and Ride card to get around Darwin by public bus, which cost $20 for seven days of unlimited travel. You can buy the travel cards in cash on the buses or pay by card in the Darwin bus interchanges.
Note that buses to some places in Darwin aren't very frequent. The Cullen Bay bus only ran every two hours, for example!
I still found the buses a cheap way to travel though, but I had to do a fair bit of walking between stops and destinations.
---
I hope you found my list of Darwin places to visit useful! I had a brilliant time there, and it was well worth the four-hour flight from Sydney.
There are so many diverse things to do in Darwin, Australia that you can easily fill a week or longer.
For more Australian destination guides, head to my page on the different Australian states. For more city trip ideas, check out my Melbourne travel guide, Perth travel guide or 3-day Canberra itinerary.
Written by Lisa Bull
Lisa Bull, founder of Dreaming of Down Under, has been living in Australia as a British expat since 2015. After travelling to every state and territory in Australia and living in Perth, Brisbane and Sydney, Lisa knows from first-hand experience the best destinations to visit in Australia and the best budget travel tips. Her guides on this blog have been read by over 700k readers and helped thousands of people achieve their dream of living in or travelling Australia.