This post may contain affiliate links. Please see my disclosure policy for more details.
People are often surprised to hear that my first visit to Australia wasn't as a backpacker, but as a foreign exchange student at the University of Queensland back in 2001. If you're interested in doing something similar, this blog post will give you plenty of tips on how to study abroad.
Back then, I was studying for a mathematics degree (geek alert!) at the University of Sheffield in the UK, and took the amazing opportunity to spend my third year in Brisbane thanks to a study abroad exchange program that's still running today.
If it wasn't for this brilliant year, I'm pretty sure I wouldn't be living in Australia now. In fact, I'm not even sure I would have gone on my round-the-world trip after graduation, as I had no knowledge of what travelling was like before then, or any particular interest in it.
My year studying in Australia literally changed the course of my life, and I can't recommend study abroad programs enough as a way to immerse yourself in another culture and widen your world. This post will run through some of the study abroad options, how to find universities that offer them, what an exchange program actually is and why it doesn't have to be expensive!
---
What is Study Abroad?
There are heaps of study abroad options, whether you want to take a short course or whole degree in another country or go on an exchange year with a partnering university like I did. Here are a few useful resources to check out:
Studyabroad.com: there's a huge amount of different opportunities on this website, from interning and volunteering to taking a full degree in another country;
Erasmus scheme: this is where students at European universities can exchange to other European universities for 3-12 months;
Globalgraduates.com: this website has lots of information and real-life diaries from students studying abroad.
---
What are University Student Exchange Programs?
An exchange program is NOT the same as paying to take your whole degree in another country, which can be very expensive. It's when you're already enrolled on a degree course in your home country, and your university is in partnership with overseas universities that you can switch to for a year or semester, continuing to study the same subject and usually returning home to take your final year.
Note that you're not exchanging with a specific person who's studying your subject; you're just offered a place at the partnering university for a year or semester to continue your studies. You choose your own accommodation and will usually need to sort your flights and visa independently.
This is the scheme that I went on from Sheffield with a few other people, and as UK students, our grades in Australia counted towards our final degree mark, and the year was worth the same as it would have been if we'd taken it at home.
For exchange students from other countries (literally for every non-UK exchange student I met), they only had to pass the year; their marks didn't count towards their final degree mark. So we had to take our studies a lot more seriously than our many American and Canadian friends and have a lot of discipline at times!
---
Where Can You Study Abroad?
Different universities will have different options, so you should check the websites of the universities you're interested in. Back when I did my student exchange in 2001, the University of Sheffield offered places at partnering universities in Australia, Canada and the USA.
They've since added Hong Kong, Korea, New Zealand and Singapore to the list, along with many more universities in Australia. Here's a link to the full list of the University of Sheffield's exchange partner universities.
---
How to Find a University that Offers Exchange Programs
I had no idea that the University of Sheffield ran an exchange program when I applied there, I just found out through some friends after I'd started. Many people choose their university based on its opportunities to study abroad though, so it's something worth thinking about if you're deciding where to go. Here's a great article on choosing your UK university based on its year abroad offering.
---
How Much Does it Cost to Study Abroad as an Exchange Student?
The great part about being an exchange student is that it's one of the cheapest options. Taking your entire degree overseas can be very pricey, especially as you won't be eligible for a student loan if you're a UK student (see The Complete University Guide and snippet below for more information).
You'll need to check the study abroad information carefully on your home university's website, but at Sheffield you don't pay any tuition fees to the foreign university as an exchange student; you continue to pay them to Sheffield, but at a reduced amount.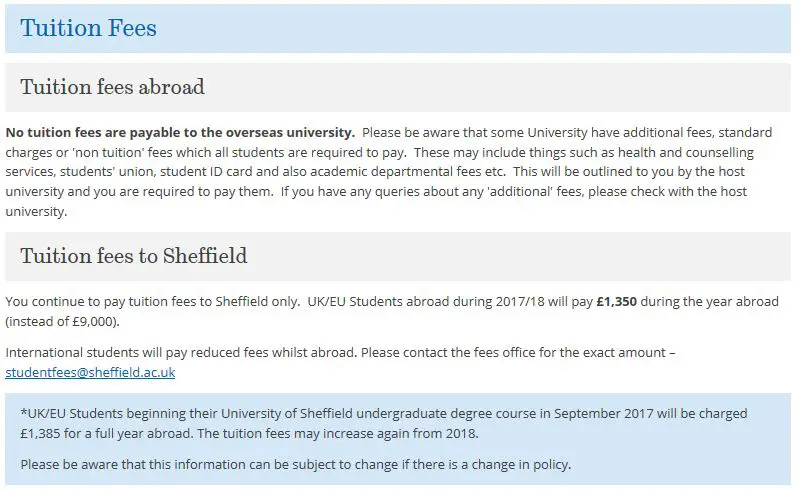 Back when I went to Australia in 2001, my tuition fees were halved for that year (bear in mind tuition fees were only about £1,000 per year back then, and a few years earlier they didn't exist at all). As you can see above, for 2017/18 they are reduced from £9,000 to £1,385 for the year you study abroad!
Obviously you'll need to pay for your flights, insurance and student visa, which should be more than covered by the reduction in tuition fees. Note that the cost of living is higher in Australia than in the UK though, so you won't get as much for your pounds as you would at home, and accommodation is likely to cost more.
---
Timing of Australian Semesters vs UK 
Since Australia is in the southern hemisphere, its seasons are the opposite way round to those in the UK, so the long summer holidays fall at Christmas time. This is how your exchange year will play out if you head Down Under:
June: finish your academic year in the UK (usually your first year).
July to December: take your first semester in Australia (which is the second semester of their academic year).
December to March: summer/Christmas holidays – take yourself on a road trip like I did!
March to June: take your second semester in Australia (which is the first semester of their new academic year).
June to September: fly back to the UK in June/July, or get a tourist visa and extend your stay in Australia for an extra three months.
September: start your next (usually final) academic year back in the UK.
June and July are actually really cheap times to fly to Australia as it's their winter, as long as you stay outside of school holidays. I remember paying about £580 return with Malaysian Airlines back in 2001, and I still pay around that amount now to fly at that time of year.
Since you'll be returning almost a full year later you'll probably need to book your return date earlier than you need it (as you can't book flights more than about 10 months in advance) then change the date later on. Check the fees to make changes first.
---
Study Abroad Benefits
There are so many benefits of enrolling on a study abroad program. It might seem scary if you're young and haven't travelled by yourself before, but as a student you'll be surrounded by other people your age and find it very easy to make friends, particularly if you stay in halls of residence like I did.
Plus, everyone will want to talk to you because of your charming and funny accent – a bit like when Colin Frissell goes to America in Love Actually!
In Brisbane there were loads of foreign exchange students from all over the world, so everyone was excited to be there and explore, and many of us are still in touch now, 16 years later!
You also might have the chance to travel the country over the holidays. I went on a three-month road trip around Australia during the Christmas break with my fellow Sheffield exchange student, Liz. We've been on trips to Portugal, Ibiza and South America together since then!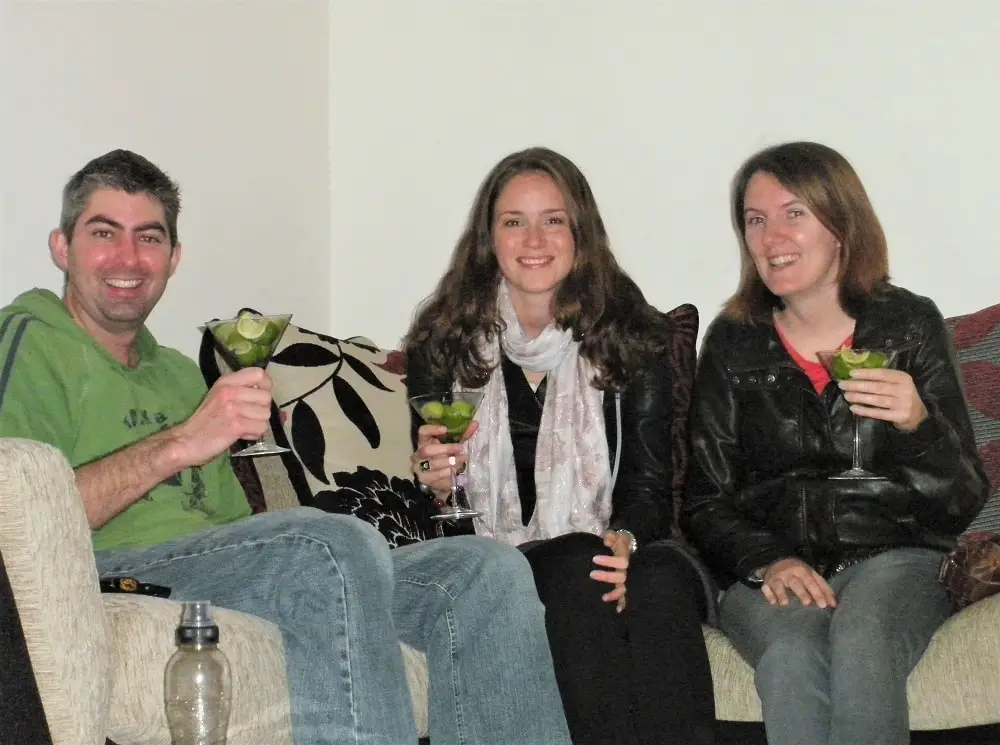 Moving to another country is a big confidence builder too, and the world will seem a lot less scary when you realise how easy it is to adapt to a new environment. Check out my post on the benefits of solo travel if you're hesitant to go-it alone.
---
Check out my next post if you want to read about the process I went through to get a place on the exchange program to Australia from the University of Sheffield, as it wasn't as easy as I first expected!
I've also written a post on the differences between student life in Brisbane compared to in the UK, including course structure, clothing and the very important clubbing scene! Happy studying!
---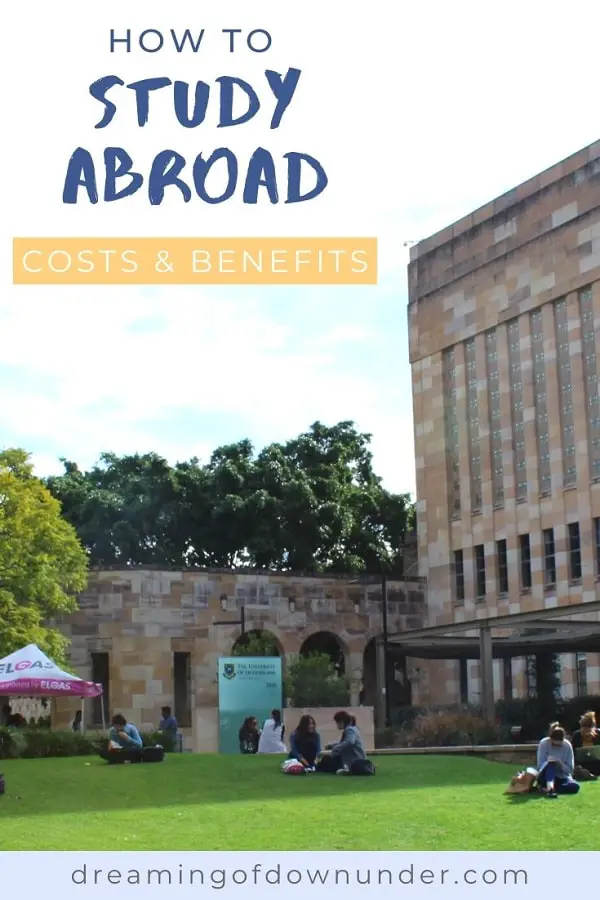 Written by Lisa Bull
Lisa Bull, founder of Dreaming of Down Under, has been living in Australia as a British expat since 2015. After travelling to every state and territory in Australia and living in Perth, Brisbane and Sydney, Lisa knows from first-hand experience the best destinations to visit in Australia and the best budget travel tips. Her guides on this blog have been read by over 700k readers and helped thousands of people achieve their dream of living in or travelling Australia.