This post may contain affiliate links. Please see my disclosure policy for more details.
If you're thinking of visiting or moving to Sydney, you're probably wondering what the Sydney weather is like. If not, you should be! Don't assume it's boiling hot beach weather all year round just because it's in Australia; you might be surprised to know that most locals wear coats and scarves during the winter months!
While you can easily find average temperatures online, it's hard to know how variable they are and what they mean in practical terms like which clothes you'll need to bring and whether your home will need heating or cooling if you're moving here long term. And most importantly, what time of year you can hit the beach!
I've spent a year in Sydney now, and thought it would be useful to run through each season to let you know what the weather's really like here. Bear in mind that I feel the cold more than most, so some of you might not need as much warm clothing as I do!
Sydney Weather Overview
In technical terms, Sydney has a humid subtropical climate, which means winters are cool and mild, summers are warm and hot, and there are no extreme seasonal differences because of its proximity to the ocean. The further inland you go, the more variation you'll see in temperatures. Head up to the Blue Mountains and you'll know what I mean!
I really like having winters that are cool but not freezing, but if you want it hot all year round, you're better off living up north towards Brisbane. If you enjoy colder winters, Melbourne or Hobart might be a better choice for you.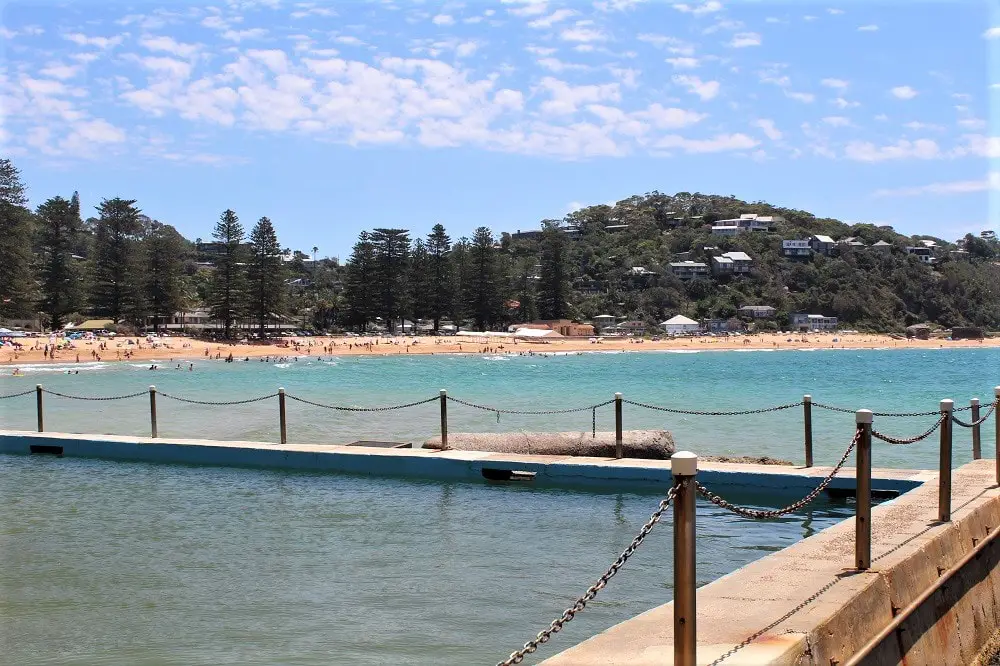 You definitely get more clear days in Sydney than you do in the UK, even in winter, and it's so uplifting to see a blue sky so often. It's not dry all the time though! According to the Bureau of Meteorology, there are between seven and nine days of rain (of at least 1mm) per month in Sydney, and it's fairly evenly spread throughout the year.
---
Sydney Weather in Winter – June, July, August
Don't forget that Australia is in the southern hemisphere so its seasons are the opposite way round to in Europe! Summer is at Christmas time and winter falls during the UK summer.
Sydney weather in winter is much colder than visitors usually expect; the average high in July, the coldest month, is only 16 degrees, and the average low at night is 8. The afternoons can sometimes rise into the low 20s though, and you'll get the odd freakishly hot day of around 26. The sunny winter days are similar to really nice spring or autumn days in the UK. You can still sit on the beach or outside cafes in your coat enjoying the sunshine!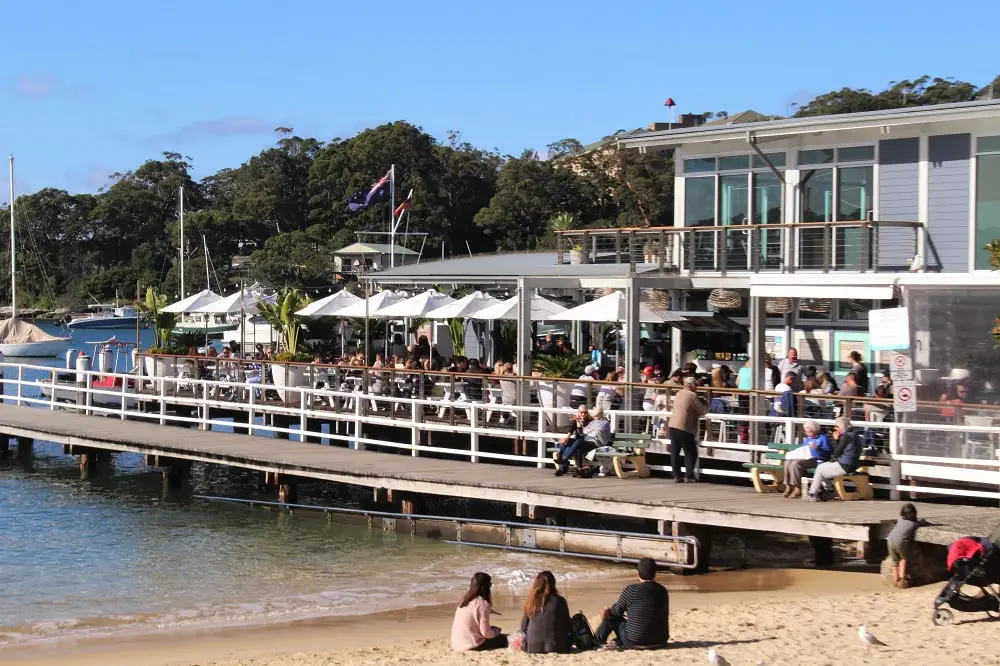 Even though it's usually cool, the sunny winter days are perfect for hiking without getting uncomfortably hot, and the daylight hours are longer than in the British winter too, as it doesn't get dark until about 5pm. If you're visiting during the winter there's still plenty to do, but focus on enjoying walks and exploring the city rather than visiting beaches. Take a look at my Cape Solander to Cape Baily walk in Kurnell for a beautiful winter hike – you might even spot whales!
What to Pack for Winter
As a general guide, I live in jeans and thick jumpers during the winter, and use a light scarf if it's windy. At night or on colder days I'll wear a jacket and scarf, but I never need gloves or a hat (if you're camping or heading inland to the Blue Mountains or Southern Highlands you might want them though).
I wear thick socks or Ugg boot-style slippers around the house, and use a hot water bottle at night. I never wear flip-flops or shorts in the winter, but it can be warm enough for short sleeves in the sun. On a walk, I'll layer up over a t-shirt with a thin long-sleeved shirt and hoodie that can be taken off once I've warmed up.
Backpackers
Don't weigh yourself down with too many winter clothes if the majority of your trip will be to hot places, but if you do feel the cold like me I'd recommend packing the following:
Jeans, hiking pants (leggings or loose trousers), t-shirts, long-sleeved button-up shirts (can also double as sun cover-ups in summer), thin jumpers/cardigans, hoodie or thick jumper (also good for flights), thin rain jacket (optional), thin scarf, winter pyjamas, socks, trainers or walking shoes.
Migrants
You won't need your arctic-weather coats or millions of hats and scarves, but don't hold back on the following:
Jeans, jumpers/cardigans, leggings, tights, boots (for fashion, not for snow!), trainers, winter slippers, coat (one you'd wear in autumn in the UK), light jacket, light scarves, hot water bottle/electric blanket, proper duvet.
---
Sydney Weather in Spring – September, October, November
Spring is a lovely time to visit Sydney. The temperatures start to rise in September, but can be quite variable (18 one day and 26 the next). Daylight saving kicks in on October 1st, so it starts staying light until around 7pm, and the excitement of the summer getting close is definitely in the air! I'd recommend joining a walking group on Meetup.com if you want to join after-work walks in Sydney from October onwards.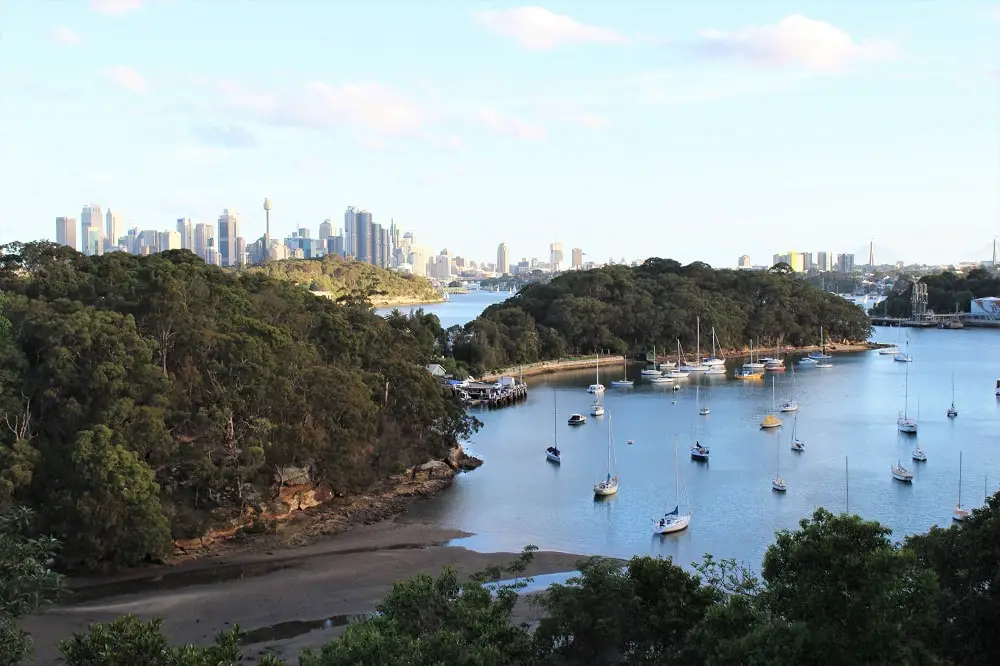 Sydney weather gets warmer and warmer through October and November, with average highs of 22 and 24 respectively. You will get quite a few days in the high 20s too, and it's usually hot enough to lie on the beach. Night time minimums only drop to 16 in November – much milder than in the winter. The nights are still cool enough for jumpers in September and October though.
What to Pack for Spring
I still wear jeans or leggings with closed shoes most days until mid-October, then shorts or dresses with sandals or flip-flops as it gets warmer. It's considerably hotter out in the sun than indoors, so you'll need a mixture of summer and winter clothes. A jacket is still useful at night. If you're visiting towards the end of spring then my summer packing guide below would be best.
---
Sydney Weather in Summer – December, January, February
Things are hotting up! January is the hottest month statistically, with an average high of 26 degrees. It really swings around though, and last summer we had many days that reached 38! The nights are mild at around 18, so you'll definitely be into your summer PJs by then!
Beach season is in full swing by December. It tends to be quite breezy at the beach, so I never find it as sweltering as I do on European holidays. There doesn't tend to be much shade on Sydney beaches though – it's not like holiday resorts in the Med where you get sunbeds and parasols. Take a look at my guide to Sydney's south-eastern beaches if you want to escape the tourist crowds at Bondi.
The hot weather makes January in Sydney vastly different to in the UK, when the post-Christmas, back-to-work depression hits everyone. You can swap scraping ice off your car in the dark to festivals, events, beach weekends and a general joyous feeling! The days aren't as long as in the UK summer – it gets dark by 8:30pm – but that's the pay off for having longer days in the winter.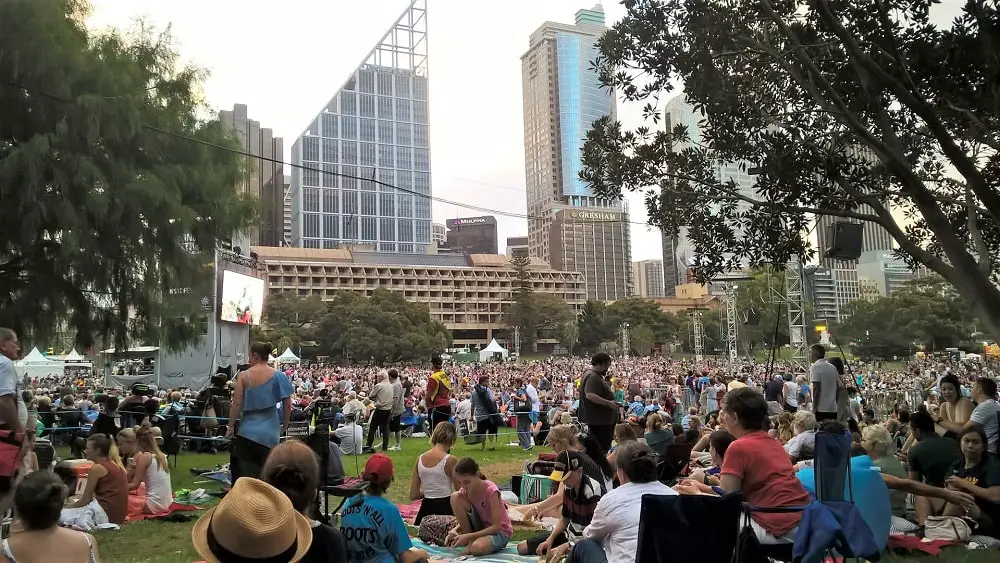 What to Pack for Summer
You will be sweltering most of the time, and rarely need long sleeves or jeans. I live in shorts and t-shirts or light summer dresses. You might want a cardigan for evenings out at the most.
Backpackers
Shorts, summer skirts/dresses, t-shirts, thin long-sleeved tops (beach cover-ups or a cardigan), beach towel/sarong, flip-flops or sandals, sun hat.
Migrants
Bring all of your summer clothes and swimwear from home. You'll be living in it! If you've got kids who'll be playing on the beach all day you might want to invest in rashies (swimming t-shirts) and a beach tent to protect them from burning. A sheet and thin blanket should be enough at night time.
---
Sydney Weather in Autumn – March, April, May
It was a bit of an odd start to autumn in 2017 as it basically rained torrentially for about six weeks with some hot days in between. This isn't standard though, so I'm hoping for better next year! The temperatures start dropping slightly in March, but it's still pretty hot and humid, with an average high of 25.
April is a bit more variable; you'll still have beach days, but it feels much cooler inside the house and at night time. I'm back in my winter pyjamas with a hot water bottle by then! It actually feels like a novelty to put jeans and socks back on too, after the long hot summer!
By May it gets a lot cooler, with nights dropping to around 12 degrees, so focus on walks and exploring like I recommended in winter. The Blue Mountains makes a great day out and is only a two-hour train ride from Sydney – check out my blog post on how to visit the Blue Mountains for under $10 for a day trip itinerary by train and bus. There are also plenty of gardens you can visit there too, that are supposed to be spectacular in autumn when all the leaves change colour.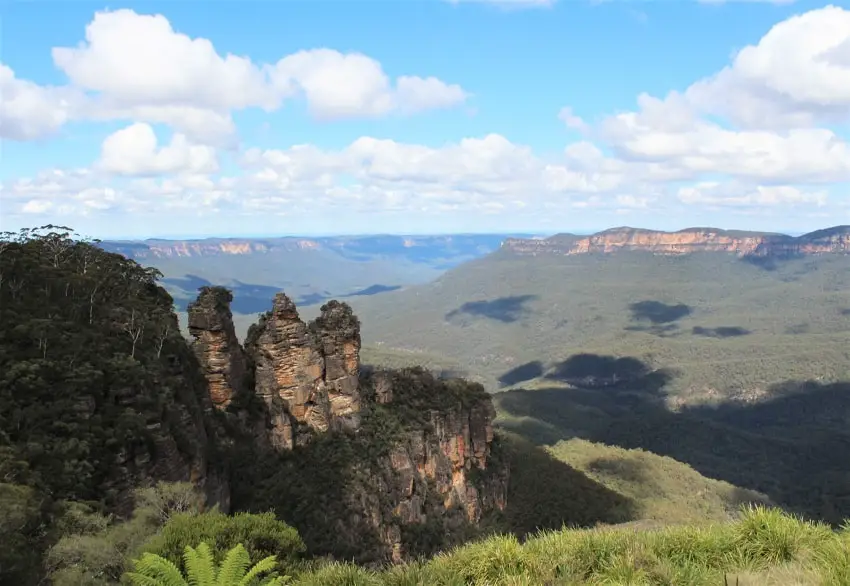 What to Pack for Autumn
During March, you'll mainly be in shorts and t-shirts, so follow my summer packing guide. For April, you'll want both summer and winter clothes, but you'll be ok without a coat and scarf if you're just visiting. For May, I'd follow my winter guide.
---
Heating & Cooling Your Home
If you're moving to Sydney long term, you'll need to think about heating and cooling your home. Sydney properties are built to stay cool, and can feel extremely chilly during the winter – much colder than a UK home would in the same temperature. It's usually colder inside than outdoors in the daytime; it's a very weird feeling to sit shivering in the house under a blanket then step outside to find it's a good few degrees warmer! Sometimes you have to open the windows to let the warmth in!
The standard heating system in Sydney is to have one gas heater in the living room. These are free-standing, not fixed against the wall like UK fires are, but they are attached to a gas pipe in the floor (so technically not free-standing at all!). You can also buy small plug-in radiators for the bedrooms which work well. If air-con units are fitted you can usually use these as heaters instead.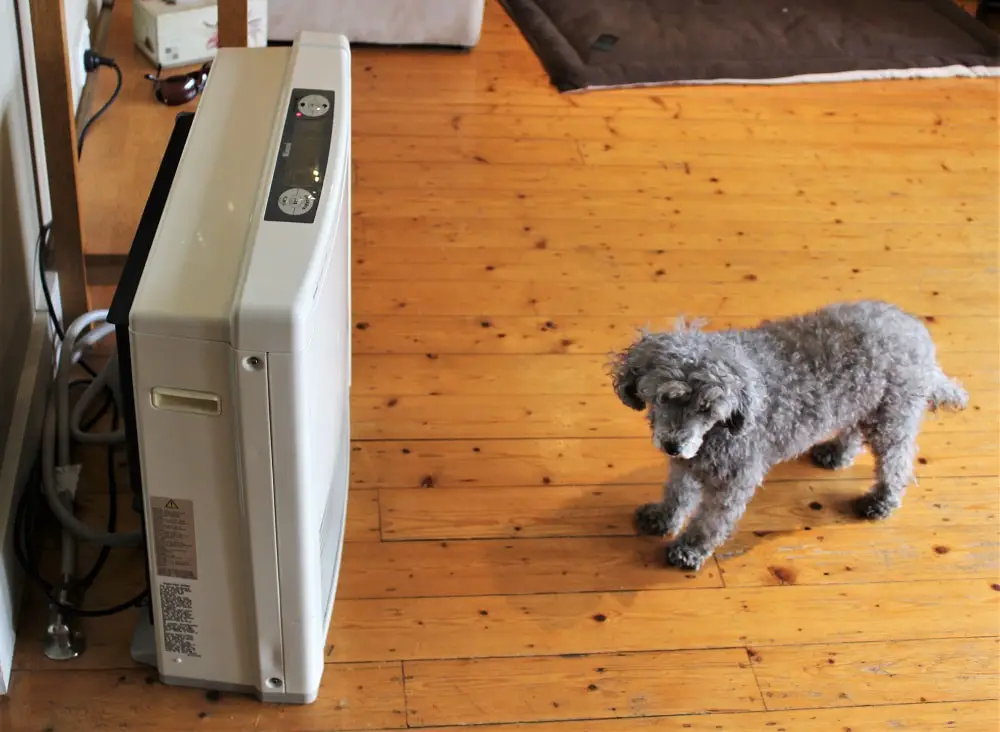 Very rarely, houses have central heating, but it usually consists of vents in the floor that blow out hot air (an extremely inefficient heating method according to an engineer friend of mine!). I've never seen radiators on the walls like we have in the UK.
Air conditioning isn't as common in homes here as you might think; a lot of people use fans instead. Apparently the Sydney weather isn't usually hot enough to warrant having it, as it gets used so infrequently. The summer of 2016/17 was record-breakingly hot though. I can't describe how sweltering a 38-degree day felt in homes without air-con. If I was looking for a long-term property I'd definitely want one with air-con installed!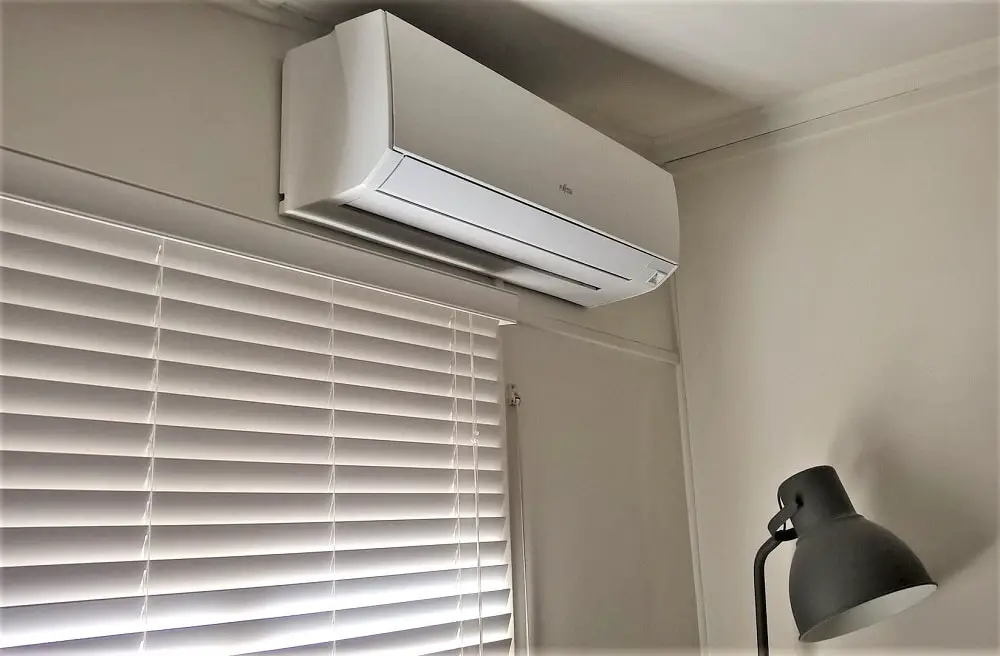 ---
So, to summarise all that, the best beach weather is October to March, but you'll have some hot days in September and April too. You can go hiking at any time of year, but it's most comfortable outside of summer time. Daylight saving is 1st October to 1st April, so you'll get lighter evenings between these dates and can go on after-work picnics or walks.
I use heaters most evenings from May to the end of September, and an electric blanket or hot water bottle from April to November (I get much colder than most people though). You'll probably want air-con from November to February, but not every day.
Remember that the sun is really strong here, even in winter, so make sure you use sunscreen and wear a hat if you're out in it all day. You'll need your sunglasses year-round too.
Sydney weather is truly wonderful, and perfect for those of you who want a cool winter that's not freezing and a guaranteed hot summer with plenty of days at the beach. You can enjoy the outdoors all year round, and if you're a very warm person you could swim in winter too. Check out my overview of living in Sydney if you want more information on the lifestyle here. If you're definitely moving here, then have a good read of my guide on where to live in Sydney. Best of luck!
---
Like it? Pin it!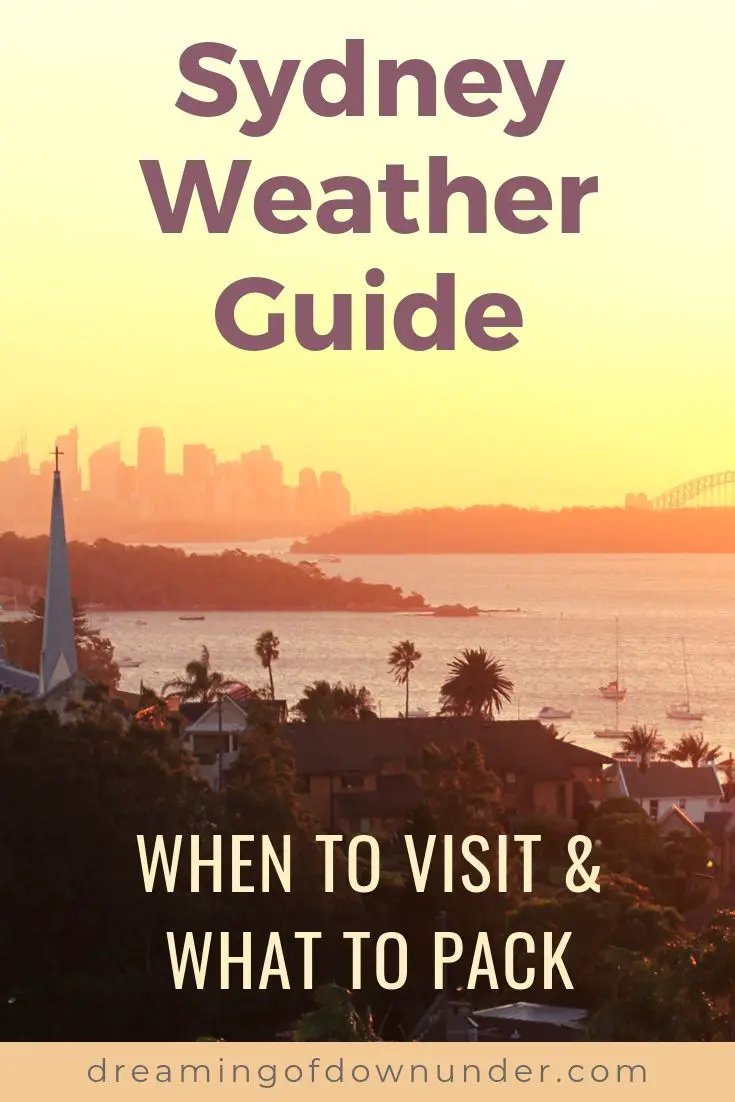 Written by Lisa Bull
Lisa Bull, founder of Dreaming of Down Under, has been living in Australia as a British expat since 2015. After travelling to every state and territory in Australia and living in Perth, Brisbane and Sydney, Lisa knows from first-hand experience the best destinations to visit in Australia and the best budget travel tips. Her guides on this blog have been read by over 700k readers and helped thousands of people achieve their dream of living in or travelling Australia.