This post may contain affiliate links. Please see my disclosure policy for more details.
Fresh from four months of madness involving house renovations and migration preparation, with the twinkly Etihad jingle now continuously replaying in my mind, I finally touched down in Perth and stepped off the plane into the sunny, 18 degree midst of the Australian winter – not just as a tourist, but as a permanent resident. Woo woo!
I must say, I didn't expect getting through passport control to be quite so easy. With the whole electronic visa thing and nothing physical in my passport, I couldn't stop worrying that there was some vital step to this whole migration thing I'd missed off, and that the officials were going to stare at the computer screen and say, "Sorry love, you're name's not on the list." But not a question was asked. Just a quick stamp and a "Welcome to Australia." Too easy, mate!
While Perth wasn't a totally new experience for me – I had fleetingly visited 11 years earlier on a post-university gap year – I couldn't really remember much of it.
Even though Sydney had been my dreamed-of destination for the previous decade, I'd decided that before settling I was going to return to my backpacker roots and travel 6,000km east from Perth across Australia's south coast. I had no timescale apart from a visit back to the UK from Melbourne in nine months' time. Quite lax for me; I'm a planner.
---
First Thoughts on Arriving in Perth
The first things I noticed stepping out of the airport – the same first things I've noticed on every visit to Australia – were the clear blue skies, palm trees and noisy, colourful birds. Despite those differences, Australian cities never feel drastically different from the UK; everyone speaks English, they drive on the left, the culture and etiquette are pretty much the same, and thanks to Neighbours and Kylie Minogue, the accent feels familiar.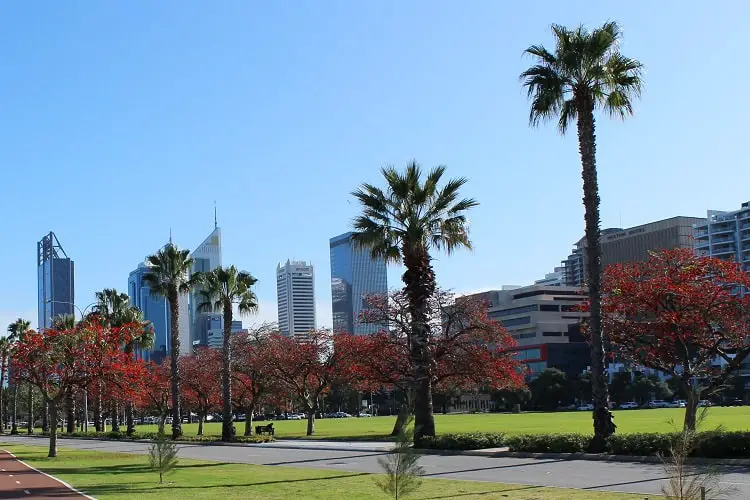 I've never had a culture shock in Australia like you get racing through the heaving, smoggy streets of Bangkok in a tuk-tuk or visiting countries where – my English heart is pounding at the thought of it – they don't queue. It's amazing how you can hop on a plane and be transported somewhere so very far away yet feel like you haven't really left home at all.
---
[convertkit form=996405]
---
Making My Way Through the City
"I was greeted to my new life in Australia by the grand sights of a hospital, a fire station, and a rough-around-the-edges park that was home to a large group of day drinkers."
For such a big move it was all quite underwhelming really. Months of worry and turmoil about uprooting and migrating by myself, years of deliberating, and I just got there and thought, "Oh, I made it then. Nothing to be scared of here." No epiphanies or breakdowns; I just walked out of the airport and got on with it.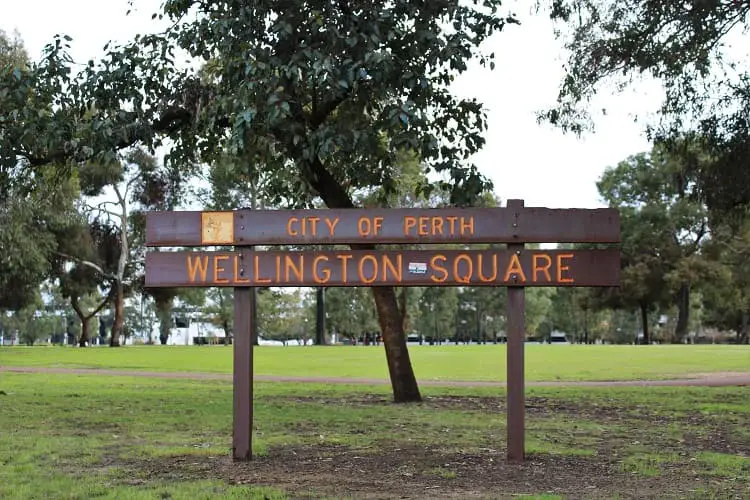 Getting straight back into the shoestring-traveller ways, I saved some of my brightly coloured, plastic Australian dollars and skipped the taxi option, choosing to hop onto a shuttle bus into the city instead.
My journey then continued with a much longer walk than expected, with a giant backpack, along Perth's rather forgettable Wellington Street. I was greeted to my new life in Australia by the grand sights of a hospital, a fire station, and a rough-around-the-edges park that was home to a large group of day drinkers.
Twenty minutes or so later I arrived, exhausted and soaked in sweat, at my backpackers' hostel. The type of place I had not stayed in since my twenties.
---
Hostel Life in Perth
Now, I used to LOVE hostels back in the day. Interesting people from all over the world, organised pub crawls, mixed dorms. Oh, the excitement! Living the actual dream!
But at 33 I was less enthused. The last time I'd stayed in a hostel was three years earlier on a trip to South America, where we were crammed into triple-level bunk beds, ceiling fans whizzing a few inches away from our noses and bathrooms so mouldy you felt the need to shower in an Ebola suit.
However, hotels were not really a viable option on such a long trip, and I did want to actually meet people, not sit in a room staring at the wall by myself every evening. So back to hostel life it was.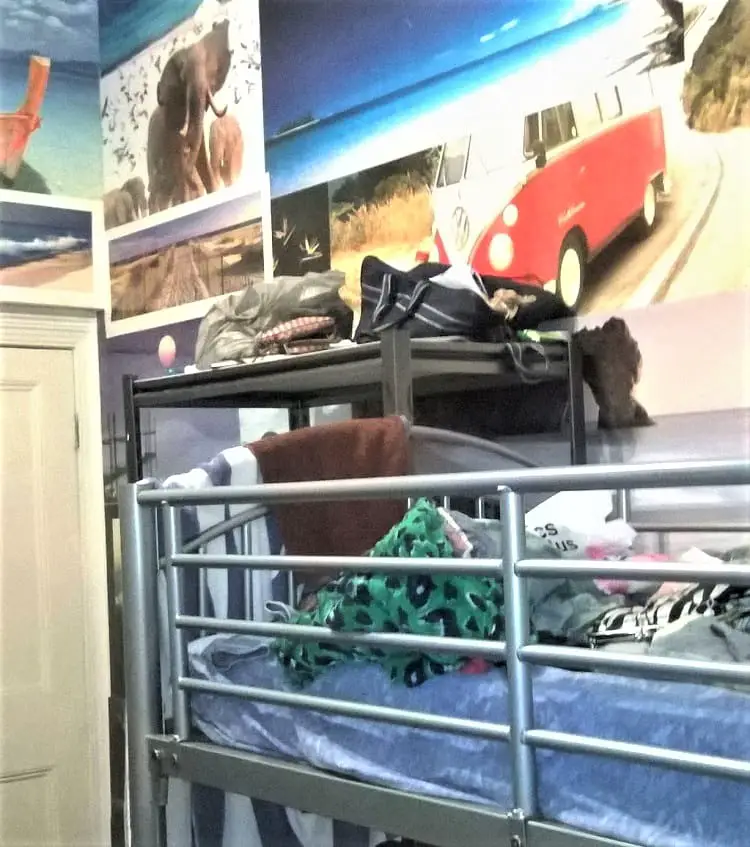 Being over 30 and not as excitable as I used to be, I specifically chose a place advertising itself as "not a party hostel". The last thing I wanted was to have 18-year-old boys vomiting in the communal bathroom while I was brushing my teeth (this genuinely happened the last time I visited Australia).
Even though I'm not exactly a pensioner, and lots of people much older than me stay in hostels, I did feel quite paranoid checking in. As if the girl on reception might gawp at my passport and look at me as if I was mad. Anyway, she didn't, and I was graciously assigned a bottom bunk in an all-girls' dorm. Oh, how times have changed!
---
Read my next post to find out how I got on in my first week as a backpacker in Perth!
Written by Lisa Bull
Lisa Bull, founder of Dreaming of Down Under, has been living in Australia as a British expat since 2015. After travelling to every state and territory in Australia and living in Perth, Brisbane and Sydney, Lisa knows from first-hand experience the best destinations to visit in Australia and the best budget travel tips. Her guides on this blog have been read by over 700k readers and helped thousands of people achieve their dream of living in or travelling Australia.