This post may contain affiliate links. Please see my disclosure policy for more details.
Mardi Gras Sydney is one of Australia's most popular celebrations, attracting hundreds of thousands of visitors from all over the world each year.
I've attended the colourful three-hour Mardi Gras parade along Oxford Street multiple times, but this LGBTQI festival also includes a line up of panel discussions, parties and performers spanning more than a fortnight.
Highlighting many human-rights issues alongside those of the LGBTQI community, Sydney Mardi Gras is much more than the opportunity to wear your best feather boa and douse yourself in glitter.
If you're thinking of joining the celebrations, this Sydney Mardi Gras guide will help plan your visit! Read on to find out more.
---
Sydney Mardi Gras 2024 Dates
Mardi Gras events begin on 16th February 2024, and continue until 3rd March 2024.
To see the line up and learn more, check out the official Mardi Gras website.
---
Origin of Mardi Gras Sydney
On a cold winter's night on 24th June 1978, several hundred gays, lesbians and straight supporters gathered at Taylor Square in Sydney.
Led by a truck with a small sound system, the group made their way along Oxford St to Hyde Park, where they planned to read telegrams of support towards the international Gay Solidarity Celebrations.
Unexpectedly harrassed by police officers along the way, despite a permit being issued for the march, the supporters and revellers of Sydney's first ever Mardi Gras saw the night culminate in the violent arrest of 53 people, many of whom were beaten in police cells.
Following further protests and arrests, in April 1979 legislation was changed so that Sydneysiders no longer required a permit to hold a demonstration. They simply needed to inform the police.
Later that year 3,000 people marched peacefully in Sydney's second Mardi Gras parade.
Over forty years later, Sydney Gay and Lesbian Mardi Gras has developed into one of the biggest LGBTQI festivals in the world, with the police, along with many other establishments, joining the parade in support.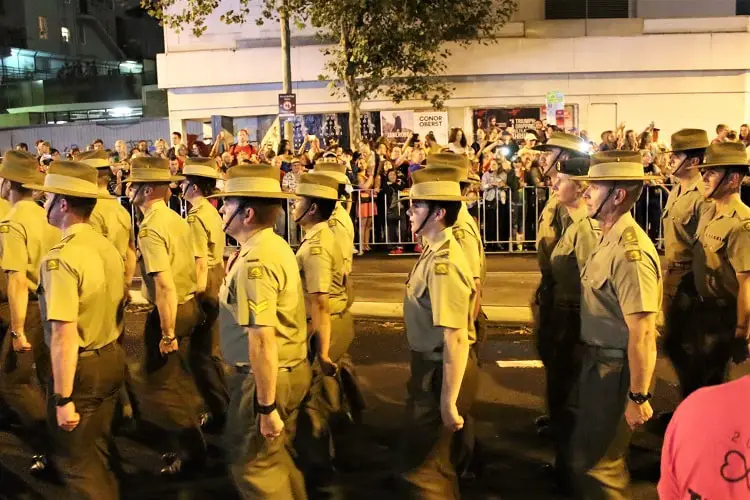 ---
Where to Stay in Sydney During Mardi Gras
If you need Sydney accommodation for the festival, you'll find plenty of places to stay not too far from the parade in Darlinghurst. Here are a few options that have ratings of at least 7/10 on Booking.com.
If you don't mind staying in a different suburb, make sure you read through my guide on where to stay in Sydney. It gives an overview of all the best locations for visitors along with hotel recommendations.
Hostels: Up to $80
Clover Backpackers – Paddington
Big Hostel – near Central Station
Asylum Sydney Backpackers – Kings Cross
Budget Hotels: $80-$160
Space Q Capsule Hotel – Chinatown
Shakespeare Hotel – Surry Hills
East Sydney Hotel – City
Mid-range Hotels: $160-$242
Ibis Budget Sydney East – Kings Cross
Sky Garden Studios – Kings Cross
Hotels above 3*: $242 upwards
Song Hotel Sydney – CBD
The Sydney Boulevard Hotel – CBD
---
Mardi Gras Sydney Parade
I've been to Mardi Gras parade a number of times, and it's always been amazing!
It's free to watch (you don't need tickets), very popular and the atmosphere is brilliant! Some people dress up in costumes or wear rainbow-coloured items, but you can also go in your normal clothes.
Finding a Viewing Location at Mardi Gras
The Mardi Gras Parade usually starts at 7:30pm, but get there early to find a spot with a good view.
Just head to Oxford Street or Flinders Street; you won't miss the crowds! Note that there are barriers to keep the road clear for the floats, so you won't be able to cross over. I didn't even get to see some of my friends one year as they arrived on the other side and we couldn't get to each other!
Many people also gather on the balconies of overlooking apartments to watch the parade. There are also accessible viewing areas for those with disabilities.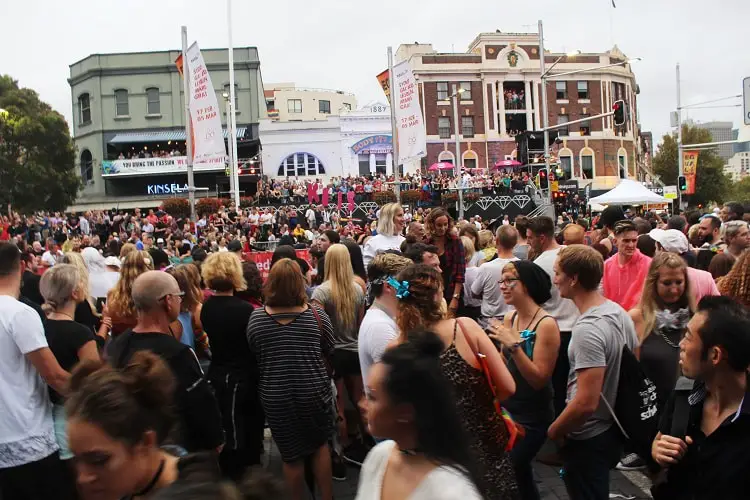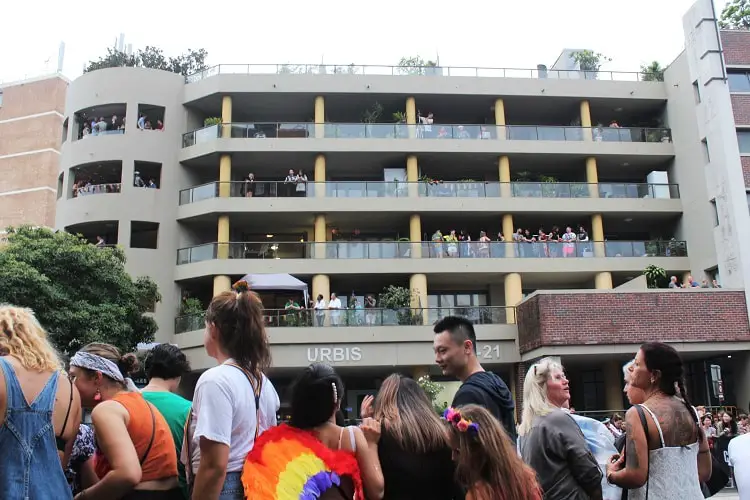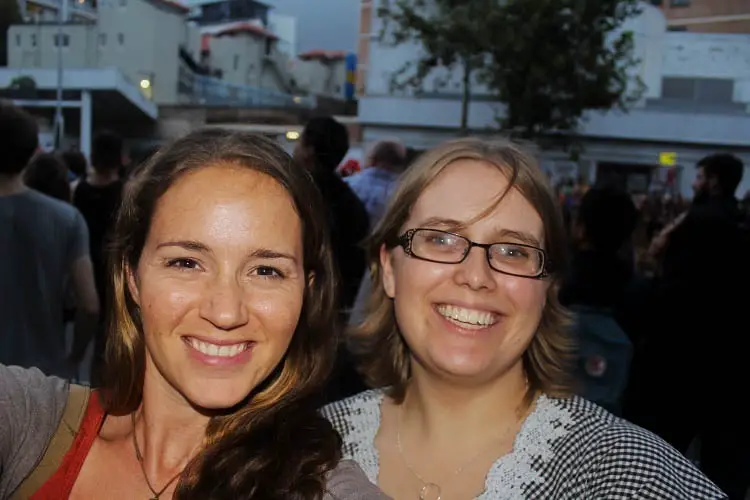 Dykes on Bikes Opening the Parade!
The parade begins in style as the famous Dykes on Bikes rev and beep their way along Oxford Street with their rainbow flags held high!
This is always my favourite part of the night as the impatient crowd goes wild with the roars of the engines and beeping of horns! The noise is immense!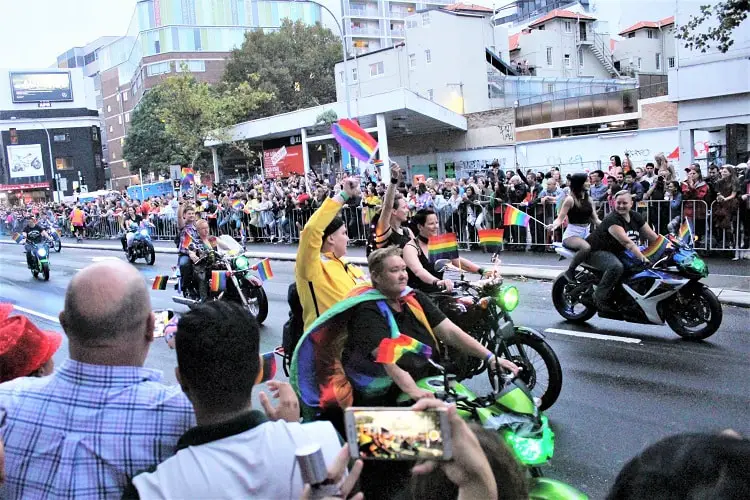 They're shortly followed by the boys, who are just as loud!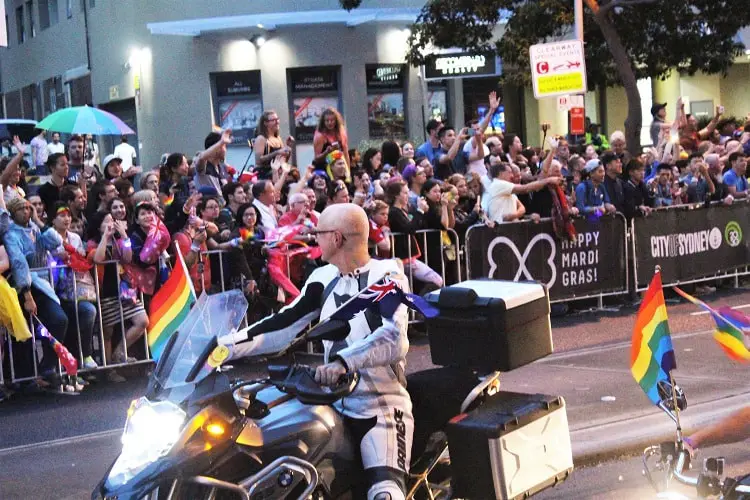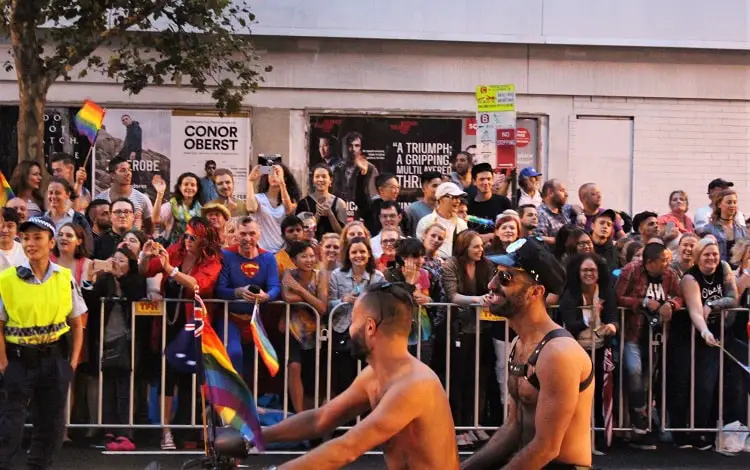 Note that the parade involves three hours of standing. Bring some water, as you'll probably be cheering a lot!
The Mardi Gras 78'ers (OGs!)
Early in the parade you'll see the the 78'ers come through. These are the people who took part in the very first Mardi Gras Sydney back in 1978! In modern terms, the OGs!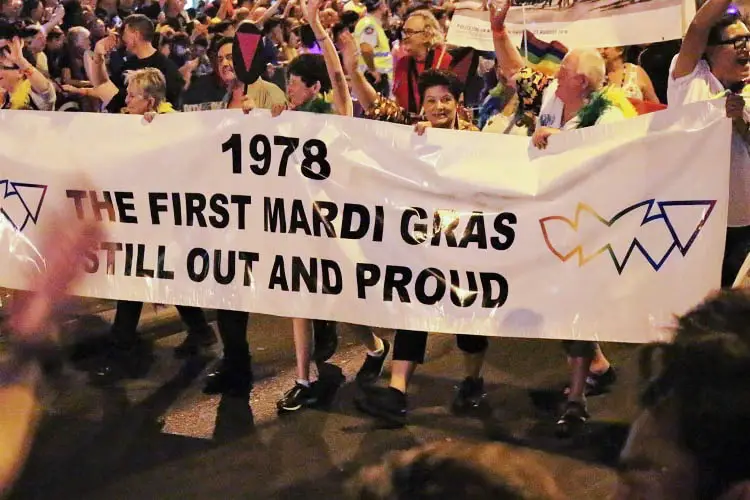 Sydney Mardi Gras Supporters in the Parade
Along with fun floats and corporate sponsors, the parade includes supporters such as the police (in blinged-up patrol cars!), the armed forces, Aussie lifeguards and a few Australian sporting teams.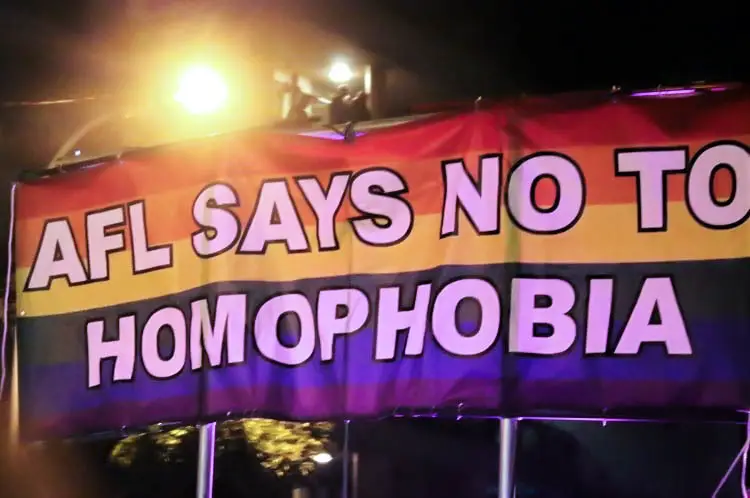 Mardi Gras Costumes and Floats
On a more frivolous note, you'll also see some mighty fabulous (and more risque as the night progresses!) Mardi Gras costumes worn by those marching and dancing in the parade!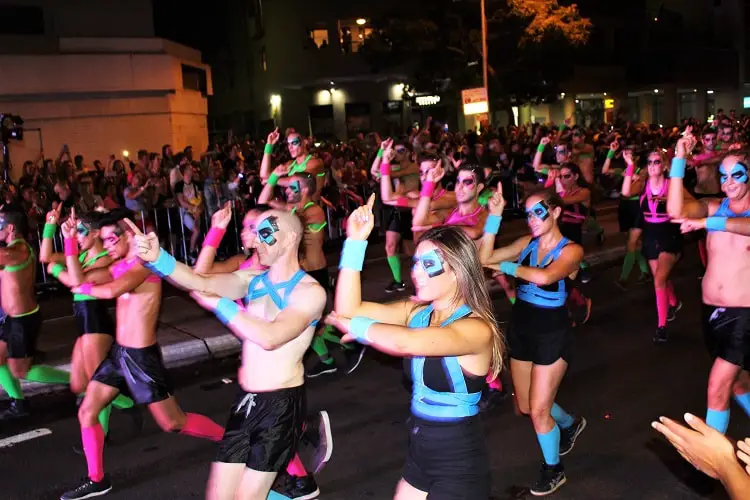 It's an unforgettable night of music, dancing, feathers and fun with a wonderful atmosphere. It reminded me of a mini (and slightly less choreographed) version of the Rio Carnivale!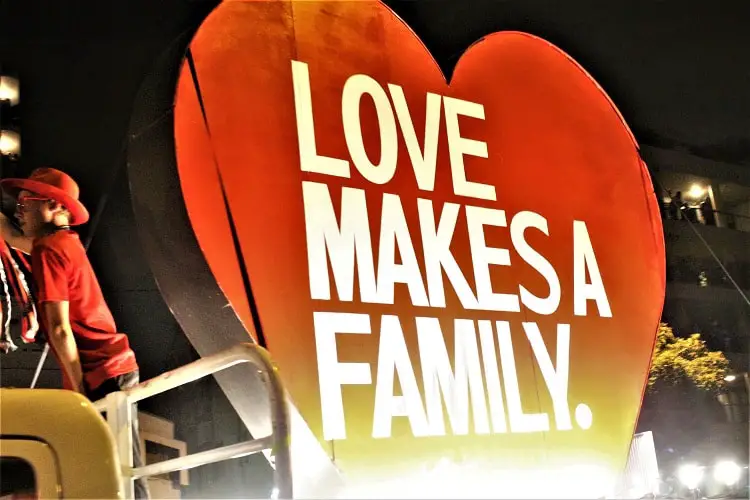 There are lots of nearby bars and clubs on Oxford Street if you've still got energy after 11pm! As the surrounding roads are closed you'll probably need to walk into the city to get public transport home. Check your journey on the NSW trip planner.
---
For more information on the events and history of Mardi Gras Sydney, visit the official Mardi Gras website.
For more ideas of what else to do in Sydney during your visit, check out my top things to do in Sydney or my recommended day trips from Sydney.
Click here to browse all my Sydney articles. You'll find top walks, beaches, trips and activities!
Happy Mardi Gras!
---
Like it? Pin it!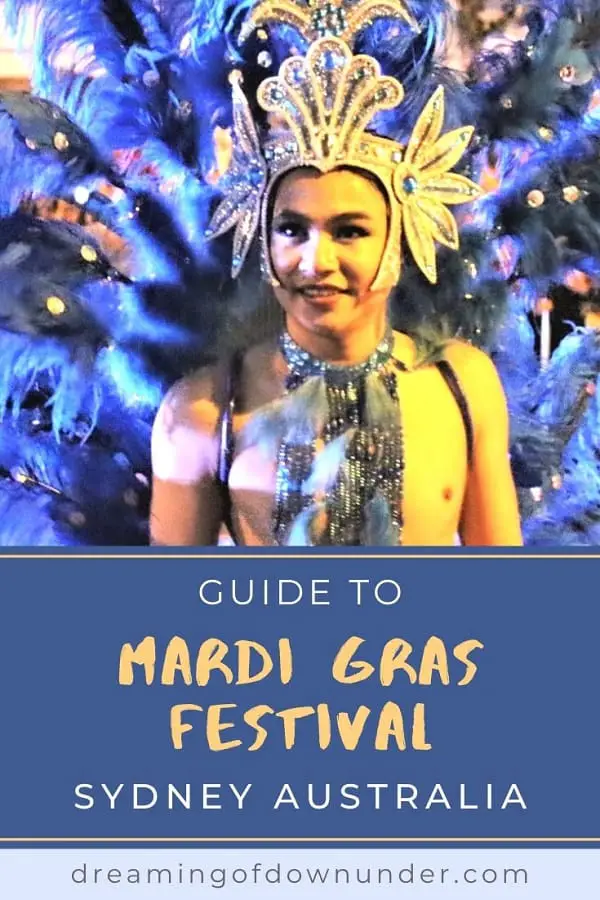 Written by Lisa Bull
Lisa Bull, founder of Dreaming of Down Under, has been living in Australia as a British expat since 2015. After travelling to every state and territory in Australia and living in Perth, Brisbane and Sydney, Lisa knows from first-hand experience the best destinations to visit in Australia and the best budget travel tips. Her guides on this blog have been read by over 700k readers and helped thousands of people achieve their dream of living in or travelling Australia.