This post may contain affiliate links. Please see my disclosure policy for more details.
Situated in the vibrant blue waters of Sydney Harbour, the crumbling, abandoned buildings of UNESCO World-Heritage listed Cockatoo Island are in stark contrast to their glittering backdrop.
Once a gruesome convict establishment and reformatory school for girls, Cockatoo Island became a shipyard and industrial centre in the 1960s before being rehabilitated and opened to the public in 2007.
Nowadays you can hop on a ferry from the city to explore the island's history, camp on the water's edge and even enjoy live music as the sun goes down at the summertime Sunset Sessions. How things have changed!
Here's all you need to know before heading out for a cultural Sydney day trip to Cockatoo Island.
---
How to Get to Cockatoo Island: Ferry
It's a 20-minute ferry ride from Circular Quay to Cockatoo Island. You can also catch a ferry from the western suburbs on the river. Plan your trip with the NSW journey planner.
Just be careful as the ferries can become full on the weekends and it's possible to get stuck! (I would say Sundays in particular as it's cheap travel day.)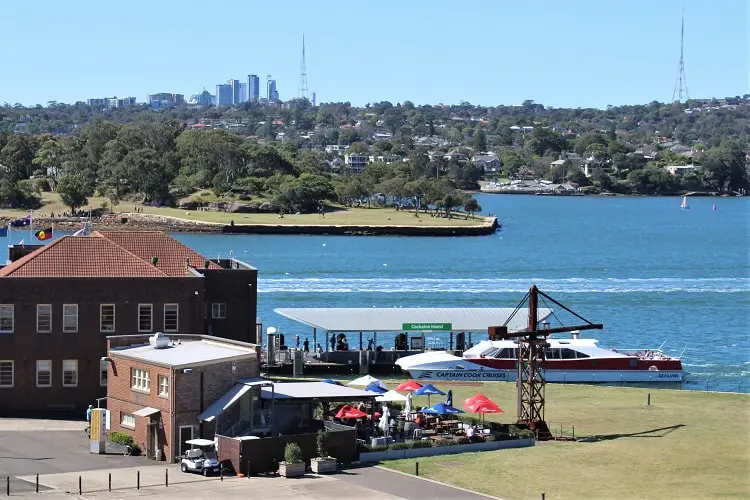 At the end of my visit I only needed to go two stops west to Chiswick, but the staff told us the next westbound ferry was full, so we all had to get a ferry east to Circular Quay in order to be first on the next westbound ferry to get a place! I could have swam home quicker!
---
Accommodation
If you fancy staying longer than just a day to explore or simply enjoy the amazing views of Sydney Harbour, you'll find a choice of accommodation to suit varying budgets, from camping to waterside apartments, a studio and a Federation home. Here are some of your options. Click on the link to book or learn more.
Cockatoo Island Camping
Cockatoo Island is well-known for its waterside camping ground! You'll see the tents lined up from the ferry.
If you fancy glamping, you can book a deluxe waterfront tent, which includes sun loungers, an esky, two single camp beds and bedding.
Click here to check Cockatoo Island camping prices.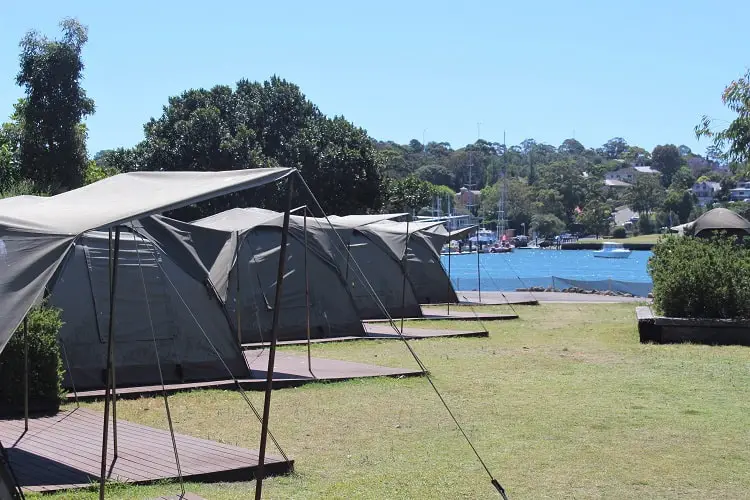 As a cheaper option, you can book a slightly smaller tent without the esky. You can also bring your own tent and bedding and book an unpowered camping spot.
The camping ground also has shared bathrooms, a camp kitchen, fire pit and large, covered dining area.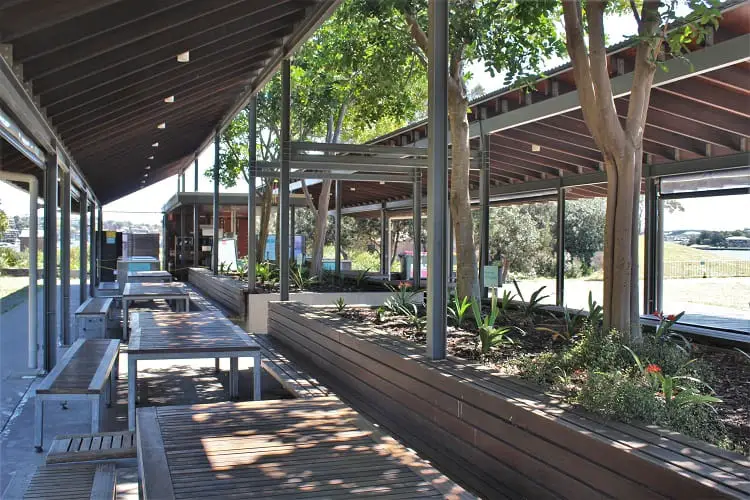 Apartments on Cockatoo Island
For a more comfortable stay, Cockatoo Island accommodation includes a choice of renovated apartments inside historical buildings. Here are a couple of options.
Garden Apartment
This two-bedroom apartment with garden view sleeps up to four people.
Click here to check Cockatoo Island apartment prices.
Harbour Apartment
You can also book a two-bedroom, split-level apartment with amazing views of Sydney Harbour.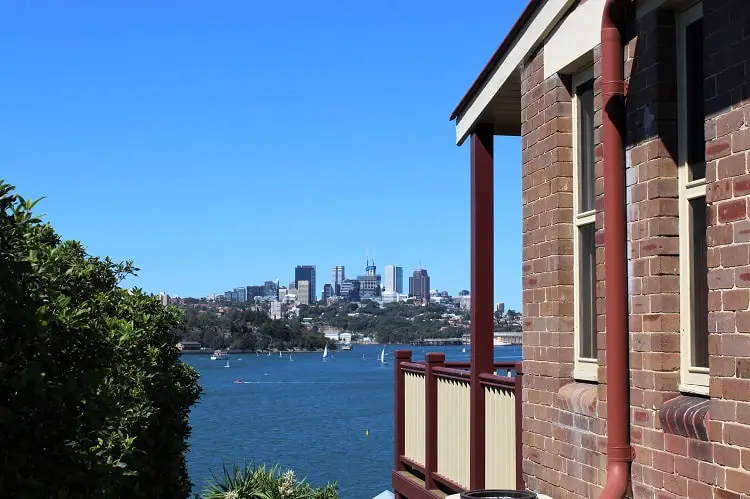 ---
Cockatoo Island Tours
There's a wide range of Cockatoo Island tours to choose from, including a spooky ghost tour, crooked characters tour, Convict Precinct tour and a group history tour.
I chose the audio tour, which only cost $5! You're leant a headset and map to use, and simply follow the well-signed route to each numbered stop on the island. You press the relevant number on your control and listen to information about the history of that particular building or area. It's very informative, with stories and snippets from people who lived or worked on the island.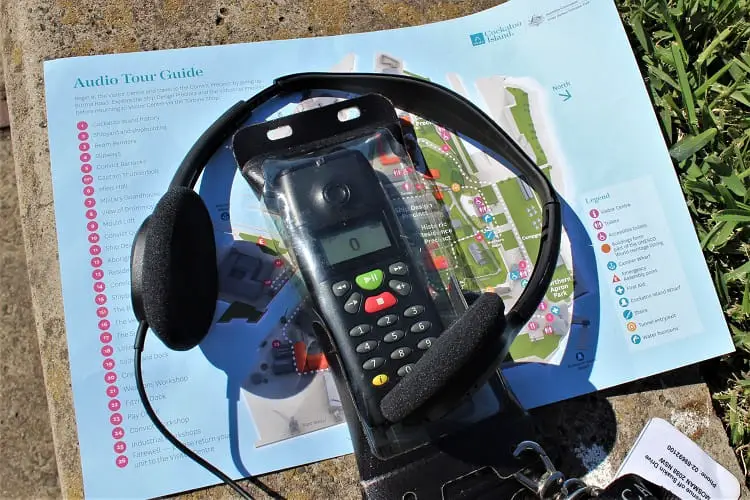 Allow about two and a half hours to complete the whole route. Cockatoo Island doesn't look that big on the map, but it's quite hilly with lots of different buildings and levels.
The route is pretty long and winding with stairs, hills and even a big tunnel! The audio takes you through the history of the island, from when it was a convict site to when it became a shipyard and eventually closed for business.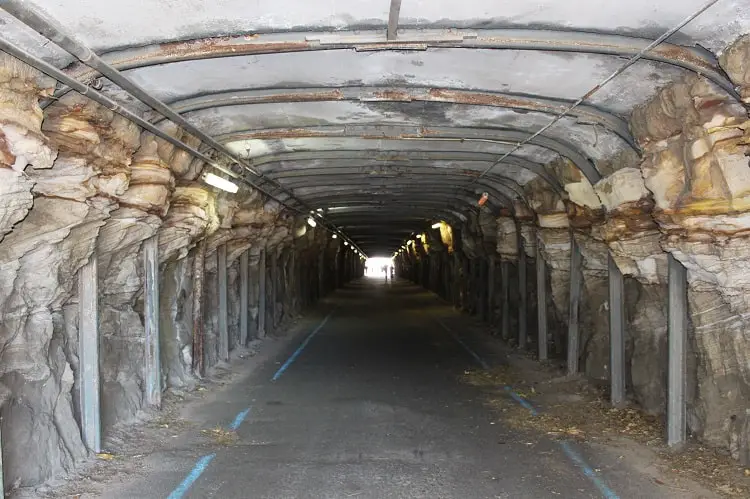 ---
Cockatoo Island Bar & Café
You've got a couple of choices of places to eat and drink on Cockatoo Island. You'll see Societe Overboard Café next to the wharf on arrival. There's outdoor seating by the water and you can buy breakfast, lunch, hot and cold drinks as well as beer and wine.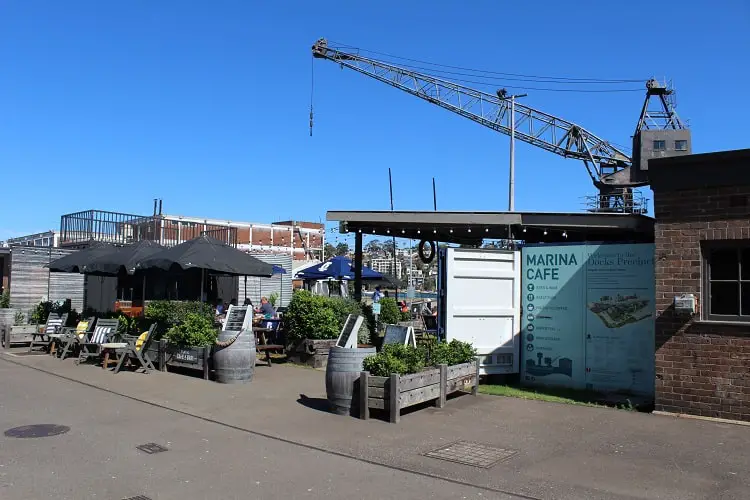 There's also Marina Café and Bar over in the Docks Precinct, which is right on the water too. You can buy cider and craft beer from here, as well as food and hot and cold drinks.
---
What to See on Cockatoo Island: History
Whether you pay for a tour or spend the day exploring by yourself, there's a whole lot of history on Cockatoo Island. Before colonisation, the island served as a meeting place for the indigenous Eora people. It later became a penal establishment, naval ship dockyard, industrial school for girls and a reformatory. Here are some of the different precincts you'll learn about if you follow the route on the audio tour.
Convict Precinct
In 1839 sixty prisoners were transferred from Norfolk Island to the new penal establishment on Cockatoo Island. You can wander around the eerie remains of the Convict Precinct, where up to 500 prisoners at a time would be cramped inside barracks meant for around 300 only.
The convicts lived in inhumane conditions with little ventilation and spent their days constructing further buildings on the island.
In 1869 the penal settlement was closed and between 1871 and 1888 the building were used as an industrial school for orphans and a reformatory for girls who had broken the law. You can learn all about the awful conditions the girls endured as you peruse the old schoolhouse and chapel.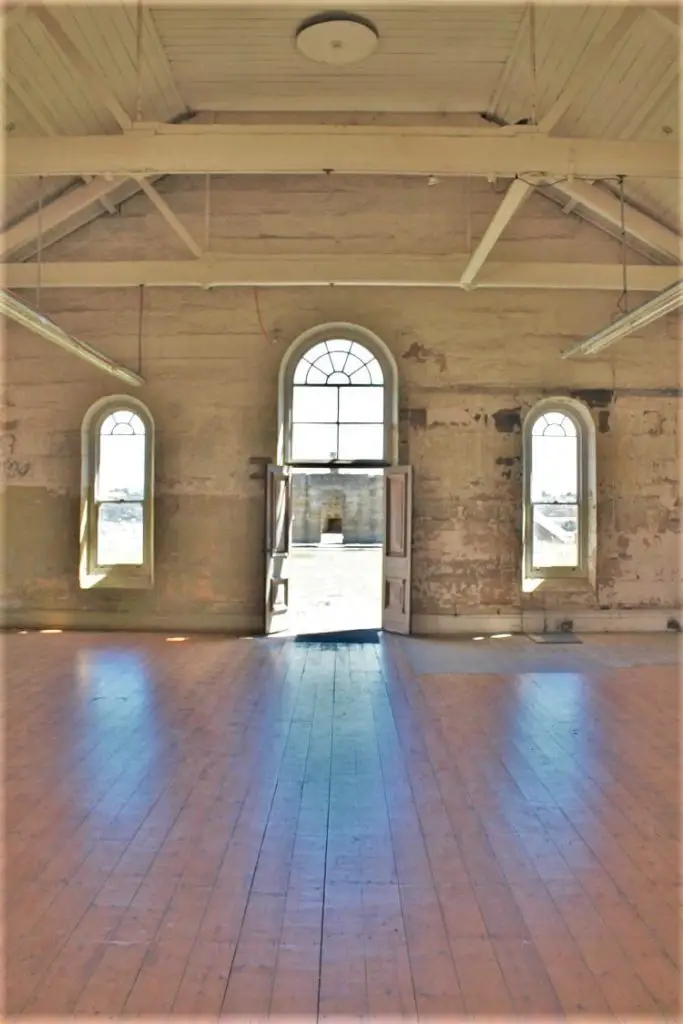 It's hard to imagine the hardships of life on Cockatoo Island when you look at the stunning view of Sydney Harbour behind it now!
Ship Design Precinct
Cockatoo Island became a major ship-building centre in 1870, and the official dockyard of the Royal Australian Navy in 1913. It was bizarre to wander around the silent and derelict buildings in the Ship Design Precinct, knowing they were once bustling with workers.
Historic Residence Precinct
This section of the island is home to some of the more well-preserved residential buildings, as well as the murals below from 2000, when the Aboriginal Tent Embassy set up camp and (unsuccessfully) submitted a land claim.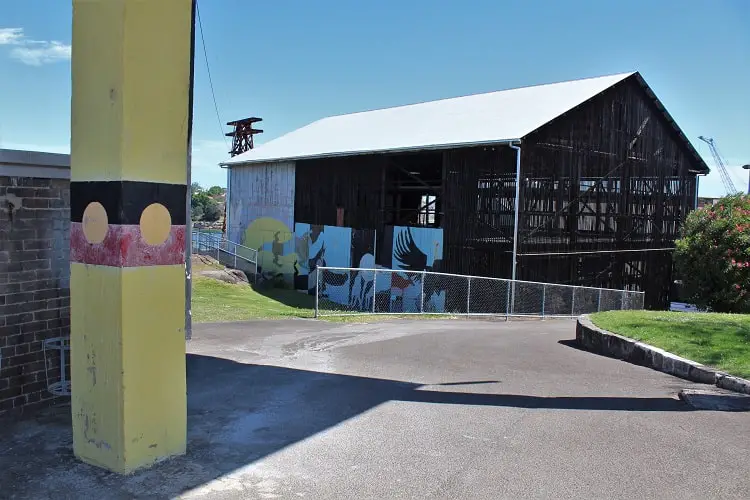 You'll pass the lovely Garden Apartments and Shipyard Stories exhibition, which is well worth visiting. Paintings by Bill Nix were on display when I visited. Nix worked at Cockatoo Island in the 1960s and '70s as an office boy, then apprentice fitter and machinist before becoming a draftsperson.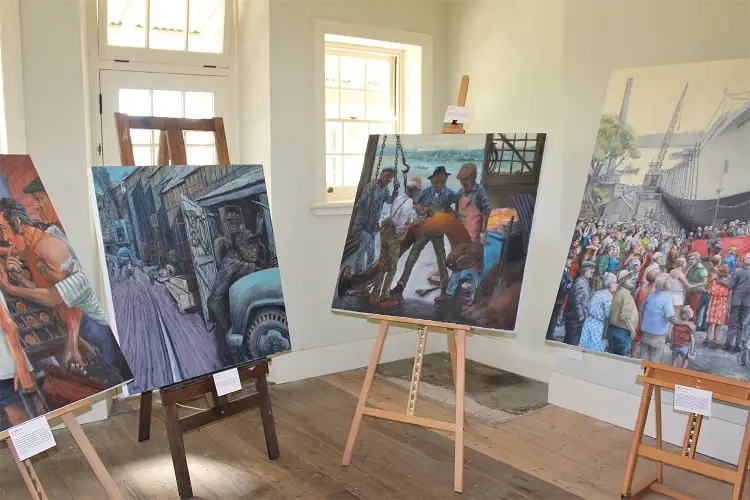 The paintings are Nix's memoirs of his time working on the island during its industrial years. The building itself is lovely too, with old-fashioned rooms like the one below!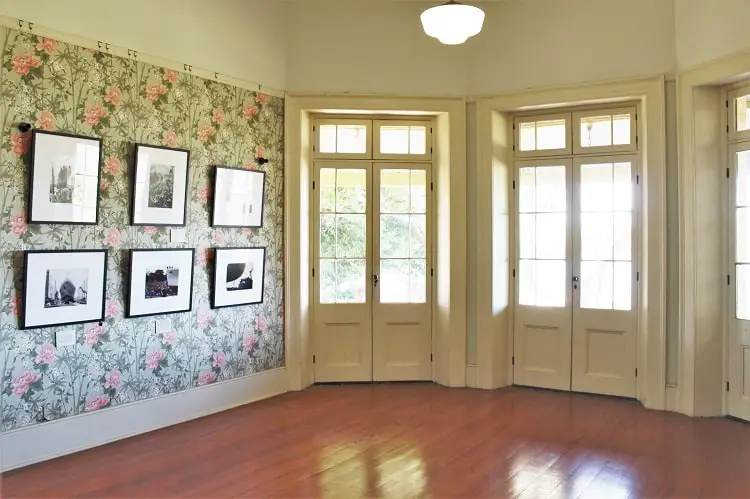 You'll pass the Harbour View Apartments next, as well as pretty Biloela House (the Superintendent's Cottage) and the Federation duplex accommodation.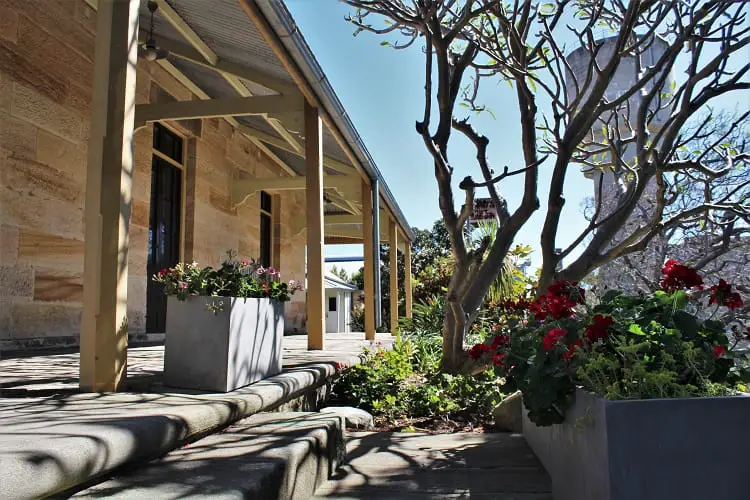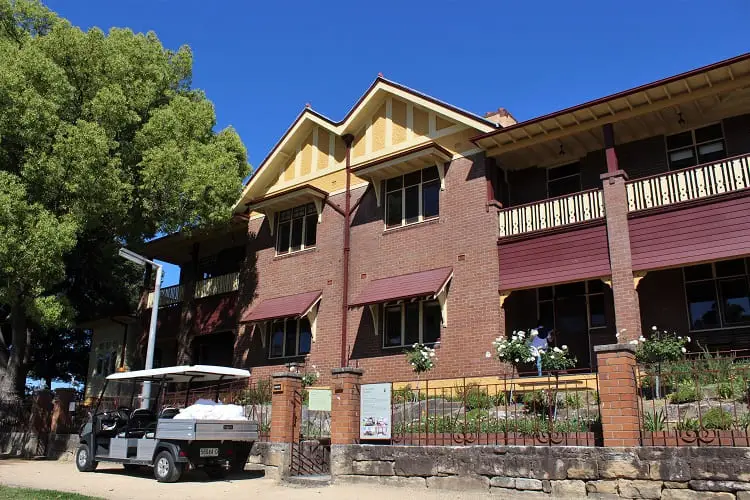 Docks Precinct
The audio tour then takes you through a tunnel and across to the Docks Precinct. Fitzroy Dock, in the picture below, took nine years to build and was used exclusively by the British Navy until the 1860s.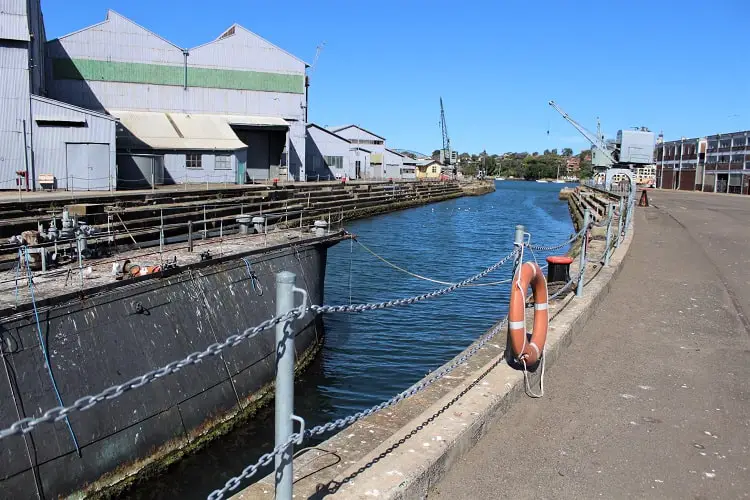 Industrial Precinct
The final section is the Industrial Precinct, where you can wander through some of Sydney's oldest remaining industrial workshops and learn about how unions on Cockatoo Island reformed working standards in Australia.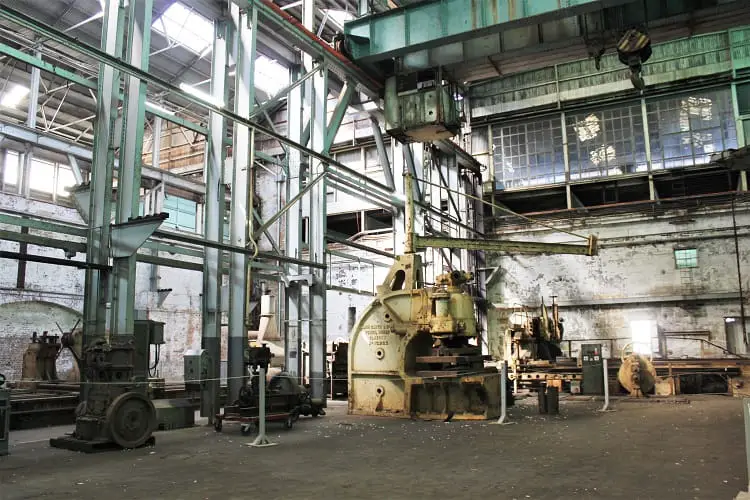 ---
Cockatoo Island Events
To check out events on Cockatoo Island, have a read of their What's On page. During the summer months you can book tickets to Sunset Sessions, where live music is played on those balmy summer evenings!
There's also New Year's Eve tickets (what an amazing location to watch the Sydney fireworks from!) as well as concerts throughout the year.
---
If you're interested in Sydney's historical landmarks, check out my Kurnell day trip guide; it's where Captain Cook first landed in Australia.
If you're just visiting, decide where to stay from my Sydney accommodation guide.
To read about more fun Sydney attractions, take a look at my top recommended things to do in Sydney. Happy exploring!
---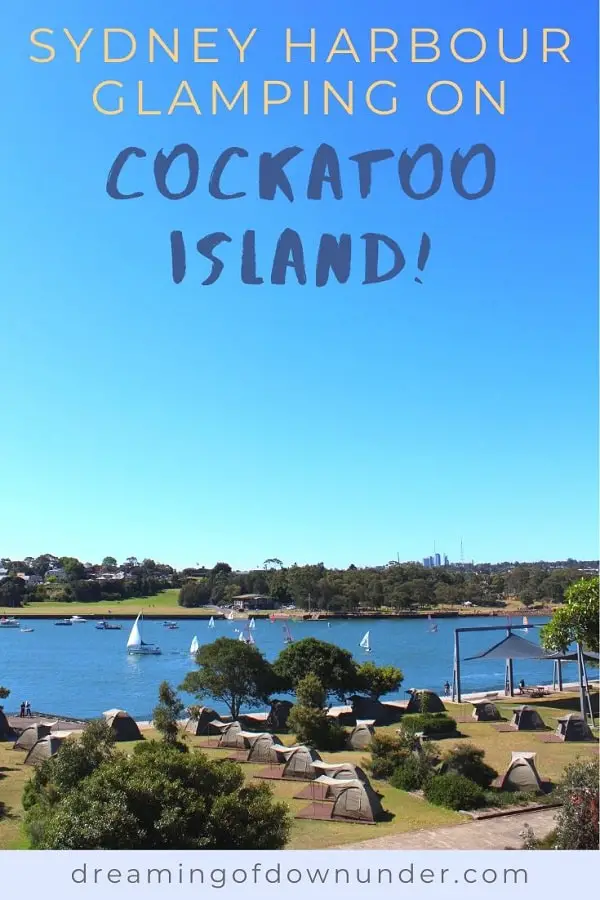 Written by Lisa Bull
Lisa Bull, founder of Dreaming of Down Under, has been living in Australia as a British expat since 2015. After travelling to every state and territory in Australia and living in Perth, Brisbane and Sydney, Lisa knows from first-hand experience the best destinations to visit in Australia and the best budget travel tips. Her guides on this blog have been read by over 700k readers and helped thousands of people achieve their dream of living in or travelling Australia.