This post may contain affiliate links. Please see my disclosure policy for more details.
If you planned on entering Australia during the Coronavirus pandemic, I'm sure you heard about hotel quarantine in Australia.
I returned to Sydney in July 2020 after getting stuck in the UK for six months! Straight after my 30-hour journey via Hong Kong I had to go into mandatory hotel quarantine in Sydney with all the other international arrivals.
In other words, I had to spend 14 days inside a hotel room to prevent me potentially spreading Covid-19 in Australia!
I really struggled to find any useful information about what the experience would be like before I flew back here, as the media only seems to show horror stories (phrases such as "Worse than prison!" "Information shoved under doors!" – I mean, at what speed should information be pushed under a door so that it's not offensive?).
Since people seemed fascinated by my quarantine stories on Instagram, I thought I'd write a blog post about it. So, if you want to learn more about my Australian hotel quarantine experience in Sydney Harbour Marriott Hotel, including the cost, food and rules, read on!
If you want to plan a trip to Sydney, head over to my guide on where to stay in Sydney. It includes the best areas and hotels ranging from cheap to luxury.
I also filmed an Australian hotel quarantine YouTube video while I was in there (my first ever video!), answering all the questions I got. So click on the link above or below if you'd rather watch that!
---
How Long is Hotel Quarantine?
The official quarantine period according to the government was meant to be 14 full days, but you actually only stay in the hotel for 13 nights. You then have to self isolate at home for the final day until you've been in the country exactly 14 days from the time you landed.
They didn't tell us any of this until 4pm the day before we checked out, when an army officer came round to tell us all! I luckily knew it was 13 nights because I'd overheard the person in front of me at check in asking a police officer.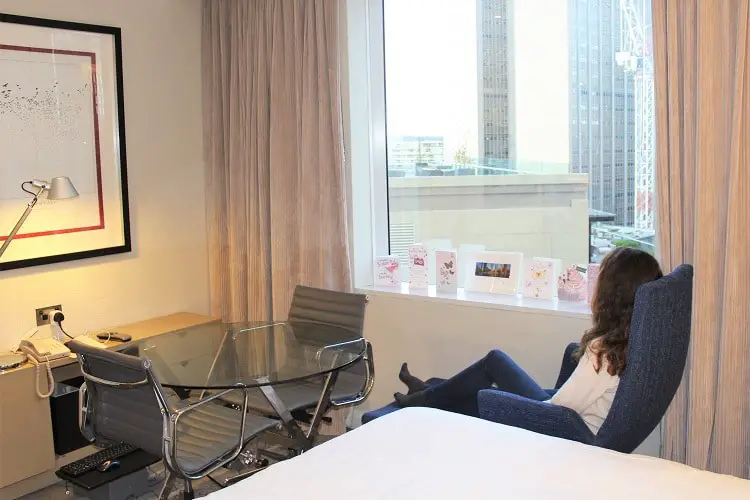 Everyone else was under the impression it was 14 nights, and I heard people saying they had nowhere booked to stay, as they were continuing on to other states and weren't from Sydney.
I'd also planned lots of stuff for the day we left, which I then had to cancel when we were told to stay at home for 24 hours and not see anyone!
You're actually allowed to leave from midnight on your 13th night, up until 10am the next morning. So technically you only have to stay 12 nights. I'd highly recommend leaving early in the morning, as I had to wait with a security guard by the lift for ages when I left at 9am, as there were too many people in the lobby.
---
Do You Have to Pay for Hotel Quarantine in Australia?
I was extremely lucky that quarantine was still funded by the government when I arrived, as you now have to pay. There was a lot on the news in July about how Australians have had plenty of time to return home and the quarantine scheme is costing millions. NSW alone has spent around $65 million so far.
For those arriving in New South Wales on or after 18th July 2020, the cost of quarantine is $3,000 (unless you booked your flight on or before 12th July 2020 – the prices for additional adults and children is also lower). You can read the official quarantine details on the NSW government website.
You'll need to check the government website for whichever state you're landing in, but most are charging from $2,500 upwards now.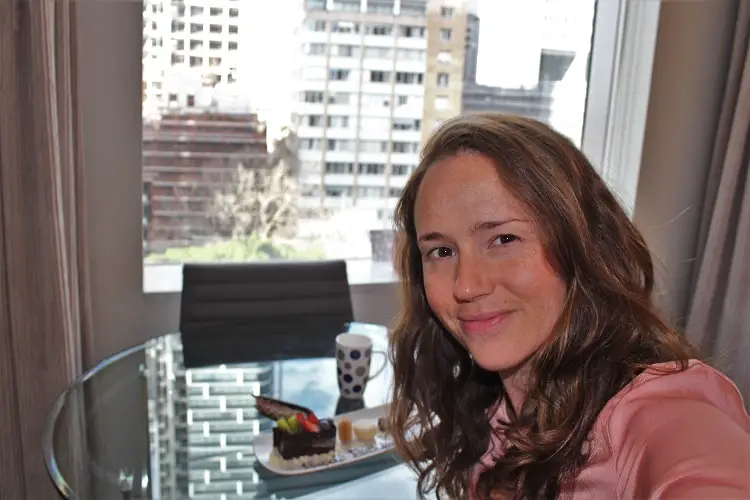 I was also extremely lucky that I even got into Australia, as the day after I arrived they severely capped the number of people allowed to enter the country! My ticket could have been cancelled if I'd been due to leave a couple of days later! I only went for the earlier flight so I didn't land on my birthday.
---
What Happens at the Airport?
When you arrive at the airport, you'll have your temperature checked by a nurse and be asked if you've had any Covid-19 symptoms. Then once you've collected your luggage the police will be waiting outside with the coaches.
They tick your name off a list (you don't need to book anything; they already know who's arriving) and allocate you a coach. Army officers then put your luggage onto the coach and you wait and see where you end up!
---
Which Hotels are Used for Quarantine in Australia?
There's a big mixture, and it's complete luck where you end up. In Sydney it seems to be quite high-end hotels like the Hyatt and Radisson, but I've also seen footage of some studios in the Inner West that don't look that nice.
I ended up at the Sydney Harbour Marriott, which I think was pretty lucky, as everything went smoothly and the room was nice. It was a bit of a shame to be so close to the harbour and have a building site blocking my view, but considering it was free I can't complain!
---
What Happens When You Arrive at the Hotel?
I must say the check-in process went extremely smoothly at the Marriott considering how long winded the procedure was. When we arrived, a very friendly hotel manager boarded the coach to greet us all, tell us the procedure and what we'd need to get ready, and give us a form to fill in.
The army off loaded the luggage while we got off the coach in pairs, to prevent us all standing too close together at the entrance. First we checked in as normal with the hotel staff, and had to give them a credit card in case we ordered food and drink from the room service.
Next came a police desk where they asked for an emergency contact, medical conditions and where we'd be staying after quarantine. Then a soldier takes you to your room and carries your suitcase! It was a once-in-a-lifetime experience for sure!
I felt really confused that I was given an empty cardboard envelope with my room number on without a key card in, then realised that of course we didn't need to get back into our rooms as we weren't going anywhere!
---
Can You Leave Your Room or Open a Window?
At my hotel the window didn't open, and you weren't allowed out of your room for fresh air at all. I know that some hotels do allow people out for a supervised walk around a courtyard if they've got one though.
Everyone seemed horrified I didn't have a balcony, but that's not really standard in a city hotel, and I wasn't expecting one. I didn't really care about the window not opening either, although I know it would bother a lot of people. I just like being warm and having reasonable daylight!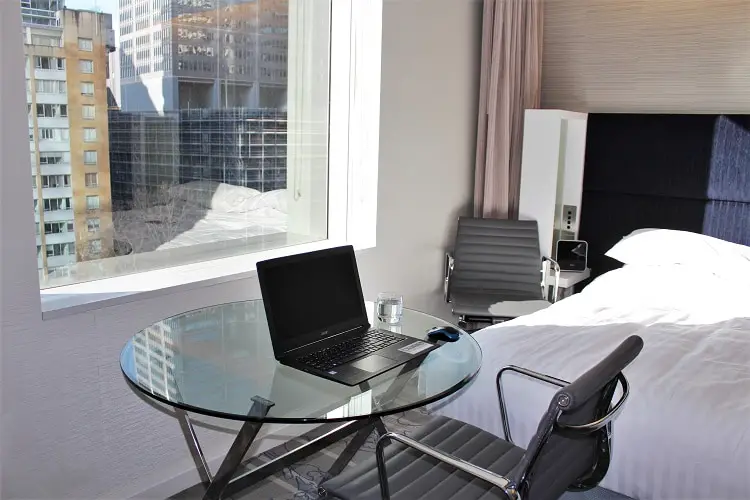 ---
Hotel Quarantine Australia: Food
My main concern was the food in hotel quarantine, as I don't eat gluten or meat, and I tend to eat really often or I get quite faint. I'd seen awful footage from the start of the quarantine scheme where people with allergies were given little tubs of cucumber and tomato as a meal!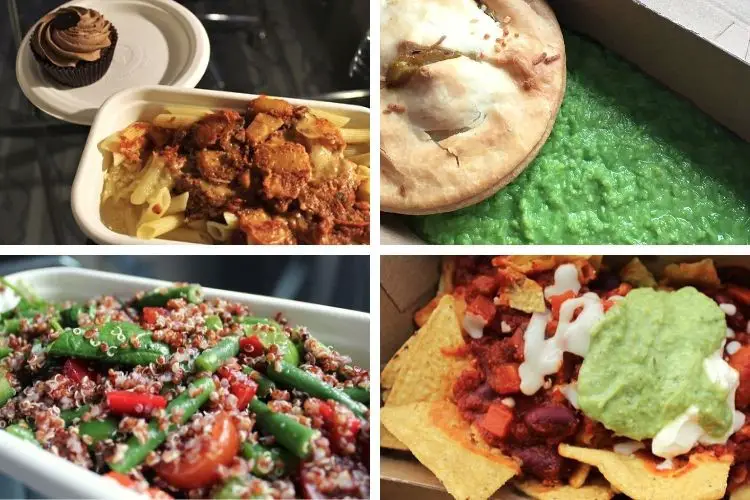 I needn't have worried though. You give the hotel your dietary requirements when you check in and they cater meals around it. You can't choose what meals you have, but you're allowed to order takeaway, supermarket deliveries and receive packages from family and friends. So you can always access more food if you haven't got enough.
Apart from the bizarre pie lunch where they filled a cardboard box full of mushy peas, oh, and a tiny dahl curry that looked like baby food, I liked most of the meals!
It wasn't as much as I'd normally eat, particularly breakfast, which was a nut bar and miniscule 45g packet of cereal, but it was mostly healthy and tasted good! I did have to be a bit inventive and eat the cereal out of a glass though, as you're not given crockery!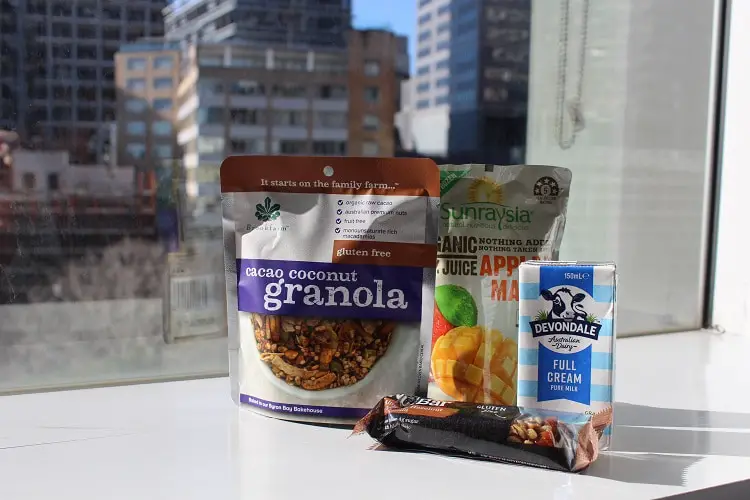 You also got one piece of fruit every day with lunch and a random bag of apples and oranges once a week. The evening meals came with dessert (although most of them were weird jelly things that weren't for me)! And once a week you got crisps – woo hoo!
I didn't have any cooking facilities at all in my room – just a kettle. I've seen footage of people in studio apartments with kitchens though, so it's really pot luck where you end up.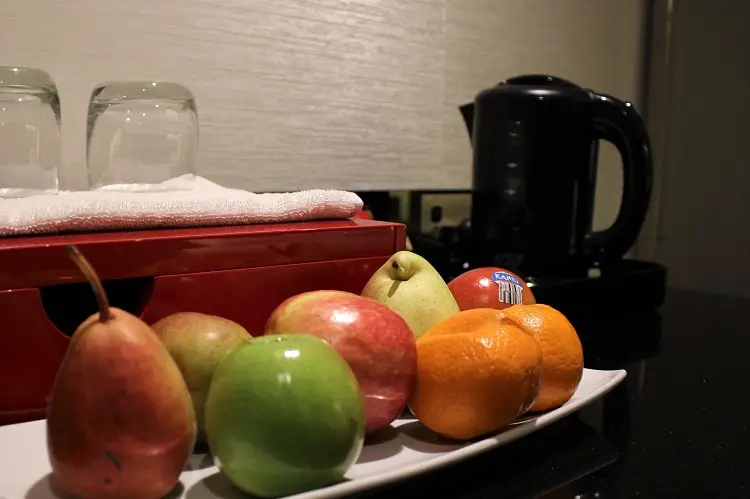 Food is left outside your room on the floor – the staff walk along knocking the doors when it's ready. Oh the excitement when you hear the trolley! You can also order from the hotel room service menu at your own expense, with 35% off. It was still $8 a coffee though!
All meals come in disposable packaging, presumably as the staff aren't supposed to touch anything you've touched. Apart from breakfast which came in a plastic box, it was cardboard or compostable boxes. You get plastic cutlery with each meal, but I just washed mine and reused them.
---
Cleaning, Laundry & Linen in Quarantine
Nobody can enter your hotel room in quarantine, so it won't be cleaned. You're given bin liners for you rubbish, which you leave outside your room once they're full.
You're also given a clean set of sheets and towels after a week, and can put your used stuff into soluble bags that the staff can just throw straight in the wash without having to touch anything inside.
They offered a third-party laundry service at $35 per bag! I just hand washed in my sink.
---
Covid-19 Testing in Hotel Quarantine
Because of the Covid clusters in Melbourne when I arrived back into Australia, they had increased the testing in quarantine. Nurses come to your room and test you in the doorway twice during your stay. We had tests on days three and ten.
You also have a daily phone call from a nurse to check if you've developed symptoms. A mental health specialist and the Red Cross also call you after a few days to check if you're coping OK. I had the NSW health department call to check if I'd developed symptoms the day after I checked out too.
If you're going to run out of any regular medication while you're there, the nurses will sort this for you too.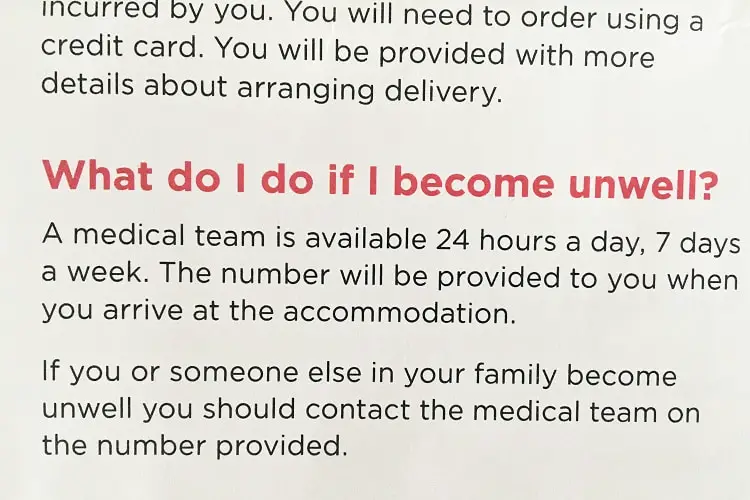 ---
Is There TV and Netflix?
Everyone keeps asking if I had Netflix! We had a TV but just with the usual channels plus some radio stations. There was free internet though, so you could bring an HDMI cable to connect your laptop and stream off there.
---
Are You Allowed Alcohol or Cigarettes in Quarantine?
Another popular question is booze! You are allowed to receive packages from friends, use room service and can do online orders, so if you want to drink your way through quarantine, I'm sure it's possible!
You weren't allowed to smoke in the rooms though, unless you wanted a $500 cleaning fee!
---
Checking Out of Quarantine
The day before you can leave, an information sheet gets pushed under your door and an army officer comes around to tell you what time you can leave and ask what time you'll be checking out.
Nurses take your temperature, check you haven't developed symptoms and give you health certificates to say you've completed quarantine and also been tested. You're given a wristband with your release day on too, that you'll have to show the security guard at the lift when you leave.
No one escorts you out, but the lifts are guarded and you have to stop at the police desk on your way out and then check out as normal with the hotel. Then you feel the waft of fresh air coming through the door and run for your life!
---
Tips for Quarantine
If you're going into Australian hotel quarantine yourself, I'd recommend bringing a cloth and little travel bottle with some washing up liquid in, as you'll need to wash your glasses and mugs yourself. I made do with soap and the hotel's face flannel!
I'd also bring a cloth or wipes for the sink and surfaces if you like to keep clean, as well as an HDMI cable for the TV if you want to connect your devices.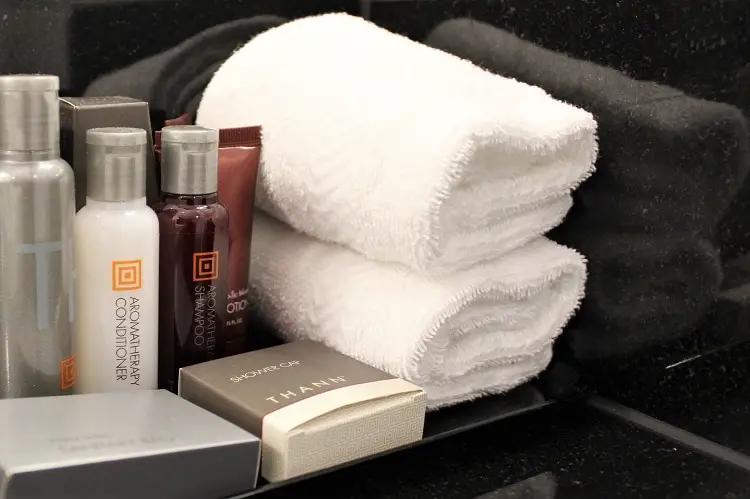 If you want to hand wash your clothes, I'd pack a little travel bottle of laundry detergent.
Make sure you've got plenty of things to do, as there's a lot of time to kill! Books, podcasts, maybe take an online course, clean out your inbox etc.
---
Overall, I didn't have too bad a time in hotel quarantine. I think I struck lucky staying at the Marriott, particularly as the meals all came bang on time (7:30am, 12:30pm and 6:30pm!), and it was extremely clean.
Obviously it wasn't brilliant, but it was warm, safe and comfortable. I would have been less impressed if it had been dirty or I'd had the food I've seen in other people's accounts. The only time I felt panicked was when I was leaving, as I'd got so used to being in there!
As nice as the hotel was though, I don't think I would ever stay at Sydney Harbour Marriott again, even with an Opera House view!
To learn more about Australia's healthcare system, have a read of my post on how Medicare works.
To browse all of my advice on travelling, head over to my travel tips page.
Happy travels!
Written by Lisa Bull
Lisa Bull, founder of Dreaming of Down Under, has been living in Australia as a British expat since 2015. After travelling to every state and territory in Australia and living in Perth, Brisbane and Sydney, Lisa knows from first-hand experience the best destinations to visit in Australia and the best budget travel tips. Her guides on this blog have been read by over 700k readers and helped thousands of people achieve their dream of living in or travelling Australia.