This post may contain affiliate links. Please see my disclosure policy for more details.
If I asked you to picture Australia, historical architecture probably wouldn't be the first thing that comes to mind. Beautiful white beaches with crashing turquoise waves? Yes. Kangaroos bouncing across red, arid landscapes? Definitely. Sash windows and ornate ceiling roses? Not so much.
England, on the other hand, immediately strikes up images of low-ceilinged old pubs with dark wooden beams and five-century-old beer stains, ancient church spires crookedly stretching up to the clouds and cute-as-a-button cottages with cosy log fires.
I love historical architecture; I love that it's usually wonky, that there are dents and imprints from lives gone by, and I love most of all that it's quirky and unique; it has a soul. So when I moved to Australia from the UK I really thought I was giving this all up.

Like many Brits with a penchant for warm weather and a long-harboured desire to move to Australia, I used to watch TV programmes like Wanted Down Under and Phil Spencer Gets Sent on Yet Another Holiday to Oz Under the Pretence of Working (seriously, that should be the title) fanatically. But no matter which city was under investigation, the properties shown to the eager families who wanted to move there always seemed to be modern affairs.
Sometimes fancy, sometimes not, but nearly always plain, boxy, magnolia-walled new homes, with little character and very little to get excited about. And even though I'd lived in Australia as a student and travelled around as a backpacker in my early twenties, I had very little knowledge of what Australian residential property was like, and I can't say I paid much attention to the city centres' architecture at that age.
TV programmes were all I had to go on, and so I was pretty convinced that on gaining a mild climate and the chance to visit the beach on a regular basis (without getting frostbite) interesting old buildings were part of the trade-off, particularly when it came to finding a home. I couldn't have been more wrong.
---
How Can Australian Architecture Seem Historical?
I can hear some of you laughing right now. Pfft, Australia's so NEW. The buildings can't be OLD. And if you're reading this blog post from the ancient streets of Rome or the Old Town of Prague, you've got a valid point. But how historical you find Australian architecture is going to depend heavily on where you come from and what you see on a day-to-day basis.
Yes, I'm from the UK. We have crumbling castles and regal stately homes and a palace with a real-life queen in it. But contrary to what some people seem to think, English people do not all live in quaint little cottages in the countryside, going for scones and tea in the afternoon in Tudor manors and skipping home through fields of bluebells.
We don't actually live on the set of Postman Pat. We also don't all live in London. 'England' and 'London' seem to be interchangeable terms to a lot of people I've met. While much of Britain is indeed very old, much of it is also very new. The modern housing estates in The Inbetweeners aren't a rarity.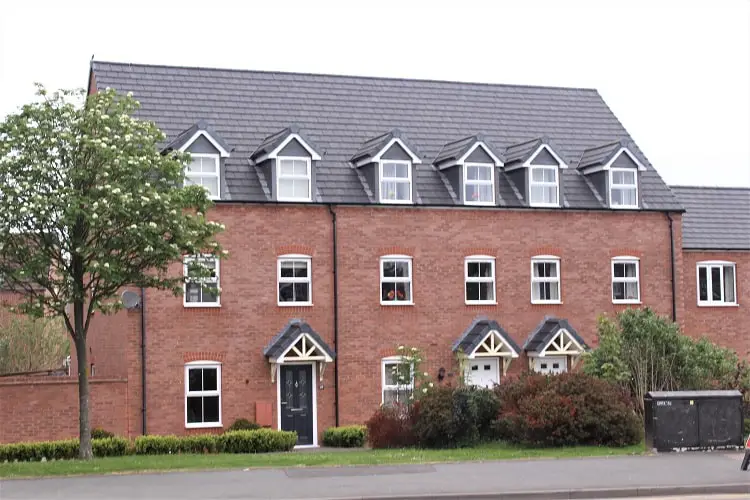 If I'd grown up in a stone cottage in the Cotswolds or a Georgian townhouse in Bath, I would probably laugh in Australia's shiny new face. But I didn't. I've spent most of my life in 1950s-built housing areas of the leafy West Midlands town of Solihull. My friends and I grew up in 3-bedroom semis typical of the area, with central heating and double glazing and not a sash window in sight. Come adulthood we mostly bought our own 1950s semis; either those or red brick houses on modern housing estates similar to those pictured above. None of us have ever lived in buildings you could call historical. After growing up in post-war Britain our Baby Boomer parents wanted windows that kept the draughts out and toilets that weren't in the back garden.
---
My Home Town of Solihull
Now, Solihull is not a place devoid of history; far from it. According to Wikipedia it is a town 'noted for its historic architecture'. Some of the many notable buildings inside the town centre include a medieval church, a tea room inside a timber-framed Manor House built in 1495 and the 16th century Ramada Jarvis Hotel.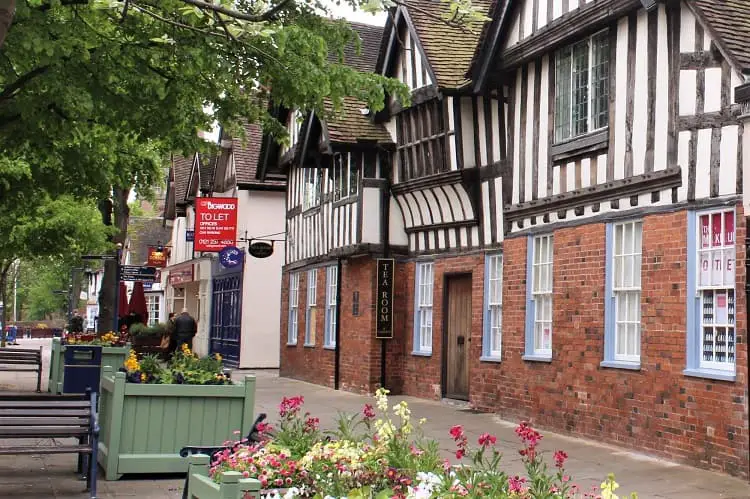 However, Solihull is no longer the small market town it once was; the development of the town centre into the busy hub of life it is now began in the 1960s, when a Victorian Congregational Church and houses a few hundred years old were demolished to make way for Mell Square. So it's a bit of a mixed bag.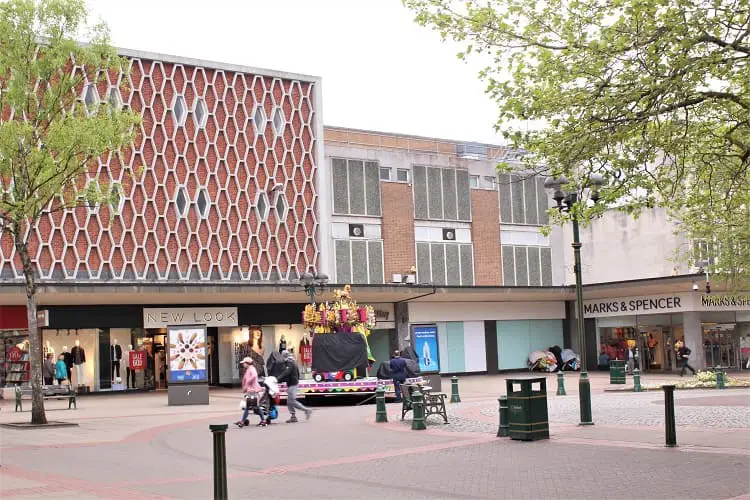 It was this 1960s-built shopping area and its surrounding streets that I would grudgingly get my school uniform from as a child. This area that my friends and I, as young teenagers, would waste hours traipsing around on a Saturday, sticking our fingers into tester pots named 'White Musk' at The Body Shop, browsing through posters of boy bands in Athena and dying our hair with Wella Colour Mousse inside the toilets of Beatties department store. (To the many teenage boys of 1994 with "curtain" hair styles and oversized East 17 t-shirts that we peeped at from behind rows of Superdrug body sprays, giggled at with our mouths full of Big Macs and followed around relentlessly like miniature stalkers in the making, I can only apologise).
And this area, along with other local shopping precincts from a similar era, where we got our first Saturday jobs once we turned 16 – serving sausage rolls to pensioners, weighing Woolworths Pic 'n' Mix for our peers and squeezing chubby children's feet into too-narrow school shoes in Clarks.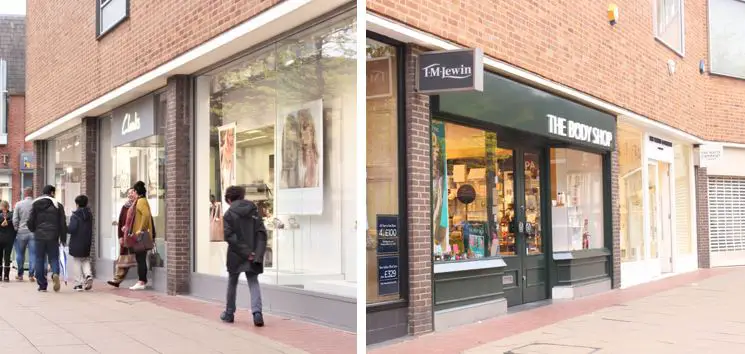 Yes, we could have spent our free periods in Sixth Form sipping tea in the Manor House and admiring the stained glass windows in St Alphege Church, but we didn't. We ate chips and curry sauce on park benches, tried on clumpy heels in Dolcis and perused cassette tapes in HMV. And while we did have a brief fling with the historical end of the High Street to frequent Solihull's one and only nightclub, I can't say we were appreciating the architecture.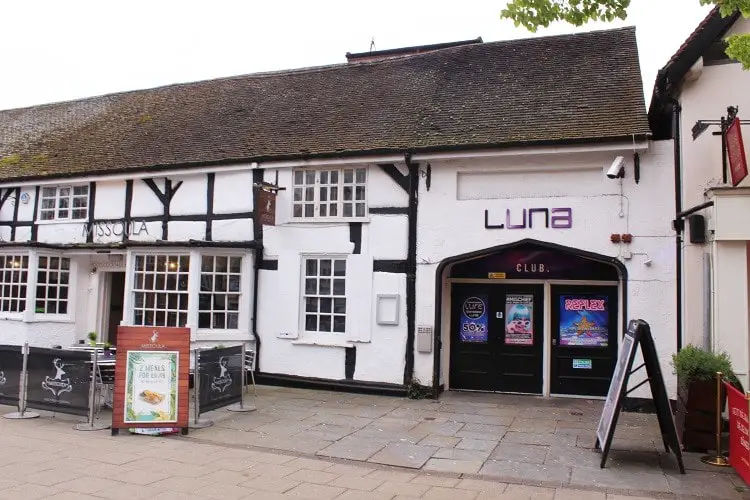 Like many people, exploring what was on our doorstep wasn't big on our agenda. And while we glanced at the older houses dotted here and there as we passed them each day on the bus, they weren't ever part of our lives. It's only as we got older and switched our shopping and clubbing weekends in various UK cities for visits to National Trust homes and weekends in country cottages that we actually started appreciating British history. Original tiled floors and open fireplaces are as much a novelty to us as they are to many Australian people, and things we only really experienced once or twice a year.
---
Australian Architecture
So, how does Australia compare? When I migrated to Australia from the UK I started off my journey in the very pretty city of Perth. Fremantle had some lovely colonial buildings and Northbridge had an older look and the Brass Monkey pub, built in 1896, but in general I found the city to be quite modern.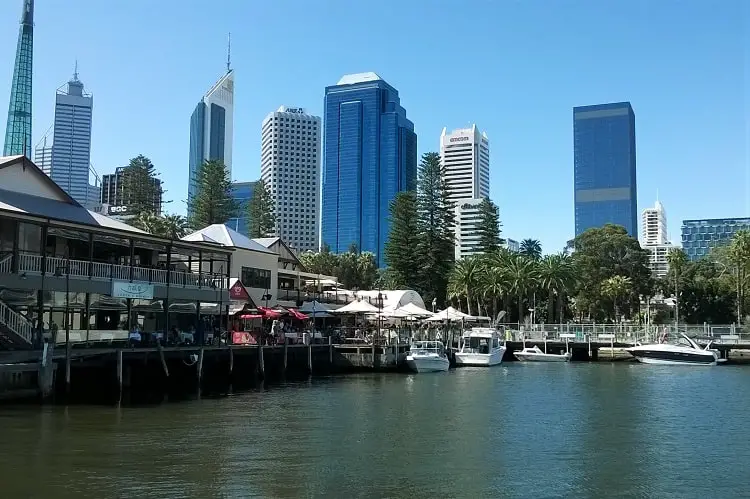 It was only when I reached Melbourne during my road trip across the south coast that I began to be pleasantly surprised by the amount of older buildings. When I mentioned my surprise to our local Airbnb host she told us that much of Perth's old architecture had sadly been ripped down. There's an article here with photos of some of the grand old buildings in Perth that have been demolished to make way for newer ones. But impressed with Melbourne as I was, my end destination was Sydney, and I'm glad to say I wasn't disappointed.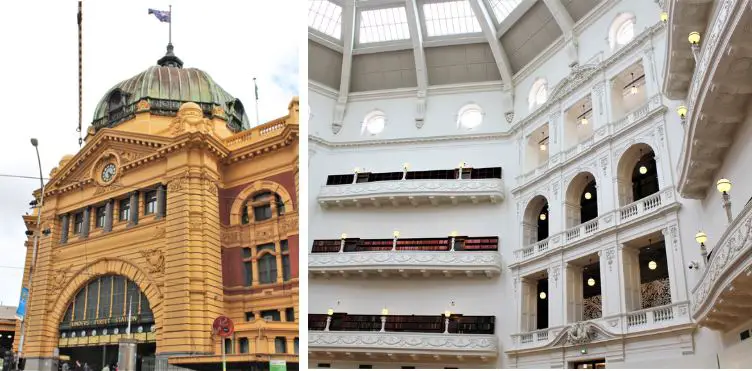 ---
Sydney's Historical Architecture
In terms of the Sydney CBD, or the city centre as us Brits would call it, yes, there are big shiny skyscrapers and modern indoor shopping malls, but mixed in between them are all sorts of lovely old buildings to admire!
You can shop inside the beautiful late-nineteenth century Queen Victoria Building, with its ornate domed ceilings and gently curving staircases; see a concert, film or even red carpet movie premiere at the glittering Art Deco State Theatre, opened in 1929; pass between the giant pillars of the Art Gallery of New South Wales, opened in 1871; and, my personal favourite (not because I'm a geek or anything – honestly!), read, write and study beneath the balconies inside the high-ceilinged State Library of New South Wales, established in 1826, making it the oldest library in Australia – you'll feel like you're in Hogwarts!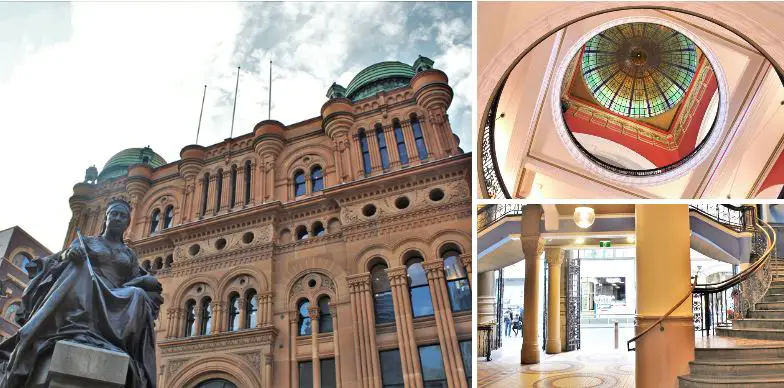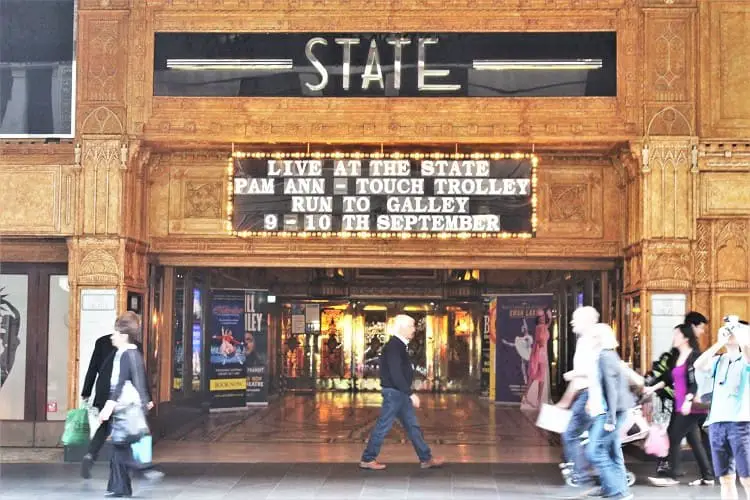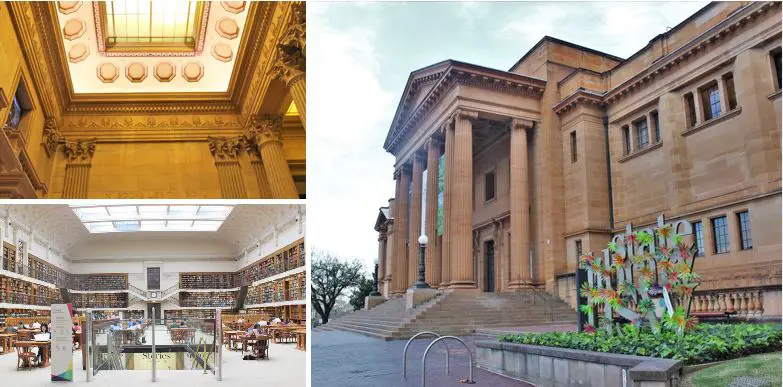 ---
Sydney's Historical Housing
It's not just Sydney CBD that has historical buildings; I get free accommodation in Sydney by house sitting, and nearly half of the houses I've stayed in have been over one hundred years old. I've had a Victorian terrace, with wrought-iron balconies and a fireplace in the bedroom; a large Federation-era home, with a tiled front veranda and sash windows; and some beautiful period homes with ornate ceiling roses and long hallways.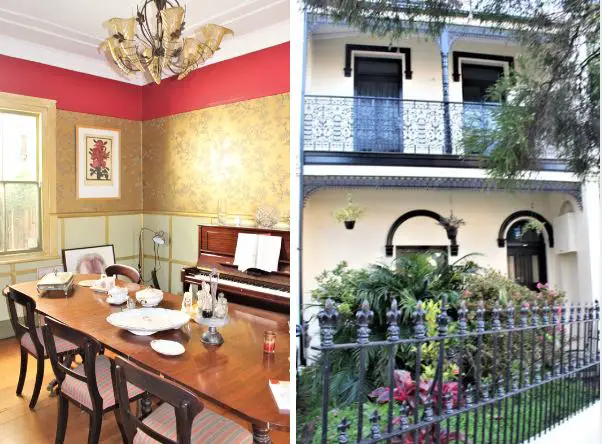 I vaguely remembered seeing a few older houses on previous trips to Sydney, but I thought they were going to be few and far between, a single preserved street to take some pictures of and never see again. But they're everywhere – from tiny cottages to towering gothic mansions!
---
Conclusion on Australian Architecture vs UK
So, very unexpectedly, even though Oz doesn't have any buildings you'd describe as ancient, moving to Australia has meant that I'm surrounded by way more historical architecture on a day-to-day basis than I was in the UK. Australians I've told this to think it's hilarious! I'd never even thought about that fact that much of Sydney was developed over one hundred years ago, when the housing area I grew up in was still mostly farmland.
During my last few years in Solihull I must admit that most of my shopping, dining out, pub trips, cinema visits and coffee afternoons took place in Touchwood Shopping Centre, a big modern building that opened in 2001, for no other reason than it was centrally located between me and my friends and directly opposite my workplace.
In Sydney I tend to go out in areas like Newtown, in the colourful 19th Century buildings lining King Street. Many of the shopping and café strips out in the Sydney suburbs were built in that era and are pleasingly quirky to look at.

So, if you are thinking of moving to Australia but don't like the idea of being somewhere so modern, do think about how much history you're actually seeing on a day-to-day basis in your home country and consider choosing Melbourne or Sydney. You might be pleasantly surprised!
Written by Lisa Bull
Lisa Bull, founder of Dreaming of Down Under, has been living in Australia as a British expat since 2015. After travelling to every state and territory in Australia and living in Perth, Brisbane and Sydney, Lisa knows from first-hand experience the best destinations to visit in Australia and the best budget travel tips. Her guides on this blog have been read by over 700k readers and helped thousands of people achieve their dream of living in or travelling Australia.