This post may contain affiliate links. Please see my disclosure policy for more details.
If you're planning a trip to beautiful Jervis Bay in South Coast NSW and wondering what to see in the area (apart from famous Hyams Beach!), nearby Beecroft Peninsula is a great place for a day out.
Forming the northern headland of tranquil Jervis Bay, Beecroft Peninsula is home to beautiful Currarong village, idyllic Honeymoon Bay beach and camping ground and Point Perpendicular Lighthouse. Not to mention cliffs up to 80m high and a number of walking tracks and isolated beaches in the Beecroft Weapons Range!
Since I house sit in the area a couple of times a year, I've already covered lots of attractions in my guide to Jervis Bay, as well as things to do in Booderee National Park and guide to Jervis Bay beaches. But if you fancy visiting somewhere a bit different, read on to find out more about the Beecroft Peninsula!
---
How to Get to Beecroft Peninsula
Since there's no bridge over Currambene Creek, Beecroft Peninsula is a bit of a pain to get to considering how close it looks on the map. If you're staying on the Huskisson side of the creek, you'll need to drive back inland to the Princes Highway, travel north then turn right onto Forest Road.
Once you've passed the exits to Callala Beach and Callala Bay (I've covered these pretty detours at the end of the post) the road will turn into Currarong Road and lead you straight to the peninsula. It takes about 35 minutes to get from Huskisson to Currarong, and an extra 15 minutes to Point Penpendicular (along a gravel road).
---
Beecroft Weapons Range & Point Perpendicular Access
Note that the majority of the peninsula forms part of the Beecroft Weapons Range, which is owned and occupied by the Royal Australian Navy. It can be closed sometimes for weapons training (I believe just on weekdays), but you can call the environmental rangers on 4448 3411 to check if it's open.
---
Places to Visit on Beecroft Peninsula
Read the sections below to find out about Beecroft Peninsula camping, beaches, walks and things to do!
Currarong
The first stopping point on the Beecroft Peninsula is the lovely village of Currarong. I parked at Abraham's Bosom Reserve to check out the main beach in the village.
Next to the beach is a lovely rocky area that you can explore. The views out to sea are amazing too!
Walk across the rocks and you'll come to Currarong rock pool! The tide was low on my visit, but this would be a brilliant spot for swimming once it fills up.
You can also do a number of walks in Currarong, including Wreck Walk to see the remains of a ship wreck, a walk to Gosangs Tunnel and the three-hour Trig Station Walk.
I chose to eat and drink instead, as it was nearing lunchtime when I arrived! I headed to Zac's on Piscator Avenue, a lovely restaurant that faces the ocean and also has a fish and chip kiosk.
The best part was the park area outside. It's full of benches overlooking the bay, so everyone can enjoy their food outside! The park also has toilets, a playground and a water bubbler.
---
Beecroft Weapons Range
From Currarong, take Lighthouse Road down to the entrance to Beecroft Weapons Range. You'll need to stop at the manned entry booths, where you'll be asked what you're planning on visiting and given a Beecroft Weapons Range information brochure. You'll also need to give them your phone number.
The roads inside the range are gravel. They were in pretty good condition when I visited, but corrugated, so you'll be vibrating your way around and creating a lot of dust! If you've just washed your car you'll regret it!
Note that there are no street lights within the range, and as it's so rural there is lots of wildlife about. Unless you're camping I'd aim to be out of the park well before sunset to avoid running over kangaroos, as this is when they're most active!
---
Cabbage Tree Beach & Long Beach North and South
The first turn off in the weapons range leads to a choice of three attractions. You can take the 2.5km return walk to Green Point, which passes littoral rainforest; a 200m return walk to small, sheltered Cabbage Tree Beach; or the 50m return walk to Long Beach North, which is suitable for swimming and snorkelling.
---
Long Beach South
The second turn off takes you to Long Beach South. You can also do a 1.5km return walk across rocky areas to Fig Tree Bay, a small beach backed by rainforest.
---
Honeymoon Bay & Bindijine Beach
The most famous attraction on Beecroft Peninsula has to be Honeymoon Bay. With its perfect arc of white sand and tranquil turquoise water, almost totally enclosed by rocks and forest, it has a very recognisable shape that looks amazing in drone shots.
There were also kangaroos on the beach when I visited! (And unfortunately a couple of campers blasting out some sort of French rap music which kind of spoilt the ambience!)
Directly next to Honeymoon Bay is Bindijine Beach, a very short walk from the day visitors' car park. This is a longer, straighter beach that's also very pretty.
---
Honeymoon Bay Camping
Honeymoon Bay campsite is in a beautiful forest setting directly behind the beach, and costs $15 per night for up to two people, plus $5 per night for each extra person.
It is only available on Friday and Saturday nights (on most weekends), public holidays and NSW school holidays. You cannot book the campsite; places are allocated on a first-come first-served basis.
The exception is during the NSW school summer holidays, when demand is so high that spaces are given using a ballot system (just like some of the campsites in Booderee National Park) using application forms available between 1 July and 31 August. See this Honeymoon Bay camping information brochure for more details.
Note that the only facilities at Honeymoon Bay camping ground are porta-loos and bins. You need to bring your own water and camp stove etc.
---
Walks from Honeymoon Bay
From Honeymoon Bay, you can also access a walking track through the forest to Target Beach (4km return), which has views towards Point Perpendicular. Swimming is not recommended here though.
You can alternatively take the turn off from the Target Beach track to secluded Silica Cove, which would make the walk 6km return instead.
---
Target Beach and Boat Harbour
Before you reach Point Perpendicular Lighthouse, you'll pass a couple of walking tracks that start directly on Lighthouse Road. The first is a 6km return track to Fishermans Beach and Little Target Beach, which involves a difficult rock scramble.
The second walk is also 6km return, and leads to Boat Harbour, which has views across to Bowen Island and Murrays Beach in Booderee National Park.
---
Point Perpendicular Lighthouse
At the very tip of Beecroft Peninsula is iconic Point Perpendicular Lighthouse, about 10km from the Beecroft Weapons Range entrance. Built in 1899, the lighthouse stands 93m above sea level.
You can't enter the lighthouse, but you can park up and walk around the base. You'll see the beautiful view across Jervis Bay from the clifftop.
---
Point Perpendicular Walk
From the lighthouse car park, you can also do the 2km return Outer Tubes walk. The torpedo tubes were installed during WWII to protect from enemies.
You get some great views along the walk. The first part is fairly flat, and leads to a bench with the beautiful lookout in the picture above.
The second part is steeper and very rubbly. You do get better views of the cliffs, but it's worth doing just the first part if the rest is too challenging!
---
What to See on the Way to Beecroft Peninsula
As I mentioned earlier, on Forest Road on your way to the peninsula you'll pass turn offs for Callala Beach and then Callala Bay. These are very pretty beach suburbs,and worth visiting if you have the time.
Callala Beach & Myola
If you've been to Huskisson, you'll have noticed the gorgeous swirl of white sand nestled inside the curve of Currambene Creek. This is Callala Beach, the longest beach in Jervis Bay (5.6km). The suburb backing onto the tip is Myola.
If you want to walk down to the tip, park at the end of Catherine Street to access the furthest part of the beach. There's also a ferry between Myola and Huskisson if you want to pop over that way instead of driving.
Note that there tends to be a build up of sea grass on many Jervis Bay beaches during the winter, which I'm guessing is cleared in summertime. This why they look different in my pictures to the pristine white beaches you'll see in most advertising material!
Callala Bay
Next to Callala Beach is Callala Bay, a small, very pretty coastal town. Park up at Callala Bay boat ramp, and you'll find barbecues, picnic tables, toilets, a jetty and a childrens playground.
The water in the bay is amazingly clear and calm, and the area feels really peaceful.
I went for a walk along the beach as far as Wowly Creek. The beach extends much further though, with the greenery of Jervis Bay National Park sitting behind it.
---
I hope you enjoyed this blog post on Beecroft Peninsula! For more ideas on trips from Sydney, check out the blog posts below. There are so many amazing spots to visit in NSW!
---
10 Best Weekend Getaways from Sydney
---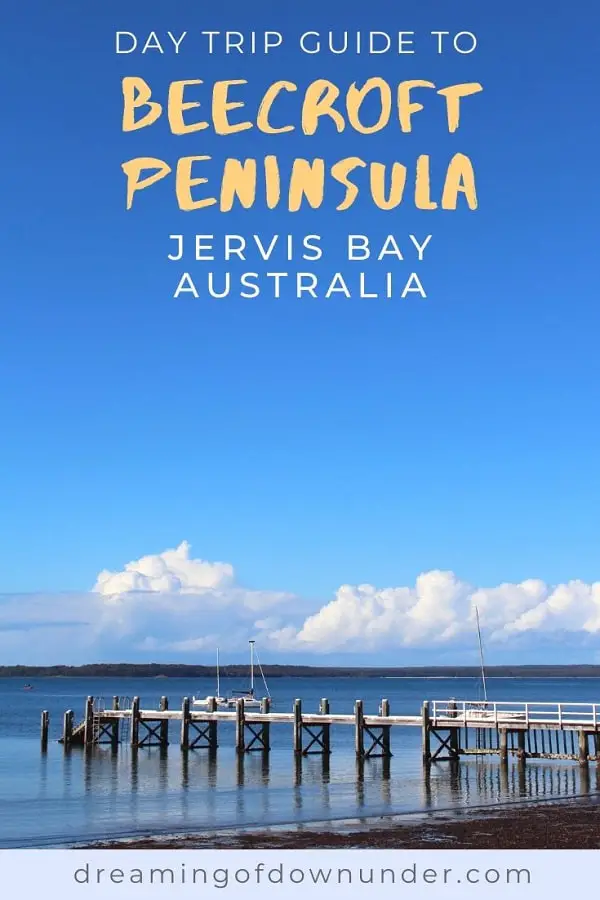 Written by Lisa Bull
Lisa Bull, founder of Dreaming of Down Under, has been living in Australia as a British expat since 2015. After travelling to every state and territory in Australia and living in Perth, Brisbane and Sydney, Lisa knows from first-hand experience the best destinations to visit in Australia and the best budget travel tips. Her guides on this blog have been read by over 700k readers and helped thousands of people achieve their dream of living in or travelling Australia.