This post may contain affiliate links. Please see my disclosure policy for more details.
If you want to immigrate to Australia and are wondering how to get Australian permanent residency (pr), this guide will walk you through the steps I took to get a points-tested, subclass 189 skilled independent visa.
The 189 visa is a skilled migration visa, where you'll need to have specific qualifications or work experience to pass a skills assessment in one of the professions on the Australian skilled occupations list, as well as have enough points on the pr points calculator.
The skilled migration visa 189 allows you to permanently live and work anywhere in Australia and is not reliant on a company or state sponsoring you. You can also apply for Australian citizenship after four years of living in the country on this visa.
Please note that this article is sharing my own experience and is not intended as advice. You will need to find a MARA-registered migration agent for help and advice. Read on to find out more!
---
Step 1: Check the MLTSSL Australia Skilled Occupation List for 189 Visa
The first stage of finding out if you qualify to immigrate to Australia on the skilled migration 189 visa is to check if your job is on the skilled occupation list. This lists the professions that Australia has a shortage of workers in.
For the subclass 189 visa, you need to look at the Medium and Long-Term Strategic Skills List (MLTSSL). Just select the 189 Skilled Independent visa from the dropdown menu at the top of the list to narrow it down to the relevant professions. (See the screenshot below.)
Note that your job title doesn't need to be an exact match to an occupation on the list; it can be a closely related occupation.
For example, I qualified for a 189 visa through the occupation "Management Accountant" (ANZSCO code 221112) because I had previously completed the CIMA qualification. I'd never actually worked as an accountant, just as a business analyst and securitisation manager for a finance company.
---
Step 2: Check the Assessing Authority for the Required Qualifications
The second stage in the 189 visa requirements is to check if you have the necessary qualifications to be accepted into your profession in Australia.
On the skilled occupation list, you'll see a column titled Assessing Authority alongside each profession. These are the professional bodies that will need to check your qualifications against their criteria before you start your 189 visa application.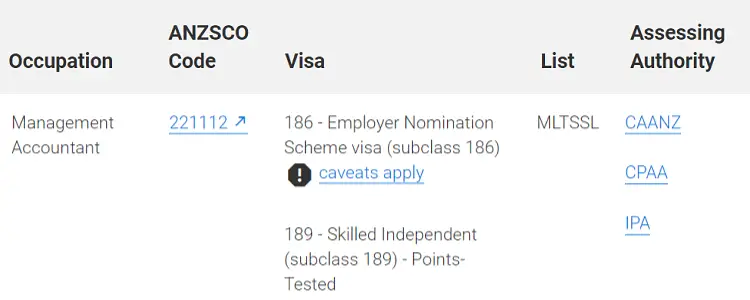 For my 189 migration assessment as a management accountant, I chose CPA Australia as my assessing authority (see above).
Just visit the website of the relevant assessing authority for your occupation and search for their migration page. This should detail their process for your skills assessment and their requirements.
---
Step 3: Use the 189 Visa Points Calculator & Check Requirements
The third stage in the skilled migration process is to check if you meet the 189 visa requirements.
Check the eligibility tab on the Australian immigration official website's 189 visa page for full requirements, which include being under age 45, having competent English and meeting the health and character requirements.
You will also need to score at least 65 points on the 189 visa points calculator to get Australian permanent residency (pr) through this skilled migration route. The areas you can gain visa points in are:
Age;
English language ability (you'll need to guess this for now);
Skilled employment experience;
Educational qualifications;
Australian study;
Specialist education (Masters or Doctorate from an Australia institution);
Credentialled community language;
Study in regional Australia;
Partner skills qualifications;
Professional year in Australia.
I scored 65 points to get my 189 visa: 30 points for age, 20 points for Superior English language (I took the IELTS test and scored at least 8 out of 9 in each component) and 15 points for educational qualifications (a degree from the University of Sheffield in the UK).
I didn't get any points for skilled employment experience, as I had less than three years of work experience after qualifying with CIMA (any experience before that was classed as unskilled).
Now, you get 10 points for being single under the partner skills section, as well as for applying with a skilled partner who meets the 189 visa requirements! This wasn't the case back when I applied.
If you don't have sufficient points to meet the 189 visa criteria, try looking into the 190 visa (skilled state nominated) or 491 visa (skilled work regional).
---
Step 4: Check SkillSelect Invitation Rounds for Realistic Points Needed & Occupation Ceilings
Before applying for a subclass 189 visa, you first have to submit an expression of interest (EOI – see step 7), and then wait to be invited to apply.
Unfortunately, having at least 65 points on the calculator doesn't guarantee that you will be invited to apply for the 189 visa. Since there are a limited number of places available for skilled migration, and priority is given to applicants with the highest points, it can be that only those with a very high level of points are currently being invited to apply.
When I applied years ago, there were enough places available for everyone who met the points criteria (60 points at the time) to be invited to apply immediately. This has changed over time, and because of Covid, much fewer places are available at the moment, and invitation rounds are currently once a quarter.
To check the current situation, take a look at the SkillSelect invitation rounds on the Australian immigration website. In the "Current round" section, you'll see the number of invitations issued in the last round.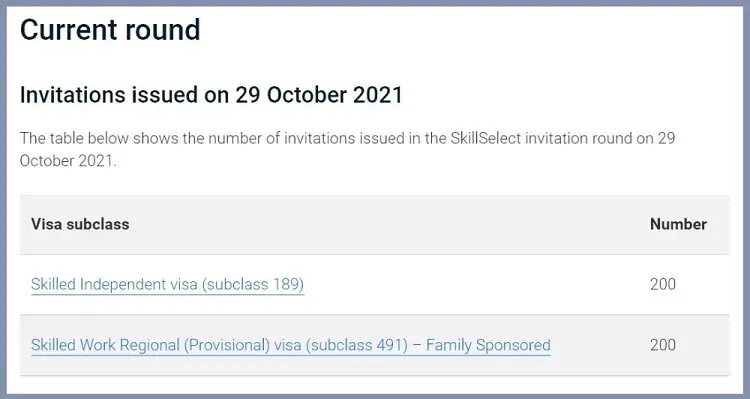 Below that is the "invitation process and cut offs" section (see the screenshot below). You can see that invitations to apply for the 189 visa in the 29 October 2021 round were only sent to those with 90 points or above in the last round.
The latest date of effect is November 2020, a year earlier, which gives you an idea of the 189 EOI processing times.
Further down the page, you can open up the invitation rounds for previous periods. In the July 2021 round, some visas were granted to applicants with 80 points.
Below the process and cut offs section, you can see the minimum points and date of effects for the occupations that have an occupation ceiling (pro rata occupations). These are certain occupations that have so many applicants that they increase the minimum points needed to apply to above 65.
You can see from the screenshot below that Industrial, Mechanical and Production Engineers need at least 90 points. Do check for any updates though.
The year after I applied for my 189 visa, they increased the threshold for accountants to 70 points, meaning I wouldn't have got in if I'd waited a year later! I believe it went up to 85 points the year after that!
---
Step 5: Take the English Test (IELTS)
If you're confident about meeting the eligibility requirements for the subclass 189 skilled migration visa, the next step is to take one of the English tests, so that you can put your actual results onto your EOI.
While you do not technically need to take the English language test if you are a citizen of (and have a passport from) UK, US, Canada, Republic of Ireland or New Zealand, you may need a high English score for your pr visa to get enough points.
Your particular occupation may also require you to take the English test and get a minimum score to be accepted. For accounting, I had to get at least 7 out of 9 on each of the four components of the academic IELTS test. So, I had to take the test before applying for my skills assessment from CPA Australia.

There are various English tests you can take. I took IELTS at Aston University in Birmingham, UK. Make sure you book in advance; places filled up quickly when I booked in. It's also worth doing as much preparation as possible, even if you're a native English speaker.
Also, note that you can pay to get your IELTS exam remarked if you don't get the results you needed and you believe your test was unfairly marked. I only got 7.5 in the writing component at first, but needed 8 for the superior English points.
After finding some example papers online, I could tell the 7.5 band was a much lower standard than my own. The grammatical errors were those only a non-native English speaker would make!
I paid around £65 for a remark, and they bumped my grade up to 8.5 and refunded the remark fee.
---
Step 6: Complete Your Skills Assessment
The next stage in the 189 visa process is to get your skills assessment done. This is carried out by the relevant assessing authority for your occupation (covered in step 2), and you'll need to follow the steps they outline.
Depending on your occupation, the assessing authority may also calculate your eligible points for the work experience part of your visa. Since I wasn't claiming any points for work experience, it was simply a case of me sending signed copies of my degree and CIMA accountancy certificates and results transcripts to CPA Australia.
Unfortunately, these had to be sent by post from the UK, and the response time was very slow. They also declined them twice, as I hadn't sent exactly what they wanted!
Since I had taken an entry course (CBA) to get onto the CIMA course initially, the CPA wanted my results from that course combined with the results from my CIMA course all on one page rather than separately. I had to contact CIMA, but thankfully they responded quickly and sent me what I needed!
---
Step 7: Submit Your Expression of Interest (EOI)
Once you've passed your skills assessment, the next step is to submit your EOI through SkillSelect, which will be valid for two years. Note that this isn't your actual 189 visa application, just an Expression of Interest, which is free.
Your 189 visa points will be automatically calculated, and you can update your EOI if your circumstances change. After this, you'll need to wait to be invited to apply for your visa in one of the SkillSelect invitation rounds (as explained in step 4).
---
Step 8: Submit Your 189 Visa Application
Once you get an invitation from SkillSelect to apply for your visa, you have 60 days to lodge an application. Here's a screenshot of my own invitation.

It is best to get all the documents required after an EOI application ready in advance, so that you can apply for your visa as quickly as possible. Here's a 189 visa document checklist of everything I included with my application:
Passport;
Passport photo;
Degree certificate & transcripts;
CIMA accountancy certificate & transcripts;
Skills assessment;
IELTS certificate.
I took colour scans and had copies of my qualifications certified by another accountant at work.
The 189 visa cost as at November 2021 is from $4,115 AU.
---
Step 9: Police Check and Medical Exam
I was prompted to book my medical test to meet the Australian migration health requirement and get my police check after I applied for my permanent residency visa. Make sure you check the current requirements though, as I believe you can have your medical before applying if you prefer.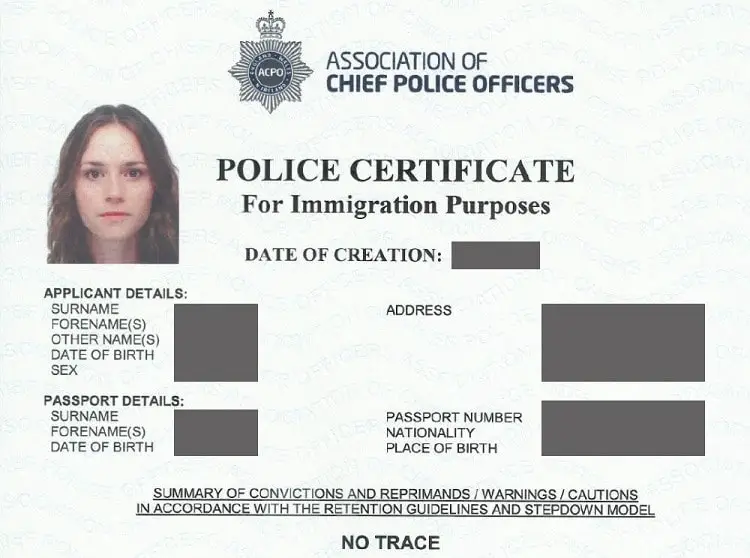 The migration health exam will need to be taken and paid for privately with a special panel doctor who is registered to undertake the tests. My test included an eye test, blood pressure check, urine sample, chest x-ray, HIV blood test and basic examination with a doctor (checking your heartbeat and glands).
I was actually falsely diagnosed with a heart murmur during my medical in Birmingham and had to wait five weeks for a scan with the NHS before my health exam could be signed off!
---
Step 10: Wait for Your Visa Grant Letter!
Hopefully, all will be successful, and at some point you'll receive the long-awaited email with your 189 visa grant letter, making you a permanent resident of Australia!
The processing time of my 189 visa was three months, but many were being processed in one month back then. Unfortunately processing times are much slower now.
Here are a few things to note about the dates and details on the visa grant letter. Here's an extract from mine below.
The "Visa Grant Date" is simply the date you received your visa grant letter.
You must arrive in the country by the "Make First Entry to Australia Before" date, or your visa will not be validated. Mine was exactly a year after the date of my police check. (I believe it will be a year from the earlier of your police check and medical exam.)
The "Must Not Arrive After" date relates to your travel facility (exactly five years after your visa grant date). You can freely travel to and from Australia up until this date. After that, if you leave Australia (even for a holiday), you'll need to have citizenship or a resident return visa to re-enter the country. The resident return visa is very quick and easy, lasts another five years and doesn't affect your permanent residency. Mine was granted within a few minutes of applying, so I think it's an automated process.
The "Travel Facility Multiple" just means you can freely come and go from Australia as many times as you want up until the date I detailed in the previous point.
"Visa Conditions NIL" means there are no conditions on your visa. Unlike other Australian visas, you are not obliged to live in a certain state or work for an employer that is sponsoring you. You're actually not even required to work in the occupation you applied under. I travelled for over a year when I arrived, and had a total career change after that!
---
I hope that helped explain the rather complicated process of applying for an Australian skilled migration visa via the points tested 189 subclass! Remember, if you need help or advice, a MARA migration agent is your best bet, as they have all the up-to-date information and are legally allowed to advise you.
To learn more about life Down Under, check out my page on where to live in Australia or how Medicare works. Good luck!
---
Like it? Pin it!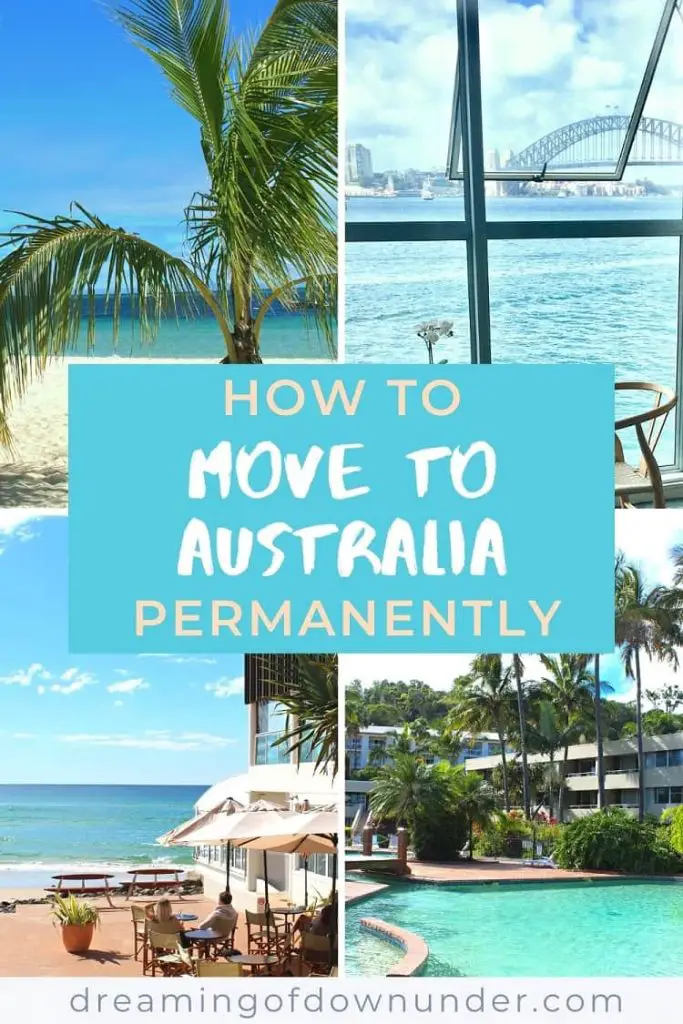 Written by Lisa Bull
Lisa Bull, founder of Dreaming of Down Under, has been living in Australia as a British expat since 2015. After travelling to every state and territory in Australia and living in Perth, Brisbane and Sydney, Lisa knows from first-hand experience the best destinations to visit in Australia and the best budget travel tips. Her guides on this blog have been read by over 700k readers and helped thousands of people achieve their dream of living in or travelling Australia.