This post may contain affiliate links. Please see my disclosure policy for more details.
Alfresco dinners in the tropical gardens of a Mediterranean villa… Floating idly across a turquoise infinity pool… Working remotely from a beachside bungalow on an idyllic island in the Bahamas… The idea of house sitting can conjure up a sea of hedonistic images, which many house sitters happily rave about. (Yup, me too! Check out my blog post how I saved $30k house sitting across Australia for my own glorious story!)
But what about the disadvantages of house sitting? The pitfalls that house sitters never talk about?
House sitting is something I discovered on my road trip across Australia and now get paid for in Sydney, saving me thousands of dollars every month and often allowing me to live in large and luxurious homes.
It has many, many perks, but there are a few downsides too. So if you're thinking of becoming a house sitter, here's my very honest list of the pros and cons of house sitting!
Like it? Pin it!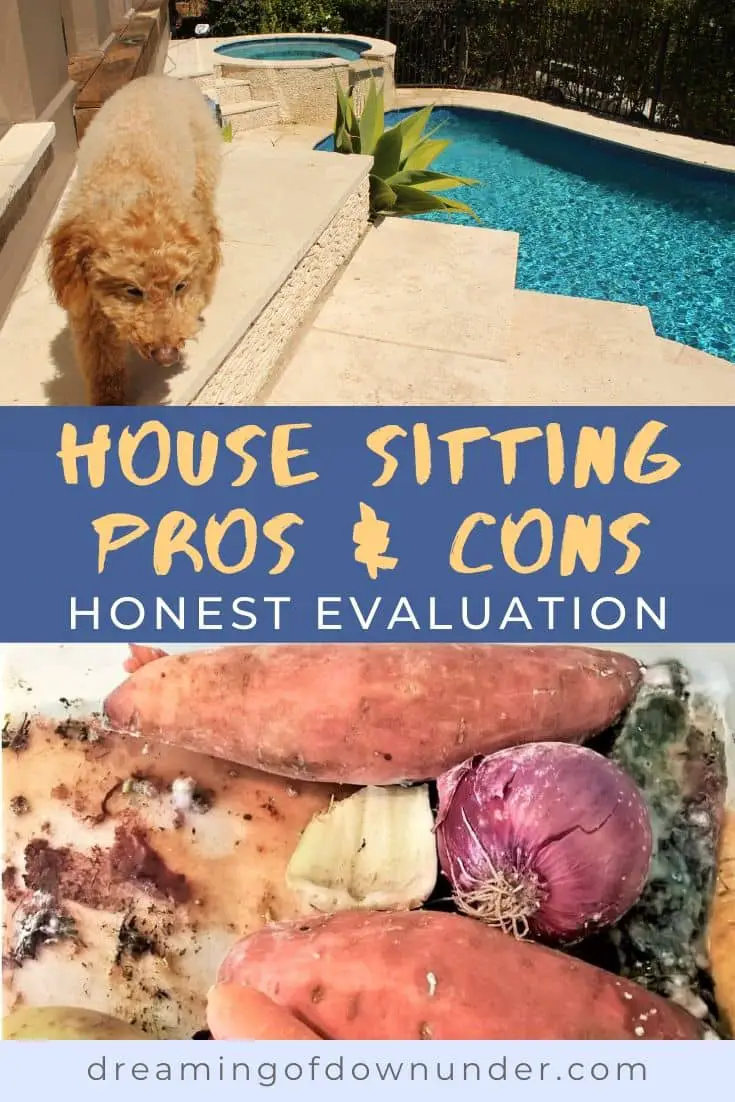 ---
Advantages of House Sitting
FREE ACCOMMODATION
The obvious benefit of house sitting, and what draws most people in, is of course the rent-free travel and living. House sitting saves you an absolute fortune, whether you're staying put in an area or travelling the world. Rent, mortgage payments or travel accommodation is likely to be your biggest cost in life so being able to live rent-free is a huge money saver.
PURSUING YOUR DREAMS
Many people want to carve a new and more satisfying career but feel it's too risky to leave a stable job when they've got rent or a mortgage to pay. House sitting is a great solution to keep costs down while you're setting up a new business, writing a book, travelling the world or saving for a house deposit. Or even just to experience living in a new city for a while that would ordinarily be too expensive.
LUXURY PROPERTIES
While not every house I've stayed in has been a mansion, they're usually more than comfortable. House sitting in Australia tends to be for families or older couples who have pets, so the properties are often large family homes with plenty of space and fully equipped kitchens. I've had heated swimming pools, gyms, saunas and million-dollar views across the city and ocean. For those who enjoy luxury, this is one of the big advantages of house sitting!
CLEANING YOUR TRAVEL GEAR
If you've been on the road for a while you will most likely feel very grubby. I'm not even travelling any more and I still get an inexplicable amount of leaves in my suitcase! On a house sit you will not only have a private bathroom (perhaps even a bathtub – ooh imagine!) to perform a much-needed makeover in , but hopefully the facilities to wash and vacuum your car, deal with your build up of laundry and give any camping gear you have a good scrub.
NO HOUSE MAINTENANCE OR DECORATING
I spent five years renovating my house (whilst living in it) before I moved to Australia, and it's so lovely to be able to go out and enjoy myself on the weekends without feeling like I ought to be at home painting skirting boards or sledge hammering edging bricks in the garden! While you may be required to do a bit of garden watering or patio sweeping on a house sit, you will be free of major household tasks, leaving you with so much more free time!
AMAZING ANIMALS
Lots of people miss their pets while they're travelling, or love animals but simply don't want the responsibility just yet. House sitting, which nearly always includes looking after a pet or four, allows you to have constant animal company and do all the fun stuff with them – playing, walking, cuddling – but without any expensive vet bills.
MEETING LOCALS
It can be hard to get to know locals if you're travelling and staying in hostels with other backpackers all the time. House sitting means you can get to know the owners before you start the sit and hopefully find out lots of local knowledge about the area you're in. I'm good friends with some of the people I've house sat for now and even spent last Christmas with one lovely family!
ESCAPING TOURIST AREAS
On previous visits to Sydney I'd only got to know the tourist areas and had no idea what lay beyond. Now I'm living out in the suburbs I'm discovering places I wouldn't have known existed. It's a great way to test out areas in a new city before deciding where to settle down.
---
Disadvantages of House Sitting
MOVING FREQUENTLY
If you are house sitting long term you will need to move house quite often, particularly if you want to stay in a high-demand city like Sydney. Some house sits are pretty long, occasionally up to 6 months, but they generally last 1-2 weeks to cover the owner's holiday.
If you're totally flexible on location though and happy to stay in rural areas, you'll have much more choice and could probably choose longer house sits only. I try to book long house sits when I can, and then fill the gaps in with shorter ones. You will also need to find somewhere to stay when you're not booked up.
LAST-MINUTE CANCELLATIONS
This is one of the biggest pitfalls of house sitting. Most unpaid house sits are arranged on a trust basis only. This means that the house owner (and house sitter for that matter) is free to pull out at any time without repercussions.
I used to regularly see adverts from house owners whose house sitters have dropped out last minute when I used to use the unpaid sites like Aussie House Sitters. And I once had a house owner drop out on me the day before my house sit was meant to start as her visa hadn't come through. House owners also sometimes come home early with little notice; I've had this happen more than once.
These scenarios are when paid house sits through websites like Mad Paws and Pet Cloud offer more security for both parties, as the owner has to pay the sitter's fee upfront through the website, and the website only releases the fee to the sitter once the owner confirms the house sit actually took place. Owners are unlikely to pay for a sitter in advance if they're not certain they're going away.
LIVING OUT OF A SUITCASE
This is definitely one of the pitfalls of house sitting for me. If you're travelling you'll be used to this anyway, and it will probably be a relief to have space to empty out your clothes and sort them out – even if it's all over the floor! But living out of a suitcase long term can get really annoying. I have some clothes I hardly ever wear because they crease so badly!
BEING MESSED AROUND BY HOUSE OWNERS
Most house owners are a pleasure to deal with, but just like at school, there are always those who spoil it for everyone! I must say that since I've been house sitting through Madpaws I haven't really been messed about as it's more of a business arrangement and the owners seem to treat you with a bit more respect. But back when I house sat unpaid and everything was based on trust I experienced all kinds of bad behaviour from house owners.
This included them suddenly stopping replying to my emails with no explanation, deciding they didn't want to go away/use a house sitter after all (why did you advertise? WHY?!), not bothering to let me know they'd chosen another sitter after I took two hours out of my day to travel over and meet them, assuming my role is to carry out any job/errand they need doing 24/7 for no pay, and saving the best for last, the time I drove to a lady's house as arranged and nobody answered the door. I spent half an hour sitting on her doorstep before giving up and going home, then discovered a few hours later that she'd been in all along but had got drunk and passed out on the sofa!
BADLY BEHAVED PETS
I love animals. I love them as much as anyone could. But while many of them have been a delight to look after, I've also had some terrors. I had one house sit where the dog kept pooing on the carpets in the night (even weeing on the carpet whilst looking me square in the eye on one occasion), whining at top volume if I so much as looked at the other two pets, and persistently mounting his old and frail mother, including in the back of my car!
Another dog did a huge wee on my bed. I've had three dog divas decide they don't want to walk any further and go on strike during walks. There was the time I got bitten by a one-toothed Chihuahua. Oh, and one dog actually moved a chair, climbed up on the kitchen worktop and ripped open my bag of porridge oats!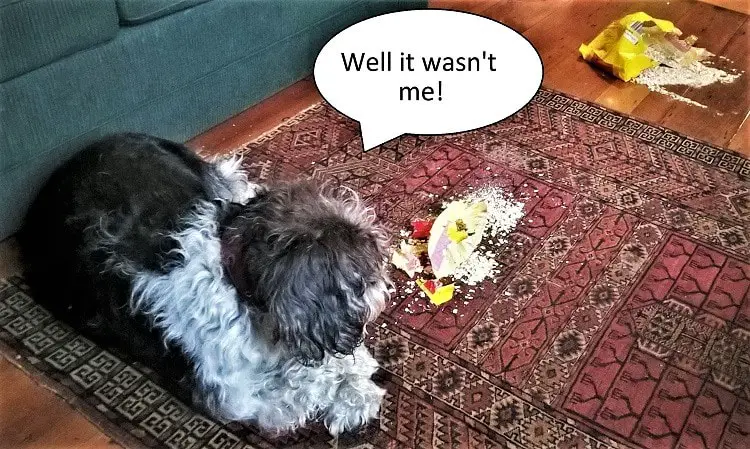 RESTRICTED LIFESTYLE
The pets you'll be taking care of, particularly dogs, will need to be fed and walked at certain times, and regularly let out for the toilet. While cats are generally low maintenance, dogs can be very restricting on your schedule, and a lot of dog owners want a house sitter who can be at home for most of the day to keep them company. You can't nip off for any spontaneous weekends away or stay out all night either!
ISOLATION
House sitting is very different to staying in a hostel, where you're surrounded by other travellers all the time. If you're a solo-traveller wanting to socialise and make lots of friends, house sitting probably isn't something you'll want to do long term.
It can be great for an occasional break though, just to get a bit of comfort and personal space (and cut costs of course). If you're house sitting with a friend or partner or you're willing to use other methods to make friends, such as meetup.com or a new job, it can work out perfectly!
---
Well, I've come up with more house sitting disadvantages than I expected, but I will say that the positive experiences hugely outweigh the negative and happen far more frequently!
For every naughty dog or scatty, alcoholic home owner, there will be ten amazing ones that you will be sad to leave! House sitting is definitely something to consider if it is going to give you the time and financial freedom to make long-term changes to your life or travel to places that you couldn't ordinarily afford.
If you've read the pros and cons of house sitting and still want to give it a go, check out my post explaining exactly what house sitting involves. This will give you a clearer idea of the protocol and what duties are expected of you.
If you're travelling and want to start house sitting in Australia, check out Aussie House Sitters, which is the site I began got my first jobs through. If you prefer to join a worldwide site, take a look at Trusted House Sitters instead.
Happy house sitting!