This post may contain affiliate links. Please see my disclosure policy for more details.
If you're thinking of flying during Covid-19, you've probably got lots of concerns and questions about how things have changed and whether it's even possible. Since I flew from London to Sydney in early July 2020, I thought I'd share my flying experience as well as my Australian hotel quarantine experience, as I found it quite hard to find any detailed information beforehand.
I originally went to the UK for a wedding much earlier in 2020, before Coronovirus took off, but ended up spending the first few months of lockdown there.
It got harder and harder to book a flight back to Australia, as many airports stopped allowing passengers to transit. I finally managed to book a flight from London Heathrow to Sydney via Hong Kong with British Airways and Cathay Pacific, when Hong Kong airport reopened.
Read on to learn about my experience of flying during Covid-19, as well as my tips and recommendations for your own flight. Alternatively, check out my YouTube video on flying during Covid-19 instead.
---
Booking a Flight During Covid-19
Booking a flight during the pandemic proved pretty difficult. Here are some of the issues I had and how I overcame them.
Check Entry Requirements at Your End Destination
Obviously, you need to make sure you can actually enter the country you're visiting. When I flew back to Australia, only citizens, residents and their immediate family members were allowed to enter the country. Since I'm a permanent resident, thankfully I was allowed back in.
Look on the government website for the country you want to visit to get official, up-to-date information, as restrictions are changing all the time.
Coronavirus Travel Restrictions for Australia
Check Quarantine Regulations at Your End Destination
Some governments have advice or enforcements on quarantine for those entering their country. For example, you may be required to self isolate at home for two weeks on arrival.
Travel information for international travellers in Australia
In Australia, the government currently arranges for everyone entering the country (unless you have a connecting international flight) to spend 14 days in quarantine in designated hotels. I'm writing this blog post from quarantine in the Sydney Harbour Marriott right now!
I'm lucky that this was still fully funded by the government in New South Wales (the state Sydney is in) when I arrived, as you now have to pay for yourself in New South Wales ($3,000), Queensland ($2,800) and Northern Territory ($2,500). Check the up-to-date details though, as there are varying prices for additional adults and children.
Check Quarantine Regulations in Your Own Country if You'll be Returning
If you're going on a return trip rather than one way, check if you'll need to self isolate on your return home. There was uproar in the UK while I was there when the government considered enforcing self isolation for those entering the country (even though much of the world had been doing it for months)!
People were upset that if they went on holiday, they wouldn't be able to go back to work on their return. Also the airlines were taking action as it would affect them so much.
Indirect Flights: Check Transit Restrictions
This is essential. If you're unable to get a direct flight to your end destination it's crucial you look into the transit restrictions of the countries you will need to change plane in. Being able to book a flight doesn't necessarily mean you will be allowed to board it.
I didn't realise at first that many countries have actually closed for transit completely, which means that even if you only need to change planes there and not leave the airport, you can't.
I almost booked a flight from London to Sydney via Singapore initially, but thankfully a warning popped up stating that only Singaporean citizens and residents were allowed to transit at Changi Airport. To clarify, transit means staying inside the airport between flights, not going outside. A lot of other flights didn't have any warning, and I could have easily booked them even though I wouldn't have been able to board.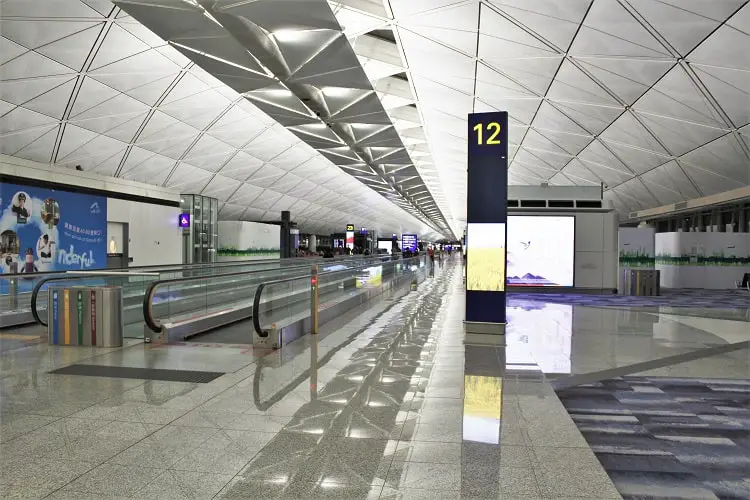 More countries started to allow transit in June and July 2020, so it is becoming easier to fly long haul. It was quite complicated to find out where I could and couldn't transit, as there doesn't seem to be a clear, up-to-date list anywhere. I just had to keep searching and and checking government, airport and airline websites.
Be very careful if you book two or more flights with different airlines and not all as one package. When I flew, Honk Kong Airport only lets you transit there for less than 24 hours, and you must have all your boarding passes through to your end destination issued from your origin and your luggage checked all the way through.
A girl at the next BA check-in desk to me at Heathrow was turned away as she'd booked a separate flight out of Hong Kong with China Southern. The staff had to call Hong Kong Airport to clear every single passenger, and they wouldn't let her transit.
Hong Kong transit requirements from Cathay Pacific
Expect Date Changes & Amendments
Since flight restrictions are changing all the time, and passenger numbers can't really be predicted, expect dates and times of any flights you book to be amended.
The number of passengers flying into Sydney Airport on international flights was capped at 50 per plane and 450 per day the day after I landed, because of a new outbreak of Corona cases in Melbourne. If I'd chosen a slightly later flight (which I would have it if hadn't meant landing on my birthday!) it may have been cancelled completely!
The London to Hong Kong part of my original flight got cancelled (about four hours after I booked it!), and I had to call up and change onto an earlier flight, giving me an annoying ten-hour gap at Hong Kong Airport!
The Hong Kong to Sydney flight then got cancelled a few days later, as they changed them to run every other day instead of every day. I had to call again (as they'd automatically rebooked me onto a flight that clashed with my London to Hong Kong section, and the online manage-my-booking system wouldn't work!) and ended up flying a day earlier than planned.
---
Flying During Covid-19: Airports & Check-in Procedure
Here's my experience of how the the airports have changed due to the pandemic.
Plan How You'll Get to the Airport
Obviously make sure you can safely and legally get to the airport with all the Covid-19 transport regulations in place. If you need to get public transport make sure trains or coaches are running and whether you need to wear a face mask.
The National Express coaches in the UK had started running again when I flew, but a very limited service from select locations. Trains were running but the thought of changing at the tube station in London with all my luggage is horrendous, even without a pandemic!
If you're being dropped off by family or friends, be aware that they may not be allowed into the airport with you. Heathrow only allowed passengers into the airports (though there was no check on entry), so my parents had to just drop me at the door.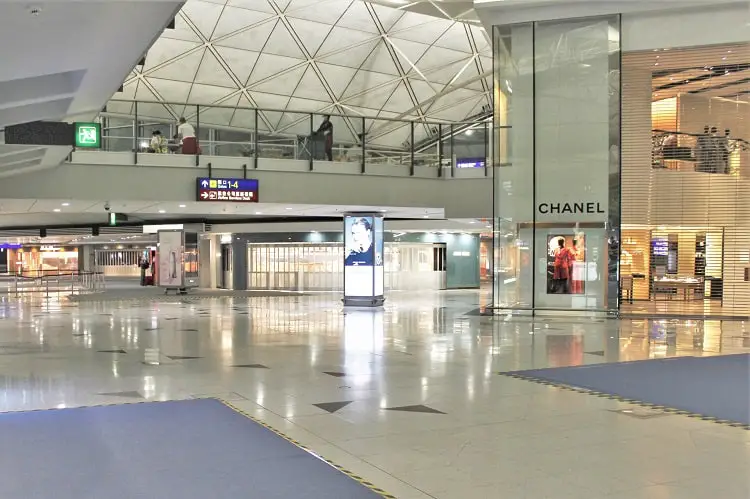 If you've got a long journey make sure you check which service stations will be open on the motorways, as many have been closed because of Coronavirus. We had to research beforehand to plan toilet stops, especially as the airport didn't allow visitors!
Bring Food, Face Masks & Hand Gel
The restaurants at both Heathrow Airport and Hong Kong were closed. There were a few cafes open, but you couldn't get a hot meal. You might want to bring food with you if you've had a long journey.
Face masks were also mandatory inside the airport and aircraft, so stock up if they're still required when you fly. Obviously you can take them off to eat and drink. I would also bring your own hand gel for the journey. They have dispensers in the airports, but you should use some before eating on the plane.
Arrive Early to Avoid Queues
It did say not to arrive at the airport more than two hours before take off for short flights, or three hours for long haul. I guess they want to minimise the amount of people inside the airport.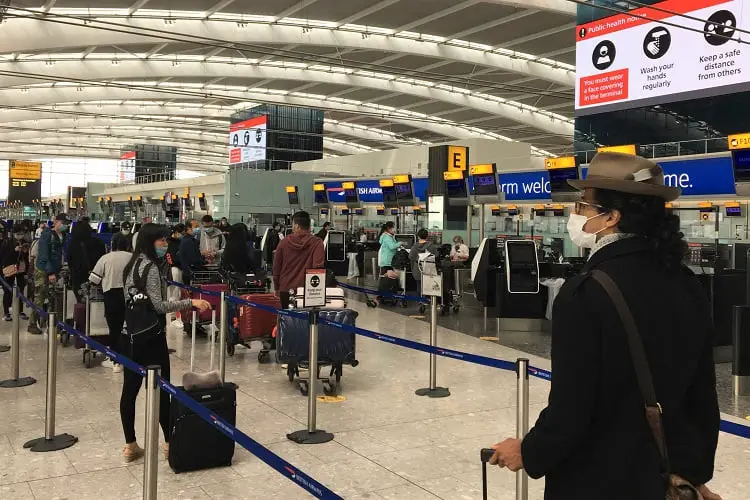 However, the check-in process was so slow I would recommend arriving a bit earlier than that, so that you can get to the front of the queue when check-in opens. The screens didn't reveal which check-in desks to go to until exactly three hours before my flight. I went straight to the desk at that point but still had to queue for 20 minutes.
Check-in Process: Expect Long Delays
The flight check-in process has changed due to Covid-19. Logistically, we had to social distance in the queue and there are now screens between passengers and check-in staff. You'll also need to wear a mask (although airline staff didn't) but slip it off when they check your passport.
For every single passenger checking in, the check-in staff had to phone up Hong Kong airport to make sure they would accept the passenger.
Most people flying seemed to be residents returning home, and they didn't have a problem. But it was a much longer process for those transiting and catching a connecting flight.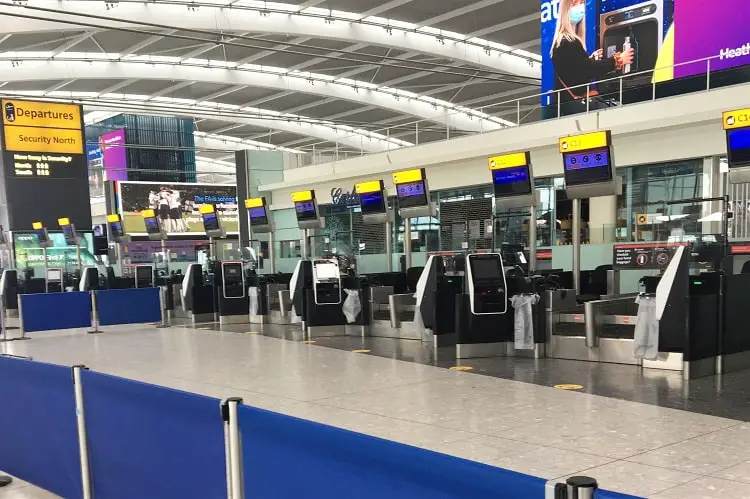 As I mentioned, I saw one girl get turned away as she didn't meet transit requirements. I'm guessing she either had a gap of over 24 hours between flights, or it was because her baggage couldn't be checked all the way through, which are both transit requirements for Hong Kong. The lady did tell her to call the airline of her second flight to get them to clear it, so I'm hoping she made it in the end!
The guy next to me was continuing on to Sydney then New Zealand, but the system wouldn't allow them to print the boarding pass for his second flight. The lady at BA had already sent him through to departures but had to keep calling people at Hong Kong airport to see if they could print his second pass and give it to him on arrival, but no one seemed to be able to help her, and in the end they said no. When I got to Honk Kong airport, staff were wandering around looking for people without boarding passes!
Even though I booked my two flights as one package and could have my luggage going all the way through, I still spent a whopping 50 minutes at the check-in desk! And that doesn't include queueing! The guy said there were new restrictions on their system that they no longer had the ability to override. Because I was continuing to Australia a blockage had come up that he had to phone other people to remove.
First of all, whoever he'd phoned wanted to know about my visa (I'm a permanent resident of Australia). Since it's all electronic I dug up my visa grant email and showed him that, not that he even knew who was and wasn't allowed into Australia! Apparently the person on the phone then had to phone Canberra to check!
We basically then had to stand there twiddling our thumbs waiting for this person to clear me and call him back. It went on for so long he even told me to go and get a coffee, which I did!
Eventually I was cleared and he printed my passes, but I must say no one really seemed to know what they were doing, and a lot of staff were asking other staff about what procedures to follow.
Airport Protocol During the Pandemic
In terms of the airports themselves, there have been some changes due to the pandemic. At Heathrow, there was a temperature camera on entry, and I also had to pass one at the gate before boarding the plane.
Restaurants were closed, but a few cafes and some of the shops were open. Many seats in the waiting areas were covered, so that you had to sit well apart from each other. You also had to wear masks at all times.
Since so few flights were running, it was pretty easy to social distance in the airport. If anything, it was eerily quiet.
At Hong Kong Airport everything was closed apart from a few cafes, but it was night time, so it may be different during the day. There actually seemed to be more staff than passengers, and there were so many cleaners in the toilets it was quite unnerving!
---
Flying During Covid-19
And here's what it was like actually flying during Coronavirus from the UK to Australia.
Airline Seating During Coronavirus
A lot of people asked me before I flew whether the airlines would have to leave seats empty because of Covid-19 to social distance people. I don't believe they have to, but the planes I went on weren't full, so they did space people apart as much as possible.
BA's online check in wouldn't work (even though I got an email 24 hours before flying telling me to check in), so I just got allocated a seat when I checked in at the airport. I had an aisle seat on my first flight, with an empty seat in the middle, and a whole row of three to myself on the second flight.
Everyone seemed to have either a row to themselves or at least a spare seat next to them.
Airline Food During Coronavirus
British Airways was not running their usual meal service because of the pandemic, to make sure staff don't come into contact with the food before serving it. They gave us two pre-packaged meals during an 11-hour flight, which were both sandwiches with snacks and a meat or vegetarian option.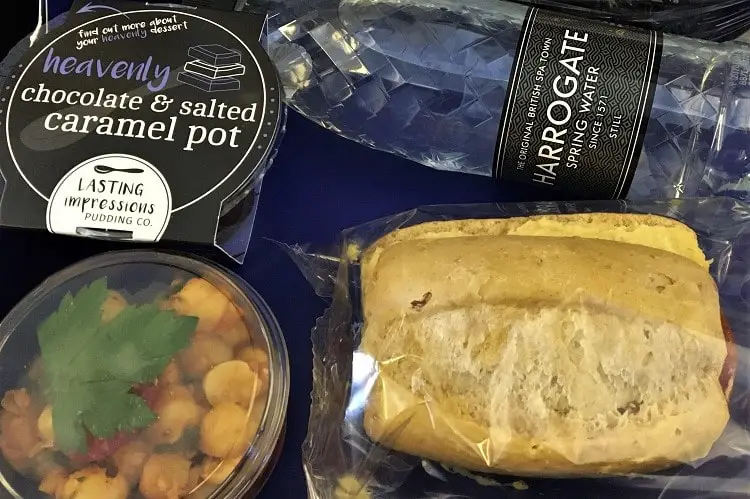 They didn't cater to dietary requirements though, so I'd bring your own food if you need to. I made boxes of meals up since I can't eat gluten. Remember that there may be restrictions on what food items can be brought into a country, but you can usually take what you want on the plane as long as you eat it or leave it on there. Just don't pack metal cutlery, as it won't get through security!
Cathay Pacific, on the other hand, served their usual hot meals. Just make sure you clean your hands before touching any food. You should get antibacterial wipes with the meal.
Are Face Masks Provided on Flights?
No. Face masks were compulsory during the flights, but you had to bring your own.
I saw a large group of people at Hong Kong airport all wearing matching plastic head shields, so I think some airlines may provide those. One family on my flight even wore full-length plastic ponchos, and the guy on my row had a kind of sun hat with plastic hanging down to cover his face! It was certainly an unusual experience!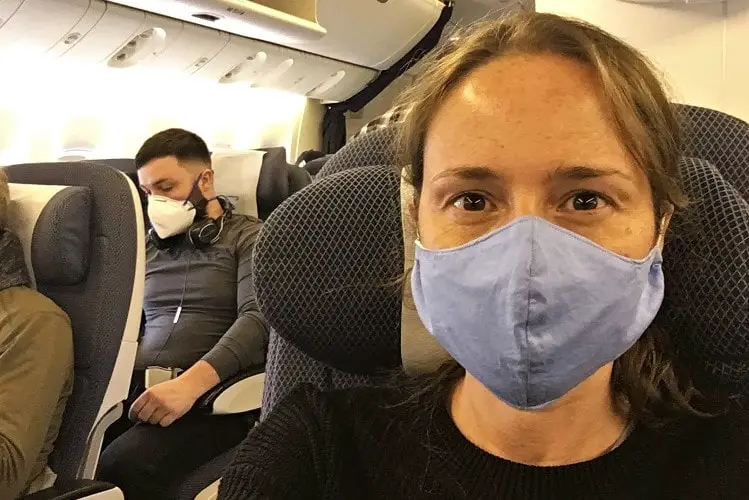 The airline staff wore masks and gloves, but not full PPE. I brought a few masks, as they're meant to be changed every four hours, and I had a 30-hour journey. I started with a material one but it made me sore over my ears after a while, because of the weight of it pulling down. I switched to disposable ones which were more comfortable for such a long journey.
Disembarking the Plane
To ensure social distancing, only a few rows of passengers were allowed to get off the plane at a time, so it was a slow process. You also can't get out of your seat to open the overhead lockers until your row has been called, which stopped everyone cramming into the aisles.
At Sydney Airport, another plane had just arrived before us, so we had to stay on the plane for about 30 minutes until they'd cleared border control.
---
Entering Australia at Sydney Airport
It was a slow and thorough process to enter Australia once we landed, but very well organised.
Step 1: Medical Check
The first thing we had to do after disembarking was form a very long queue for the mandatory checks that are in place.
First of all came a temperature check in the ear from a nurse. Those with a higher temperature had to wait in a separate section and be retested. The guy in front of me was told to take his jumper off and go and wait at the side!
Then a number of medical officers were waiting with clipboards to speak to us individually, and asked if we'd experienced any Covid symptoms or been around anyone who had. They then gave a brief overview of the hotel quarantine before sending us to the next desk. They also told us that we'd have two Covid-19 tests during quarantine due to the recent outbreak in cases in Melbourne.
Step 2: Biosecurity
Since Australia is stepping up its biosecurity (making sure no diseases are brought in via food items), we had to show the immigration form you fill out on the plane (declaring any food/wood etc you're bringing in) to a row of staff at a long table. They literally just looked at the form and ticked it!
Step 3: Passport Control
You then have to go through the usual passport control before collecting your luggage. Usually this is all done by machine, but it was a manual check at a desk like the old days.
Step 4: Mandatory Australian Quarantine
After collecting your luggage the police and army greet you outside the airport to put you on coaches to go to your designated quarantine hotel!
You don't need to arrange this; they have a list of all passengers arriving, and just tick you off and put you on the right coach. Read all about my Australian quarantine experience in this post:
Hotel Quarantine Australia: My Sydney Marriott Experience
---
In conclusion, I wouldn't have flown unless it had been necessary. It was a weird experience, but I didn't feel unsafe. There has been lots in the media about how planes are being thoroughly disinfected between journeys, and how the air-con systems are very sophisticated and filter the air. It's meant to be touching arm rests and food trays that normally spreads germs, but obviously you still need to be as cautious as possible.
It was actually one of the few flights where I haven't caught a cold. Usually, I'm almost guaranteed to start snivelling before I even land on a long-haul flight!
If you will be flying during Covid-19, best of luck and stay safe!
Written by Lisa Bull
Lisa Bull, founder of Dreaming of Down Under, has been living in Australia as a British expat since 2015. After travelling to every state and territory in Australia and living in Perth, Brisbane and Sydney, Lisa knows from first-hand experience the best destinations to visit in Australia and the best budget travel tips. Her guides on this blog have been read by over 700k readers and helped thousands of people achieve their dream of living in or travelling Australia.